TaylorMade R9 Driver | Review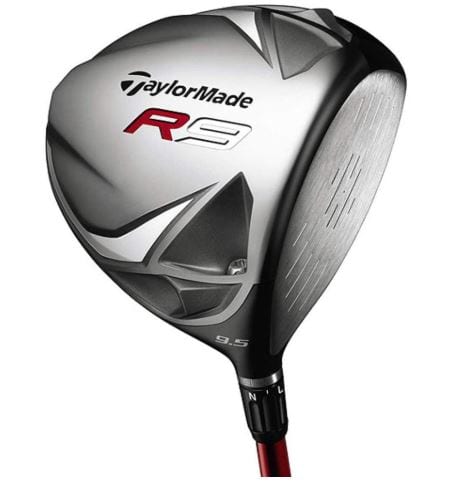 Last Updated on 2 May, 2021 21:10 by Pri
Taylormade R9 Driver | Review
---
If you are after a club that delivers plenty in the way of adjustability, the TaylorMade R9 Driver is definitely worth considering. In fact, when it comes to making adjustments, the R9 driver from TaylorMade offers plenty of options. You can make changes to the face angle, lie angle and loft with minimal hassle. Furthermore, you can also make quick work of adjusting the weights integrated into the club head itself. In total, you have two dozen individual playing options to choose from. For golfers looking to customise their golfing game, the TaylorMade R9 Driver is an easy choice.
Flight Control Technology | TaylorMade R9 Driver Adjustments
---
Let us take a minute to talk about some of the most important features you will find on offer from the R9. This is the first driver from the manufacturer that utilises Flight Control Technology, which sets it apart from many a previous model from the golfing giant.
In short, Flight Control Technology allows you to make the simple and effective adjustments we have already mentioned. We are talking about face angle, lie angle and loft specifically.
All of these adjustments can be made using a single tool. This high level of adaptability and user-friendly approach to making adjustments makes the TaylorMade R9 a very good option for golfers of all proficiencies, with a wide range of customisation potential on offer.
Moveable Weight Technology
Another newly introduced feature from TaylorMade to their R9 driver is Moveable Weight Technology. This specifically refers to three individual weight ports that are designed to house both a single weight of 16 grams and two smaller weights totalling one gram apiece.
It is incredibly simple to make changes to the positioning of these individual weights. Doing so will allow you to undertake a wider variety of shots to meet an assortment of playing scenarios.
You can also combine the effectiveness of the integrated Flight Control Technology with the Moveable Weight Technology to deliver a far wider selection of driver styles. As we have already mentioned, the TaylorMade R9 offers a total of 24 individual driver combinations in a single package.
A User-Friendly Option
---
Beginners and the more experienced golfer alike will find plenty to love with the TaylorMade R9. The wide assortment of settings can be readily achieved with a simple screw-loosening adjustment and swivel of the driver head, allowing you to delve deep into experimenting with your new purchase.
The more experienced golfer will have little trouble sifting through all of the shot varieties on offer here. Even the less proficient golfer will find the R9 a welcoming driver alternative, delivering big when it comes to distance and consistency in performance.
No matter where your playing ability lies on the curve, your game will definitely benefit from the first-rate forgiveness offered by the TaylorMade R9 Driver.
Be sure to check our buyers guide and reviews on Best Driving Irons, Best Budget Wedges and Best Blade Putters has to offer