Swing Caddie Launch Monitor Review 2022 | Buyers Guide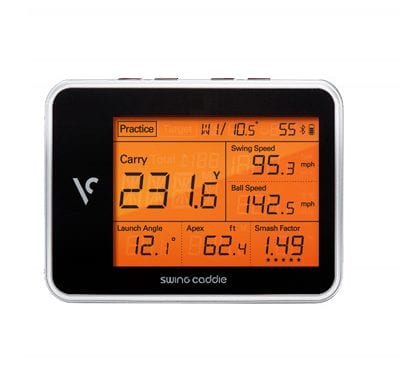 Last Updated on 23 December, 2021 22:13 by Pri
Swing Caddie
Swing Caddie launch monitors from Voice Caddie are among some of the most convenient models in the market. Unlike other launch monitors that require you to sync the device to your smartphone, tablet or computer, these launch monitors are stripped-back in their design, offering you instant feedback on your distance potential without you having to interact directly with the interface.
Swing Caddie launch models are not only user-friendly and highly accurate, they are incredibly portable. Designed with more versatile application in mind, these launch monitors can be used as an indoor launch monitor when practising your golf swing, then tucked away in your golf bag to be used as an outdoor launch monitor on the driving range or golf course.
Boasting premium launch monitor technology, Swing Caddie devices provide golfers with very reliable data when it comes to distance. This will allow you to determine with high levels of accuracy how far you are hitting with each type of club in your inventory. Provided you are interpreting the data feedback correctly, a Smart Caddie is an indispensable tool that can help you redefine your strategy on the golf course.
Smart Caddie launch monitors also satisfy when it comes to pricing. Many launch monitors can cost you $1000 for the base model. By contrast, Swing Caddie launch monitors are relatively inexpensive, with the most expensive model only costing several hundred US dollars. There are two main models to consider. Below, we will have a closer look at what you can expect from both options.
Swing Caddie SC200 PLUS Review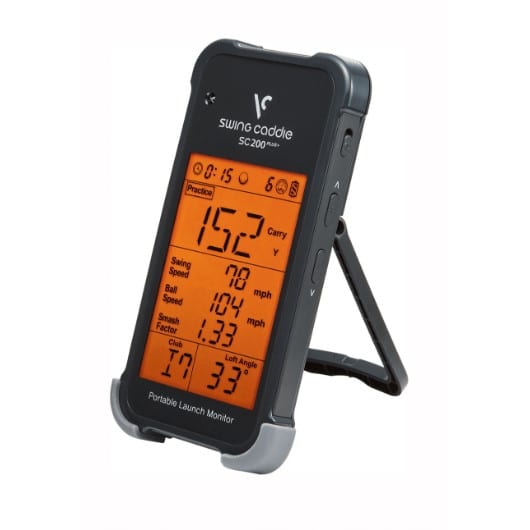 The Swing Caddie SC200 PLUS is the most affordable launch monitor option from Voice Caddie. This Swing Caddie launch monitor is designed to provide you with reliable distance measurements, allowing you to make easy adjustments to your swing speed, no matter which golf club you are using. This launch monitor is incredibly easy to use.
To get started, all you need to do is turn the launch monitor on, then sit it down a few feet behind your golf ball. You will then need to choose your preferred mode and specify what type of club you are using. This will then provide you with in-depth data covering essential information like swing speed, ball speed, carry distance and smash factor.
One nifty function offered by the Swing Caddie SC200 PLUS is the Practice Swing feature. This core feature means you can practice your swing without having to hit the ball itself. This makes it ideal for those looking for a personal launch monitor they can use indoors. It is also handy if you are limited to a more basic simulator without hitting nets.
If you do not want to waste time retrieving balls, the Swing Caddie SC200 PLUS is a convenient golf launch monitor solution. The Swing Caddie SC200 PLUS also includes a remote so you can make quick adjustments without having to use the onboard controls. This means you can remotely adjust things like mode, club type and target distance from your point of address, leaving the launch monitor where it is. This will save huge amounts of time when you practice your swing.
The Swing Caddie SC200 PLUS is also a compact solution. The dimensions are about the same as a standard smartphone, while the device weighs little more than a pound. This makes the SC200 PLUS one of the most lightweight and portable launch monitor units out there. If you want a portable launch monitor you can carry with you to the course or range, the Swing Caddie SC200 PLUS will make a good investment.
Swing Caddie SC200 PLUS Key Spec
The Voice Caddie SC200 PLUS utilises barometric pressure calibration to provide you with incredibly reliable readings at all times. The pressure sensor is integrated into the launch monitor housing, meaning you will not have to place additional sensors on your golf club or range balls.
Another standout feature of this portable launch monitor is that it utilises voice distance output. Once you have taken a practice swing or genuine shot, the launch monitor will audibly inform you of your distances, allowing you to reset the monitor more quickly.
You also have a variety of modes to choose from with this compact launch monitor. The Practice Mode will display essential data for things like swing speed, ball speed, shot distance and smash factor. It will also display data relating to total time played, as well as overall shot count. This mode is arguably the most convenient one offered here, allowing you to get started quickly. All you need to do is select your club type and set it down and you are good to go.
Target Mode is also supported with this launch monitor. This mode is ideal for those looking to test the consistency of performance with a target distance selected. Target Mode lets you practice in increments of ten shots, with useful data displayed each and every time you make contact with the ball.
Another useful mode supported here is Approach Mode. This mode will set randomised target distances for you to aim for, making it an ideal mode for testing your accuracy levels. If you are looking for more of a challenge, this mode is incredibly useful.
Practice Swing Mode is also supported here. As already mentioned, you do not actually need to hit the ball in order to access useful readings when playing in this mode. Unlike the SC300 model that has a rechargeable battery this model requires AAA batteries. It's always useful to have an extra pack / set of AAA batteries so as not to get caught out.
Pros
– Voice Distance Output allows for instant feedback and quick resets
– Remote control functionality
– Incredibly lightweight and portable
– Compact dimensions make this user-friendly
– Integrated pressure calibration for reliable readings
– Useful practice mode feature lets you practice your swings without hitting the ball
Cons
– Might prove too limiting for professional golfers
– Accuracy is sometimes questionable
– Not suitable for use with larger golf simulators
 US Visitors: Check Latest Price
UK Visitors: Check Latest Price
Swing Caddie SC300 Review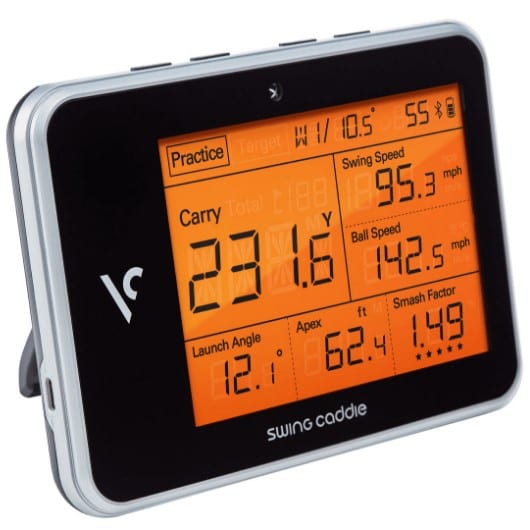 Another Voice Caddie launch monitor you may want to think about is the SC300. As with the SC200 Plus, the SC300 is portable and lightweight. It will also provide you with thorough data measurements relating to swing and ball metrics to provide you with useful guidance on how you can improve your game. It also holds up well against more premium launch monitors, providing you with readings on things like launch angle.
The Swing Caddie SC300 will appeal to those looking for reliable readings, every time. This portable launch monitor utilises Doppler radar technology, as well as atmospheric pressure sensors, to provide you with accurate measurements of club and ball behaviour.
Unlike the SC200 Plus, the SC300 can also be connected directly to your smartphone or tablet device. Pairing is quick and connections are reliable thanks to Bluetooth technology. This is particularly handy for golfers who want instant access to metrics.
The app connectivity also means you can store and track your data over a longer period of practice. As with the basic Voice Caddie swing model, the Swing Caddie SC300 includes voice output functionality so you do not have to manually adjust the launch monitor after each swing. Remote control functionality is also supported for maximum convenience.
Swing Caddie SC300 Key Spec
The Voice Caddie SC300 provides you with in-depth measurements of carry distance, total distance and smash factor. It also provides useful metrics relating to launch angle, swing speed and max height. Ball flight metrics such as ball speed is also reliably measured. You can also adjust loft angle criteria, allowing you to practice with all types of clubs in your golf bag.
Instant feedback is provided via the large LCD display, with good visibility, even in low-light conditions. This Swing Caddie launch monitor will also impress when it comes to accuracy. Ball speed is captured with incredibly reliable levels of accuracy, with only a slight deviation from the actual to be expected. The same applies to carry distance, provided you are using the device in Target Mode. The rechargeable battery on this device provides a battery life of upto 12 hours of continuous use.
When playing in Practice Mode, carry distance has a slightly wider margin for error, but accuracy levels are still very reliable. This launch monitor also provides you with a generous measuring range, meaning this launch monitor will suit the needs of recreational golfers , average golfers and professional players alike.
Pros
– Voice output functionality
– Remote control functionality is very convenient
– Lightweight and portable
– User-friendly interface and app connectivity
– Good range of metrics covered
– Instant feedback
– Good range of operational modes
Cons
– More expensive than the SC200 Plus
– Slight margin of error when it comes to carry distance accuracy
– Spin rate can only be measured when using the app
US Visitors: Check Latest Price
UK Visitors: Check Latest Price
Conclusion
If you are after the best golf launch monitors under $1000 then the Voice Caddie launch monitors are arguably some of the best training aids on the market for golfers. These reliable launch monitors are versatile solutions, allowing you to use them at at home and on the course.
Both the SC200 Plus and the SC300 are compact and lightweight, making them some of the most portable solutions on the market. They also offer a good range of measurements, covering the most important data metrics that be properly applied to your technique to improve your ability.
The voice output functionality of these devices is also impressive, meaning you do not need to worry about manually resetting the launch monitor after each swing. The remote control compatibility also means you can make quick adjustments to club settings and other criteria, saving you even more time as you practice.
SC200 Plus vs. SC300
While both monitors are similarly priced, the SC200 Plus will appeal to those who are really strapped for cash. The levels of accuracy provided and range of modes supported here set the SC200 Plus apart from similarly priced launch monitors by significant degree.
However, if you can afford to invest a little bit more in a launch monitor, the SC300 is the better option. The SC300 is more accurate and reliable, covering more ball data and club metrics. It can also be synced to an app that provides a better tracking solution of your data that can be more effectively used for game improvement strategies.
Be sure to check our separate buyers guide on other launch monitors such as flightscope mevo and Skytrak vs Trackman.