The Contest | SkyTrak vs Trackman | Launch Monitor 2022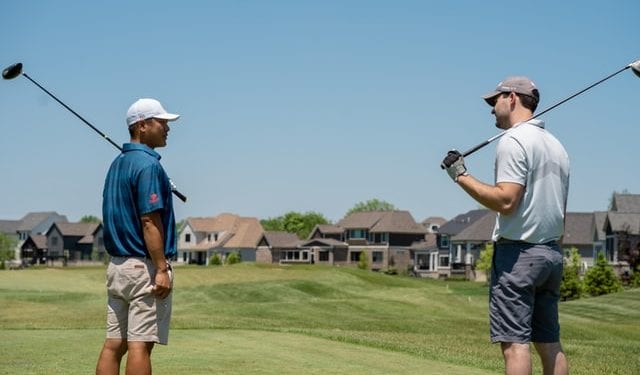 Last Updated on 23 December, 2021 22:12 by Pri
Launch monitors are becoming increasingly affordable and can help a recreational golfer become a true pro from the comfort of their own homes. SkyTrak and Trackman are two of the biggest names in the launch monitor market, with both systems offering some very effective shot tracking functionality.
SkyTrak vs Trackman
Unsure of what golf launch monitor system is the best option for helping you improve your game? We have broken down the key specs of both systems to help you get a handle on what to expect. Read on to find out how these two launch monitors compare against each other on the following key areas:
Data and Accuracy
Features
Price
SkyTrak Launch Monitor Overview
The SkyTrak launch monitor is a photometric system that makes use of cameras to capture high-speed imagery that is then used to make reliable calculations of essential metrics. You can expect reliable data points on things like ball speed, spin rate and launch angle. SkyTrak Launch Monitors can also function as home golf simulators with a compatible golf simulation software.
The software that comes along with this launch monitor is very effective at projecting accurate flights of hit balls, allowing you to determine things like club head speeds, carrying distance, ball roll distance, deviation and much more besides.
This should all prove more than enough for the average golfer, especially those who only play recreationally. However, the more experienced golfer may find the features of the SkyTrak launch monitor slightly lacking.
Compared to other available systems, the SkyTrak launch monitor is fairly user-friendly and easy to set up. You will need to ensure you have laid this launch monitor on a flat surface in order to begin, although as this system is intended for indoor use, this should not prove a problem.
Once that is done, activate the launch monitor and wait for a red dot to be projected onto the ground. This red dot is where you should place your golf ball. Make sure the ball is placed in this exact position as measurements can only be assured if you stick within the tight parameters.
SkyTrak Software Plans
When you invest in the SkyTrak launch monitor, you have a selection of software plans to choose from. The most affordable of these is the Basic Practice Range Plan. This entry-level software plan will provide you with full use of your SkyTrak launch monitor, while also allowing to make use of the companion app.
This basic software also provides you with access to 3D practice driving ranges, along with shot tracer functionality. You will also have access to ball performance data and shot replay functionality. Unlike other SkyTrak software plans, this basic plan does not require you to fork out annually to cover subscription costs.
If you want more out of your SkyTrak launch monitor, the Game Improvement Plan is something you should take some time to consider. All of the key functions and features of the basic plan are provided here, but you can enjoy some significant perks and advancements. Included in this software is access to closest to the pin and longest drive competitions.
You can also enjoy target practice and skills assessment modules. This software also allows you to customise the launch monitor to take into account things like varying course and weather conditions, providing you with more bespoke data.
You also have the benefit of five camera views, as well as mapping functionality for club fitting applications. Progress tracking is also supported, provided you download the SkyGolf 360 mobile app.
Finally, you have the Tee Off World Golf Tour Plan to consider. This premium software includes all the components of the basic and Game Improvement Plans. It also provides you with WGT Full Course Play, allowing you to practice on iconic golf courses from across the list. It also provides you with full access to the SkyTrak WGT course list, as well as access to closest to the hole challenges.
Pros
– Indoor launch monitor
– User-friendly app design or immersive practice experience
– Accurate feedback and wide scope of adjustment
– Very affordable choice of launch monitor
– Ideal option for recreational golfers
Cons
– Not suitable for outdoor practice
– Fairly difficult to place ball for accurate readings
– You will need to fork out for additional software plans and subscriptions
– Tablet or computer is required in order to access data measurements
Trackman Launch Monitor Overview
Unlike other systems, the Trackman launch monitor makes use of Doppler Radar in order to properly measure ball flight. This effective technology tracks ball flight from the moment of impact, right up until the estimated impact location.
Two distinct radar technologies are used to provide you with accurate measurement and club data calculation, allowing you to know exactly what is going on during your swing and come the moment of impact with the ball. One radar technology tracks your club prior to, during and just after the moment of impact.
Meanwhile, the second radar system is reserved for measuring ball flight from the moment of launch, right up until you return your club to a resting position.
This innovative Doppler Radar system measures microwaves that reflect from the surface of your golf club and the ball itself. As both objects move, the wave frequencies emitted from their surfaces will change slightly. It is by measuring these subtle variations that allows this launch monitor to provide you with in-depth data points.
This premium launch monitor provides you with key data recording for essential metrics like ball speed, club path, face angle and attack angle. An integrated video camera is on hand to provide you with high definition captures of your swings.
You will struggle to find such material provided by other launch monitors, making the Trackman a must for anyone who wants in-depth data and visual recordings they can return to later to help master their golf swing.
Pros
– Launch monitor allows you record swing data from multiple angles
– Option to track a wide scope of data so you can adjust swing accordingly
– Good option for the more experienced golfer or pro
Cons
– Incredibly expensive option
– Software and user experience is geared more towards a professional golfer
– More useful for very experienced players or golf coaches
SkyTrak vs Trackman | Data Point Comparison
| Data Point | Data Parameter | SkyTrak | TrackMan |
| --- | --- | --- | --- |
| Ball Data | Ball Speed | Y | Y |
| | Launch Angle | Y | Y |
| | Back Spin | Y | Y |
| | Side Spin | Y | Y |
| | Side Angle  | Y | Y |
| | Carry/Total Distance | Y | Y |
| | Distance Offline | Y | Y |
| | Roll Distance | Y | Y |
| | Flightpath | Y | Y |
| | Angle of Descent | Y | Y |
| | Smash Factor | Y | Y |
| Club Data | Clubhead Speed | Y | Y |
| | Face Angle | N | Y |
| | Attack Angle | N | Y |
| | Club Path | N | Y |
| | Impact Location | N | Y |
| | Dynamic Loft | N | Y |
SkyTrak vs Trackman | Comparison: Data and Accuracy
Accurate data is the most important factor to consider when deciding on a suitable launch monitor. Thankfully, the difference in accuracy is clear when weighing up these two launch monitor options. Both systems are very effective when it comes to capturing ball data.
You can expect reliable readings for ball speed, launch angle, carry distance, total distance, clubhead speed,  smash factor and spin (back spin, side spin) with both the SkyTrak and Trackman launch monitors. In terms of ball speed, both systems perform well, with only a slight deviation to speak of. Club speed calculation is also relatively similar when you compare launch monitors.
Although SkyTrak requires additional software in order to measure club speed, the results are fairly close to what the Trackman launch monitor delivers. Vertical launch accuracy is also similar. When it comes to horizontal launch, a slight difference can be expected, although the variation is marginal.
Ultimately, both systems provide the similar levels of accuracy across all measurable metrics. The only difference is that the Trackman launch monitor measurements additional data metrics. Therefore, the Trackman launch monitor has the edge over SkyTrak when it comes to accuracy.
Best for Accuracy : Trackman
SkyTrak vs Trackman | Comparison: Features
Although both of these launch monitor systems provide the user with a good range of practice features, Trackman once again has the edge over SkyTrak. Both systems enjoy compatibility with user-friendly apps, allowing you to enjoy live data from your shots and ensure you can keep track of performance to make improvements to your game. Competitions and challenges are also provided by both systems, which will appeal to the broadest range of golfers possible.
However, Trackman goes the extra mile when it comes to advanced features. One of the biggest perks of this system is access to the Trackman Open, an international competition that is available to any owner of a Trackman launch monitor.
Trackman also offers in-depth putting analysis. Putting is often overlooked by the launch monitor market, so the inclusion of this feature is very welcome. It will definitely appeal to experienced golfers looking to fine-tune their putting ability, as well as their swing. The putting analysis functionality of this launch monitor is surprisingly refined, allowing you gain insight into things like tempo, speed and launch direction.
Another impressive aspect of the Trackman launch monitor is the video analysis functionality. This launch monitor includes an integrated HD camera that provides video recordings of your swings that can be viewed back later. You also have the option to connect the launch monitor to up to six additional cameras to provide you with far more advanced swing and shot analysis.
Best for Features: Trackman
SkyTrak vs Trackman | Conclusion
Best for Accuracy : Trackman
Best for affordability : SkyTrak
Best for Features : Trackman
Although SkyTrak does have the edge over Trackman in terms of price, it is worth remembering that these two launch monitor systems are geared towards two very different types of user. The SkyTrak launch monitor is intended for the recreational golfer and more intermediate users, looking for a good balance of affordability and game improvement features.
Trackman is instead focused more squarely on the professional market. The Trackman launch monitor is definitely for you if you are an experienced golfer looking to improve your game and climb towards a more professional level of proficiency. It can also be used effectively by golf coaches who want access to an impressive pool of data they can use to help train their students.
We have also done some separate buyers guide on other launch monitors such as the
If indoor golf simulators are of an interest then some budget simulators under $5000 including Skytrak and Optishot golf simulators is one to look into.
SkyTrak vs Trackman | FAQs
How much does a SkyTrak cost?
The SkyTrack Launch Monitor costs around $1,995.
How much does a Trackman cost?
The basic package for the Trackman Launch Monitor starts at around $18,995
SkyTrak vs Trackman Accuracy