HD Golf Simulator Review | 2022 Best Premium Golf Simulator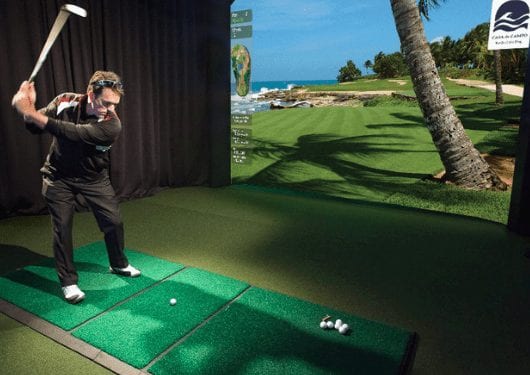 Last Updated on 18 December, 2021 22:00 by Pri
If you are keen to practice golf at home, a High Definition Golf Simulator is definitely worth considering. Canadian brand HD Golf is one of the best brands on the market if you are looking to enjoy High Definition golf practice at home / indoors.
This go-to brand brings together incredible graphics, advanced software and accurate measurements. However, these golf simulators can be an expensive option for many. Therefore, you need to know what to look for when selecting a suitable golf simulator system. The HD Golf Simulator is one of our top choices for the Best Indoor Golf Simulators. Be sure to check this article out.
Our HD Golf Simulator Review and Buying guide lays down all the essential things to bear in mind when selecting this premium Indoor Golf Simulator.
Before we drill down further into the review of HD Golf Simulator, here is what some of the professional players have to say about HD Golf Simulator;
Bryson DeChambeau, PGA Tour Player :
"As a professional golfer and tech enthusiast, I demand the best & most advanced equipment available. I love the HD Simulator because of its incredible realism & pinpoint accuracy. I was amazed at the technology and playing experience"
Bubba Watson, 2-Time Master's Winner ( 2012 & 2014);
"For my home, I wanted the best golf simulator technology – so I chose High Definition Golf. When you play golf for a living you want the best tools available to keep your game sharp. HD Golf is the most realistic simulator I have ever seen."
What Space is Required for a HD Golf Simulator?
Space is important to consider when buying any type of indoor golf simulator. Ceiling height, room width and depth all need to be taken into account when picking out a suitable golf simulator system for your indoor space. Simulator systems from HD Golf and other big brands require a considerable amount of space and have little room for leeway.
You will need to refer to the dimensions of the specific package you are interested in, but a minimum ceiling height of 10 feet will be required. You will also need to ensure you have sufficient room width, with 15 feet being the standard. You will also need to account for the length/depth of your simulator. A clearance of around 20 feet is a must. In summary 10ft (H) x 15ft (W) x 20ft (D) is a minimum.
Software Features
Software and software features is another crucial thing to consider when choosing a suitable golf simulator. Every golf simulator should include software that allows for accurate capture of ball and club metrics. Thankfully, HD Golf simulators provide comprehensive measurements across all models.
A Golf simulator should also provide you with access to a wide range of virtual courses. Some software packages will also allow you to create your own virtual courses, although not all software is user-friendly. Virtual driving ranges are another welcome addition to many software packages.
Driving range levels are very useful for golfers looking to practice at speed without having to worry about switching clubs and adjusting their technique. If you want to enjoy more casual gaming, you should also look for simulator software that includes a range of competitions and mini game levels.
Swing Analysis
If you want to get the most out of your simulator, you need to be able to make sense of the data it measures. Most simulator setups will include a computer workstation that provides you with in-depth feedback. Measured data will also be presented on the main display screen.
Some system also include a separate monitor that serves as a control interface. These screens can be useful for playing back recorded video of your swings. If you want to slow down your recordings and assess your swing in detail, a secondary monitor is a must. Some systems will also allow you to connect smart devices like tablets and phones to your simulator hardware. This allows you easier access to captured data and lets you store or send it.
Balance & Weight Transfer Analysis
If you are looking to invest a significant amount of money in the purchase of a golf simulator, you should think about balance and weight transfer analysis. This type of analysis can not be carried out via cameras alone. Instead, you will need a system that incorporates a pressure mat that you stand on and swing from.
These mats use an array of reliable sensors that precisely monitor your body as it shifts during a swing. Captured data can then be displayed along with other information when you come to review your swing.
HD Golf Simulator Data Points
| | |
| --- | --- |
| Ball Data | Ball Speed |
| | Launch Angle |
| | Ball Spin |
| | Spin Axis |
| | Carry |
| | Shot Distance |
| | Bounce & Roll |
| | Horizontal Angle |
| | Shot Type |
| | Smash Factor |
| Club Data | Clubhead Speed |
| | Club Path |
| | Club Face Angle |
| | Impact Position |
| | Shaft Load factor |
| | Swing Acceleration |
| | Angle of Attack |
| | Swing Tempo |
| | Swing Duration |
Although expensive, this premium golf simulator is worth thinking about if you can afford the high price tag. This indoor golf simulator comes with a wide range of advanced features that makes it one of the more accurate models of golf simulators on the market.
HD Golf Multi-Sport software is at the core of this system, providing you with exceptional precision and broader applications beyond golf. This simulator will also satisfy those looking for a superior home entertainment experience.
What is Included with the HD Golf Ultimate Entertainment Package?
This Ultimate Entertainment HD Golf simulator package is loaded with premium hardware and accessories. This is a flat simulator system, with an impressively large display that stands 10 feet tall and boasts a width of 15.6 feet. Artificial golf turf is also included, with dimensions to match the size of your display. A viewing and hitting system screen is also included.
You can also expect superior accuracy with this system, with first-rate club and ball tracking provided. Precise spin measurement is also standard here. This simulator also comes with a HP business workstation computer, as well as a surround sound upgrade to provide you with terrific audio. You can also expect quality software here, with the HD Golf Deluxe software package included.
This software provides you with unrestricted access to all virtual courses. The software provides access to 36 championship courses. The HD Multi-Sport software also means you can use the simulator for multiple sports (see the list below). Additional accessories are included so you can make full use of the multi-sport functionality. Rear stereoscopic cameras ensure you capture measurements with pinpoint accuracy, while mounting systems and additional lenses are also included.
Drapery and baffle nets, as well as a ceiling track system also come with this package. Power bars, cables and connectors, as well as an A/V storage cabinet round off this premium package.
The complete list of 11 sports included in this package are
Golf
FootGolf
Soccer
Football
Baseball
Hockey
Lacrosse
Dodgeball
Shooting
Hunting
Bowling
HD Golf Simulator Ultimate Entertainment Package Key Features
Amazing Graphics & Realism
Superb Accuracy
Practice Facilities
Multiplayer Gaming
Amazing Graphics & Realism
This HD Golf Simulator is one of the best options in the market for those looking for high-resolution graphics. The image processing capabilities of this system is spectacular and provides you with incredibly sharp images, while satellite and geophysical data provide you with beautifully realised 3D course models. If you are looking to practice golf in virtual recreations of iconic courses, this simulator with its advanced software will definitely impress.
Superb Accuracy
This simulator also utilises Computer vision Technology, with high-speed cameras providing you with incredible levels of accuracy. The multiple camera setup used by this system means you can capture data relating to club head speed, swing path, launch angle, spin, smash factor, club head (open/close) and more.
Compared to other simulators, this HD Golf simulator provides you with unrivalled accuracy. In fact, when it comes to metrics like club face angle, you can expect measurements that are as precise as one-tenth of a degree. The golf simulator software provided here is some of the best around.
You can enjoy a huge range of virtual courses, with iconic destinations including Pebble Beach, Karsten Creek, Harbour Town and Pacific Dunes included. All courses are rendered in full HD with incredible attention to detail.
Practice Facilities
The software also provides you with a wide range of practice facilities to help you improve your technique and performance. You can make full use of virtual driving range levels, chipping and putting green levels, as well as closest-to-pin challenges. There are also plenty of competitions and mini games to enjoy if you are looking for a more casual approach.
The longest drive challenge is a particularly enjoyable game to play along with friends and family. More experienced golfers will also benefit from the club fitting software provided here. With precise measurements and instant feedback, you will have no issues selecting the right club for your next game.
Multiplayer Gaming
Multiplayer gaming is supported across a selection of sports. While you can of course take turns playing virtual golf, you can also make use of an included game controller to enjoy competitive play. When playing virtual soccer, a second player can use the controller to take the position of goalkeeper, for example. You can also easily adjust difficulty settings to ensure all ages can make full use of this HD Golf simulator.
Pros
– Incredible HD graphics and realistic course levels
– Very accurate with exhaustive measurements
– Supports multi-sport practice and play
– Allows for multiplayer gaming
– Deluxe software suite with wide variety of courses
– Offers club fitting software
Cons
– Very expensive option
– The multi-sport functionality will not appeal to golfing enthusiasts
– Lacks extras like touchscreen monitors and pressure sensor mats
The HD Golf Ultimate Entertainment simulator package is one of the most expensive options around, so you would do well to consider other systems. The Ultimate Training package from HD Golf is a slightly more affordable option. See our review below.
The Ultimate Training package has all of the same key technology and software spec as the Ultimate Entertainment package. However, it also benefits from a wide-view touchscreen monitor and pressure mats with highly accurate sensors to help you work on your weight transfer and balance.
While the Ultimate Entertainment package includes multi-sport functionality and more casual gaming elements, the Ultimate Training package is the best option for those looking to focus on the game itself.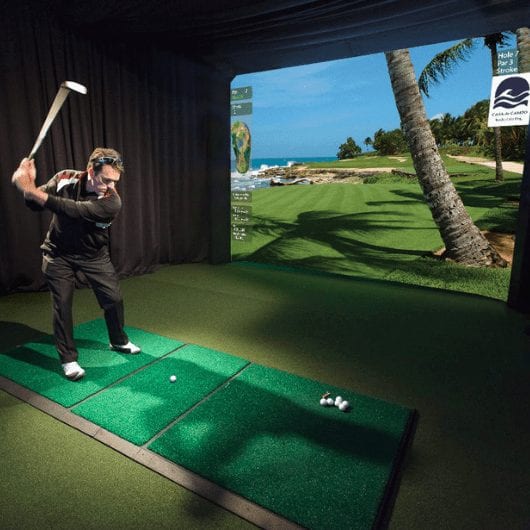 If you are looking for an indoor golf simulator that will help you improve your game, the HD Golf Simulator Ultimate Training Package is a perfect choice. This particular simulator is geared toward the golfer looking to master their technique and take their golfing game to the next level.
Golf coaches will also find plenty to enjoy here. Instant visual feedback and precise ball performance data makes this one of the most reliable golf simulators on the market.
What is Included with the HD Golf Ultimate Training Package?
This training simulator package from HD Golf includes everything you need to get started. This flat standard system measures 10 feet high and 13 feet wide, with a depth of 19 feet. This makes it a very large simulator system that will provide you with an immersive training environment.
Artificial golf turf and a stance mat are also included, with the dimensions providing a perfect match for the screen. However from a space perspective, you will need to have a minimum of 10 feet height, 15 feet width and 20 feet depth.
A viewing and hitting system screen is also included. An advanced ball and club tracking system is also provided, ensuring you always get the most precise measurements for feedback. The video swing analysis simulator system will also appeal to those looking for in-depth feedback on their technique.
A variety of hitting mats are also included, with a balance mat, pressure mat and weight transfer mat all thrown in. These hitting mats will come in very handy for those looking to make slight adjustments to their swing.
You can also expect superior spin measurement data from this simulator, with a precise data module providing you with high levels of accuracy. Premium hardware is also included, with a HP business workstation computer, as well as a 4300 lumen projector from Sony. A mounting bracket is also included so you can easily install your projector.
A 22-inch LCD touchscreen monitor with wide-view display is also included. You can also enjoy amazing audio courtesy of Sony 250W stereo speakers. You are also covered as far as software is concerned, with the HD Golf Deluxe software package included.
Drapery and baffle nets, as well as a ceiling track system are also part of this simulator package. A power bar, connectors and cables, as well as an A/V cabinet are also included.
HD Golf Simulator Ultimate Training Package Key Features
Superb Graphics & Realism
Incredible Accuracy
Video Swing Analysis
Weight Transfer & Balance Analysis
Superb Graphics & Realism
If you looking for a training simulator that provides superb graphics and high levels of realism, this package will more than satisfy your requirements. The image processing software utilised by this simulator brings together HD graphics with satellite and geophysical data to render some truly amazing 3D course models.
Compared to other simulator software, the HD Golf Deluxe software suite provides you with exceptional levels of detail. Even though you are training indoors, you will still as though you are out on the course.
Incredible Accuracy
Computer Vision Technology also means this simulator is incredibly accurate. The multi-camera setup means you can capture precise measurements of data such as swing path, club face, spin, launch angle, smash factor and more. Although even the best simulators have a margin of error, the margin here is incredibly slight. Therefore you can always rely on the feedback provided by this golf simulator system.
Video Swing Analysis
A big advantage of this training simulator is the Video Swing Analysis component. You can enjoy instant video playback of your swings via the main screen, or the included touchscreen. The wide-angle lenses employed by this simulator means you can capture all aspects of the swing, with no moment left to the imagination.
You can adjust playback speed, compare multiple recordings side by side, or save your video recordings for later reference.
Weight Transfer & Balance Analysis
Another big benefit of this system is the ability to analyse weight transfer and balance. The included pressure mat makes use of 600 individual sensors to provide you with a reliable analysis of weight transfer and balance when swinging. This kind of data is not accessible by video alone, so the additional data set is definitely welcome for those looking to delve deep into their technique and performance.
However, this data is displayed along with the video analysis itself, providing you with a comprehensive reference point you can consult to improve your technique and master your swing. This feature of weight transfer & balance analysis can provide useful data to coaches / golf instructors in analysing the golf swings of their students.
Pros
– Impressive HD graphics and realistic virtual course design
– Very accurate and reliable measurements
– High-speed cameras capture a full slate of measurements
– Pressure mat allows you to master balance and weight transfer
– Video swing analysis offers you incredibly useful reference material
Cons
– Still fairly expensive
– No multi-sport functionality
– Limited multiplayer functionality
– Focused squarely on golf training
How Does it Compare to Other Simulators?
If you are looking for a full and comprehensive analysis of your swing, the HD Golf Training Simulator is the way to go. Not only is this simulator more affordable than the Ultimate Entertainment package from HD Golf, it also benefits from some exclusive features.
The pressure mat provides you with incredibly useful weight transfer and balance readings, while the wide-view monitor allows you to thoroughly assess your video recordings.
HD Golf vs Full Swing
Full Swing Golf is another premier golf simulator brand worth investigating. Full Swing Golf has two main simulator options to choose from, with the Pro Series and Sport Series both offering you a more affordable alternative to HD Golf simulators. The Full Swing Golf Pro Series is the more expensive of the two options from this brand, retailing at a similar price to HD Golf simulators.
However, you get some impressive features with the Pro Series. Infrared tracking and ION3 cameras combine to provide you with very reliable measurements. You will also find 360 degree infrared tracks and widescreen displays available. The Pro Series also gives you the option of customising your simulator to your exact requirements. However, the more you customise, the more expensive the overall simulator package will be.
The Full Swing Golf Sport Series is much more affordable. It uses the same ION3 cameras as the Pro Series, as well as premium line scan cameras. The basic components are more affordable than what you will find with the Pro Series and HD Golf simulators, which is what makes the package so budget-friendly.
Unfortunately, both options from Full Swing Golf can not compete with the pressure sensor mat offered by HD Golf simulators. While club speed and ball speed data can be captured reliably, you will not be able to monitor weight transfer and balance metrics.
HD Golf vs GOLFZON
If you have a very big budget, you should think about investing in a GOLFZON simulator. GOLFZON simulators also allow for more configuration options, making them a favoured choice by professional golfers. Unlike other simulator setups, GOLFZON simulators can utilise multiple types of software and numerous sensors to provide you with comprehensive ball and club data.
The basic elements of GOLFZON simulators are also impressive. Multi-surface hitting mats and moving swing plates are included, allowing you to adjust the physical aspects of your simulator. You also have automatic tee-up functionality and automatic ball retrieval to make practice as efficient as possible. Another great feature of GOLZON simulators is that you can add new course updates to your software for free. While HD Golf and GOLFZON simulators are comparable when it comes to software, you get better long-term value from the latter.
How much does a HD golf simulator cost?
The high definition golf simulator pricing varies between $60,000 to $70,000 dependent on the package selected.
HD Golf Simulator Review | The Verdict
While the HD Golf Ultimate Entertainment package has plenty of impressive features, the Ultimate Training simulator is the best option for golfers looking to improve technique. The video swing analysis capabilities of the Ultimate Training simulator provide you with an invaluable reference for improving technique. Meanwhile, the included pressure mat provides you with weight transfer and balance analysis.
However, you will need to have some comprehension of golfing fundamentals in order to get the most out of the Ultimate Training package. It is a simulator designed with golfing enthusiasts and coaches in mind. The beginner may struggle to make sense of the comprehensive data provided by this simulator.
Quick Overview of the HD Golf Simulator