Surprising Golf Trends For 2021 ?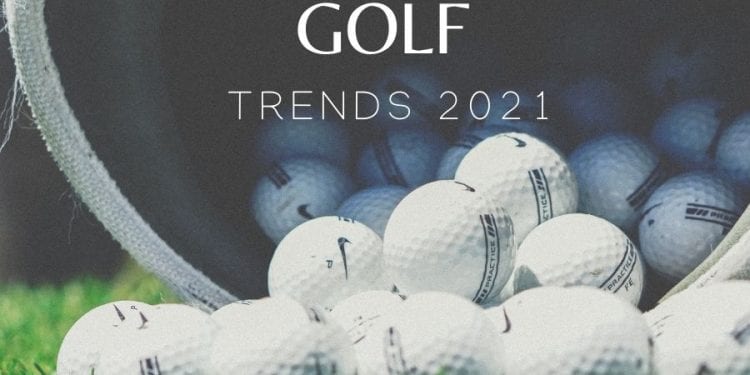 Last Updated on 13 January, 2021 07:49 by Pri
The COVID-19 era may not have come close to killing off golf, but it has certainly forced the industry to evolve. While the PGA Tour and private businesses have gone a long way to adjust the game to render it safe in the current climate, many golfers are taking matters into their own hands. Below we explore what Global Golf Trends fellow golfers are likely to come across.
The Indoor Simulator Experience
Indoor golf simulators have long been popular with professional golfers looking to practice their beloved sport from the comfort of their home. The likes of Adam Scott, Zach Johnson, Bubba Watson and Jim McLean own a HD Golf Simulator whilst Tiger Woods & Gary Woodland own a Full Swing Golf Simulator.
In recent years, golf simulator technology has become more affordable, with many systems providing a budget-friendly option for the everyday golfer. Interest in and demand for golf simulators has soared in 2020, with systems from FlightScope Mevo and SkyTrak being sought out by the everyday consumer. Check our article on Affordable Golf Simulators under $5,000.
The graph below shows the demand for Home Golf Simulators in USA as depicted by Google Trends
XGOLF, a US-based golf simulator provider has been a breakout star of 2020. Founded in 2005, the company has enjoyed significant growth throughout the last year. In 2021, the company plans to open new sites across the United States in cities like Chicago, Boston, Philadelphia and more.
Real Estate | Luxury Homes with Indoor Golf Simulator
The real estate industry has also taken note of the indoor golf simulator trend. Unlike many other economic sectors, real estate has persevered throughout 2020, with property prices holding well. At the premium end of the real estate market, you will find many properties offering indoor golf simulators as a staple part of the package. While boosting property portfolios with luxury additions might be beyond the means of many, it is an enticing prospect for those looking to stay safe when taking a swing.
Shorter Games
One golfing trend that looks set to continue in 2021 is a preference for shorter, nine hole games. During the height of the pandemic, many golf courses noted an increase in bookings for nine hole games. The National Golf Foundation Industry Update reports that short games were up by around 15 percent in 2020 compared to the previous year.
With revised work schedules and daily routines, afternoon and evening fixtures became more realistic. It has been the more casual golfer who seems to have adopted the nine hole mentality, with as many as half opting for shorter spells on the course. However, Nine hole play is by no means a new thing.
The PLAY9 initiative has long been promoted as a way for casual golfers to think beyond the perceived time barrier of a full 18-hole game of golf. In the era of the pandemic, it has big benefits for businesses. For starters, it means less golfers on the green for extended periods of time, reducing the chance of virus transmission. It also means that struggling businesses can recover lost revenues thanks to increased engagement by the occasional golfer.
The increase in 9-hole play has also been attributed to the amount of new golfers arriving to the game. A less busy course during the late afternoon or evening is also the perfect venue for younger golfers looking to practice their abilities.
A Surge in Equipment Sales
You only need to refer to golf equipment sales statistics to see there is a growing appetite for the sport. In the third quarter of 2020, golf equipment sales exceeded more than a billion US dollars for only the second time since records began.
Golf Datatech, which has been tracking golf equipment sales since 1997, reports that sales are up by more than 40 percent compared to the same quarterly period in 2019. Making up the majority of these retail statistics were irons and wedges, although golf bags and other equipment also represented a significant share.
With many golf courses maintaining a ban on golf buggies and pushing for a return to conventional push caddies and trolleys, these healthy sales revenues are likely to continue well into 2021.
A Return To Normality
Although the golfing world is managing well in these uncertain times, the prospect of a return to normality is something any golfer will be mulling over. During the height of the pandemic in the United States, fewer than half of all golf courses remained open.
However, by the middle of June 2020, more than 98-percent of courses nationwide were open for play. As we have seen from second peaks of infection, new restrictions and lockdown procedures can not be ruled out. Ultimately, we have to look to when vaccines will be made generally available to the public before we can start thinking about when golf will once again return to normal.
In some countries like the United Kingdom, several COVID-19 vaccines were approved for use and in the process of being rolled out to the most vulnerable in society within the first week of 2021. In the United States and elsewhere, vaccine approval has taken somewhat longer.
The Centre for Disease Control (CDC) has stated that approximately 700 million individual vaccine doses will be available by the middle of April 2021. As successful vaccination requires two doses to be administered, this means enough vaccine for the entire US population should be available by the middle of spring.
Golf course operators generally seem optimistic about 2021. According to a recent survey by GolfNow regarding the impact of COVID on golf course operations, the majority of operators seemed enthusiastic about renewed engagement. More than two-thirds of survey respondents claimed they were very optimistic regarding a surge in interest in the game.
More than half of those surveyed also responded that they considered the impact of COVID to have been beneficial on their course operations. The same survey also reports that more than 80 percent of golfing facilities were reporting more games played compared to the same period in previous years. In fact, more than a third of facilities were reporting increased revenues during the peak playing season of the summer months.
As we have seen from the endurance of professional golf, the sport has arguably thrived during the coronavirus pandemic. While COVID restrictions vary between jurisdiction, golf has continually been seen as a low-risk sport in terms of virus transmission.
However, for the golfing industry on an international scale to truly recuperate, successful vaccination drives and a significant drop in the overall number of new infections is a must. Only then will we see a return to relaxed international travel, the reopening of golf tourism destinations and unrestricted professional-level play.