GCQuad | Launch Monitor Review 2022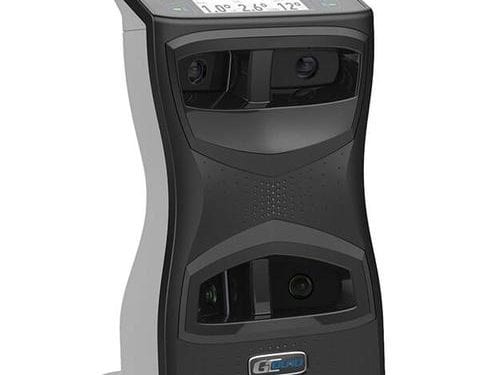 Last Updated on 22 December, 2021 22:12 by Pri
If you are looking for a reliable launch monitor that will provide you with accurate measurements, you should definitely think about seeing what is on offer from Foresight Sports. One of the most popular launch monitor models from this manufacturer is the GCQuad. Foresight Sports markets the GCQuad as one of the most accurate and versatile launch monitors around.
GCQuad Review
The GCQuad Launch Monitor is currently the only readily available launch monitor to make use of Quadrascopic imaging. This impressive technology is effective at providing you with a highly detailed insight into what your golf ball is doing, as well as ensuring you get the best analysis possible when it comes to club head performance. Often seen on the PGA tour, it competes very well against its competitors like Trackman, Optishot and SkyTrak.
The GCQuad is also very versatile. This first-rate golf launch monitor can be used both indoors as part of a home golf simulator, but can also be packed away into a golf bag and taken to the golf course or driving range. No matter where you use this launch monitor, you can expect consistent performance and reliable data capture. This launch monitor also utilises a more substantial ball capture area. This device is a consistent performer, providing you with highly relevant insights that can be used to significantly improve your abilities (even if you aren't a serious golfer).
What's so amazing is that it maps your club path, ball flight, angle of attack and spin rate. It measures your golf ball to such accuracy, that you'll know instantly what changes to make with your golf club, to for example hit that perfect shot onto the fairway. It's radar system is second to none and it pairs well with both Android & iOS devices.
What's Included?
If you decide to invest in this premium package, you will find the GCQuad launch monitor device itself, along with access to the compatible FSX 2020 software. Also included is a USB-C cable for connecting your device to other hardware, as well as a club marker dispenser and alignment stick. If you intend to use this as part of a larger simulator installation, you will of course need to fork out for additional hardware. However, everything you could possibly need for a brilliant starter package is included here.
US Visitors: Check Latest Price
UK Visitors: Check Latest Price
GCQuad | Key Spec
This launch monitor boasts cutting-edge optics to ensure high levels of accuracy and reliable readings. It also provides you with insightful data relating to club head performance and ball metrics. A combination of Quadrascopic and infrared technologies work together to provide you with effective data capture, while four individual high-speed camera mean up to 6,000 frames per second can be captured. If you are putting on too much backspin, which is shortening your total distance – you'll know in a heart beat. The camera system can't be fooled and will only help you to make your game stronger. The data points will make sure of that.
Despite a relatively compact build, the GCQuad will deliver club performance and ball data that is hard to match. Not many launch monitors provide such a degree of data in a single unit. This compact launch monitor is also very easy to handle and, thanks to the ergonomic design, it is a very portable solution. The weather-resistant housing also makes this suitable for use outdoors in harsh conditions.
No longer will you need to worry about packing up and heading indoors when the rain starts to fall. Although expensive, there are some cost-saving features to enjoy here. Unlike other launch monitors, the GCQuad has a solid state NIR LED array that means you do not have to worry about replacing flashes as they expire. Although this does not take away from the significant price tag, it does mean you can expect to pay less on maintenance and replacement costs down the line.
This launch monitor will also impress as far as data capture is concerned. With the GCQuad, you can enjoy access to a full spectrum of club head and ball data metrics, all delivered instantaneously as you play and practice. This real-time reporting is both reliable and accurate. The GCQuad provides a full range of ball data measurements, including ball speed, vertical and horizontal launch angles, spin axis and spin.
It also effectively calculates carry distance. A wide scope of club data is also provided by this launch monitor. You can enjoy essential club data such as velocity, swing path, club face angle, attach angle, smash factor, dynamic loft, lie at impact, impact position on club face and more.
FSX 2020 golf simulation software
The best launch monitors require first class simulator software in order for you to enjoy them at their fullest. Thankfully, the GCQuad from Foresight Sports includes access to FSX 2020 simulation software. This premium simulation software will provide you with access to a wide variety of exclusive virtual courses, as well as enjoyable driving range practice levels.
You can also compete against other users running the same software else in the world. The good thing about these competitions is that they are geared toward a broad spectrum of players. Many contests are designed to help you build your skills, rather than simply best the competition. Who knows, you may even give your caddie the boot?
This software package includes access to five individual courses, including Broken Tree, Willow Crest, Bayou Golf & Fishing Club and Teton Pines. You will also find a range of skills challenges and long drive contests to enjoy. One can take part in  closest-to-the-pin challenge and ball placement tests against others.
The FSX2020 software also supports club fitting functionality. Finally, this software provides you with access to the broader online network of Foresight Sports. While the software offering is good here, the downside is that the GCQuad is only compatible with licensed software direct from Foresight Sports. None the less the high-resolution graphics will leave you very happy with this software.
You will not be able to use this launch monitor with third-party software, for example. This does limit your future use of the monitor somewhat. It therefore makes sense to do some deeper research into the FSX 2020 software suite to see if it has everything you need for your golf simulation requirements.
GCQuad | Optional Upgrades
Although there are some software restrictions to consider, the GCQuad does provide you with some add-on potential. One such optional add-on is Club Head Analysis. This add-on requires no additional hardware and allows you to measure essential club data metrics such as club head speed, angle of attach, loft at impact and smash factor.
It can also be used to determine lie and face angle at impact, as well as impact location on the face of the club (the dream of every club fitter out there). Everyday players will find plenty to appreciate here, but the add-on should particularly appeal to fitters and golf coaches.
Another optional extra you might want to consider adding to your GCQuad package is Essential Putting Analysis. While more advanced launch monitors do provide some degree of putting analysis, very few provide a detailed insight. This worthwhile putting add-on will reliably measure things such as ball velocity, horizontal and vertical launch direction, spin metrics, impact lie, impact location, side spin and much more. If your putting technique has so far been overlooked by your training, this valuable add-on will become indispensable and a firm fixture of your training regime.
Pros
– Provides a significant ball capture area
– Incredibly durable design makes this suited to outdoor use
– Very compact and lightweight design
– Ergonomic design makes this a highly portable launch monitor
– Large LCD display for clear data readings
– Quality add-ons will expand launch monitor applications
Cons
– This is a very expensive option
– Third-party software is not supported by this launch monitor
– Alignment indicators are required for capturing data
US Visitors: Check Latest Price
UK Visitors: Check Latest Price
What is the GCQuad price?
The GCQuad price tag is around $14,000.
GCQuad | Alternatives
If the GCQuad is too expensive for you to seriously consider, you may want to think about other launch monitors from Foresight Sports. The obvious alternative here is the GC2 Launch Monitor. The Foresight Sports GC2 is a compact and lightweight choice of launch monitor, with a user-friendly interface and simplified design that should appeal to recreational golfers.
Despite its straightforward setup, this launch monitor will grant you incredible levels of accuracy when it comes to measurements. It also makes a versatile choice, with the monitor suitable for use as an indoor launch monitor and an outdoor launch monitor. Although it lacks the Quadrascopic imaging technology of the GCQuad, the GC2 can still capture up to 10,000 frames per second. This image processing capability is nothing to be scoffed at.
Although more affordable than the GCQuad, the Foresight Sports GC2 Launch Monitor is still a very expensive investment. Be sure to check our article on Foresight Sports Launch Monitors where we compare the GC2 vs GCQuad.
GC2 vs GCQuad | Data Points Comparison
| Data Point | Data Parameter | GC2 | GCQuad |
| --- | --- | --- | --- |
| Ball Data | Ball Speed | Y | Y |
| | Horizontal Launch Angle | Y | Y |
| | Vertical Launch Angle | Y | Y |
| | Ball Spin | Y | Y |
| | Spin Axis | Y | Y |
| | Carry Distance | Y | Y |
| Club Data | Smash Factor | N | Y |
| | Clubhead Speed | N | Y |
| | Swing Path | N | Y |
| | Attack Angle | N | Y |
| | ClubFace Angle | N | Y |
| | Impact Position | N | Y |
| | Dynamic Loft at Impact | N | Y |
| | Dynamic Lie at Impact | N | Y |
GCQuad | Conclusion
If you can overlook the high price of the GCQuad, it is definitely a launch monitor you should aspire to purchasing. In terms of accuracy, this launch monitor is difficult to beat. The four high-speed optical sensors making up the signature Quadrascopic technology of this device are unique in the market. This launch monitor is also an obvious option for anyone looking for precise target alignment.
You will not have to spend too much time at all to prepare before practising with this monitor. Another big benefit of this launch monitor is its larger ball capture area. This ball capture area of this model is six times larger than what you will find with the GC2, massively broadening its application. This is the monitor to go for if you are looking for something that can be used with clubs in your bag. At one point it was the editor's choice in Golf Digest.
This is also an incredibly robust and versatile launch monitor. Although it can be used in both indoor and outdoor spaces, its durable housing makes it particularly suitable for heavy outdoor use. The weather-resistant housing means you will not have to worry about rain damaging the sensitive components of the launch monitor. If you are tired of packing up your kit and retreating indoors when the weather takes a turn for the worse, the GCQuad will impress.
The premium software package included with the launch monitor will also provide you with plenty of applications that can be used for general enjoyment or more tailored golf practice. The virtual golf courses and driving range levels included here are particularly varied, while multiplayer play and online competition is also supported.
How to use Golf Simulator GCQuad with FSX 2020