Foresight Launch Monitors 2022 | GC2 vs GCQuad Review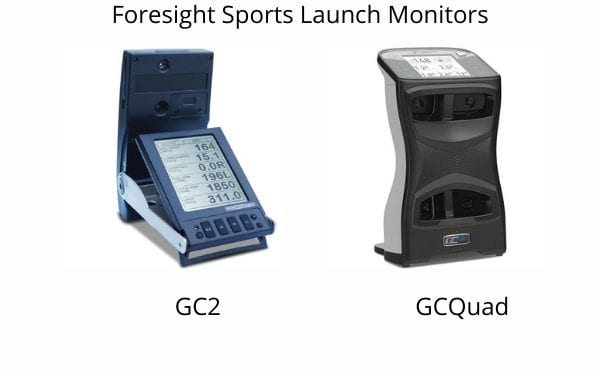 Last Updated on 23 December, 2021 22:01 by Pri
Foresight Launch Monitors
Foresight Sports is arguably one of the biggest names in the launch monitor market. This premium manufacturer is behind some of the best golf training aids currently available. Although the premium asking price of Foresight launch monitors might put off the more recreational golfer, there is plenty of impressive technology on offer to help those looking to improve their game and fine-tune their swing. These launch monitors are also a good option for those looking to enjoy a superior golf simulator experience at home.
Foresight Launch monitors come with cutting-edge golf simulation FSX 2020 software, granting you instant access to a wide slate of virtual courses, online contests and competitions and more besides. They are also incredibly versatile, providing you with unparalleled levels of accuracy no matter whether they are used indoors or outside.
Got the money to play with and thinking about investing in a Foresight Sports launch monitor? Read our review of two of their signature models, the GC2 and the GCQuad.
Butch Harmon, one of the top golf instructors in the world has the following to say according to Foresight Sports;
"At the Butch Harmon Schools of Golf we've tried every kind of launch monitor in the business, and there's nothing that can compare with the GC2" 
Foresight Launch Monitor | GC2 Review
If you are looking for a reliable launch monitor that delivers exceptional results when it comes to accuracy, the GC2 Foresight Launch Monitor  is something you should be interested in. This portable launch monitor is an ideal choice for those looking for a device they can use outdoors. This monitor includes self-levelling technology that means it be can be used on all manner of surfaces and with all types of shots, without any negative impact on readings.
This launch monitor can also be put to good use indoors, offering reliable rates of accuracy when measuring balls at launch. This launch monitor is also very compact. Weighing just under four pounds and measuring less than 10 inches in length, this is one of the most portable launch monitor on the market. If you are looking for a monitor that can be used indoors and out, and carried easily in your golf travel bag between training venues, the GC2 is a perfect pick.
The GC2 Foresight Launch Monitor has some very impressive tech on offer. This launch monitor has an integrated ball identification system that, combined with the self-levelling accelerometer, means you can set this device up quickly and begin practising straight away.
Simply set it down, line up your ball and you are good to go. This launch monitor also requires little in the way of calibration, nor will you have to worry about marking balls beforehand. All in all, this launch monitor can set-up and ready to go in less than a minute after you retrieve it from your golf bag.
You can always expect first-rate levels of accuracy with this Foresight launch monitor. This devices uses a high-speed camera system that provides you with incredibly precise golf ball readings at all times. All key ball metrics are captured the moment the ball makes contact with the club head, giving you useful insights that can be properly applied to your technique.
There  is also a simplified monitor with user-friendliness at the forefront of its design. The GC2 Foresight launch monitor includes a clear LCD display for easy readings of essential data. It also provides you with a handy audio feature that gives you instant feedback on ball data, without you having to connect the monitor to a separate display device.
This makes it particularly suitable to use outdoors when you would ordinarily struggle to use an external display. However, when used indoors, this launch monitor becomes far more effective. When you connect this launch monitor to a computer downloaded with the associated golf simulation software, you can immerse yourself in a first class indoor golf simulator experience.
GC2 HMT Add-On
The GC2 Foresight Launch Monitor can be upgraded with a variety of add-ons to bring it more in line with your demanding requirements. One of the most appealing features to consider investing in is Head Measurement Technology (HMT). This HMT add-on will allow you to capture much more useful data relating to club head performance. This technology will provide you with detailed analysis of your club head performance and swing speed in moments.
You can enjoy specific detail relating to club path, dynamic loft and lie, smash factor and more. As with other technology from Foresight, the HMT add-on utilises stereoscopic cameras to provide you with exhaustive data analysis, every time you use it. It is also very user-friendly and compatible with any GC2 Foresight Launch Monitor.
All you need to do is connect the two devices via a lead, wait for the green light to appear and you are ready to start playing. This portable convenience makes the HMT a good option for those looking for more in-depth club head analysis in all settings.
HMT also enables you to view your data in a variety of ways. When combined with the GC2 Foresight launch monitor, data captured from the HMT add-on can be viewed directly on the monitor LCD screen, along with your other metrics. When used in a simulator context, you can also use the Performance Simulation software for a more detailed analysis of data.
Critical data reports can also be generated, which will definitely appeal to the golfer who is serious about game improvement. You can also have your reports sent directly to your email address. If you are using the GC2 and HMT out in the field, this feature is particularly handy and allows you to assess your data in-depth at a later point.
Pros
– Compact and lightweight design for maximum portability
– Incredibly accurate and precise readings
– Audio feature for instant feedback
– Can be used indoors and outside
Cons
– An expensive launch monitor system
– HMT add-on will increase overall cost
– Does not support third-party software
For a more detailed review, check our separate article on GC2 Launch Monitor.
Foresight Launch Monitor | GCQuad Review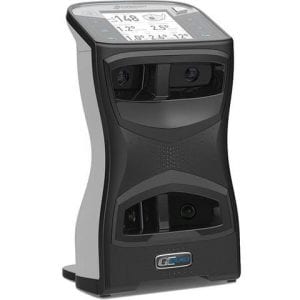 Foresight Sports market the GCQuad as one of the most accurate launch monitors currently available. This premium monitor is known for its reliability and performance in the field, giving users comprehensive data sets that can be used to significantly improve swing performance.
The GCQuad is currently the only readily available compact launch monitor to use Quadroscopic imaging to capture data. Therefore, the GCQuad Foresight aunch Monitor will ensure you get high levels of accuracy at all times, as well as highly detailed ball imaging and club head performance tracking.
As with the GC2, the GCQuad is a versatile launch monitor option. It can be used indoors or outside on the golf course or range, delivering consistently accurate data in all settings throughout the duration of your session.
Despite a compact build, the GCQuad will deliver superior ball and club performance data with minimal effort on your part. It is also very easy to carry around, with an ergonomic design that makes this a particularly portable solution.
The durable build makes it suitable for use outdoors, even in adverse weather conditions. However, it can also be effectively used indoors and will form a reliable core for a home simulator. Another useful feature of the GCQuad is its solid-state NIR LED. This integrated LED means you will no longer have to worry about replacing flashes as they expire, saving you money in the long run.
The quality display is large and easy to read, even when using the GCQuad Launch Monitor outdoors. This launch monitor also utilises a more substantial ball capture area. Compared to the GC2, the capture area is six times larger. You can also connect this monitor to more devices than comparable devices, with wireless and Ethernet connectivity possible.
An integrated barometric altitude sensor is also included to ensure you get the most precise data readings possible. A long-lasting Lithium-Ion battery is also included here. You should never find yourself with a flat battery in the middle of play with this Foresight launch monitor, but if you do, the battery can be swapped out quickly for a fresh one.
You will struggle to find a launch monitor that is accurate as this one. The GCQuad includes no less than four high-speed optical sensors that work alongside each other to provide you with cutting-edge Quadroscopic imaging. Quick and precise target alignment technology also means you will spend far less time making adjustments than with other launch monitors.
GCQuad QClub Analysis Add-on
If you want to get more out of your GCQuad launch monitor, you should think about investing in the QClub Analysis add-on. This essential add-on allows gives you a fuller analysis of club head and swing performance. Essential data metrics like club head speed, smash factor, club path, dynamic loft, impact location and lie are all provided with this add-on.
As with the GCQuad, the QClub Analysis add-on uses cameras to track your club movements to provide you with insightful feedback. You will have to apply position indicators toy your club head to ensure data is captured effectively, but this requires little effort and yields impressive results.
GCQuad Essential Putting Analysis Add-on
You can also expand the application of the GCQuad with Essential Putting Analysis. If you find other monitors are lacking when it comes to providing critical data on putting performance, this add-on will definitely be something you want in hour life. This add-on is particularly welcome for those looking to use the Foresight launch monitor as part of an indoor golf simulator.
Pros
– Substantial ball capture area
– Durable design makes this ideal for adverse weather conditions
– Compact and lightweight monitor
– Very portable with ergonomic design
– Clear LCD display
– Impressive add-ons
Cons
– Requires you to use alignment indicators
– Expensive option
– Does not support third-party software
For a more detailed review, check our separate article on GCQuad Launch Monitor.
US Visitors: Check Latest Price
UK Visitors: Check Latest Price
GC2 vs GCQuad | Data Points Comparison
| Data Point | Data Parameter | GC2 | GCQuad |
| --- | --- | --- | --- |
| Ball Data | Ball Speed | Y | Y |
| | Horizontal Launch Angle | Y | Y |
| | Vertical Launch Angle | Y | Y |
| | Ball Spin | Y | Y |
| | Spin Axis | Y | Y |
| | Carry Distance | Y | Y |
| Club Data | Smash Factor | N | Y |
| | Clubhead Speed | N | Y |
| | Swing Path | N | Y |
| | Attack Angle | N | Y |
| | ClubFace Angle | N | Y |
| | Impact Position | N | Y |
| | Dynamic Loft at Impact | N | Y |
| | Dynamic Lie at Impact | N | Y |
Foresight Launch Monitor | The Verdict
Both the GC2 and GCQuad are expensive options, so you should take plenty of time to weigh up what you need from a launch monitor. If you are a recreational golfer with the funds to spare, the GC2 is the better option. The Foresight launch monitor itself offers first-rate features and cutting-edge technology that will provide you with incredibly accurate data and reliability. Optional add-ons also mean you can upgrade the monitor at a later date as your technique improves.
The GCQuad is more expensive, but the technological advancements it offers more than justify the price increase. Very few launch monitors rival the GCQuad in terms of consistent accuracy and performance. The larger capture area also sets this launch monitor apart from other models. Both Foresight Launch monitors (GC2 and GCQuad) are ideal choices for home golf simulators, although you will need to bear in mind that they only support official Foresight software.
Foresight Launch Monitors | GC2 vs GCQuad Comparison