Callaway X Hot Irons vs Callaway Mavrik Irons – Most Forgiving Irons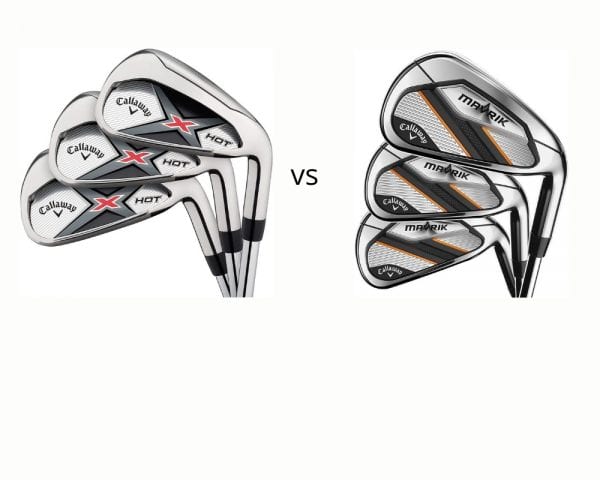 Last Updated on 3 May, 2021 20:34 by Pri
When it comes to manufacturing quality irons, Callaway carries quite the reputation in the golfing sector. Below, we will be taking a look at two standout series from the golfing stalwart – the Callaway X Hot Irons series and the Callaway MAVRIK line-up of clubs.
However before we look at the battle between the Callaway X Hot vs Mavrik, remember to check our buyers guide on Best Callaway Irons. We have also done a separate buyers guide on Best Driving Irons , Best Taylormade Irons and Individual Iron reviews on TaylorMade M4 Individual Irons as well as PING G410 Irons
---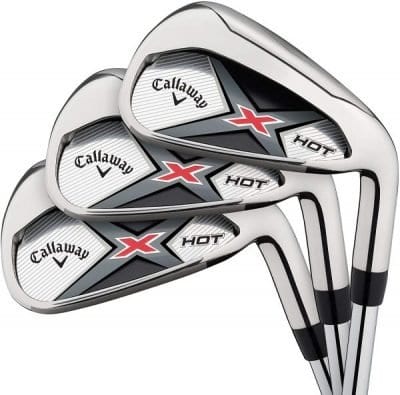 Let us take a look at some of the most standout features of the Callaway X Hot Irons. What really makes an impression is the cutaway design of these clubs. The deeper cut of the cavity will help encourage higher overall ball speeds than what you might expect from comparable clubs on the market.
These irons also come with a noticeable bulk, with significantly weighty club heads that provide a lower overall centre of gravity, while also ensuring those higher trajectories.
Another desirable feature of these these Callaway X Hot Irons is the so-called Feel Management Technology used in their design. If you are a golfer who appreciates a better feel and audible feedback performance, these X Hot Irons will certainly appeal.
You can expect a more dynamic handling than with other irons, while a crisp audible feedback will make for cleaner swings and play satisfaction.
Let us also take a moment to talk about the Speed Frame Face Technology found as standard here. This essential bit of golf club technology is on hand to ensure better levels of efficiency when it comes to energy transfer in your shot, namely when it comes to transfer from the club head to the golf ball itself.
If you are seeking optimal launch angles and more impressive ball distances, these Callaway X Hot Irons will not disappoint.
Callaway X Hot Irons
Pros:
– Good distance control performance
– Low levels of spin
– Eye-catching design
Cons:
– Relatively poor feedback compared to other clubs
– Light club heads limit performance
– Not as versatile as MAVRIK irons
---
US Visitors: Check Latest Price
UK Visitors: Check Latest Price
Now we can take a more detailed delve into what is on offer from Callaway's MAVRIK series (Standard, Pro, Max). One of the big standouts out of these impressive irons is the so-called Artificial Intelligence that has been used in the design and manufacture of these clubs.
If you are looking for irons that really push your balls when it comes to speed, these MAVRIK clubs will no doubt impress. Enhanced ball speeds are more or less assured thanks to an innovative 360-degree Face Cup design that boasts a 'flex and release' action upon impact with the ball.
The face shape of the MAVRIK in general has been engineered specifically with enhanced ball performance in mind. The general architecture of the face is specific and unique to every loft, granting the player some seriously improved ball speeds and greater levels of spin.
Any self-respecting golfer will also value the gains to ball flight and launch these irons provide. Wondering how? Look no further than the tungsten-infused weights that each MAVRIK iron incorporates.
The custom nature of these weights have been placed with optimal centre of gravity in mind, giving these irons a sense of real precision that does not compromise on things like ball speed.
Furthermore, these MAVRIK irons will deliver a much better feel and feedback for the user. Patented urethane microspheres have been utilised to offer superb levels of absorption.
This is a welcome feature for those looking for less vibration when they make contact with the ball. In addition to this, this innovative material use helps maintain precision of flight paths, even at longer distances and at higher speeds.
Callaway Mavrik Irons
Pros:
– Impressive distances possible
– Good levels of forgiveness
– Superb audible feedback
– High levels of spin
Cons:
– Larger heads can be a little clumsy
– Offset design can be a little awkward when squaring off
Callaway Mavrik | Callaway Mavrik Pro | Callaway Mavrik Max