The 6 Best Putters For Women in 2022 | Buyers Guide & Reviews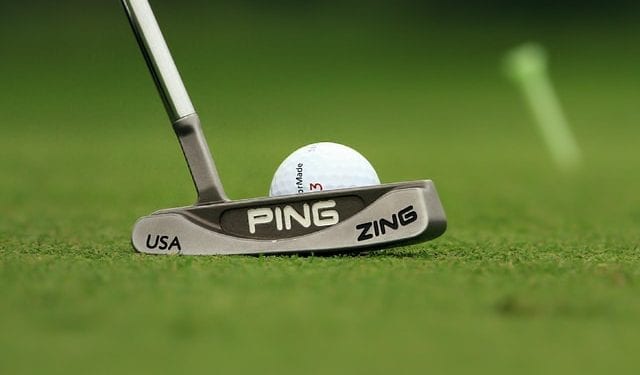 Last Updated on 23 December, 2021 22:28 by Pri
A premium women's putter can make all the difference when you find yourself on the green. A subpar ladies putter can derail your game at the last hurdle, even if you have played perfectly from the tee. It is unsurprising that many women golfers find it difficult to select a suitable putter due to the sheer range of options currently on offer.
Unsure of what putter length is right of you? Need some help selecting a suitable club head to accommodate your personal playing style? Our buying guide on the best putters for women has all the essential information you need to make the best possible choice.
Putter Heads | Women's Putters
Never overlook the significance of a putter head shape. There are two main varieties of putter heads for you to choose from, the mallet head or the blade head. The mallet putter is arguably the most recognisable style. Mallet putters are a good choice for those looking for something more forgiving. This advantageous level of forgiveness is thanks to the weight distribution within the head itself. More experienced golfers tend to prefer the forgiving nature of mallet style putters.
If properly utilised on the green, mallet putters offer superior levels of control and a more stable putting motion. Less experienced golfers will probably want to start out with a blade style putter. Blade putters are suited to golfers who tend to use arc strokes. Unlike mallet putters, blade butters distribute weight between the heel and toe of the club.
Weight & Balance
The overall effectiveness of your putter will be determined by the balance and weighting of the club. Upon first inspection, it is easy to write off mallet putters as a cumbersome and bulky choice. However, this is not always the case.
Although mallet putters have a more sizeable club head, the most advanced designs on the market weigh pretty much the same as a blade putter. If you have a straighter putting stroke, a putter with a balanced putter face is probably the best option for you.
If you have an arc stroke, opt for a women's putter with a toe-balanced design to complement your playing style. One should opt for a lighter putter for slower greens and a heavier putter for faster greens.
Alignment
Proper alignment will seriously improve your performance with a putter. Any decent putter should be easy to handle and using the alignment line should allow you to correctly line it up with a golf ball. If you fail to do this, you can easily miss the hole, even if you are in close proximity. In addition to missing your target, improper alignment can also lead you to misjudge the sweet spot of your putter head. Making off-centre contact with the ball can sent it significantly off target, even if your putting stroke is relatively restrained in force.
Golf Putter Length
As with any golf club, the length of your putter is very important. Picking a perfect putter of a suitable length will ensure a simple ball setup, while also allowing you to putt with better levels of accuracy. Putter length has a direct relationship with distance control and directional control.
As such, you should consider length options thoroughly before you fork out for a new putter. Women's putters are generally shorter in length in comparison to men's putters. The standard length of women's putters is 33 inches whilst for men's putters it's 35 inches.
It is fairly straightforward to determine a suitable length for a putter. All you really need to do is consider your own height and make a decision based on that. A 32-inch putter is a good option for shorter players with a total height of around 5 feet. Taller players are best served by somewhat longer putter, with a shaft length of no more than 33 inches.
Anyone taller than 5 foot 9 inches should look for a putter with a shaft length of 34 inches or more. Most female golfers will probably find a 32-inch or 33-inch putter suitable for their needs. Those looking for a more affordable putter option should also consider junior designs.
Many leading manufacturers produce superior putters for the junior market, with the shaft length proving a good fit or female players of average height.
Do take a moment to check our articles on other women's golf clubs and accessories
Our Top Choices of Best Putters For Women
We review the following best women's putters
Reviews of 6 Best Putters For Women
Need to bring down your handicap? Below you will find our selection of some of the best ladies putters 2022 has in market to ensure you maintain control of the ball at the eleventh hour.
---
If your golf bag is in dire need of a reliable putter, this Staff Harmonised putter from Wilson is something to think about investing in. This quality putter uses a conventional square heel and toe design, but boasts some nifty improvements that sets it apart from other options on the market.
This ladies putter has a larger diameter grip size than most putters out there, making it a user-friendly option for those looking for more control over their clubs. The Micro Injection face insert also offers multiple areas of density, providing you with much more flexibility when it comes to putting balls on the green.
If you generally find putters too limiting, this Wilson Staff Harmonised design will definitely appeal with its versatile applications. You will definitely want to set aside some time to practice at home on your putting green or putting mat to get fully acclimatised to the feel of this putter, as well as what the face insert can do.
The softer feel grip is another standout feature that will appeal to female golfers. You will also be pleased to know this putter is a relatively inexpensive choice.
---
This Billy Baroo 300 putter from Ray Cook may be a little more expensive than the previous item in this list, but it is well worth a second look if you value premium design and advanced features. One of the most standout features of this Ray Cook putter is its superior aluminium construction.
The putter head is further enriched by a vibration dampening insert that will minimise unwanted vibrations and acoustics when you make contact with the ball. This allows you to be far more precise with your putts and ensure your handicaps are preserved.
This putter also includes an oversized polyurethane paddle grip. This grip will prove a good fit with less experienced golfers looking to maximise their control over the club when carrying out delicate putts. However, even the more proficient player will find plenty to enjoy about the user-friendly paddle grip.
This Billy Baroo 300 putter comes in a suitable length for most female players, with a total shaft length of approximately 33 inches. A headcover is also included along with the putter itself to preserve the premium head finish and essential dampening insert.
---
Ray Cook delivers again with this eye-catching RC PT02 putter. This ladies right hand putter has plenty going for it, from its standout aesthetics to its incredible feel and user-friendliness. You can also look forward to a very reasonable price. This putter has been expertly crafted to provide you with the best in performance.
The ladies RC PT02 has been premium cast and sufficiently weighted in the heel and toe to provide a great feel. The 33-inch shaft length also makes this entirely suited to the female golfer. If you regularly struggle with precision on the green, the RC PT02 will become a go-to choice of putter, helping you bring down your handicaps with little effort.
In addition to a slate of game improvement features, this putter will also make a stylish addition to your golf travel bag. This putter makes an instant impression with its vibrant colours and subtle style accents. The steel shaft is also a welcome element here, granting the putter a reassuring mass that makes it a pleasure to handle and work with.
A headcover is included along with the putter itself to maintain its finish and protect the integrated head inserts from unnecessary wear and tear.
---
Designed for men and women alike, the S7K is a superb choice of standing putter that will allow golfers to enjoy immediate feedback and make quick adjustments to their gameplay. The key feature of the SK7 is that it utilises a bespoke balance that ensures the putter remains in a standing position, even when the player is not holding it. This provides you with a couple of big benefits.
For one, it allows for easier visualisation when it comes to alignment and targeting. It also allows you to set up your putter for increased accuracy. If you regularly struggle with putter setups, the S7K will help streamline and simplify things. Utilised correctly, it should help you bring down your handicap and lower your scores.
In addition to the free-standing address applications of this putter, you can also make use of the triple line path. This is very handy for those looking to align their putts with higher levels of precision. If you make proper use of this triple line path, you can dramatically improve your putting ability and boost your playing confidence in no time at all.
---
There is no point forking out for a new putter if you do not know how to effectively use one. Thankfully, the PGX SL from Pinemeadow Golf combines some very useful tech and design details to help educate you on how to properly implement your putter to improve your performance and lower your scores. This putter includes a so-called 'plumber neck' hosel that is slightly offset to make things easier when it comes to alignment. Provided you utilise it correctly, this offset hosel will ensure your putts are always on the right trajectory.
This putter also includes a Pinemeadow Spider Grip. This popular choice of putter grip is made from durable polyurethane, with fibre layers that enhance the overall feel. This grip is both firm and comfortable, making the putter very easy to handle and ensuring superb levels of shock absorption.
The head of the putter comes in vibrant white to help with your aim and improve overall visual clarity at the moment of address. A headcover is included along with the putter itself to ensure the essential finish of the club head is preserved for as long as possible. If you are a relative newcomer to golf or you consistently struggle when you get to the green, the PGX SL from Pinemeadow is something you should think about investing in.
---
Alignment is very important when it comes to getting the most out of your putts. If you struggle in this regard, the Pinemeadow Women's Putter is something your golf bag is probably crying out for. The Pre Putter includes a straight line along the entire length of the putter top. This makes aligning your putts incredibly straightforward. The Pre Putter also includes a centre-weighted alignment system.
This centre-weighted alignment system focuses the weight of your putter towards the middle section, helping ensure the putter stays on path during take away and follow through. This stabilising effect will come in very handy for those who struggle to keep a handle on their putter and overcompensate with their stroke.
This Pre Putter from Pinemeadow is something that golfers of all levels should think about investing in. The alignment guides will help teach good practice to the novice, while the more experienced golfer will find the centre-weighted alignment system a consistently useful feature.
---
Interested in the Top 5 Amazon Best Sellers for Best Putters for Women?