The 13 Best Women's Golf Shoes For 2022 | Reviews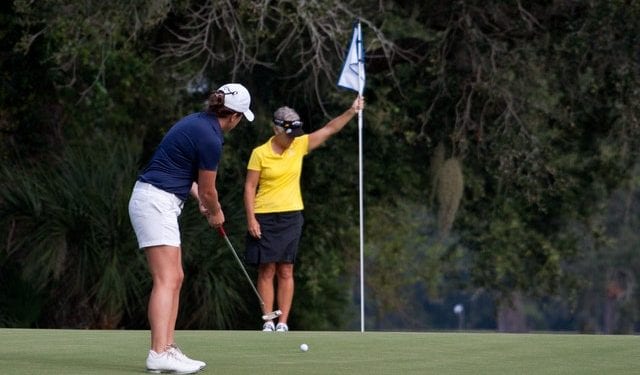 Last Updated on 22 February, 2022 21:25 by Pri
Investing in the best womens golf shoes can have a significant impact on your performance. No matter whether you are practising at the driving range with a set of the best women's driver,  or enjoying a full game of golf on the course, wearing the right footwear is essential for ensuring you perform at your best. New to game and unsure of what makes a great pair of golf shoes? Read our go-to buyers guide on what you need to bear in mind when shopping for the best women's golf shoes.
A good pair of quality golf shoes can seriously improve your game. If you are looking to excel on the golf course / fairway or at the driving range, you will need first-rate footwear that delivers sufficient wearing comfort and optimal support. In addition to this, golf shoes need to provide you with additional cushioning to protect your feet against strain and injury, while also remaining flexible enough that you can properly align yourself prior to your swings. Struggling to select the right pair of shoes for your golfing adventures? Read our essential guide on what to keep in mind when selecting the best women's golf shoes.
Materials
As with any piece of golfing gear, materials are massively important when it comes to picking quality footwear. If you are a regular at your local course or driving range, you will want to pay particularly close attention to the composition of footwear you are considering buying. Look for hard-wearing synthetic materials whenever possible.
These are designed to withstand repeated wear and regular use, holding their form and integrity for as long as possible. The upper sections of your footwear can also be made from natural materials like leather. Although leather is relatively durable and hard-wearing, it can be difficult to maintain and require regular care to ensure it remains in premium condition.
Specialist materials should also be the standard when it comes to linings. The inside of your footwear will take a substantial beating whenever it is worn. Make sure you are investing in golf shoes that are sufficiently lined to ensure any cushioning is protected. In addition to being durable, liner materials should also be breathable so that they can wick away moisture easily.
Outsoles
The outsole is arguably the most important aspect of any golf shoe. An outsole is almost always made from rubber or a durable synthetic material and is located at the bottom of the shoe itself. A decent outsole provides you with essential traction, courtesy of a tread pattern, keeping you stable on your feet on all manner of terrain. The better the tread, the better levels of stability you can expect from your golf shoe.
Some golfing footwear will also utilise spikes as part of the overall design. Consider whether or not you need this added level of support. Some golfers love the added traction and stability spikes provide, but others find them quite restrictive when it comes to enjoying a fuller range of movement.
The outsole also has a significant effect on how the firm the shoe feels on the foot. If you suffer from an existing foot injury or are prone to straining, opting for a softer outsole might be the best solution. However, a firmer outsole will provide you with useful rigidity and should not harness your flexibility, provided your stance and golfing movements are carried out correctly.
Lugged soles are another thing to consider. These types of outsole are somewhat bulkier than conventional ones and are usually reserved for hiking boots or heavy-duty footwear. However, they serve as a good option for those who prefer to feel very secure on their feet.
Cushioned Support
Cushioning is a crucial component of any good golf shoe. Not only will internal cushioning enhance overall comfort levels, it will also help prevent strain and injury. You should look for highly-responsive cushioning as standard. This cushioning will yield to pressure when weight is placed upon it, before returning back to its original state once pressure is alleviated.
A good golf shoe should include a cushioned insole as a minimum. Enhanced cushioning should also be included at the heel and ankle. The vamp section of a shoe should also provide ample cushioning to ensure your feet are comfortable, even when fully laced and fastened.
Fastening
The majority of golfing shoes on the market will utilise lace-up fastening as standard. Low-profile golfs will usually include 4-5 eyelets for laces. When fully fastened, this should provide adequate support for your feet, provided you have a decent midsole and good levels of cushioning.
An alternative to laces is rip-tape fastening. Provided you are buying a quality pair of golf shoes, footwear with this type of fastening is often a good option for those looking for comfort and convenience. Such footwear can be slipped on and fastened in next to no time. They also offer a more consistent fit, while also eliminating the wearing discomfort usually experienced with laces.
Firm Fit & Forged Construction
When it comes to golfing footwear, a firm and secure fit is absolutely essential. If you can afford to spend a little more on golf shoes, look for footwear that boasts forged construction. These types of golf shoes are more robust and reinforced than conventional footwear. When properly laced, these types of shoes are firmer in fit, keeping your feet more secure and protected against strain and injury. Forged footwear is also more hard-wearing, maintaining their shape for longer and ensuring a better long-term investment.
Tread & Traction
Any footwear you invest in for playing golf needs to perform well when it comes to traction. As outdoor pursuits go, golf is relatively casual, but the tread found on the outsole of your footwear needs to ensure maximum stability at all times. Some golf footwear will include oversized cleats that keep you firmly on your feet all times.
More advanced footwear will include innovative tread patterns that provide superior traction at certain points. Consider the kinds of courses you will be playing on and the kind of weather conditions you will be playing before you decide the kind of traction performance you will require.
Comfort & Breathability
If you are an experienced golfer who enjoys playing for hours at a time, never cut corners as far as comfort is concerned. To ensure maximum comfort for day-long play, look for low-profile footwear that leaves your ankle supported, but unrestricted.
A good level of cushioning is also essential not only for shock absorption to the feet but also for supporting the midfoot. Insoles should be sufficiently padded to provide your feet with good levels of impact protection. Responsive cushioning is particularly desirable as this will expand and retract whenever needed. Reinforced toe and heel sections will also enhance wearing comfort, particularly if you suffer from existing weaknesses in these areas.
Golf shoes should also include breathable materials in order to maintain optimal airflow. Look for footwear that features mesh inserts or breathable uppers. This will ensure your feet remain as dry as possible at all times, minimising potential discomfort. Breathable inlays are also a good option for regular players.
These inlays not only enhance wearing comfort, but also ensure your footwear remains as hygienic as possible. Removable inlays are particularly convenient as they can be cleaned thoroughly, or replaced with an inlay that is better suited to your feet.
Other Features to Consider
As with any footwear worn for outdoor activity, durability is key. Look for waterproof materials and design as standard. This will not only keep your feet dry and more comfortable in all weathers, it prevents moisture from intruding into the interior of the shoe. You should consider looking into footwear that boasts anti-bacterial qualities. This will prevent bacteria from building up inside of the footwear, which will keep unsavoury odours to a minimum.
Looking for other women's golf clubs and accessories
Our Top Choices for Best Womens Golf Shoes
Reviews of 13 Best Womens Golf Shoes
Looking for the perfect footwear to improve your golf game? Read on for our pick of some of the best women's golf shoes currently available on the market.
These Tech Response women's golf shoes from adidas are a stylish and affordable option. These shoes feature a microfibre leather upper and a lightweight textile saddle, making them incredibly low profile and comfortable. The synthetic sole provides plenty of tread for good grip on all surfaces and will also resist wear and tear, ensuring your shoes remain in premium condition for longer.
The outsole here is particularly impressive, with the six-spike Thintech design making this footwear well suited to outdoor activity. Comfort is further enhanced by a lightweight Cloudfoam sock liner, with these comfortable womens golf shoes scoring top marks for breathability.
The low-profile design of these women's golf shoes also brings you closer to the ground, making them a good choice for those looking for improved balance and stability. These women's golf shoes are definitely worth considering if you are seeking first class comfort and breathability, a sturdy grip and slick aesthetics.
These adidas Climacool Cage women's golf shoes are an ideal choice for those looking for footwear that scores top marks for comfort and breathability. Constructed from durable textile and synthetic materials, these comfortable ladies golf shoes feature a mesh upper that maintains optimal airflow at all times, keeping your feet cool and free of moisture.
The middle section of the shoe also features ventilated Climacool and FilmFrame material to keep your feet as cool and comfortable as possible. A lightweight Cloudfoam sock liner is also on hand to further enhance comfort. This soft-touch lining provides cushioning in all the right places, while the Puremotion outsole maintains comfort levels without compromising on freedom of movement.
As with any decent golf sneaker, these adidas Cimacool shoes have a lower profile than other sporting footwear, allowing for good levels of flexibility to provide you with sufficient range of movement without the worry of putting strain on the ankle. If you are looking for quality footwear for golfing in warmer weather, these adidas Climacool women's golf shoes are the way to go.
These Skechers Max women's golf shoes will definitely appeal to those looking for the best levels of wearing comfort. These ladies golf shoes feature ultra-light cushioning, with a highly responsible ultra flight midsole that provides impressive levels of support in all the right places. The synthetic and mesh fabric upper is particularly robust, ensuring your shoes last for as long as possible, while also ensuring a firm fit at all times.
The durable TPU outsole boasts an impressive grip that will ensure good traction on all surfaces, which is essential if you intend to play in a variety of environments. Also included here is patented Skechers GOGA Max insole technology, which provide you with high rebound cushioning to keep your feet protected during more intensive activity.
These Skechers go golf shoes also hit high notes when it comes to aesthetics. The contrast colours and stitch detail ensure this footwear holds its own against the most fashionable options on the market. If you play in warm climate all year around then the Skechers Women's 600 Spikeless Golf Sandals Shoe may be of interest.
These Climacool Knit women's golf shoes from adidas offer a slate of first-rate features that golfers will appreciate. These are t he way to go if you are looking for high levels of wearing comfort and optimal cushioning. The knitted sections are particularly effective at encouraging optimal airflow, keeping your feet dry and comfortable, even on the hottest of days. Cloudfoam insole technology is also on hand to give comfort a further boost.
The wider midsole and outsole of these shoes sets them apart from other options on this list. The wider design not only makes them a more comfortable option, but it also serves to provide the wearer with increased stability. If you struggle to maintain adequate balance when aligning shots or swinging away, these first class shoes will definitely help you improve your game.
The rip-tape fastenings also ensure an easier fit, negating the need for laces and the inherent discomfort they can sometimes bring. These women's golf shoes are also a stylish choice, with a range of attractive colourways available.
These Ignite women's golf shoes from Puma are stripped-back when it comes to aesthetics, more than deliver when it comes to first-rate features that will improve your game. As with the rest of the Ignite range, these shoes do away with conventional spikes and instead focus elsewhere to produce premium performance. The TPU outsole has been enhance with an organic traction pattern to provide you with optimal tread, without the need for excess spikes.
A full-length Ignite foam midsole can also be found here as standard. This midsole is wrapped in a sole shield to provide you with superb levels of durability, while also delivering when it comes to comfort and energy return. These shoes also feature PWRFRAM reinforced at the mesh vamp, which itself is integrated with the sole lace closure system.
This allows you to wrap your foot more securely to the midsole, providing you with the best possible fit. These affordable women's golf shoes from Puma are an ideal alternative to conventional spikes, with plenty of innovative technology on hand to ensure there is no compromise when it comes to comfort and performance.
These Skechers Drive 4 women's golf shoes are another good choice for those looking for spikeless golf shoes. This premium footwear from Skechers boasts Goga Max Technology at the insole to deliver high rebound cushioning and protection. The Ultra Flight cushioning at the midsole provides further responsive performance. A durable rubber traction plate offers an effective substitute for spikes, ensuring you remain firm on your feet and perfectly balanced at all times.
These women's golf shoes also deliver when it comes to comfort. These shoes feature Dri-Lex moisture wicking lining material that ensures optimal breathability and good levels of wearing comfort at all times. H2GO Shield waterproof protection also keeps as standard, ensuring you can play in comfort in any weather. These great value golf shoes with spikeless outsole are definitely the way to go if you want cushioned support, superior levels of comfort and all-weather performance.
If you are searching for a golfing footwear that combines first-rate style and impressive design details, these Tech Response women's golf shoes will certainly appeal. You can expect premium comfort here, with materials specially selected to ensure excellent airflow and breathability at all times.
The microfibre artificial leather is particularly good at ensuring moisture never takes hold within the shoe itself, keeping your feet comfortably dry at all times. The Cloudfoam sockliner is another welcome detail. This lightweight liner will enhance overall wearing comfort, while also aiding airflow to ensure these shoes can be worn for long stretches of time.
These Tech Response women's golf shoes are a particularly good selection for those searching for for footwear that will enhance their golfing performance. The low-profile Thintech design of these Adidas golf shoes means that your feet are kept closer to the ground at all times, ensuring minimal disruption to your address positions. A six-spike outsole pattern also ensures maximum traction with all surfaces, making these shoes a good choice for play in all weather.
A robust Adiwear outsole is also included here, making these Tech Response shoes a particularly durable choice of footwear. You also have a good range of colourway options here, ensuring your footwear will effortlessly coordinate with all of your golfing gear and accessories.
These Adipure women's golf shoes are definitely worth a look if you are seeking out footwear that excels when it comes to breathability and comfort, while also ensuring a very flexible fit. Compared to other footwear from adidas and other sporting brands, these shoes have a lower overall ceiling height and a rounder toe.
This takes wearing comfort to the next level, while also giving these golf trainers an aesthetic edge. Long-lasting wear is also assured thanks to the high-quality materials used in the construction. The synthetic upper is perforated to encourage maximum airflow within the shoe itself, while a Fitfoam PU sock liner is also included to improve overall levels of breathability.
If you have previously found golfing footwear to be too restrictive, these Adipure women's golf shoes will prove a welcome change. The outsole is particularly flexible, doing away with conventional spikes in favour of motion lugs.
This provides you with all the traction you need to stay firm on your feet, without the limited movement sometimes associated with cumbersome spikes and tread patterns. The low-profile nature of these shoes and lace fastening also minimises the amount of restriction on the foot, without compromising on essential support.
These Response Bounce women's golf shoes offer incredible levels of wearing comfort, along with superb traction and first-rate cushioning to ensure your ankles and feet are protected during rigorous activity on the golf course or driving range. This footwear has been carefully designed with performance in mind. The general shape of these shoes is a little different to the average golf shoe.
You will notice a wider fit in the forefoot, granting you a better overall fit and improved levels of comfort. If you are seeking cushioned comfort and protection, these shoes will also deliver. The ultra-light cloud foam insole gives you all the cushioning you need.
These women's golf shoes have been manufactured to a very high standard, with premium materials used throughout, with the microfibre leather upper benefiting from water-resistant protection that will ensure this footwear holds up well to all weathers.
These golf shoes bring you first-rate performance that will deliver for a long time to come. The six-spike Thintech outsole is a particularly welcome addition to these essential women's golf shoes. You can expect reliable traction at all times, while abrasion resistance is assured thanks to the premium tread pattern.
Regardless of whether you are playing in the great outdoors or sticking to the humble driving range, these Response Bounce golf shoes from adidas will provide you with all the traction and wearing comfort you need.
These Adipower 4orged women's golf shoes are a good footwear option for those looking for superior wearing comfort and essential cushioning. You can expect high-quality design as standard here, with premium materials ensuring a very good fit and long-lasting wear. The microfibre upper section is particularly robust, with a forged design that makes for a secure and comfortable fit.
This hardy material will also protect your feet against external forces, such as accidental collisions with your golf clubs or golf balls. These golf trainers also feature a quality TPU outsole with no less than six individual cleats to provide you with essential traction. This low-profile tread design will ensure you stay firm on your feet, no matter what type of environment you are playing in.
These Adipower 4orged golf shoes also include a Responsive Boost midsole to bring you enhanced levels of support at all times. This midsole, combined with the low-profile Thintech liner, ensures that you enjoy reliable cushioning at all times, while also ensuring you remain as close to the ground as possible.
This not only makes for a more firm and secure fit, it also makes it much easier for you to carry out alignments more precisely. If you are looking to stay dry on the golf course then you need not worry with the breathable water-repellent Climastorm technology.
These Laguna Fusion Sport women's golf shoes from PUMA combine first-rate aesthetics with functional design. This stylish golf shoes re available in a variety of colourways, with a pared-back aesthetic that ensures effortless coordinating with your golfing gear and clothing. These durable shoes are made from synthetic material that not only holds up well to regular wear, but also brings you maximum comfort and performance.
Compared to other footwear, these women's golf shoes are relatively sleek with a low-top design, meaning they do not feel too cumbersome when worn. This low-profile design is further enhanced by performance mesh material found throughout the upper, which serves to increase airflow and make these golf trainers incredibly breathable.
The construction of these women's golf shoes is also bolstered by Fusion Foam inserts. This premium foam not only makes these shoes all the more comfortable to wear, it also gives your feet some essential cushioning that protects them against the shock of impact.
Soft foam can be found throughout the interior of these shoes, ensuring optimal protection and superb wearing comfort throughout the feet. In keeping with the low-profile nature of these shoes, the outsole does away with oversized cleats and utilises Grip Zone Traction technology to ensure you keep on your feet.
This reliable tread pattern is concentrated strategically, making these shoes a good choice for all kinds of playing environments and all weather conditions.
PUMA delivers again with another stylish choice of golfing footwear with these Ignite shoes. These women's golf shoes are very easy on the eye, with on-trend aesthetics and a good selection of attractive colourways to consider. You can expect a superior construction here, with durable synthetic material and hard-wearing textile used to ensure you have a pair of golf shoes that will fit well and last for a long time.
The upper section of these shoes features performance mesh panels, encouraging better airflow to enhance breathability. Ignite Foam inserts also ensure responsive cushioning, keeping your feet protected from impacts and injury.
These Puma Ignite NXT Solelace Golf Shoes are ideal for play in all kinds of conditions. The waterproof mesh will keep unwanted moisture out of the shoe interior, keeping your feet dry for comfort. The outsole of these Ignite women's golf shoes will also impress, with durable synthetic material holding up well to regular wear and tear.
The outsole also features an Organic Traction tread, offering strategic grip to keep you firm on your feet, even if the ground underneath is wet. These shoes also utilise innovative sole lace closure. The lacing system lets you firmly secure the midsole section around the foot itself.
These Soft Hydromax women's golf shoes from ECCO combine exceptional wearing comfort with first-rate functionality and maximum practicality. These golf hybrid shoes are definitely worth looking into if you have a keen eye for fashion. These are a very stylish option, with sleek accents and contrasting colours to ensure they are easy on the eye. The materials are also first-rate, with the tumbled leather upper a particularly comfortable choice.
The leather upper also offers water-repellent properties, ensuring your feet remain dry in all conditions. You can also expect a superb fit here. These shoes have been shaped with anatomical contours in mind, providing your feet with ample support exactly where it is needed.
These ECCO Hydromax ladies golf shoes come with BOA's innovative closure system. The laces and dial of the BOA closure system are designed to last the lifetime of the golf shoe. These aircraft-grade stainless steel laces are quick to adjust and can withstand the highest tension. The laces are also dirt-repellent and easy to clean.
These ECCO women's golf shoes also excel when it comes to traction, with the E-dts traction system on offer here delivering excellent levels of grip and stability at all times. Other neat details include the inclusion of a removable Ortholite inlay. This inlay provides essential cushioning and enhanced breathability, but can be readily removed and washed to ensure the interior of your footwear remains as hygienic as possible at all times. These Ecco Hydromax ladies golf shoes have been made with Gore-Tex membrane ensuring your feet stay dry and comfortable in wet conditions.