The 8 Best Womens Golf Glove 2022 | Buyer's Guide & Reviews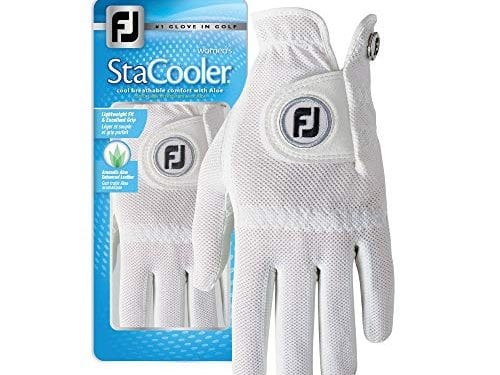 Last Updated on 5 January, 2022 15:46 by Pri
Good golf gloves are a must if you are hoping for a firm grip on your golf gloves. After your clubs and equipment, gloves are probably the most important accessory you need to be thinking about adding to your golfing repertoire. Nowadays, you are spoiled for choice when it comes to golf clothing and accessories. However, there is much to consider when selecting a suitable glove. You need to be thinking seriously about fitting options, material composition and breathability. To help you make the best choice possible, we have put together a useful guide on what look out for when shopping for best women's golf glove.
As a popular blog, we're often asked what we consider to be the best golf gloves (for the right hand or the left one), which lead us to write the below guide. We decided to talk about everything from types of material (my fav is Cabretta leather), to durability, to even ergonomic options. When it comes to high quality golf accessories, for some reason most golfers think first about things like the golf shoes, the golf bags, the golf balls – but for some reason golf gloves seem very low on the list of accessories.
Our below buyer's guide, will help solve this – so get rid of whatever lycra glove you're using right now, grab your golf clubs, your ball markers – and check out our thoughts below:
Fitting Options
This is arguably the most significant factor to bear in mind when selecting a suitable glove for golf. A golf glove needs to remain firmly in for the duration of play. The glove should remain firmly cinched at the wrist as you swing, while the fingers themselves should hug the digits tightly enough that your grip is not impaired. Most golf gloves will include an elasticated wristband that provides a decent enough fit without the need for further adjustments. However, these types of glove are best suited to recreational play. Tour-level golf gloves will include an additional closure at the wrist that, combined with a cinched wristband, ensure the glove remains firmly in place, even during aggressive swings.
Materials
The material composition of your glove is also very important. Many available golf gloves are made from leather or an artificial substitute. Leather is a good choice of material as it is long-lasting and durable. Even when untreated, leather provides a good measure of protection against cold and moisture.
If you do opt for leather gloves, make sure the leather itself is supple enough that it allows for a good level of flexibility. You need to be able to move all fingers with no restriction to your freedom of movement. Some golf gloves also include additional materials, such as synthetic mesh and cotton. These materials are usually included on the outer palm, aiding breathability.
Comfort & Breathability
You will be wearing your golf gloves for hours at a time, so they need to be exceptionally comfortable with a soft feel. The material composition will help in this regard, but breathability is the main thing you need to think about. Breathable mesh inserts will help ensure good levels of airflow between the fabric layer and your skin, reducing the amount of moisture that builds up on the skin. Moisture-wicking material is also effective at removing any sweat that has amounted. Perforated design is definitely the way to go when shopping for golf gloves. These significantly improve wearing comfort and reduce the amount of heat that can build up beneath the material layer.
Maintenance
Unless you are prepared to invest in countless pairs of golf gloves, you should think seriously about maintenance of your golfing accessories. Hard-wearing materials like leather are particularly easy to care for and are easily wiped clean, while synthetic materials are often safe to clean in a washing machine.
You might also want to consider investing in a glove shaper. Once your gloves have been laundered, you simply fit your gloves over the shaper so they can dry out, without the worry of the material shrinking and compromising the fit.
When it comes to men's golf gloves, hand sizes matter so that the fit is perfect. We strongly encourage leather palms as they are perfect for golf grips. You would a snug fit and not those synthetic gloves. We've covered some of the best sellers below with the aim to get you on your favourite PGA course.
Looking for other women's golf clubs and accessories
Reviews of 8 Best Womens Golf Glove
Need to improve your grip? Below, you will find our pick of some of the best women's golf gloves available.
These Dawn Patrol women's golf glove from Callaway is a very practical option and retails at a very affordable price. These gloves are constructed from full premium leather, bringing you a superb fit and feel, along with exceptional wearing comfort. These gloves are a good choice for all weather, with perforated patterns along the fingers and at the top of the hands to ensure air circulates freely between the skin and glove material. This makes these gloves incredibly breathable, ensuring moisture does not build up and cause discomfort.
A great fit is guaranteed with this women's golf glove thanks to its superior closure. The stretch binding cuff provides you with a very secure fit and feel, while also encouraging better moisture absorption. This women's golf glove also features Opti Fit adjustable closure, ensuring it stays firmly in place for the duration of your play. If you are looking for something that is budget-friendly and very practical, these Dawn Patrol gloves are definitely something to think about.
If you are regularly playing in warmer weather, these FootJoy StaCooler women's golf glove is an essential accessory. These gloves utilise Aloe Vera leather technology that is incredibly soft on the skin, while maintaining a dry feel at all times. This ensures you maintain a great grip for the duration of your games, while the Aloe Vera aromatics make these gloves pleasant to wear for longer. These StaCooler gloves also impress with first-rate moisture control. These gloves feature PowerNet Mesh material along the fingers and knuckle sections, keeping things breathable and ensuring cool comfort at all times. The lightweight material also maintains high levels of flexibility, while providing you with a very firm fit.
This women's golf glove will appeal to golfers who prefer a more minimal fit and full flexibility, with the stretch material accommodating hands of all sizes. Despite the flexible nature of the material, these gloves hold up well to regular wear and washing. However, you should definitely consider investing in a golf glove shaper to ensure your gloves retain a decent shape as they dry.
These Kalea women's golf glove from TaylorMade are just the thing for those who want tour-level performance. These premium gloves are constructed from AAA Cabretta TM Soft Tech leather, providing you with a soft and supple feel and superb fit. These gloves are also a breathable option, with engineered perforation to ensure air circulates freely and prevents sweat fro building up. A 4-way stretch nylon insert is also included as part of the overall design, giving you a first-rate fit and ensuring high levels of comfort. A stretch fit tab adjustment is also included for convenience.
These gloves will perform well in hot weather and during long golfing sessions. A moisture-wicking wristband is included as part of the overall design, keeping your wrists as dry a possible as you play. The contoured wristband also ensures an optimal fit is maintained at all times, while also ensuring complete comfort.
These Zero Friction ladies golf gloves really stand out compared to other options in this list with their premium design features. Black mesh sections can be found along each finger, as well as the back of the hand and palm. This ensures optimal levels of breathability are achieved at all times, keeping your hands cool and dry to ensure minimal interference to play. The synthetic digitised palm is also worth mentioning. Compared to other options on the market, these women's golf gloves with their digitised palm allow for superb levels of playability and unrestricted club feel.
Compression technology and a universal fit combine here to deliver a glove that will retain its shape for as long as possible. The smooth palm also allows you to enjoy maximum feel at all times. There is also ample reinforcement here, ensuring fewer rips and tears as you play. You can also expect more strength on the thumb, as well as at the palm and along the cuff. If you want a glove that is comfortable, fits well and is designed to last for as long as possible, this option from Zero Friction is a must.
Add a quick pop of colour to your golfing gear with these OptiColor leather gloves from Callaway Golf. These stylish women's golf glove comes in vibrant pink, with an all leather construction that delivers a superior fit, plenty of support and complete comfort. The Opti feel leather ensures the glove fits well in all the right places, especially at the thumb, cuff and the back of the hand. These gloves also perform well when it comes to breathability. Perforations across the palm and along the fingers and thumbs keep moisture from building up between the leather and skin layer.
These gloves are designed to give you a great fit. The Opti Fit adjustable closure makes these gloves a worthy choice for just about any golfer. The reliable closure is very effective at keeping the gloves in place, but is still lightweight and discreet enough that it will not cause any discomfort. These gloves are slightly more expensive than other options in this list, but the superior construction and impressive aesthetics make them something you should seriously think about investing in.
These Callaway Golf ladies golf glove will perform well in all weathers. These women's golf glove is fashioned from premium Japanese synthetic material that has been engineered to provide you with first-rate feel and full flexibility. The hard-wearing synthetic fabric is also a particularly durable material, ensuring these gloves will last for a long time. You will find 4-way stretch design on each of the knuckles, providing you with a full range of movement so your playability is never restricted. The advanced material also allows for maximum moisture-wicking performance, making these gloves very breathable.
Opti Fit adjustable closure also comes as a standard feature here. This secure closure is lightweight and thin in design, yet still incredibly secure. Perforations along the fingers, thumb and across the palm improve overall breathability further. Reinforced palm patches are also included in this women's golf glove, giving you improved grip performance, no matter what kind of weather conditions you are playing in.
These GH ladies golf gloves are an ideal pick for golfers who regularly tee off in warmer weather. Made from a thin polyurethane leather, these gloves are both hard-wearing and lightweight. Compared to other available options, these gloves are low-profile in their design and keep your digits unrestricted to allow for a full range of movement. Vented fingers with open crotch seams make these women's golf glove particularly proficient when it comes to breathability.
Despite the relative thinness of their design, these gloves should hold up well to regular wear if cared for properly. Double-stitched seams will help these gloves maintain their shape for as long as possible, while also resisting tears and rips. The wrist tab utilises rip-tape closure to allow for easy adjustments and a relatively secure fit. Although these gloves are very affordable and should suit occasional players, those golfers looking for tour-level performance are advised to consider other options.
A great deal of thought has gone into the design of these quality women's golf glove. The material composition is particularly interesting and a little different than other glove options in this list. The palm of the hand is made from a soft and supple leather, while the back of the hand is constructed from soft cotton, complete with perforations. This makes these gloves a particularly comfortable choice, especially if you are worried about skin irritation. The leather fingers will help protect against minor injuries, while the suppleness of the material allows you to maintain good levels of flexibility. The breathable cotton will ensure moisture is wicked away quickly and effectively.
These gloves should also provide you with a secure and comfortable fit. The cinched wristband will keep the gloves firmly in place at all times, even when you are swing at full speed. Additional tab closure is also on offer to ensure complete peace of mind when it comes to secure fitting. These gloves also stand out with their eye-catching patterned inserts.