9 Best Wedges For Spin in 2022 | Buyers Guide & Reviews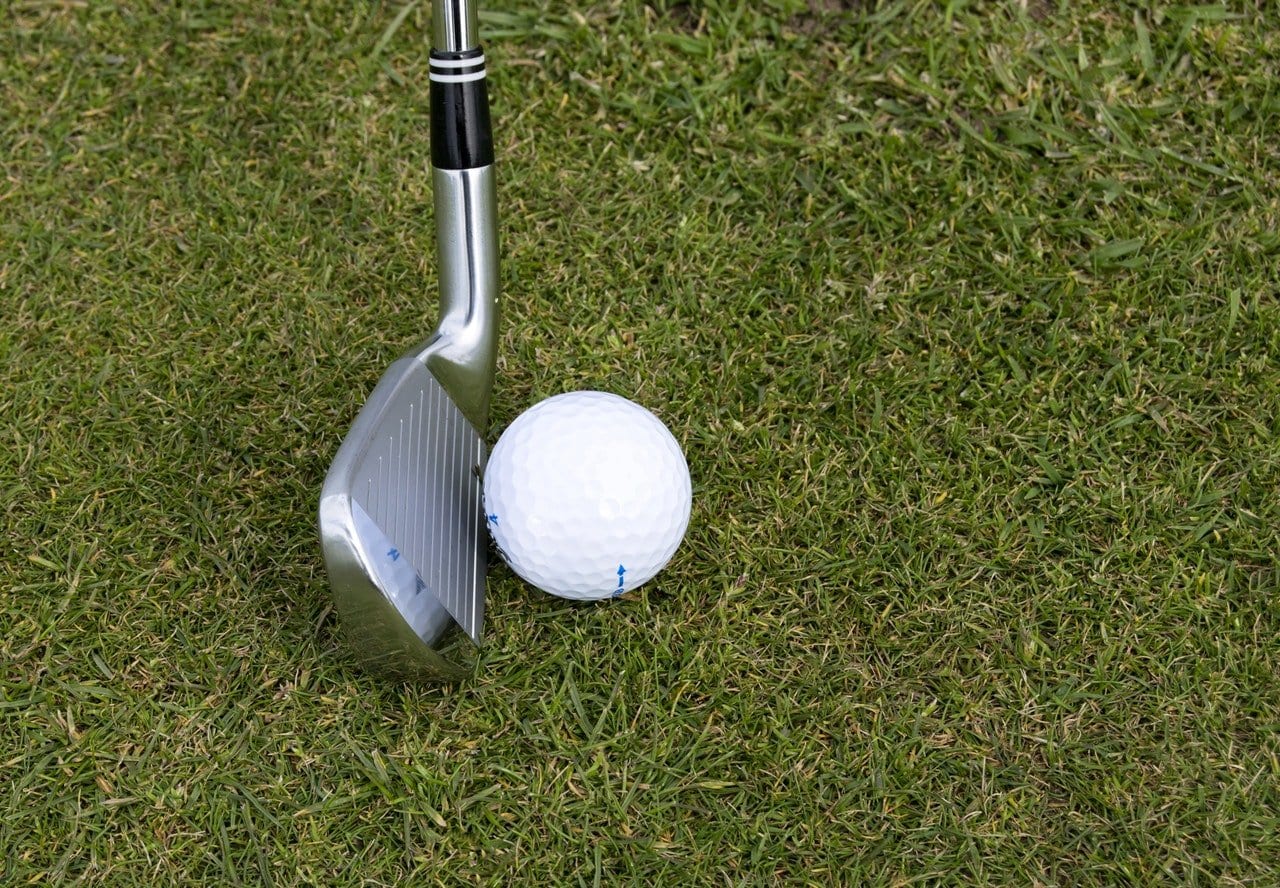 Last Updated on 24 February, 2022 14:28 by Pri
When it comes to playing golf, spin can be a great weapon to deploy which is why you want to ensure you have the best wedges for spin in your golf equipment. Use spin correctly and you can master challenging pins, hold your ground on tough greens and set yourself up for success. However, there's plenty of daunting details when it comes to golf ball spin.
Make the wrong calculation and a potentially promising spin can derail your short game. If you deploy sidespin instead of backspin, the golf ball will veer off in an unwanted direction as soon as it leaves the face of your club. This is a frequent nightmare scenario for golfers who come up against slice time and again.
Spin can help you succeed, but it can shoot down your game all too quickly. Impart it with intent and you can become a master on the course. However, if you misfire, spin can significantly stall your progress on the green.
Mastering spin control is one of the biggest lessons you need to learn as a golfer, with your choice of wedge a big part of that education. Remember to check our article on best sand wedge if you are seeking for that ultimate club for sandy terrains.
Golf Ball Spin Explained
Before we look into the best wedges available for enhancing your spin control, we'll look at what golf ball spin is and how it works. In most cases, the ball itself will turn with the direction of the spin when it is in the air. This however doesn't factor in external conditions such as weather.
Let's think in terms of a playing example. If you make a shot with a spin of left to right, the golf ball will in theory curve towards the right. The speed of the turn of the ball is determined by the amount of spin.
A lower spin rate will result in a curve that's more slight. However, a spin rate that's too high will produce a shot that veers out of control. It's worth remembering that any shot on the golf course will experience some level of sidespin. This applies to any shot, no matter how well-deployed or how experienced the golfer who makes the shot.
You are setting yourself up for a fall if you are hoping to deliver a straight shot devoid of sidespin. Expect some level of a curve in either direction when you make a shot. There's nothing wrong with your technique if you see a slight curve to the left or right.
Other than sidespin, you've got backspin to consider. While sidespin moves your ball from left to right, backspin affects the altitude of your ball, moving it upwards and downwards. As with sidespin, you can expect backspin to affect every shot you make on the course.
As backspin increases in rate, so does the ultimate height of your ball trajectory. If there's a lot of backspin, the shot will hit headier heights. Those shots with lower overall levels of backspin will stray closer to the ground.
How to Get a Handle on Side spin
Again, it's worth remembering that you'll never be able to completely rid your shots of sidespin and its effects. However, you can significantly reduce the effects, improving your overall game.
Generally, high levels of sidespin factor into proceedings when the club moves across the ball when it makes Impact. The desired scenario, which will reduce sidespin, is a club moving down the target line in a more direct fashion.
The path of your chosen club has a direct correlation with the spin created. In short, the ball will spin to the right if the club head is moving left. This inverse rule applies in the other direction, with the ball spinning left if the club head moves to the right.
Your key area of focus when working to reduce sidespin should be seeking ways to move the club head down the target line for a more effective and direct impact. Do this right and you'll be able to produce a quality shot, no matter whether you have the clubface closed or open.
Unwanted hooks and slices should only really occur when you deliver a swing that's significantly off course.
Perfecting Backspin
With sidespin mastered, you can start to focus on backspin. In order to impart more backspin on your shots, you'll want to use your wedges in a downward striking motion. Clean, precise contact is the aim of the game here.
When you make cleaner impacts, you are letting the wedge and its grooves get a grip on the ball itself. This contact with the face grooves of your wedges produces more desirable backspin rates. That's about all it takes to bolster your backspin performance.
Important Things to Consider When Playing with Wedges
When playing with wedges, you'll need to ensure that your hands are kept lower than how they would be when playing with your driver. The reason for this is that lower hands provide you with enhanced control over your shots. As such, the results of your shots will be far more focused as you strive towards the green.
You will also want to keep your feet close together. A big mistake many beginners make when taking wedge shots is that they place their feet far too wide apart, similar to how they would if taking a shot with a driver or a long iron from their golf bag. Although this strategy does bring with it the benefit of powerful shots, you lose out on accuracy. With wedge shots, the aim of the game is to hit it to the green as much as possible.
Perfecting wrist action is also something you want to bear in mind. Often when starting out, the novice golfer will utilise too much in the realm of wrist action when it comes to wedge shots. This generally produces lob shots with too much spin speed. However, the general suggestion for fuller styles of wedge shot and standard pitches is to use as little wrist hinge as possible. Why? Increased accuracy is the result.
Rotating towards the target is also a keen suggestion for when you are playing with wedges. This helps you maintain greater control over your shots thanks to the freedom of enhanced hip rotation. You will be able to rotate in the directions of your target more easily, hitting through the ball, while also ending up in a square position to your target once your swing has completed. Again, the final result is a more accurate one that benefits your handicap.
Our Top Choices the Best Wedges for Spin
Reviews Of 9 Best Wedges for Spin
Now that you have got a better handle on spin, you can make a better buying decision the next time you seek out wedges to add to your golf club kit. Below, you will find a breakdown of some of the best wedges for spin in 2021.
---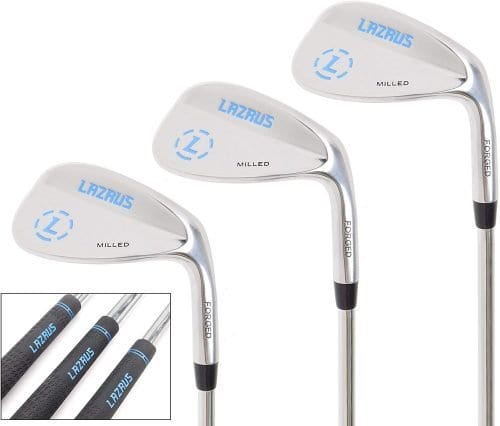 A good choice for all skill levels, this Premium Forged Golf Wedge Set from Lazrus will greatly improve your game. The micro-milled face of these Lazrus Golf Wedges (Gap Wedge (52 degrees), Sand Wedge (56 degrees) & Lob Wedge (60 degrees)) will help ensure greater spin control and consistency as you make contact with the ball, no matter whether you're taking a swing from the fairway, rough patch or fringe. An affordable wedge option that a beginner and an everyday golfer can really get behind.
---
This Sureout Callaway Wedge has plenty of great features to get excited about. The wide sole and larger face provides one with better face-to-ball performance, resulting in much better distance control.
Spin is also well serviced here, with 17 full-face grooves and a more aggressive groove design that delivers a faster spin on every hit, even those ones that are a little less centred.
There is also a choice of lightweight graphite shaft and steel shaft options that deliver better levels of responsiveness and a greater overall feel.
---
This is a great option for those after enhanced levels of spin control from their wedges. The Cleveland golf wedges have been designed with spin prediction in mind, made possible by Fourth Generation Rotex Face Technology.
This innovative technology ensures more spin across all types of conditions, aiding overall distance control, enhancing levels of accuracy and bringing down your ultimate scores.
There is sharper, deeper-set grooves on offer here, delivering more consistent levels of spin with every shot. The RTX4 has two different loft options and four different grind options to chose from. The Grind options are Full, Mid, Low and XLow. If you are after chip and pitch shots around the green then one should opt for higher lofts which have a traditional wedge shape. However, the low lofts have a straighter edge and are more compact, blending in with the short irons.
---
This TaylorMade Hi Toe Wedge is a good all-rounder, with plenty of specific design features that enhance spin control. Of particular note here is the Precision Weight Port (PWP) that's been filled with a soft red polymer, relocating weight from the hosel for a better center of gravity and a more balanced overall feel.
The ZTP Groove Technology in this TaylorMade Milled Grind Wedge is what really appeals here, with steeper side walls and sharper edges producing maximum spin rates and better spin control.
---
Plenty of attention has been taken in the design of the RTX 4 Cleveland Golf Wedges to ensure maximum spin performance.
As with other RTX models, Fourth Generation Rotex Face Technology is on hand to deliver more spin across all playing conditions, giving you enhanced distance control and improved levels of accuracy.
Long-lasting laser milling gives the face a degree of roughness that imparts more friction and ensures more spin across all of your shots.
---
There is lots to love about this Cleveland CBX 2 Wedge. For a start, the hollow cavity design in this Cleveland CBX Wedge means that weight is shifted to the perimeter, resulting in more forgiveness upon impact.
There is also a dynamic sole design, with three distinct sole grinds that deliver a more versatile execution to any shot. When it comes to spin, there is plenty to get excited about.
Fourth Generation Rotex Face Technology and sharp zip grooves make for maximum spin levels and more precise control. Exactly what you want on the course from this cavity back Cleveland CBX Wedge.
---
The Orlimar Spin Tech Wedge is the way to go if you're seeking to master backspin.
The dual-milled face serves to create additional surface roughness you will struggle to find with regular wedges, with maximum backspin rate the result.
There are also some impressive weight distribution specs on the table here, with a higher center of gravity ensuring you enjoy a more predictable and consistent flight.
---
The Cleveland RTX 4 Wedge has been reinvented with an eye-catching raw finish that makes this a must for any golfer looking to master spin with a stylish aesthetic. Long-lasting laser milling ensures face roughness that increases friction across shots, producing more spin as standard.
Milling that is synced to your strike pattern produces backspin across all manner of shots, whether it's a full swing, pitch or chip shot. At the heart of this wedge is the Fourth Generation Rotex Face Technology that ensures spin is consistently delivered across all play conditions.
Distance control and improved accuracy levels can be looked forward to here.
---
There are some refined levels of wedge engineering on show here with the TaylorMade Golf 2018 Milled Grind Wedge. Consistent turf interaction is assured in these TaylorMade Golf Wedges thanks to CNC machined sole geometry, while precision weight redistribution ensures an optimal center of gravity.
This not only provides you with a lower launch angle, but it also increases the overall spin rate. Furthermore, you have a new and improved ZTP-17 groove design that boasts steeper side walls and sharper edges to give you maximum spin performance. There are three different bounce options available with this wedge; Low Bounce, High Bounce and Standard Bounce. Each of these bounces are designed for different angles of attack. This TaylorMade Wedge comes in a Carbon Steel finish for that soft feel on full shots as well as shots played from around the green.
---