8 Best Irons For Beginners in 2022 | Buyer's Guide & Reviews
Last Updated on 23 February, 2022 08:04 by Pri
When searching for the Best Irons For Beginners one would overlook irons in favour of putters, drivers, fairway woods and wedges (such as sand wedge & gap wedge). Whilst it is true these golf clubs will greatly enhance your success on the golf course, the crucial importance of irons should never be undermined. For the beginner or high handicapper, a quality Iron set can save you plenty of shots and shorten your handicap.
That being said, such success won't come with just any iron set. You will want to pick the best golf irons / golf iron sets that are tailored to your particular preferences and style of play. Attributes such as swing speed need to be matched meticulously to your choice of iron sets, especially if you are a beginner to the world of golf.
If you are a more experienced player looking for specific benefits, more refined irons are the best course of action.
Whatever your skill level, it's important you pick an iron set that will serve you well in the long term, proving a worthwhile investment. This is particularly true for the beginner struggling to make a buying decision.
To help you make a more informed choice, we have broken down some of the most important factors to bear in mind when splashing out on a new set of irons for beginners.
Graphite Shafts vs Steel Shafts
Both the flex and material used in the construction of the shaft of irons are very important in determining which direction to go. You can opt for a lightweight option with graphite shafts, although you will need to remember you will be paying a premium for the benefit.
Graphite shafts are a good bet for the less experienced golfer, with the lighter nature of these shafts helping undercut the shortcomings of a slower swing speed. Graphite shafts are generally easier to handle, with greater degrees of flexibility.
A more affordable option is steel. Irons with steel shafts were once the commonplace option before the material was supplanted by more contemporary alternatives, but this traditional choice still has fans. The reason for the enduring popularity of steel isn't just down to its cheaper price.
The additional weight and robustness of steel make for good responsiveness and audible feedback. A more confident golfer will have little to complain about with a steel shaft, especially if they're looking to sticking to a tight budget. Take a moment to read our review on best driver shafts.
Considering a Hybrid Club?
Newcomers to golf are now faced with the hybrid as a worthwhile consideration when selecting clubs for the first time. As with many a purchasing decision in the field of golf, you will ultimately need to weigh up what's on offer with your style of play and other factors.
For the beginner and less confident golfer, the conventional long iron (5-7) can be a trickier club to handle and succeed on the course with. As such, hybrids are an attractive alternative.
The user-friendliness and relative inexpensiveness of hybrids might be tempting, but it's worth seriously mulling over whether or not to simply bite the bullet and stick to more conventional long irons as opposed to short irons (8 iron, 9 iron and Pitching Wedge).
In the long run, forcing yourself to become accustomed to handling longer irons and playing well with them will improve your playing proficiency and make you more receptive to a broader slate of clubs in the future.
If you are daunted by a set made up solely of long irons and can't quite deny the lure of hybrids, an easy compromise is to seek out club sets combining both if budget allows.
Cavity Back Irons
For a beginner golfer, cavity back irons are almost always the way to go in lieu of muscle iron alternatives. Generally speaking, cavity back irons are a more forgiving option and easier to handle. For the absolute novice, these types of long irons allow you to take to the game quickly and with minimal hassle.
However, the short-term benefit of cavity backs can backfire for the golfer who develops their ability quickly. With cavity back irons, you are less free to experiment with shaping of shots, with finer levels of control of the club ultimately not available.
If you are really daunted about playing golf for the first time and have low levels of confidence in your ability, cavity backs are almost certainly the best option.
However, if you are prepared to put in a little practice and endure some initial teething trouble, a more modern choice of iron will prove the best choice in the long run.
Other Factors to Consider
For the golfing rookie, forgiveness is one factor that's heavily favoured. When it comes to this crucial aspect of a club, the center of gravity is pivotal. Forgiveness is ultimately determined by the precise placement and balance of the weighting of the club.
For the beginner, a low center of gravity is the preferred option. Why? When the center of gravity is placed in a lower position, you can look forward to easier launches.
You will also want to consider the club's head size when purchasing long irons. As a rule, larger club heads provide a more forgiving option, while also giving you a larger sweet spot. This is vital for giving you more confidence on the golf course.
As noted above, irrespective of the set being a new golfers set or a pro set there are various factors to consider before making the appropriate selection.
Remember to check our buyer's guide & reviews on Best Gap Wedge, Best Budget Wedge as well as Callaway Irons
How to Hit Irons For Beginners
Our Top Picks for Best Irons For Beginners
Reviews of 8 Best Irons For Beginners
---
Feeling inspired? Now that you have become acquainted with what to look out for when buying irons for the first time, we will look through a selection of some of the best golf irons for beginners currently available. We have scoured the market for a premier pick of best iron set for beginners from some of the finest manufacturers in the business, with a range of choices to suit all budgets.
---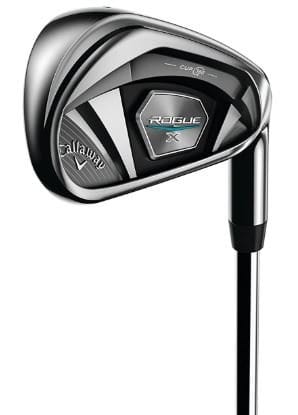 Just because you're making a budget-friendly choice with a complete set of irons doesn't mean you need to settle for less when it comes to first-rate features. If you are in search for Best Callaway Irons then these Rogue X Irons are the perfect example of premium performance and affordability combined into one neat package. These set of irons also provided maximum forgiveness.
You can look forward to 360 Face Cup Technology and Variable Face Thickness technology as standard here to enhance your ball speeds, while there's also some top marks for flight and control performance thanks to the MIM'd Internal Standing Wave. An ideal choice for those looking to push distance to the next level, these golf irons are also incredibly friendly in terms of feel thanks to urethane microsphere construction.
---
There's a ton of terrific spec on offer with these M2 Game Improvement Irons from TaylorMade, so we'll stick to some of the very best features. Firstly, the face slot technology provides you with added forgiveness on every shot struck near the toe or heel, while speed pocket technology enhances your performance further.
You have also got some compact shaping to savour, with a smaller head design making for reduced offset, a thinner top line and a shorter blade length to support you in a more confident game. What is more, the composite construction of the 3-7 irons means there is a low center of gravity, increasing golf ball launches and boosting overall ball speeds. If you are seeking for best forgiving iron then these M2 Taylormade irons make the cut. These irons come with 2 different shaft material options; Steel shaft and Graphite whilst offering a Regular Flex.
---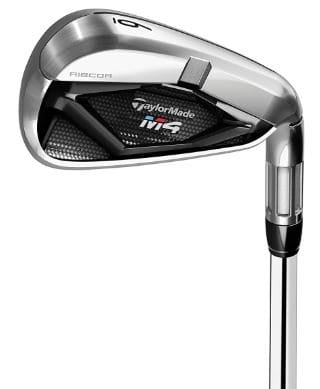 There's no shortage of perks with this M4 Iron Set from TaylorMade. The RIBCOR technology localises face flexibility, ensuring more impact energy is transferred to the ball upon contact, giving distance and accuracy a real boost.
What is more, there's optimised heel and toe weighting to increase the moment of inertia, with the result being added levels of forgiveness. More distance is assured thanks to the fluted hosel and 360-degree undercut.
With such impressive spec on offer, it's hard to say no to these premier line-up of long Taylormade irons.
We have infact done a separate article on Taylormade M4 irons review
---
These M6 TaylorMade Irons have been enhanced with some truly terrific spec to boost your performance on the golf course. You can count on improved speeds thanks to the speed bridge structure that makes the most of the thru-slot Speed Pocket with impressive results.
There is also a much-improved sound and feel at work here, with reduced vibrations for a more satisfying audible feedback upon impact. In fact, these Taylormade irons have been optimised for playability and across the board, with a fluted hosel and 360-degree undercut to lower the center of gravity for more forgiveness and to increase launch angles for better ball flight.
---
These Cobra F Max Irons are a re-engineered marvel that will help enhance your performance on the golf course. The offset hosel design of these irons helps create higher ball launches with more draw bias, resulting in straighter and more accurate shots as a standard.
There is also the low profile and deep undercut of the design to make note of, while the speciality wedge designs in some club models provides you with more versatility for when it comes to shot control in all manner of situations.
To cap things off, there's a first-rate chrome finish with nickel and chrome plating, giving you some impressive aesthetics and veneer of durability.
---
There's a long list of premium features setting these Cobra King F8 One Length Irons apart from the competition. For one, there's Pwrshell Technology, enhancing the sweet spot to promote faster ball speeds and higher launches as standard.
Carbon Feel Technology is also on hand to deliver a more consistent feel and finely-tuned performance when playing with your long irons, while a Lo-Pro Construction with Progressive CG improves trajectory control and overall accuracy.
---
You have got lots to take note of with these Steel Hybrid Irons For Beginners from WaZaki. Firstly, there's the top-flight Japanese Black Finish Technology head that makes an instant impression on the eye.
There is a super-thin speed face with variable thickness profile to increase distance, give you a bigger sweet spot and deliver some essential forgiveness, even for off-center hits. There is also a choice of shafts for these irons, with the light shaft and pro shaft providing an ideal option for the experienced golfer and novice alike.
Affordable enough to appeal to all levels of golfer, these enticing hybrids are certainly worth looking into if you are searching for innovative design and aesthetic details.
---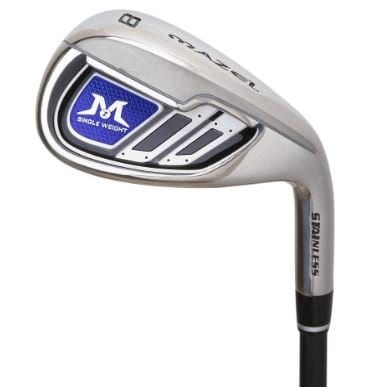 Upgrade your golfing gear without breaking the bank with this quality irons for beginners set from MAZEL. The spec here is definitely impressive. The pure graphite shaft brings the perks of lightweight performance, giving you consistent swing height and a consistent feel across every shot. This is great for golfers of all proficiencies.
The 431 stainless steel golf heads also boast a large sweet spot to improve your accuracy, while also helping you cover greater distances, every time. A lower center of gravity is also on hand to ensure your golf balls are in straighter trajectories for longer, while the superb rubber grip promotes a better feel in the hand and minimises shock upon impact.
With no less than nine long irons on offer in this golf iron set at a very affordable price, you can chalk this one up as a real bargain.
---