The 12 Best Indoor Putting Greens in 2022 | Never Miss A Putt!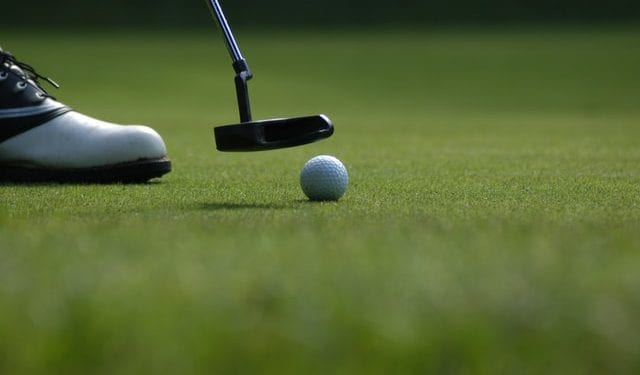 Last Updated on 22 February, 2022 21:22 by Pri
If you are looking to perfect your performance on the golf course, an indoor putting green is an essential training aid. The best indoor putting greens on the market incorporate premium artificial turf to replicate realistic playing environments and authentic upslope trajectories.
Automatic ball return systems also allow you to carry on practising without having to stop and reset with a fresh ball after every shot. Looking to fine-tune your putting stroke to impress on the course? Read on for our essential buying guide on what to consider when looking for the best indoor putting green; and put that blade putter to good use.
Size & Shape
The size and shape of a practice indoor golf putting green that you opt for will largely depend on your playing ability. Those looking for no frills and straightforward functionality and portability will be best served by a tight and narrow practice mat, especially if you are looking to carry this around in your golf bag.
As a minimum, you should look for golf mats with total lengths of around 8 feet to provide you with sufficient distances for practising your putting. You may wish to opt for a putting green that includes a more generous width or a less conventional shape.
If you are looking to invest in a practice mat with more sloping terrain, you will almost certainly need to invest in a larger overall playing area.
Materials
When selecting an indoor putting green, premium materials are a must. High-quality materials are important for two key reasons. For starters, any artificial turf you practice on needs to be of a high enough quality to accurately substitute for genuine playing conditions.
PET resin is often the go-to for creating artificial turf that authentically replicates the effects of genuine turf you will find on an outdoor golf course. The best golfing artificial turf will ensure your golf balls roll as they would on an actual green, meaning the skills you develop on the training green can be carried forward and put into practice on an outdoor course.
Good quality materials will also ensure your training mat holds up well for as long as possible. Foldaway training mats need to be robust enough such that, when folded and stored away, they maintain their shape and integrity. If you pick a cheaper option with a thinner build and subpar materials, you run the risk of wrinkling your mat. This obviously impacts the playing surface and can render your practice mat useless.
What Playing Features To Look For in an Indoor Putting Green ?
Below we look further into the three main features that golfers need to take account of when selecting an Indoor Putting Green;
Putting Holes
Artificial Bunkers
Ball Return Mechanism
Putting Holes
Indoor putting greens should incorporate a few basic features as standard. The most important of these should be the inclusion of putting holes. Most putting mats will include one or two holes to provide you with a greater variety of options when it comes to practising putts. However, a great deal of practice mats currently available will include three holes, if not more.
Artificial Bunkers
Another useful feature to look out for is the inclusion of artificial bunkers. These will usually be found at the far end of your training mat, behind the putting holes themselves. These are very handy if you are looking to practice chip shots from sand bunkers (check our Buyers guide on Sand Wedges).
Ball Return Mechanism
Ball return mechanisms are definitely something to consider if you are looking for convenience during your putting game practice sessions.
Gravity-assisted ball return systems are the ideal, with these mechanisms operating without the use of mains power or batteries. Some ball return systems will simply push the ball back out of the putting hole for manual collection.
More advanced systems will collect the golf ball, force it through a concealed channel and return it to your point of address. If you the have the budget to spare, the latter type of system will definitely prove good on its investment.
Other Types of Putting Systems
Some aspiring golfers will not have the space for a large putting green mat. If this applies to you, you might be best served by a simple putter cup training aid. These systems dispense with the artificial turf mat and strip things back to the basics. A quality putter cup system will include little more than ball return mechanism that includes a putting hole and slight upslope.
These can be used just about anywhere, but are best put to use on flat surfaces. Most are battery-operated, meaning you do not need to wire them up to an AC power outlet. There are some downsides to this variety of putting aid, however.
The lack of artificial turf means you will not get a very authentic experience in terms of true playing conditions. However, they are very affordable and offer keen golfers a highly portable putting aid that can be taken along just about anywhere.
Our Top Picks of the Best Indoor Putting Green
PROADVANCED ProInfinity Putting Mat – 4 Speed Golf Green Simulator – Giftbox Package – for Training – for Family – for Party
Gutebote Automatic Golf Putter Cup – Golf Putting Practice Hole Putting Training Aid with AutoBall Return for Indoor or Outdoor Yard Office
Reviews of 12 Best Indoor Putting Green
Read on for our pick of some of the best indoor putting greens 2022 has currently available on the market.
This premium Tour Links putting green provides you with an authentic training environment so you can practice your putting without having to venture to the course. As with every product from Tour Link, this putting green provides you with high levels of realism so the techniques you master at home can be put to good use on the course.
The quality of the artificial turf found here behaves in much the same way as an actual turf, affecting things like your club speed naturally. This indoor golf green also features adjustable breaks and also features four individual regulation pins and cups. These basic features mean you can start practising immediately, but you can also look to expand your putting green with additional elements at a later date.
This Tour Links indoor putting green is very generous when it comes to size, providing you with a multitude of different putting scenarios. There are selection of straight edge panels to utilise to provide you with more straightforward scenarios, while single and double curve edge panels are also included to provide more variety. Interior centre panels are also included. The ability to be able to modify this putting green to your individual liking is a definite advantage of this system and more than justifies the fairly substantial price tag.
This Tour Links putting green offers a simpler approach to putting practice at home. This quality home putting green is built to a high standard, providing you with a range of putting challenges. The high-grade materials are almost as good as the real thing, providing you with authentic club head resistance so you can perfect your putting strokes with ease and take what you have learned forward to the actual course.
Although more limited than other Tour Links putting greens, you will find plenty of challenges here to represent a wide scope of putting scenarios. As with other Tour Links putting green packages, you can also adjust this green somewhat to adapt to individual requirements.
This putting green includes eight individual edge panels, along with a selection of single and double curve edge panels. When combined, these panels provide you with an extensive putting area with plenty of inclines and varying terrain to practice on.
Three individual regulation cups and pins are also included to provide you with a selection of targets, while contours are also included so you have a more demanding putting green surface to play on. Installation is relatively straightforward, with a user-friendly manual included along with all necessary hardware.
If you are looking for a simpler approach to putting practice, this Big Moss Super G V2 putting green and chipping mat is a suitable option. This putting green and chipping mat is a popular choice for golf enthusiasts and professional players, with high-grade materials providing you with a very authentic putting surface.
This green also gives you high levels of realism when it comes to refining your technique to meet demanding chipping scenarios. You can also expect long-lasting use from this putting green, with the durable design boasting multiple layers and triple-stitched construction. This green will withstand intensive use and will also require very little in the way of maintenance.
Unlike other putting greens in this list, this green and chipping mat adopts a relatively simple design. That being said, this rectangular putting green provides you with generous dimensions, with a total length of 15 feet and a generous width of 6 feet.
On each side of this mat you will find three putting holes, with progressively smaller diameters providing you with a range of difficulties to master. By having target holes at either end, you also save time when it comes to retrieving golf balls so you can continue practising without distraction. The relatively low price of this home putting green also makes it a desirable option.
This Fiberbuilt indoor putting green combines a relatively simple design and practical dimensions with premium materials that provide you with a true-to-life putting experience. Measuring 4 feet by 14 feet, this rectangular putting green will allow for good rolling distance that will help you master more advanced putting techniques.
The premium materials will also appeal to the more experienced golfer. The soft feel of the artificial turf feels very much like the real thing and provides accurate resistance to club heads and golf balls. The realistic response of the turf also makes this putting green a good option for anyone looking to master their chip shots.
This golf putting green comes with two different hole cut outs and two metal cups, which is fairly limited when compared to other greens in this list. However, those looking to practice at pace will probably not be slowed down by this. The modular design of this putting green also allows for easy installation on most surfaces, while the rubber foundation and locking fasteners add another layer of stability.
The water resistant properties of this fiberbuilt golf mat also make it a durable choice for practice inside and out.
If you are looking to perfect your putting prowess, this Putt-A-Bout Grassroots Three Par putting green is definitely something to consider. Made from a high-quality PET resin to more accurately imitate turf conditions, this kidney-shaped putting green offers an easy way to practice your skills indoors.
If you are after a budget-friendly option, this three cup indoor kidney shaped putting surface is a good bet. Despite the low price tag, there is a nice selection of features here. You have three practice cup cut-outs on offer here, giving you a healthy range of putting options. There are also two curved sand trap sections at the far end of the green. Not only do these offer you the chance to practice chip shots, they also serve to catch any wayward balls that miss the target.
This is a relatively compact choice of putting green, measuring 3 by 9 feet. This might prove too small for more proficient golfers looking for a greater variety to their putting practice, but should prove ample enough for the novice.
If are you particularly strapped for space, this small putting green offers a good compromise between compact design and useful playing features. Non-skid backing ensures your artificial turf stays firmly in place for more consistent performance, although you will want to be careful to avoid wrinkling the mat when rolling it up to store away.
If you are prepared to spend a little more on an indoor putting green, the SKLZ Accelerator Pro is a very attractive option. There is a lot to love about this particular indoor putting green. For one, the long and narrow design makes it suitable for most indoor spaces. Because of the narrow width, you are bound to find ample space in any given room so you can practice your putting skills.
This auto return putting mat measures 9 feet in length in total, giving you a good range of distances to perfect your putts. You will also find helpful squaring and alignment guides at three distinct positions along the length of the green. This is very handy for the less experienced golfer looking to fine-tune their ability.
The 'True Roll' surface material does a good job at representing natural playing conditions. A slight upslope can also be found near the putting cup itself. As most outdoor putts include such a sloping angle, this practice putting green offers real green play conditions.
The standout feature of this putting green is the continuous automatic ball return mechanism. This is essential for developing accuracy and control in your putting performance. You are also unlikely to find ball return features in cheaper practice greens, so to find such a function here is definitely impressive. User-friendly and straightforward in design, the SKLZ Accelerator Pro is a good option for the golfer looking to fine-tune their ability and precision.
This automatic putting green system from Club Champ combines user-friendly design and affordability in one neat package. Measuring 7 feet in length, this putting system is large enough for you hone putting skills that you can take with you onto the course. The pared-back design is also good for those looking for something that can be easily stored away when not in use.
The bulk of the club champ automatic golf putting system is made up of a lightweight turf mat that can be rolled away neatly when you are finished practising, storing away into small spaces with ease. The high-quality artificial turf offers a good substitute for the real grass, although the relative thinness of the mat means you will need to take care when rolling and folding to minimise the chance of wrinkling and warping.
This putting system includes a regulation size cup and slight upslope to accurately represent genuine playing conditions. You will also find an automatic ball return system here. The ball return system operates on a gravity-powered basis, so you will not need to worry about replacing batteries or hooking this up to mains power.
This Club Champ putting system offers good value for money and reliable basic features, but those seeking for a more durable design might be better looking elsewhere.
This SKLZ Golf indoor putting green is another highly affordable choice for those looking to practice their putting at home. All the key features required for useful practice can be found here. The slight upslope and 'True Roll' surface emulate genuine green conditions.
The generous dimensions also give you plenty of scope for playing around with putting strategy, with the green measuring 3 by 9 feet in total. You will find three cups in total here, giving you a range of putting challenges. This putting green also includes twin bunker sections behind the cups. This not only captures wayward balls, but also gives you the chance to practice chip shots from sand bunker situations.
Unfortunately, there is no automatic ball return feature here. However, the premium design and generous dimensions means you have plenty of scope for when it comes to practising squaring and alignment. The size of this mat makes it suitable for most indoor spaces, while the durable material should withstand wrinkling if handled correctly when folding and storing away.
This ProInfinity putting mat from PROADVANCED is worth considering if you are after a more premium choice. There is a wide variety of first-rate features on offer here that you will not find with cheaper models in this list.
Enhanced materials allow for more accurate ball rolling speeds, while the durability of the overall design ensures this putting green can be enjoyed for years to come. Whilst there is no Stimpmeter included, the 4 different Stimp speeds on this indoor putting mat vary from 8 (usual green speeds) to 12.5 (Masters Tournament Green Speeds).
There is also plenty of scope for tailoring the green to your liking. This system includes a dozen accessories that can be arranged in various ways to provide you with a tailored practice green to meet your individual requirements. The metallic golf goal adds extra levels of control here, while a selection of slope simulators lets you practice at very specific angles. Visible ball traces are also on hand for you to perfect your alignment with clear stroke guidance.
With no less than 25 training bands provided, this putting mat is a good option for the more experienced golfer who knows exactly what areas of putting ability they need to fine-tune and master. Admittedly, the premium features offered here come with a price tag to match, but the sheer range of playability more than justifies the extra cost.
This JEF WORLD OF GOLF professional putting training mat is a must for those looking for realistic practice conditions and first-rate build quality. This large putting mat measures 3 by 10 feet in total, giving you plenty of scope when it comes to practising your putts. What really stands out here is the attention to detail and realistic finish of the artificial turf.
The training mat is framed by thicker fake turf that accurately replicates rough green you would find on an actual course, while also helping to keep wayward balls from escaping the practice area. The majority of the practice turf has been manufactured to accurately represent real playing environments, giving you more natural ball roll movement and speeds.
Unlike cheaper practice mats that are prone to wrinkling and distortion, this training green is particularly robust. The padded rubber base is especially durable, ensuring the mat holds its shape and integrity for longer, while also providing comfortable underfoot.
Two putting holes are included to provide you with a range of putting practice options, while the inclusion of par flags adds to the realistic appeal of this training mat. If you are prepared to fork out a little more for a putting mat, this is definitely worth the investment.
If you do not have the space for a large practice mat, this Gutebote Automatic golf putter cup is an ideal alternative. This system strips things back to the basics, with a compact putter cup with integrated ball return mechanism allowing you to practice just about anywhere. The putter cup itself includes a very small section of turf with a slight upslope, providing you with an accurate substitute for a genuine green provided you are playing on a suitable surface.
The return cup is made from high-quality plastic, ensuring it will hold up well to repeated use. Although it lacks an artificial turf mat, the lack of one means you do not need to worry about wrinkling or other damage. The golf aid is also surprisingly lightweight when weighed up against comparable models, making it a very portable choice.
This training aid is battery-operated, meaning you do not need to worry about searching for a mains power outlet. This is essential if you want the freedom to be able to practice anywhere, be it the home, office or elsewhere. This handy system from Gutebote is also one of the most affordable options on this, making it a good choice for those with a very tight budget.
Most golfers will no doubt want to upgrade to a full putting mat at some point, but this compact training aid is a good interim solution.
This Get Out! indoor putting green golf mat is guaranteed to go down a storm with the more proficient golfer. This innovative system is geared more toward the player looking to develop their putting precision and overall accuracy, dispensing with superfluous design elements.
With a total length of 7.9 feet, this putting mat is of ample size to accommodate more challenging putting scenarios. The mat features two distinct strips of artificial turf. The lighter half features a useful guideline to assist golfers looking to improve their squaring and alignment, while the other half is left unmarked for the more confident golfer looking to practice unaided.
Each section of turf has a designated putting hole. The unmarked half has a standard golf hole measuring 4.25 inches in width, while the half with the guideline has a smaller hole to help improve your precision and aim accuracy.
This system also includes a continuous ball return mechanism that allows you to carry on putting without resetting. Despite the premium features on offer here, this putting mat will not set you back a small fortune. In fact, it retails for only slightly more than some of the most basic options on this list. Definitely worth considering.