The 8 Best Wedges For Mid Handicappers 2022 | Buyer's Guide & Reviews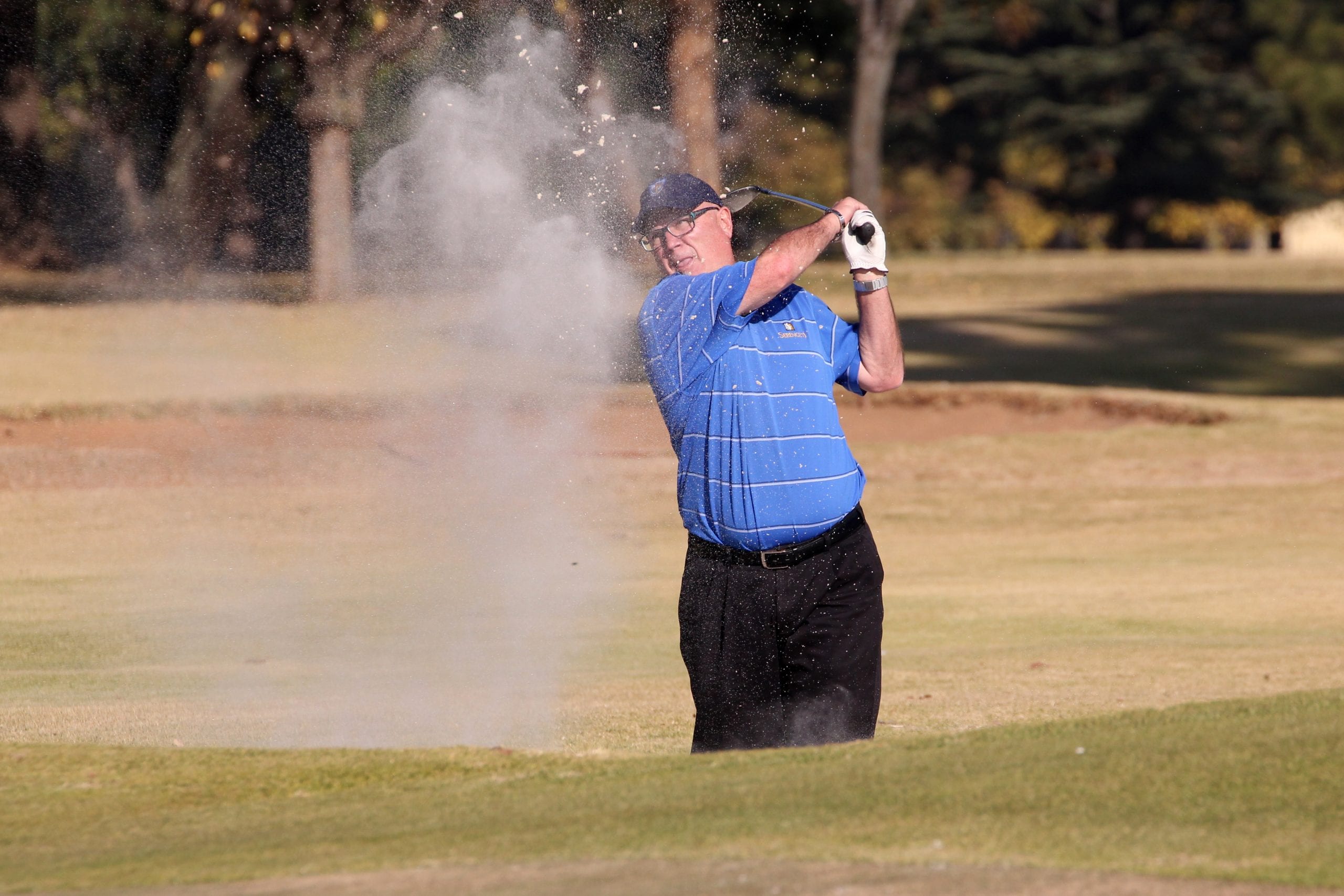 Last Updated on 22 February, 2022 21:25 by Pri
Golf wedges are a staple of any golf bag. In most cases, the self-respecting golfer will carry around three in their bag. Some golfers go for more choice and variety, while others opt for a lean and minimal approach to wedges. The beginner golfer, however, tends to overcompensate and carry far too many unnecessary clubs (irons, putters) with them.
It's worth bearing in mind that your golfing ability will quickly improve and your playing style will radically change as you discover what works for you. As such, whittling down a large inventory of wedges makes less sense than adding to a refined set of clubs as you fine-tune your selection. Therefore, knowing what to look for when creating a golf wedge core set is definitely essential knowledge.  Our buyers guide and reviews on best wedges for mid handicappers will prove a useful tool when opting to select your next golf wedge.
Things to Consider When Investing in Wedges
A mid handicapper should think about shot execution as the goal. You will need to take various things into consideration, such as the types of golf courses you will be playing on. Think about the worst possible situation you might find yourself in and the type of clubs you will need to pull you out of a bad patch. As we have said, three wedges is a good go-to for most golfers. A trio of quality golf irons is a good benchmark. Be sure to check our buyers guide on Best Callaway Irons, Best Taylormade Irons, PING G410 Irons and Taylormade P790
Golf Wedges Explained
Generally speaking, golf wedges are scattered amongst four main groups. You have got pitching wedges, sand wedges, gap wedges and lob wedges to consider. Each of these wedge types has a specific use.
Pitching Wedges
When it comes to Pitching Wedges, you have different loft angles ranging from 44 degrees to 50 degrees. As far as loft is concerned, you have the least amount provided from any of the wedge types. As such, Pitching wedges are an ideal choice for when you are needing to clear considerable distances. However, when loft is a more crucial consideration than distance cleared, you are best served by another wedge type. Pitching Wedges are predominantly used for long shots into the green and long chip shots.
Sand Wedges
Sand Wedges are, unsurprisingly, the ones to reach for when you find yourself stuck in the sand bunker. These types of wedges are designed to pull you out of these tough patches with ease. Sand Wedges provide different loft angles with a range of 54 degrees to 58 degrees, with a higher angle allowing the golf balls to take off with steeper ball flight trajectory from the moment of impact. This loft angle is a life-saver when you're caught in the sand, although the distance is slightly impaired when compared to pitching wedges.
In most situations, sand wedges will provide you with distances of around 90 yards. With sand wedges, you can expect a significant amount of bounce and spin as standard. Don't be daunted by this though, as these are the credentials you're looking for to strike out of the sand traps.
Gap Wedges
Gap Wedges are a good in-between of pitching and sand wedges. These are definitely the way to go if you're looking to clear the 100-yard mark. With lofted angles of 46 to 56 degrees, gap wedges fall right between sand and pitching wedges in terms of loft spec. They tend to exert more force than sand wedges but have reduced head speed than what you might find with a pitching wedge.
Lob Wedges
Finally, you have lob wedge to consider. These types of wedges have greater loft specs than other types, with angles of 58 degrees and above. As such, when you strike the golf ball, you can expect the shot to take an upward ball flight trajectory from the off. A lob wedge is a good bet if you're faced with a significant obstacle on the golf course within the immediate vicinity and need to clear it quickly. However, they don't clear that much distance.
Generally speaking, you can expect distances of around 60 yards as a standard. However, lob wedges provide quick drops and ensure a shorter stopping distance. This is key to the usefulness of a lob wedge as you rarely want to do much more than traverse the obstacle when using such a club.
Gold Wedge Bounce Explained
Golf wedge bounce is simply explained as what causes the golf ball to bounce off the clubs' face. This effect ensures a quick launching or takeoff speed upon impact. With sand wedges, the bounce is generated from the clubface itself. In most cases, golf clubs will advertise the bounce angle near to the leading wedge. Bounce will vary slightly from one club to the next. Bounce angle refers to the angle between the ground you are playing on and the leading edge sole. Bounce angles or Bounce Options will be referred to as low bounce, mid bounce or high bounce.
Low Bounce Angle
Low bounce angle clubs are the preferred choice for when you're playing on tough turf. The lower bounce angle ensures you have more freedom for opening the club face, thereby allowing you to gain some essential elevation and clear the turf. Low bounce wedges are anything between an angle of 0 and 10 degrees.
If you are unsure of what you're looking for when it comes to bounce, a standard bounce (mid bounce) is always the preferred choice. Unsurprisingly, you have less bounce on offer than with high bounce alternatives, but you have greater bounce performance than with low bounce angle options. It's a versatile performer that suits the mid-handicapper well and accommodates a wide variety of scenarios on the golf course. A standard bounce angle is anywhere from 10 degrees to 16 degrees, delivering you better ball flight trajectory.
High Bounce Wedges
High bounce wedges are worth considering in those situations where you're seeking to get out of the sand or rescue yourself from very challenging scenarios. Angles range from 16 to 18 degrees, while a wide-flanged club design means minimal digging is experienced.
High bounce wedges are also the way to go if you are seeking a wedge that gives plenty of high loft upon impact with the golf ball. The pattern here is a quick and high rise, followed by a sharp fall. In other words, you have a swift drop and stop distance here. A softer landing can also be expected, resulting in slower movement once the golf ball returns to the ground.
Be sure to check our review and buyer's guide on fairway woods and drivers if these clubs are kitted in your golf course bag?
How to pick the right wedge for your shot
Our Top Picks for Best Wedges for Mid Handicappers
Reviews of 8 Best Wedges for Mid Handicappers
---
Below you will find options of some of the best golf wedges for mid-handicappers to consider. Now that you have familiarised yourself with some of the most crucial specs for these types of club, you can make the best possible buying decision.
---
If you are after a quality lob wedge, this stylish option from Callaway is certainly worth considering. The PM Grind 19 is an innovative wedge design that boasts offset groove-in-groove technology to add spin on all types of shot, while the increased offset also works along with the higher toe to aid players in their control of trajectory. Furthermore, the C-Grind Sole delivers plenty of relief in the heel and toe of the wedge, giving you a cleaner, crisper contact.
---
This eye-catching Callaway wedge club is beautifully shaped to allow better play from every angle. You can count on a soft feel as you play, while a choice of Tour Grey and Platinum Chrome provides you with plenty of choices in terms of aesthetics. You also have a wealth of loft / bounce combinations here (23 combos in all), as well as five different grind options. Groove-in-groove technology also ensures a brilliant spin performance. A perfect choice of wedge for those seeking precise control.
---
This great value set of irons from Majek is the way to go if you are after something that is budget-friendly and guaranteed to perform in all manner of golfing scenarios. Included in this set is a 52-degree gap wedge, a 56-degree sand wedge and a 60-degree lob wedge. Short of an everyday pitching wedge, you have everything you need here to handle any situation. What's more, there is a flex steel shaft design that allows for comfortable, confident handling on the green.
---
You will be all set with this trio of golf wedges from Tour Grind. Included in this set is a 52-degree angle gap wedge, a 56-degree angle sand wedge and a 60-degree angle lob wedge. In terms of material, there's a steel shaft at work with senior flex for comfortable control, while the golf grip is of a premium standard size.
This set is definitely worth considering if you are seeking something that suits a modest budget, yet delivers enough wedge performance to get you out of all scrapes on the golf course.
---
If you're after a more tour-authentic choice, the RTX 4 from Cleveland Golf is the way to go. A distinct upgrade from previous blade wedges released from the manufacturer, you'll find the very latest advancements in face technology, shaping, grind offerings and more on offer here.
There is more spin as standard thanks to fourth generation Rotex Face Technology, giving you greater distance control, improved levels of accuracy and lower scores. What is more, Progressive Feel Technology provides this wedge with a further boost in terms of feel, consistency and short game control.
---
This Milled Grind 2 Wedge from TaylorMade brings together precise milling with innovative Raw Face Technology to produce increased levels of spin, a more precise level of control and a better overall feel. What's more, while the face will encounter the usual wear and rusting over time, the rest of the wedge head has been manufactured to maintain a stunning appearance for a long time.
Other top features include the TPU Insert in the back wedge cavity, delivering vibration dampening effects, as well as ensuring a solid, more assured sensation upon impact. What's more, you have got a choice of matte black and satin chrome when it comes to finishes.
---
The Cleveland Golf Men's RTX-3 has some innovative features at work here, with feel balancing technology as standard. The mass has been removed from the hosel and redistributed elsewhere in the wedge head to ensure a centre of gravity that's more aligned with the impact zone.
The V sole grind enhances shot consistency and overall control. With this wedge, you can clear turf more quickly thanks to more leading edge bounce and more consistent levels of performance. The Rotex face also increases overall spin thanks to a refined groove shape.
---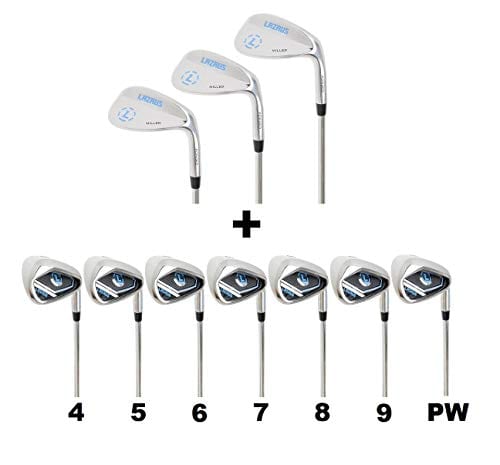 Take your game to the next level with this three wedge set from Lazarus. Included in this trio of must-have wedges are a 52-degree angle, a 56-degree angle and a 60-degree angle wedge, ensuring you have a club to reach for in any golfing scenario.
Stepped steel construction provides you with a great feel for more confident play on the course, while micro-milled face design delivers better levels of spin and more precise control. A great value set for those looking to build their golfing kit from the ground up.
---