10 Best Wedges For High Handicappers & Beginners in 2022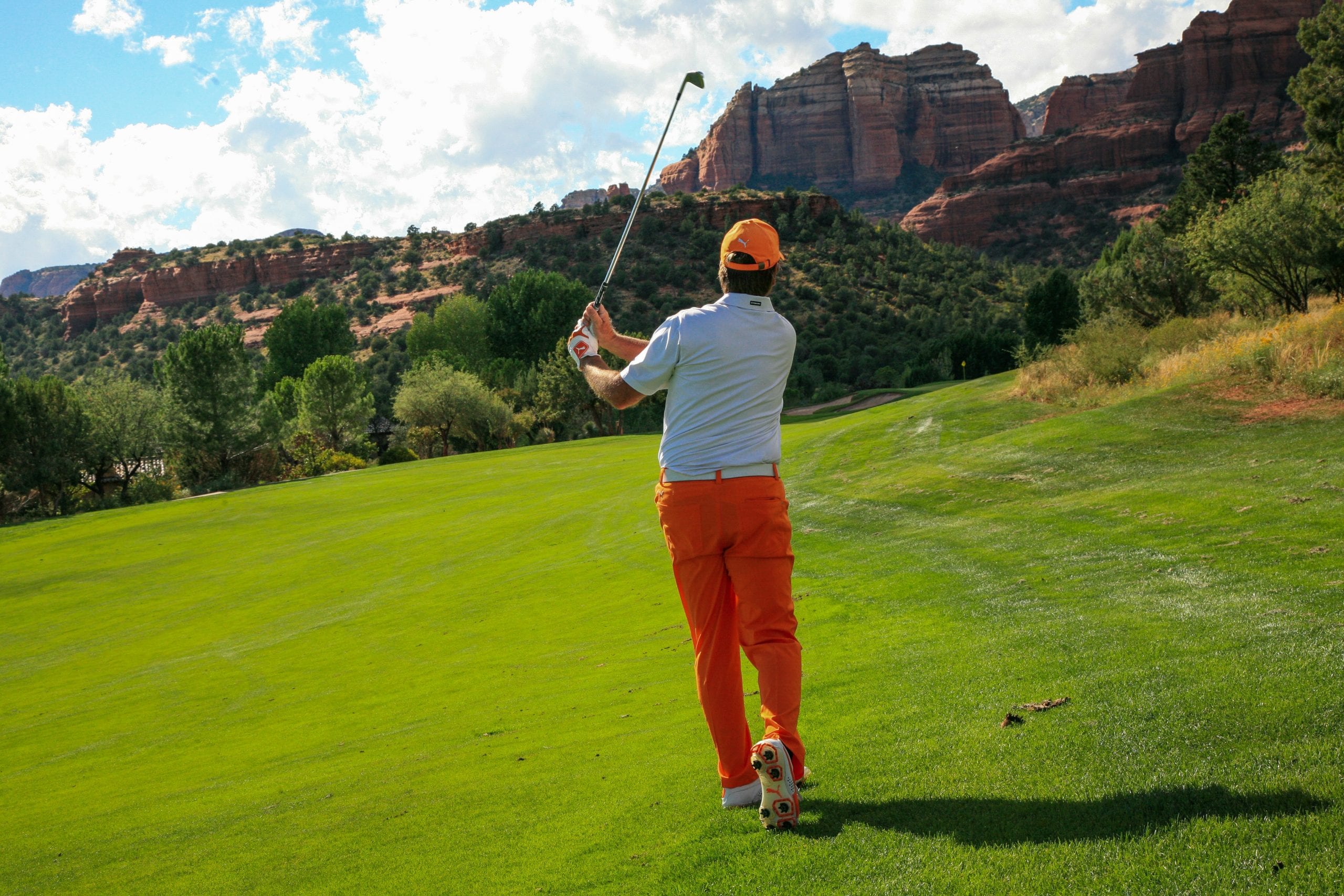 Last Updated on 7 March, 2022 21:07 by Pri
If you are a high handicapper, then it is very important that you have got a solid selection of high handicap golf wedge in your inventory. However, high handicappers and those new to the game of golf are often confused as to what constitutes a good wedge. Below we break down on what to look out for when selecting the best wedges for high handicappers.
Certainly, there are plenty of key factors to take into consideration when selecting your golf clubs (wedges). You will need to be clued-up on criteria relevant to bounce and loft, forgiveness plus much more besides. These factors are pivotal in determining your play, whether it be how much spin you will be able to achieve or the variety of shots you will be able to demonstrate.
What are the different Types of Wedges?
When you buy your first set of golf clubs, you will probably find two different wedges bundled into the set along with drivers, irons and fairway woods. The 2 varieties of wedges are usually the pitching wedge and the sand wedge
These wedges are very similar in design to the main irons in a golfing set. Both construction and visual style are very similar. However, the key difference between wedges and irons comes into play when considering the club's face.
Pitching Wedge
Pitching wedges usually boast a loft angles between 44 degrees and 48 degrees. It's the most common choice for those looking to achieve shots with a shorter approach.
A standard sand wedge usually has around 54 degrees of loft to 58 degrees of loft. As you would expect considering its name, it's the go-to choice for getting you out of sandy bunkers at the side of the green.
Sand Wedge
In a pinch, a sand wedge can be used for getting you around the green, particularly if you are looking for shots requiring a higher trajectory that a pitching wedge can't provide. If you want to deal with bunker shots then a sand wedge is the way to go. If you are keen to take your short game a notch up then its advisable to opt for a sand wedge with a wide sole.
If you are looking for more variety when it comes to distance control and shot selection, you can also consider the two other key types of wedges. These are lob wedges and gap wedges.
Gap Wedge
First, we will talk about gap wedges. The name of these wedges has been selected for good reason, with them providing a good compromise between pitching wedges and sand wedges. It delivers the best of both worlds in many respects. A gap wedge, on average, should provide you with a loft options between 50 and 54 degrees.
They are a very useful tool when you're looking to play approach shots that require distances falling in between what other golf clubs provide. If you use one of these correctly, you will find yourself having to suffer less with half-swings.
You will also find yourself putting less effort into your swings, without having to compromise on accuracy. Always feel free to practice on a top indoor putting green. 
Lob Wedge
Lob wedges have the highest loft of any of the wedge types, with lofts of 58 degrees making it easier to get the golf ball higher in the air and land more softly. In those situations where you need higher shots, a lob wedge is the way to go.
Why Loft and Bounce is So Important
A club's face with more loft means you will get more height on your shots as a standard. However, this height comes with a cost. This compromise is that distance is affected. Each type of wedge produces a different distance when you make a shot at full swing.
As such, it's important that your golf bag is kitted out with an ample variety of wedges. You can, of course, opt for clubs with adjustable lengths, but this is a less reliable method than simply having a selection of wedges at your disposal.
Loft not only allows you a greater sense of distance control, but it also allows you more shot variety to play around with on the greenside. You don't want to be limited when playing golf.
If you are short on a lob wedge, you will find it difficult to master shot types like the lob and the flop. You will want, at a minimum, three different loft options represented in your wedge collection.
Considering the bounce of your wedges will also enhance your game. You will want to personalise bounce to best suit your playing style. In short, bounce refers to the angle between the sole of a club and the leading edge of the club. This bounce angle is the reason that a wedge never lies completely flat.
To be more precise, bounce refers to the part of the club face that comes into contact with, or bounces off, the ground when a wedge shot is taken. When you purchase a new wedge, you will usually find the bounce inscribed on the clubhead itself. As with loft, the bounce is measured in degrees.
Swing
Your swing will ultimately determine whether you want a low bounce or high bounce. The type of shots you tend to play with will also play a factor in this.
Wedges with a low bounce measure from 4 degrees to 6 degrees and tend to have a flatter overall sole.
Lower Bounce Wedge
These lower bounce wedges are a good choice for golfers who swing shallower. If you have ever scooped the ball when swinging, you will know what we are talking about here.
They are a good choice for those playing on firmer ground and dealing with tight lies.
If you are someone who has a tendency to make cleaner shots when playing with wedges, you will definitely want to reach for a low bounce wedge.
High Bounce Wedge
High bounce wedges have an angle of 8 degrees and above. They usually have a more rounded style sole.
These high bounce wedges are a good choice for those who golf with a steeper overall swing. If you hit down on the ball as you swing, a high bounce wedge is probably a better match.
With an increased angle and more pronounced bounce, you'll find that the leading edge of your club's face won't dig that deeply into the ground you're playing on. More simply put, you will experience less so-called drag when playing.
Picking a User-Friendly Wedge
If you are a high handicapper golfer, ease of use and a wedge that's more forgiving is the way to go.
Selecting something that delivers the right blend of bounce and loft is more of a tailored decision to your individual preferences and playing style, but forgiveness is more of a blanket requirement for those with a high handicap.
Design plays a crucial role in forgiveness, with most of the focus on the wedge shape. Wedges with a blade-shaped approach to design are less suitable for those with a high handicap.
Instead, wedges with a cavity back design and a leading edge with a thicker profile are the more suitable choice. These style of wedges are more forgiving and, generally speaking, will help ensure you miss fewer hits. Both High handicappers and Mid-Handicappers should opt for this.
Before we delve deeper into the best high handicap wedges, you may want to check our buyer's guide and reviews on 3 Wood,  5 Wood and our pick of Best Drivers For Slice
Our Top Picks for the Best Wedges for High Handicappers
Reviews of 10 Best Wedges for High Handicappers
---
Now that we have gone through some of the basics when it comes to matching your high handicap with a wedge that works for you, we can look at some of the best golf wedges for high handicappers in the market.
Below, you will find our breakdown on some of the best golf wedges for beginners currently available for you to consider.
---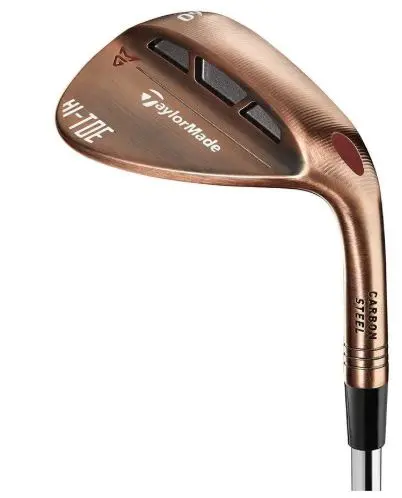 There is a wealth of technical details at work with this TaylorMade Milled Grind Hi-Toe Wedge that high handicappers will love. A 4-way cambered sole boasts a blunter leading edge, with an increased trailing edge and heel relief as standard with this steel shaft wedge.
There's also ZTP-17 grooves with steeper sidewalls that will help those looking to master backspin, while the full-face scoring lines produce the spin performance you're seeking from the off.
Overall feel and handling are enhanced by a strategic center of gravity, while a high-toe design greatly expands the contact area for impacts.
---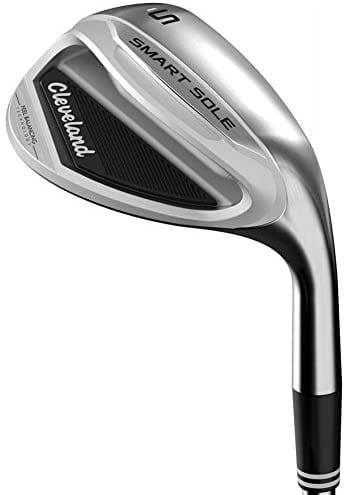 High handicappers can dramatically simplify their game with this Cleveland Golf Smart Sole 3S Wedge.
Ideal for those seeking to lower their scores, this wedge has a wider three-tiered sole that's been designed with enhanced forgiveness in mind.
Feel Balancing Technology also comes as standard, with the center of gravity shifted more towards the centre of the club's face for improved feel and tighter overall shot dispersion.
---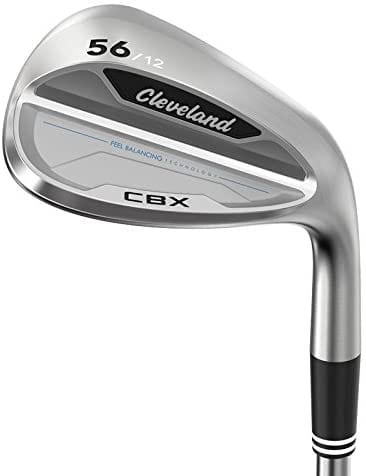 Here's another standout offering from Cleveland Golf that's ideal for those seeking to lower their scores with a more simplified approach.
This 56 degree wedge with a graphite shaft is not only an eye-catching choice for those who place great emphasis on aesthetics, but it's also a go-to for anyone with functionality in mind.
The CBX Cavity Back Irons have a wide dual-v sole making for a more forgiving wedge, while the Feel Balancing Technology shifts the center of gravity to the heart of the club's face for better shot dispersion and an improved feel.
---

This 52 degree Wedge from Callaway Golf scores highly in terms of versatility, giving high handicappers a multifaceted marvel to work with on the golf course.
The MD3 Milled Callaway Mack Daddy Wedges offer something for every shot, no matter the course of conditions you are playing in.
Callaway promotes this one as the most complete wedge line it has ever produced, with three unique grind options working together as one Progressive Groove Optimisation system that provides optimal spin for every loft.
---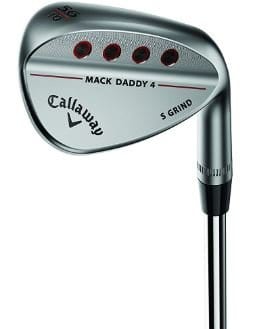 This Callaway Golf Chrome Mack Daddy 4 Wedge delivers on all counts for the high handicapper looking to improve their game.
Groove-in-groove technology produces more spin on every shot, while there are no less than four sole grinds on offer to suit all varieties of playing style, course conditions and angles of attack.
A wide variety of loft and bounce combos are also provided for, while the carbon steel and precise center of gravity make for a satisfying feel and user-friendliness.
---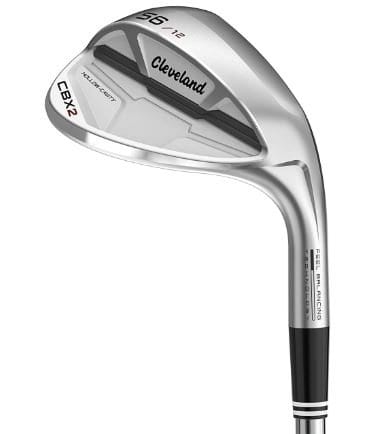 Improve your game with the CBX 2 Cleveland Wedges.
An ideal choice for the high handicapper, this 56 degree wedge features a hollow cavity design that provides more forgiveness upon impact, while the dynamic sole boasts three distinct sole grinds for a more versatile playing style.
You can also enjoy Enhanced Feel Balancing Technology, further enhanced with Gelback TPU Inserts for reducing levels of vibration and cleaner impacts.
What's more, Fourth Generation Rotex Face Technology produces maximum levels of spin control. If you are after the best 56 degree wedge for high handicappers then this Cleveland 56 degree wedge fits the bill.
---
This TaylorMade 56 degree Wedge has some truly impressive technical spec.
This Milled Grind 2 Wedge (MG2) brings together precise milling with Raw Face Technology to improve overall spin levels, enhance precision and boost the feel of the club.
The Thick-Thin head design redistributes mass to optimise the center of gravity of this wedge, making for more precise ball flight.
High handicappers will take to this wedge with ease. This TaylorMade Wedge also makes it in the list for best 56 degree wedge for high handicappers
---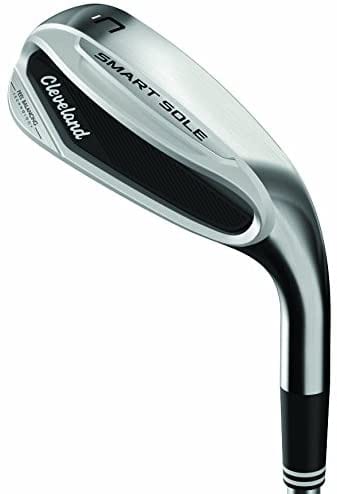 The Smart Sole 3.0 C Cleveland Golf Wedge will provide high handicappers with all the features and functionality they need to improve their game and lower their score.
The three-tiered sole delivers improved turf interaction, resulting in cleaner and crisper contact. What's more, Feel Balancing Technology is on hand to redistribute weight and provide a center of gravity that is focused more closely at the heart of the club's face.
An improved feel and tighter dispersion of shots is the welcome result.
---
Make the right choice when solving your high-handicap dilemmas with this 64 Degree Wedge from Callaway.
The offset groove-in-groove technology innovations will improve spin on all kinds of shots, be it chips, lobs or pitches. What's more, the C-Grind Sole enhances the experience with a more generous relief in the heel and toe.
The result is a much crisper and cleaner contact. There is a high level of quality throughout here, with a KBS Hi-Rev 2.0 steel shaft, as well as a Lambkin UTX Grip.
---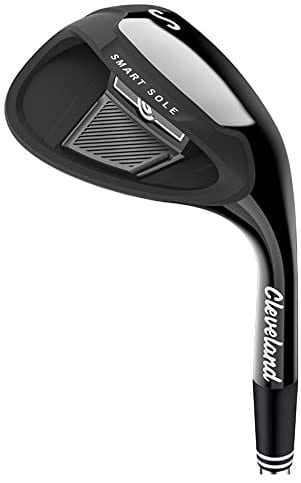 The Cleveland Golf Smart Sole 2.0 Sand Wedge is a solid go-to for those with a high-handicap looking to lower scores and improve their reputation on the golfing green.
This Cleveland wedge offers a more forgiving sole, just the right amount of bounce and enough loft to help you get the golf ball out of those sandy traps with minimal effort. If user-friendliness and an improved feel are what you are after, this Cleveland sand wedge is the way to go.
---