The 11 Best Golf Travel Bags in 2022 | Buyer's Guide & Reviews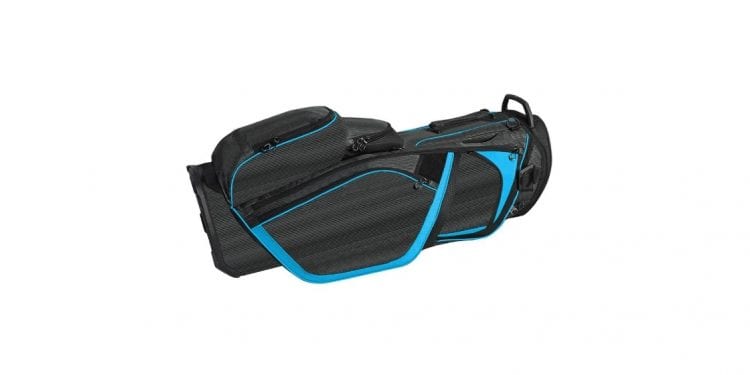 Last Updated on 22 February, 2022 21:21 by Pri
If you are looking to travel in your pursuit of a great game, our go-to guide is on hand to help you find the best golf travel bag on offer. Whether you are planning a golfing holiday, training for a tournament abroad or simply want something that is easier to carry, a travel bag can make a great investment. Below, you will find all the essential factors to consider before you splash out on a new purchase, along with our pick of some of the best golf travel bags has to offer consumers. And remember if you're going some place hot to grab your pair of golf sunglasses, an umbrella and some sunscreen.
Do You Need a Golf Travel Bag?
Planning on travelling abroad to enjoy a golfing holiday or tournament? Unless you can afford the eye-watering excess luggage cost, chances are you are in no position to bring your Tour Staff or Golf Cart bags with you.
Admittedly, a classic stand or Sunday bag offer a more lightweight alternative, but they are not really designed with travel in mind. Furthermore, you probably want to have a full set or your very best club line-up to hand when you head to pastures new to play golf.
As such, you will probably benefit from investing in a reliable golf bag travel cover or a hard case rather than a soft case to keep your chosen clubs safe and sound as you journey to destinations farther afield to tee off.
Key Things to Consider When Buying Golf Travel Bags
Firstly, you need to bear in mind all the usual important factors when buying a golf bag for travel. If you are spending money to travel abroad to play, be it for recreation or tournament play, you do not want to compromise on the functionality a good golf bag provides. However, beyond this, there are a heap of extra factors you need to be bearing in mind due to the travel implications. For those not travelling, we have a written a buyers guide on golf cart bags
Bag Size and Weight
When picking a golf bag for travel, it is very tempting to go with a lightweight option. Many amateur golfers heading off on a playing holiday may be tempted to the apparent convenience of a lighter model, but you should really consider whether or not a lightweight choice is the right one for you.
Admittedly, a lightweight bag is easier to carry, more convenient and generally speaking, more affordable. However, lightweight bags tend to offer less in the way of durability and offer limited protection for your clubs. No doubt you will be taking your most prized golf clubs with you on holiday or to a foreign tournament.
As such, you do not want to take chances when it comes to the protection of your clubs. If the actual travelling part of your journey is relatively short, a lighter option may be worth considering.
However, if you are looking at a long haul flight or intend to regularly travel, it may be worth biting the bullet and making some compromises when it comes to carrying weight. A hard case travel bag, while a heavier choice, will offer unrivalled levels of protection for your valuable clubs. Be mindful all airlines have different policies when it comes to checked in baggage allowance for your golf equipment. The Pointsguy has done a good summary of what major airlines charge when it comes to weight limits.
Furthermore, it will hold up well after repeated use and prove a worthwhile long-term investment. If you are instead investing in a travel cover to keep your existing bag protected, size plays a crucial factor.
It should go without saying that any travel cover you invest in is big enough to slide over your bag. Make sure you invest in a cover that offers a snug fit and will cling firm to the bag beneath. Go for too large a cover and you run the risk of it falling free of the bag beneath, leaving the contents to move around in transit.
Maximum Portability
One key feature to look for when buying a golf travel bag are wheels. The added convenience wheels offer is massive and should be considered no matter whether you are heading across the country or flying to an international destination.
However, they are particularly handy for those boarding a plane. Smooth-running wheels will allow you to zip through the terminal with ease and catch your flight with no delays.
Any quality bag with wheels should also have heavy-duty carry handles as a standard. This way, you can sling your bag over your shoulder and climb stairs with ease.
Extra Padding
The more lightweight a golf bag is, the thinner the levels of padded protection it tends to offer. To ensure your clubs are kept in the best condition possible while in transit, opt for models that boast superior levels of padding as part of their design.
Even if you are only interested in an additional cover to place around existing bags, consider options that incorporate a layer of padding as standard.
Secure Locks
This is particularly important for those who have to entrust their golf bags to airport baggage handlers and during travel when you will be separated from your valuables.
Many of the best travel bags on the market intended for international travel will incorporate integrated locks as part of their overall design.
Additional Storage
Any good golf bag should include a reasonable number of extra storage compartments. However, if you are heading off on a golfing holiday in new climes, extra pockets and pouches are all the more important.
In addition to ensuring you have adequate storage for golfing essentials like extra balls, markers and tees, you will definitely want to have added pockets for additional golf gear garments and accessories such as a range finder or perhaps even for a pair of golf shoes.
A chiller section is also a must for those playing in warmer conditions than they are used to.
How To Pack Golf Clubs For Travel
Our Top Picks for the Best Golf Travel Bag
Reviews of 11 Best Golf Travel Bag
---
Counting down the days until you head off on a golfing holiday? Below, you will find our pick of some of the best golf travel bags currently available.
You will find premium picks from some of the best manufacturers around, with a range of options to suit every budget.
---
This golf travel bag might seem basic at first glance, but a closer inspection will reveal a very convenient and portable solution for keeping your clubs in tiptop condition on the go. It is easy to write off soft-sided travel bags as subpar to hard case alternatives, but this surprisingly robust design holds up well against other options on the market.
Made from particularly durable nylon fabric, this bag is reinforced at all the typical stress points to ensure it lasts for as long a possible. This golf club travel bag also features a firm base so it can be stood upright when fully loaded with your gear, ensuring your clubs are kept in a safe and secure position.
When it comes to getting from A to B, this golf travel bag with wheels utilises several handy features to make life easier. The inline skate wheels roll incredibly smoothly, making it an ideal choice for zipping through the airport terminal or along railway platforms.
Heavy-duty curb rails offer an essential layer of protection to stave off damage from bumps and knocks while you are on the go. Riveted handles also come as standard here, making it very easy to cart about. Inside you will find compression straps to help keep your golf clubs secure and firmly locked in place.
Premium padding in the top section also protects your club heads from sustaining damage. This great value golf club travel bag also offers two large zippered side external pockets for storing smaller pieces of gear and golfing accessories such as rain gear, sunglasses, hats, golf shoes, sunscreen, range finder and other essentials.
---
This heavy-duty golf bag is perfect for travel. Key features on offer here include a thick layer of padding throughout, ensuring your clubs and golf extras are well-protected in transit.
There are also four protective feet at the base of the bag, along with a robust vinyl base. This is particularly useful in staving off wear and tear sustained from drag.
There are a selection of straps on offer here to ensure maximum portability, with a comfort grip handle at the top, plus padded tote handles and padded adjustable shoulder straps for maximum flexibility.
In addition to wide metal zippers for easy access to the interior, there is also an integrated locking function on offer here, providing you with plenty of peace of mind as you travel.
---
Make life easier the next time you travel with this Himal golf bag. A heavy-duty design with plenty of user-friendly features, this is an affordable choice that will hold up well for a long time to come.
There is a generous layer of thick padding through this bag to ensure your clubs are well-protected as your travel, while a 600 D polyester construction makes it an incredibly durable choice.
This is a great choice for those looking for maximum portability, with easy-rolling wheels on hand to allow you zip through the airport with minimal fuss. There is no shortage on space here either, with plenty of extra pouches and pockets for all your additional accessories.
---
This ClubGlider Meridian from Sun Mountain scores top marks for portability and flexibility. Key things to observe here include the innovative leg mechanism that can be extended and retracted in a single simple motion. Thanks to this, you need never worry about kneeling down to load and remove clubs from your bag again.
There are also plenty of nifty design details here to ensure things stay firmly in place as you travel. These include internal cinch straps to keep your bag secure, along with heavy-duty zippers that keep compartments securely shut at all times.
Finally, there are pivoting caster wheels that deliver impressive levels of manoeuvrability as you go.
---
The Caddy Daddy Phoenix is a great way to go if you are looking to streamline trips through the airport, while also enjoying superb levels of portability and protection for the duration of your golf trip.
The cover accommodates all large golf bag types, including staff bags, while the high impact EVA molded foam provides you with a robust protective shell to guard your precious golf clubs.
This self-standing design will serve you well from airport terminal to your golf course destinations, with plenty of internal space to accommodate your favourite club line-up, not to mention all those essential accessories you need for a great game of golf. This travel golf bag comes with a 1 Year Full Bag Replacement Warranty whereby the cover includes any damage to the golf travel bag caused by airlines.
---
The CaddyDaddy Constrictor 2 is a go-to choice of golf travel cover for those looking for something that offers plenty of protection, superb storage space and user-friendly design. This travel cover has been built to last. The high-quality 1800 denier construction is particularly robust, ensuring you have a bag that holds its shape and performs well for years to come.
This generously proportioned bag also offers sufficient space for you to store just about any 10" cart bag with ease. Durable design is the standard here, even down to the smallest detail. The main section and side pockets all feature heavy-duty, lockable zippers for total peace of mind.
This bag also includes substantial padding at the top, offering an extra protection level for your club heads once the bag is loaded with your gear. Your golf clubs will remain firmly in place while you are on the move, with external and internal straps that can be cinched to keep them safe and secure at all times.
Smooth-rolling inline skate wheels also come as standard, making this bag a particularly portable choice for those in a hurry. Once you have arrived at your destination and no longer have use for the travel cover itself, the collapsible design makes for easy storage. Very user-friendly and boasting a brilliant build quality, the CaddyDaddy Constrictor 2 is a first-rate choice of golf travel bag and an affordable one at that.
---
If you require more substantial levels of protection for your clubs, this hard plastic golf bag is well worth considering. Built from hard-wearing polyurethane, this durable travel bag gives you the extra peace of mind that only a hard cover case can.
Although fabric alternatives might seem more flexible, this hard shell plastic case has been carefully designed for convenience on the go. The contoured design also ensures wide compatibility with all manner of cart bags and carry bags. There is plenty of room here for almost any golf club, including drivers measuring up to 48 inches in length.
You can always ensure your golf clubs are protected while you travel with this golf bag thanks to the ultra-high molecular weight polyethylene material; the same material that is used for cases and containers by the US Military. Thanks to the integrated TSA Locking System, you can check your clubs at the airport without a worry. The Perfect Match valance bending system also offers a tight and secure fit, preventing dust, dirt and moisture from penetrating inside of the golf travel case and damaging your clubs.
If your clubs will be stored away for a considerable stretch of time, this level of protection will come in handy. Although this hard plastic case is more expensive than other options on this list, the superior levels of protection it offers more than justifies the price premium. This deluxe golf travel case also comes with SKB's lifetime warranty and also includes SKB's Million Mile Guaranty.
---
If you are after a more affordable golf travel bag, this great value option from Club Champ is worth a second look. However, despite the low price tag, you will not have to settle for second-rate features and functionality. This golf bag has been designed to make travelling with your clubs as easy as possible.
A heavy-duty construction ensures your clubs remain safe and secure while you are on the move, while also giving you a long-lasting bag that will hold up well to repeated use. In addition to the robust interior providing ample external protection, you also have the benefited of additional padding at the top of the bag to protect the heads of your clubs.
Integrated line skate wheel system ensures this golf club travel bag can be rolled easily across flat surfaces, making it ideal for fast dashes through the airport or along platforms. A detachable shoulder strap and grab handle also gives you plenty of flexibility should you prefer to carry your club bag.
More affordable bags on the market tend to be limited in size and capacity, but that is not the case here. This full size bag will easily accommodate almost any golf club type. When not in use, this bag can also be collapsed down for convenient storage.
---
This Partage golf travel bag is just the ticket for those venturing off to play a game of golf abroad. Specially designed with air travel in mind, there are a number of innovative features to keep your clubs and gear protected and provide you with total peace of mind.
Smooth wheels ensure you can make quick work of airport dashes, while heavy sponge pad linings provide superb levels of protection to ensure your clubs sustain no scuffs and dents in transit.
Robust metal zippers provide easy access to the interior, while the zipper seams themselves are of a very high standard to ensure no snagging and damage. This golf travel bag is of the classic standing variety, meaning it can be used for travel and playing on the course itself.
Hard-wearing 600 D polyester fabric has been used in its construction, giving you a robust and water-resistant option.
---
The Bag Boy T-750 (newer model from the T-700) is the way to go if you want the perfect combination of protection when you travel and functionality when you play. A thick layer of dense foam provides you with superb levels of impact resistance, keeping your golf clubs safe and secure, while neoprene handles make it easy to carry around.
Inline skate wheels are also integrated into the overall design, making this a very portable option. For peace of mind, a lockable zipper comes as standard, ensuring your golf clubs stay secure in transit, while still allowing you easy access to the interior of your bag when you need it.
A generous interior provides more than enough space for your favourite clubs, while spacious extra pockets give you the added space for essential accessories such as rangefinder, gloves and golf balls.
---
The Bag Boy T-2000 Travel Cover is another premium choice of golf travel bag with a slate of superb features to make getting around with your clubs easier than ever. Firstly, there is the patented Pivot-Grip handle. This ergonomic handle will automatically twist to the optimal position when you are carrying your bag, dramatically reducing the amount of strain on your wrists and arms.
This durable golf travel bag is also built to last. High-quality material comes as standard, adding essential external protection and keeping the elements at bay. The ABS base with its skid resistant credentials will also ensure your bag remains in premium condition for longer.
The main compartment is particularly accessible, with a wraparound zipper making packing and retrieval of your clubs incredibly easy. This main zipper is also lockable, providing you with plenty in the way of peace of mind. Deluxe inline skate wheels are also hand to ensure a smooth-rolling action while you get from A to B.
Your bags will remain stable in transit thanks to the internal compression straps here, while an extra thick padded section near the top of the bag will preserve your club heads, protecting them from the brunt of shocks and impacts.
---
Interested in the Top 10 Amazon Best Sellers for Best Golf Travel Bags?
---