The 15 Best Golf Simulator Options for 2023 To Improve Your Game
Last Updated on 19 December, 2022 21:40 by Pri
The best golf simulator can help you dramatically improve your golfing ability, helping you transform from a beginner to someone playing closer to the level of a PGA professional. The most basic simulators take the form of launch monitors, utilising various technologies to monitor your club and ball behaviour.
Combining reliable launch monitors and reliable hardware, the latest golf simulators offer an alternative way to train / practice with your golf clubs indoors, when a trip to the course, driving range or country club simply isn't an option
Golf Simulators can be useful for making minor improvements to your swing technique and can help you determine the trajectory and distance of your balls after the moment of impact. More advanced simulator packages will also include projectors and HD displays, side barriers and enclosures.
A High-definition projector screen and cutting-edge software creates a virtual playing experience that is incredibly immersive, accurately representing genuine play conditions so that you are prepared for any eventuality (which is why PGA Players love them too.)
Are you a seasoned golfer who travels around different states to play golf? We have put together an article on Best Golf Resorts in New York and Best Golf Resorts in California. Do take a moment to check these out.
Best Golf Simulator | Buying Guide
Looking to learn more about how a golf simulator can help you fine-tune your game? We have put together an in-depth guide on what to consider when shopping around for the best indoor golf simulators as well as outdoor golf simulators for your needs.

What Is a Launch Monitor ?
Almost every golf simulator uses a launch monitor to provide you the user with accurate information about what happens when the club head makes contact with a golf ball. Different launch monitors utilise various technologies in order to record this information.
Many launch monitors use radar technology in order to measure or predict things like club swing or ball speed. They can also be used to predict data such as spin rate of balls, as well as projected distance. Other launch monitors use high-speed cameras in order to record your swing and make readings and predictions based on what they record.
These systems can be a better option for those who prefer to watch back their swings after they have taken a shot. All types of launch monitor system make use of advanced algorithms in order to provide you with as full a data set as possible.
What is a Golf Simulator ?
A golf simulator is a more advanced alternative to a basic launch monitor. Many simulator packages are built around a launch monitor, with the monitor hardware being connected to a central computer or smart device that can be used as a secondary display for accessing data sets.
A golf simulator will also usually include additional hardware like a HD projector and display screen, allowing you to practice golf with virtual golf course displays. Most golf simulator packages will include an enclosure of some sort, with barrier netting, an impact screen and a variety of hitting turfs.
The most premium simulators will also aim to replicate course conditions as naturally as possible, with adjustable inclines to represent changing slope conditions, as well as multiple turf varieties. The immersive environment also makes practising your golf far more enjoyable than simply striking balls toward a hitting net.
Check our detailed article on A Beginners Guide to Golf Simulators for more information.
How Much Space is Required for a Golf Simulator?
If you are looking to build an indoor golf simulator, you will first need to make sure you have enough room for one. The smallest of golf simulator systems can be easily accommodated in small rooms and spaces, such as garages. At a minimum, you need an interior space measuring 10 feet wide and 10 feet long. You will also need to ensure any simulator space is sufficiently high enough. A ceiling height of around 9 feet is ideal as this leaves you with enough overhead clearance to carry out a full swing with your golf club.
However, much larger systems are available and will require more substantial space in order for all the main components to be properly installed. Depth is arguably the most important measurement to think about when choosing a large indoor space for your simulator. Some systems have depths of up to 20 feet, making them unsuitable for the majority of homes.
To determine whether or not your indoor space is large enough, measure out your interior carefully with a tape measure and take a practice swing with each of the clubs you intend to train with. Add a little extra onto all measurements to leave nothing to chance. More compact golf simulators are readily available, but the amount of space they require is still comparable to conventional models.
Indoor Golf Simulator vs Outdoor Golf Simulator
Many people look for a simulator that delivers flexibility and can be used indoor and in outdoor environments. You have a lot of choice in this regard. A lot of simulator systems include a portable launch monitor. When used indoors, these launch monitors are connected to other hardware to provide you with a full simulator experience. When you wish to use them outside, you can unplug them from a workstation and projector and use them to measure your swing when playing at the range or at a golf course.
Other simulator systems can be used indoors and outdoors in their entirety. However, these systems are less robust than other options. They usually include a portable enclosure that can be folded down quickly and carried to an outdoor space. They will also usually only have an impact/hitting screen, rather than a projector display attached.
Compact and Retractable Golf Simulator Options
If you want to install a golf simulator in your home (check our DIY Guide article), but do not have much space to house one, you can always think about purchasing a compact option designed with smaller spaces in mind. However, compact golf simulator packages can prove too small for most users to comfortably carry out a full swing.
The restrictive space offered by compact simulators makes it hard to comfortably train and improve your game. A retractable simulator is therefore a better option. These simulator packages do away with a conventional screen, with the projector display instead taking the form of a retractable screen that can be housed within ceiling mounted housing.
These are ideal for those who need to free up their simulator room for other uses after they are done training. These retractable simulators from brands such as SkyTrak tend to include collapsible enclosures and side barriers, as well as easy-roll hitting mats that can be folded away and stored when the simulator is no longer in use.
What are the Essential Components of a Golf Simulator?
A premium golf simulator setup should include a reliable launch monitor that utilises golf simulation software. Other must-haves include a golf mat, simulator screen, short throw projector (check our article on best projector for golf simulator) and a simulator gaming laptop / computer. More affordable options will usually dispense with a dedicated computer, allowing you to use an iPad or laptop computer instead. If you are looking for something more affordable, please check our post on the top rated simulators under $5,000
If you are seeking a budget-friendly alternative, you should consider doing away with projectors and simulator screens in favour of netting. Instead of hitting the ball toward a screen with projected graphics, you simply hit into the net. Your launch monitor will provide you with the same level of insights and useful data and, in many cases, provide you with a virtual representation on the screen of any synced computer or tablet device.
Golf Simulator Software
It is easy to focus on the hardware and physical components of a golf simulator, overlooking the importance of quality software. When selecting simulators, you should ensure the software included will suit your training and game improvement needs.
Decent simulator software will usually allow you to train on a range of virtual course levels. Most of the time, these courses are virtual versions of real-life courses. Software such as such as The Golf Club or R-motion, houses over 100,000 famous courses like St Andrews as well as most likely your own courses where you play regularly. Simulator software should also allow you to undertake virtual driving range practice.
Additional training modules for practising a variety of shot types, such as putting or chip shots, will also come in handy. Most software suites will also let you access various challenges and skills tests, such as closest to the pin competitions, longest drive contests and more.
If you want to be able to play alongside other players, you should also look for software that supports multiplayer use. Although most simulators come with a fixed-length subscription to basic software, you will often have to pay to continue using it once this period is over. You may also need to pay for add-on elements and software upgrades, so bear this in mind.
Our Top Choices of Best Golf Simulator
Below we have shortlisted our Top 15 Home Golf Simulators 2022 has on offer. However do check the detailed reviews further down.
Best Golf Simulator | Data Points Comparison
Ball Data Points
| Data Parameter | Uneekor QED | Uneekor EYE XO | Foresight GC2 | Foresight GCQuad | SkyTrak | OptiShot | FlightScope Mevo+ |
| --- | --- | --- | --- | --- | --- | --- | --- |
| Ball Speed | Y | Y | Y | Y | Y | N | Y |
| Launch Angle | Y | Y | Y | Y | Y | N | Y |
| Ball Spin | Y | Y | Y | Y | Y | N | N |
| Spin Axis | Y | Y | Y | Y | Y | N | Y |
| Carry/Total Distance | Y | Y | Y | Y | Y | Y | Y |
| Distance Offline | N | N | N | N | Y | N | N |
| Roll Distance | N | N | N | N | Y | N | Y |
| Flightpath | N | N | N | N | Y | Y | N |
| Angle of Descent | N | N | N | N | Y | N | N |
| Run | Y | Y | N | N | N | N | N |
| Flight Time | Y | Y | N | N | N | N | Y |
| Distance to Apex | Y | Y | N | N | N | N | N |
| Apex | Y | Y | N | N | N | N | N |
| Apex Height | N | N | N | N | N | N | Y |
| Land Angle | Y | Y | N | N | N | N | N |
Club Data Points
| Data Parameter | Uneekor QED | Uneekor EYE XO | Foresight GC2 | Foresight GCQuad | SkyTrak | OptiShot | FlightScope Mevo+ |
| --- | --- | --- | --- | --- | --- | --- | --- |
| Smash Factor | Y | Y | N | Y | Y | N | Y |
| Clubhead Speed | Y | Y | N | Y | Y | Y | Y |
| Club Path | Y | Y | N | Y | N | N | N |
| Club Face Angle | Y | Y | N | Y | N | Y | N |
| Club Face to Path | Y | Y | N | N | N | N | N |
| Attack Angle | N | Y | N | Y | N | N | Y |
| Dynamic Loft | N | Y | N | Y | N | N | N |
| Club Loft Angle | N | Y | N | N | N | N | N |
| Club Loft Angle | N | Y | N | N | N | N | N |
| Impact Point | N | Y | N | N | N | N | N |
| Impact Position | N | N | N | Y | N | N | N |
Best Home Golf Simulators For Any Budget | Quick Recap
Reviews of 15 Best Golf Simulator
Need a simulator that can keep up with your game improvement programme? Below are 15 of the best golf simulator packages currently available to enjoy that immersive indoor golfing experience, with options to suit all needs and individual budgets. These golf simulators for home have been listed in no particular order. Be sure to check our article on Best Affordable Home Golf Simulator Under $5,000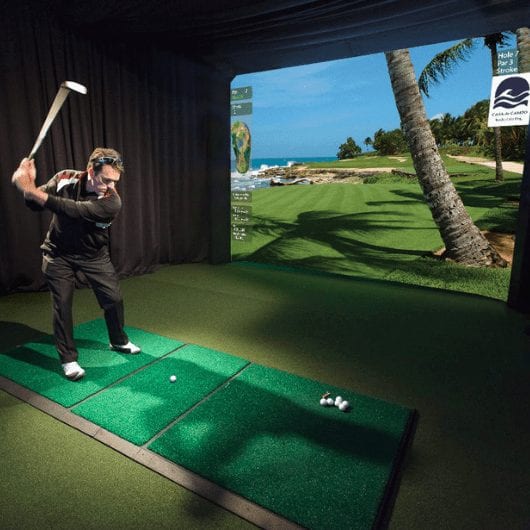 If you are looking for a premium indoor golf simulator that supports HD graphics, this advanced package from HD Golf is a good choice. In addition to being a superb alternative to standard driving range practice sessions, this HD golf simulator package benefits from being developed around the MultiSport software package.
This means you can practice a whole host of virtual sport from the comfort of your own home. This versatile software suite provides training access for eleven different sports, including baseball, football, soccer and more. You will also find that multiplayer functionality is readily supported.
HD resolution images come as standard here, which combined with geophysical and satellite data delivers an incredibly immersive practice environment that is almost as good as the real thing. This complete simulator system provides you with amazing graphics and a highly detailed virtual environment in which to play and practice golf, with a quality build that ensures this simulator will perform well for years.
The HD graphics supports first-rate training simulations across the board, while the premium hardware can also be utilised for home theatre applications. This golf simulator system is one of the largest simulator options around, with a width of 15.5 feet, height of 10 feet and depth of 19 feet. This should appeal to those looking for a more comprehensive simulator arrangement, but may prove too big for those with limited floorspace.
Also included is an artificial green turf and a stance mat, as well as a robust frame system. Ball and club tracking is provided by a reliable Computer Vision system, while you can expect very precise spin measurements courtesy of a dedicated spin measurement data module.
Quality hardware is also provided, with a 22-inch LCD touchscreen monitor, HP computer workstation, a Sony laser projector and a mounting bracket. Rear stereoscopic cameras provide you with accurate ball and club measurements, with lenses and mounts also included. All the extras like drapery nets, baffle nets and ceiling tracks are also included.
You will also find a complete surround sound package included, adding the overall atmosphere when playing. If you want to enjoy playing virtual golf and other sports at home, this simulator system should fit the bill. However, those seeking a more dedicated approach to game-improvement and advanced golf training may find the system slightly limiting.
Check our article on HD Golf Simulator Review where we go deep into two different packages available and why we believe this is the best home golf simulator. We also provide a comparison on HD Golf vs Full Swing and HD Golf vs GOLFZON.
PGA Tour Pro and Masters Champion Adam Scott states the following on his experience with HD Golf Simulator
"I installed the HD Golf Simulator in my office and not only can I use it, but the people on my team and visitors get to experience HD Golf Simulator fun. Everyone comments on how classy and effective the system is, so strikes a great balance between relaxation and serious golf practice." 
Pros
Complete golf simulator setup provided
Premium hardware and HD projector included
Perfect for those who want to immerse themselves in high definition virtual recreations
Effective at calculating club path, clubhead speed, ball speed and carry distance metrics
Multiplayer software allows for gameplay with friends and family
Quality setup, including premium impact screen, golf mat and golf net components
Cons
Those looking for game-improvement may be better looking into a dedicated training simulator package
MultiSport simulation software includes surplus features not needed for golf simulation
This is a large system not suitable for smaller spaces
---
The Uneekor QED golf simulator is relatively pricey, but is a good choice for those looking for maximum accuracy and real-time feedback. This indoor golf simulator makes use of the innovative QED camera system, providing you with a very reliable tracking system for measuring your golf swing and other crucial metrics.
Not only will you be able to enjoy full feedback on ball data and other essential criteria to game-improvement, you can also expect considerable levels of accuracy. In fact, this system can provide you with accurate results within a tight margin of error of just 10 centimetres.
This golf simulator system provides you with access to a variety of practice ranges and various playing modes. You can also tackle various skills challenges which have been carefully designed to help you improve your core golf abilities. This system uses two hyper-speed cameras with a 3000 fps rating, with infrared sensors also on hand to ensure your club and ball movements are precisely monitored.
You can also access real-time footage of your ball and club at the moment of impact, providing you with an indispensable reference point for assessing your performance. This low-profile simulator set-up will also suit those with less space, with the ceiling mount allowing you to keep pricey hardware out of harm's way while swinging.
This system also allows you to practice your skills on virtual versions of famous courses. You can also undertake a practice session with various virtual driving range levels included. These are ideal for golfers who want to enjoy quick practice sessions for golfing warm-ups before heading out to actual golf courses.
Pros
Ceiling mounted design makes this a suitable option for compact spaces
Premium virtual driving range levels and golf course settings for real golf practice
Superior swing analysis functionality
Affordable option when you compare it to other to premium golf game simulators
Cons
You need to be very familiar with golf in order to make use of the in-depth feedback provided here
In order to access St. Andrews and other virtual courses, you will need to purchase costly upgrades
If you want a more true-to-life golf experience, you will need to develop your simulator with additional items
Be sure to check our in-depth article on Uneekor Launch Monitors
---
The Uneekor EYE XO SwingBay simulator package is the perfect upgrade for those who want a more complete practice environment. This all-in-one simulator set-up makes full use of the Uneekor EYE XO simulator hardware, providing you with very reliable measurements of your swing path, spin rate, side spin and crucial ball metrics. It it also very reliable when it comes to calculating total distance, allowing you to take what you learn within your simulator, out into the real world.
However, this package includes premium elements throughout. The actual enclosure, landing pad and golf hitting mat are all among some of the best products in their category on the market. The simulator projector and ceiling mount are also impressive in their own right.
However, it is the EYE XO simulator hardware that will impress you the most. This superior golfing simulator brings you near-unrivalled levels of accuracy, with a very slight margin for error of just 10 centimetres at ball flight distances of up to 435 yards.
This simulators also gives you access to a variety of practice ranges, as well as multiple skills challenges and playing modes. Although a costly option, this is a good choice for just about any golfer looking to improve their skill ability. Although a comprehensive system, the SwingBay system is a user-friendly choice and easy to assemble.
It is also slightly smaller than many other complete simulator systems out there, making it ideal for those with less interior space to utilise. The ceiling mount projector frees up even more space while you swing, making it suitable for use in garages or rooms with lower ceiling heights.
Pros
All-in-one golf simulator package
Incredibly reliable simulator hardware and software provides you with invaluable feedback for improving your golf game
Premium enclosure, landing pad, golf mat and other simulator components
Suitable for golfers of every level
Fairly compact option for a full-scale simulator package
Cons
An expensive choice that might be out of the price range for many
Does not include substantial side barriers or a full enclosure
Those after a completely immersive simulator may be better off with other simulator systems
---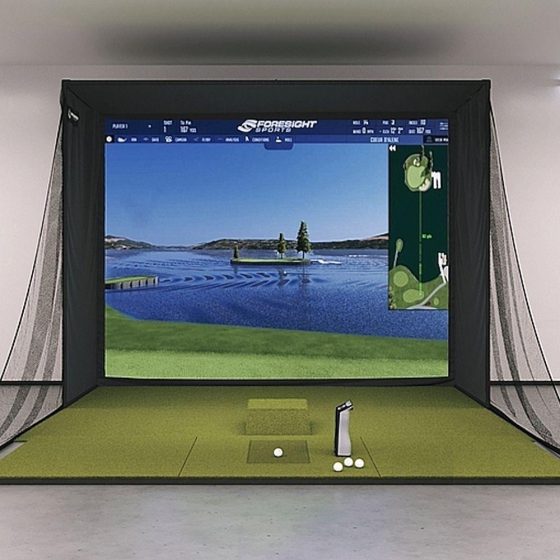 The Foresight Sports GCQuad SIG10 golf simulator is definitely a good option if you are looking for incredible levels of accuracy. The GCQuad SIG10 launch monitor is what makes this system so precise, offering you a complete solution for tracking your golf practice.
Not only is the GCQuad launch monitor incredibly precise, it is also consistent. You can continuously measure things like spin, ball speed and clubface angle at the moment of launch, receiving reliable data that can be used to improve your game. This launch monitor is also a very versatile piece of hardware and can be utilised indoors and outside.
An optional upgrade for this golf simulator is the Club Head Analysis add-on. This add-on provides you with a way to measure advanced club data such as club path and club head speed metrics, as well as things like impact location and smash factor. If you are a more experienced golfer who wants to fine-tune their playing technique, this add-on will prove incredibly valuable.
Although the launch monitor provides you with a mobile solution for measuring golf metrics, it of course forms the heart of a winning simulator system for use in the home. You get a complete set of enclosure products included with the launch monitor itself, as well as a full suite of hardware.
You also have FSX 2020 simulator software here, which is pre-loaded with popular courses in virtual form. It also provides you with driving range levels, club fitting software and a variety of skills challenges.
For an in-depth review you may want to read out article on GCQuad Review
Pros
Complete simulator setup with all essential components included
Best choice for those looking for reliable and consistent feedback
Good basic software package included with simulator hardware
Cons
Optional add-ons will increase the overall cost of this package
Probably too advanced for the beginner to make good use of
US Visitors: Check Latest Price
UK Visitors: Check Latest Price
---
The GC2 SwingBay simulator package is a fairly affordable option for those looking for realistic golf training in their own home. This system is centred around the GC2 launch monitor, which provides you with a very reliable way to measure and monitor club behaviour and the speed and trajectory of golf balls.
You can also expect consistent and reliable readings, providing you with far more valuable insights that you can take with you out into the real world when playing against friends on the golf course. Although the launch monitor is the main highlight of this package, you will find a complete line-up of simulator accessories so you can put together a premium enclosure at home.
The launch monitor comes with a SwingBay simulator screen and surrounding enclosure, as well as a choice of hitting mat and side barrier netting. Hardware is also supplied with this package, including an Optoma HD short throw projector and a ceiling mount so you can keep your projector out of your swing path. HDMI cables and side barrier netting are also included.
You will also find a comprehensive software suite provided along with your enclosure essentials and launch monitor. The FSX software from Foresight Sports supplied with this package provides you with access to a good range of virtual courses and training levels.
It also allows access to in-depth analysis of your golf practice sessions. This makes it a great choice for those looking for a simulator that can help improve their game, especially if you struggle to make time for physical visits to the driving range or your nearest golf course.
Butch Harmon, one of the top golf instructors in the world has the following to say according to Foresight Sports;
"At the Butch Harmon Schools of Golf we've tried every kind of launch monitor in the business, and there's nothing that can compare with the GC2"
Pros
Full simulator package with launch monitor, enclosure accessories and hardware
In-depth analysis provided by FSX software
Good choice for game-improvement needs
Fairly compact and suitable for smaller spaces
Portable launch monitor provides you with indoor and outdoor applications
Cons
Not the most complete enclosure
Certain add-ons require you to fork out a little more cash to access them
---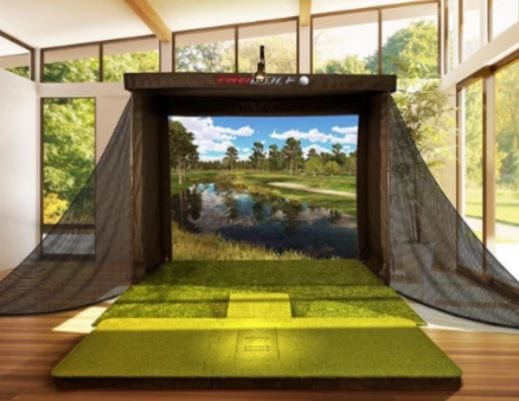 If you want a simulator that is suited to multiplayer use, the TruGolf Vista 10 is a great option. Everything you could possibly want from a quality simulator is included here. The TruGolf Level 1 computer and TruTrack 2 tracking system makes this system particularly effective at measuring and analysing your swings. It also provides you with a very immersive practice environment, with the frame and enclosure far more substantial than what you might find offered by other systems.
A HD projector is also included, providing you with a 4:3 aspect ratio that will let your virtual courses and practice levels shine. An overhead light bar makes for an even more engaging virtual environment, while a 21-inch touchscreen display means you can quickly access your feedback and data sets. A premium fairway mat system is also included, allowing you to recreate more realistic turf conditions, even when practising indoors.
This simulator also comes with a year-long subscription to E6 Connect software. This quality simulation software will allow you to capture a variety of metrics, including clubface angle, launch angle, club path, distance, deviation and more. The software is also very comprehensive, allowing you to virtually recreate a wide variety of play conditions so your simulator training sessions can be put to use in the real world.
Pros
Includes all the essential components for a quality simulator
Superior software provides you with a wide range of virtual playing conditions
Easy to access and analyse your data
Cons
Not the best option for putting practice
The projector screen is not as large as some other displays
---
Not everyone has the space for a conventional golf simulator in their homes, which is why retractable systems are becoming increasingly popular. This Flex Space simulator package from SkyTrak is definitely something to consider if you have limited square footage available.
A SkyTrak Golf Personal launch monitor serves as the central hub of this system, providing you with accurate measurements and analysis of your swings and golf balls. SkyTrak game improvement software is also included, making this ideal for the more experienced golfer looking to hone their technique.
The HomeCourse Pro retractable screen is what makes this system so suited to smaller spaces. When you are done practising for the day, the screen retracts away in its housing, freeing up your rooms for other things. The HD projector has also been designed to be discreet, with a shield floor mount providing you with a robust housing for your hardware. The outer walls of the floor shield are covered in artificial turf, allowing it to blend in effortlessly with your hitting mats and artificial turf coverings.
This system also comes with a collapsible frame enclosure that can be quickly assembled or packed away when training is over. A thin turf mat is also included, which can be rolled away and stored elsewhere once your training sessions have finished. All HDMI cables and adapters are also included, meaning you do not have to invest in anything else to get this simulator going out of the box.
Pros
Perfect choice of simulator for smaller spaces
Floor shield enclosure for projector means you do not have to worry about permanent installation of ceiling mounts or brackets
All components can be stored away when you are not using your simulator
Versatile launch monitor and quality software package included
Cons
The frame enclosure and hitting mat may be too delicate for aggressive swings
The floor-mounted projector configuration will not suit everyone
---
If you have less free space to work with, but want something more substantial than a retractable golf simulator package, this SkyTrak SwingBay system is a good option. The main element to focus on here is the SkyTrak launch monitor.
This quality launch monitor provides you with accurate analysis of your golf practice sessions, with reliable results that can be used for game improvement purposes. The monitor also comes with a heavy-duty protective case, meaning you do not need to worry about the occasional impact from golf balls or clubs causing any damage.
This package also includes a SwingBay simulator screen and enclosure, allowing you to create a sturdy environment in which to practice golf. Side barrier netting is also included, keeping fast-moving golf balls from causing any damage to your interiors. You also have a choice of hitting mats to consider, allowing you to experience more accurate turf conditions, even when practising indoors.
You are also well provided for when it comes to hardware. An Optoma 1080p short throw projector is included as a staple feature, with a ceiling mount so you can keep your projector out of the path of your swings. A 25-inch HDMI cable is also included, allowing you to connect your hardware. Game improvement software is also provided, giving you access to a good range of virtual course levels, as well as demanding competition levels and skill tests.
Pros
Ideal for those after a conventional simulator system for compact spaces
Full line-up of simulator essentials included
Can be expanded and modified with ease
High-quality projector and convenient ceiling mount included
Reliable launch monitor performance
Cons
Small hitting mat limits putting practice
Software package might be too basic for more experienced golfers
---
If you want a flexible simulator package that provides you with the freedom to use your launch monitor both indoors and outside, this Flightscope Mevo+ SwingBay package should interest you. The big selling point of this package is the Mevo+ launch monitor.
This reliable launch monitor not only provides your simulator system with an effective monitoring tool for measuring key golf metrics. The Mevo+ also has the advantage of being able to be used outdoors. You can easily take this launch monitor with you out to the driving range or onto your nearest course to monitor your swing in real world conditions.
All the basic components of a first-rate golf simulator can be found here. The SwingBay simulator screen and enclosure provides you with a heavy-duty environment in which to practice at full swing. You can also choose between a variety of hitting mats, providing you with a more realistic representation of your own courses or preferred playing conditions.
Side barrier netting also ensures your golf club or balls never stray too far from where you are playing, protecting your interiors from damage.
This simulator is rounded off by an Optoma short throw projector that delivers display at 1080p HD resolution, along with a ceiling mount that will keep your projector out of the path of your golf swing. HDMI cables are also included for easy connectivity.
The Mevo+ launch monitor is also compatible with the FlightScope practice app. This app can be downloaded to your iPad or tablet, providing you with quick access to stored data sets for game improvement purposes.
Check our in-depth article on Flightscope Mevo
Pros
Versatile Mevo+ launch monitor can be used indoors or at the golf club
Includes full simulator enclosure system
Premium projector for impressive displays at full HD resolution
Flightscope practice app can be downloaded to your tablet device for easy access to analysis and data
Cons
When fully assembled, this simulator requires a considerable amount of indoor space
Not the best option for small indoor spaces
---
Not every golfer can afford the premium price tag attached to some simulators. If you are in need of something that will not break the bank, the OptiShot 2 Golf-in-a-Box simulator package is definitely something that will attract your attention.
Although affordable, this simulator includes all the basic components required from a reliable simulator that can be used at home. Although it lacks a conventional launch monitor, this system does boast the OptiShot 2 infrared optical swing pad to keep track of your ball and clubhead metrics. OptiShot 2 software can also be downloaded to your gaming laptop or portable smart device to make full use of your swing pad functionality.
This simulator also include an OptiShot hitting mat and portable hitting net, allowing you to build a system that is more in keeping with a standard simulator package. Other basics like adjustable rubber tees are also included. The swing pad itself has been engineered so you can practice with real golf balls and foam golf balls. You can also do away with the golf balls entirely and analyse your swing by practising with golf clubs alone.
Should you download the software, you will be able to access a decent variety of virtual courses and practice levels. The basic software package provides you with access to 15 individual golf course levels, as well as a driving range module. It also supports multiplayer functionality, with up to four players able to play alongside each other on a turn-based basis. This system can also be quickly expanded by connecting it to an external projector or HD television.
Pros
Perfect for those who have little money to spend on a large-scale simulator
Reliable alternative to a launch monitor system
Good for those with less free space
Supports multiplayer practice and competition
Decent basic software suite can be downloaded for use with simulator system
Cons
Not suitable for those who want a fully-formed simulator enclosure
Does not provide the best insights and ball/club analysis
Too limited for extended game improvement use
---
If you want a more complete golf simulator system, but still need to watch costs, this SkyTrak simulator product is a good option. The SkyTrak photometric launch monitor will definitely impress you, especially if you have more demanding requirements than the novice. This launch monitor is one of the most reliable products of its kind, offering you professional-grade accuracy that is almost as good as what you can expect from the Trackman launch monitor.
The launch monitor is also a flexible option for those who do not want to be confined to their garage or inside spaces. Of course, you can use this premium monitor as the central point of your indoor simulator system, but you can also take it with you out into the real world when playing on actual courses or at your local driving range.
The launch monitor comes with a rechargeable battery that, after a complete charging cycle, provides you with approximately 5 hours of runtime. This launch monitor can also be synced to your smart device via the SkyTrak app. This app is compatible with all main operating systems, including Android and iOS. It can also be downloaded to laptops should you wish to use your launch monitor as part of an indoor simulator.
This launch monitor comes with practice software, with a decent line-up of virtual course levels included. You can play at iconic golf course destinations including Pebble Beach, Pinehurst and Maryland's Congressional Country Club.
Pros
Advanced launch monitor offers superior accuracy and reliable results
Premium photometric launch monitor technology
Compatible with SkyTrak app
Good range of course levels and practice modes to enjoy
Portable launch monitor allows for indoor and outdoor use
Cons
You will need to purchase many other items if you want to build an indoor simulator
Limited basic software package included
---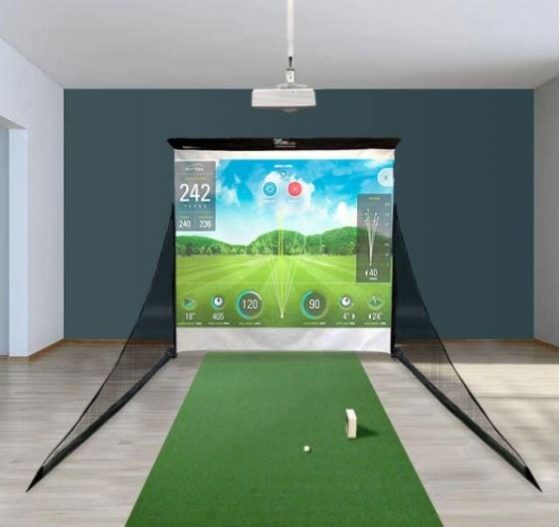 This SkyTrak simulator package has been awarded the 'Best Value' product in its category several times by Golf Digest. With a slate of cutting-edge features, it is not hard to see why this system is so popular with golfers looking to enhance their prowess on the course. This simulator package includes a SkyTrak launch monitor that provides you with superior levels of accuracy.
Even the most proficient of users will find the feedback provided by this monitor incredibly useful. This launch monitor is without doubt one of the best pieces of golf training hardware you can currently buy and serves as a powerful hub for any larger system.
The launch monitor also comes with projection screen, allowing you to practice in virtual course environments. The simulator screen can also be attached to the Net Return Pro Series V2 netting. Because of how easy it is to attach or remove the screen and net return products, this system is a very versatile simulator solution.
You can keep it constantly assembled in an indoor space for round-the-clock practice inside, or take your launch monitor with you outside should you feel like it. The net is also robust enough that it can be used to practice a variety of other sports, including soccer and baseball.
In addition to other crucial components like a HD short throw projector device, ceiling mount, Pro Turf mats and side barriers, this simulator provides you with access to a superb game improvement program. The software comes with a year-long subscription that allows you to undertake skill assessment training and target practice.
It also lets you try your hand at things such as longest drive competitions. You can also purchase a variety of add-ons, including The Golf Club (TGC) upgrades, to access even more training modules and virtual course levels.
Pros
Very flexible simulator system with indoor and outdoor applications
Incredibly reliable launch monitor provides you with high levels of accuracy
Quality hardware and simulator enclosure components included
User-friendly game improvement software package included
Cons
Net and screen elements are not the best
Hitting turf is fairly small compared to the overall dimensions of this simulator
Cost of premium software add-ons stacks up
---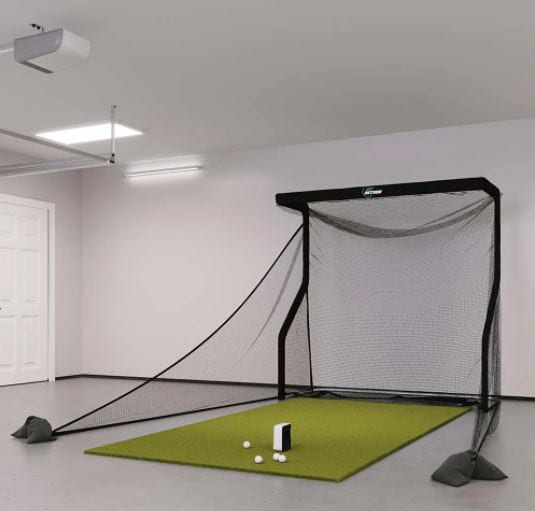 Although many of the simulator packages in this list can be used inside and in the great outdoors, few systems are as flexible as this one. This SkyTrak Training package has been designed with versatile applications in mind. A SkyTrak personal launch monitor provides you with a reliable way to monitor your swings and ball behaviour, with the device proving to be robust enough that it can be used inside with a simulator enclosure, or outside on the green.
A protective case is included, allowing you to keep your launch monitor safe from impacts when playing indoors. You can also choose between a variety of golf nets from the Net Return series, including Home and Pro options. Side barriers are also included, along with rubber tees for easy placement of your balls if you are practising with them.
A duffel bag is also included, making it easy to store your system when you are not using it. It also makes this system far more transportable with other options. If you want to impress friends or family, you can quickly pack this simulator system away so it can be ferried to another destination.
This golf simulator package also includes a fantastic game improvement software package. The basic software package included here lets you play on a dozen individual WGT courses. You can also make use of multiplayer functionality with this software.
Shot tracer technology also provides you with an enhanced driving range training module. The software also means your launch monitor can provide instant data feedback on ball performance, with shot replays making it easy to assess your technique.
Pros
Can be used as a standard indoor simulator or launch monitor for tracking performance in the field
Offers superb game improvement software
Supports multiplayer use
Choice of hitting mats and netting
Whole system is easy to store and transport
Cons
Does not include a projector or display screen
Some software compatibility issues with certain operating systems
---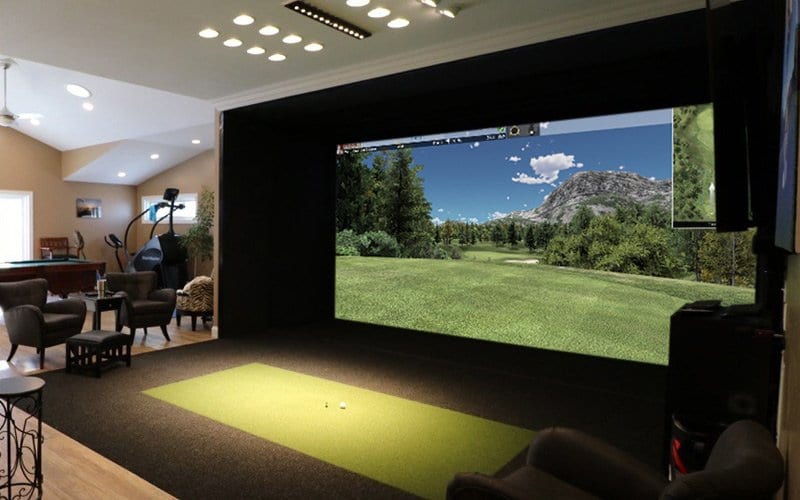 If you want a golf simulator that can also be easily utilised for different sports, this package from Full Swing should meet your needs. One thing to consider before investing in this simulator is that it is far larger than other options. It is also designed for permanent installation, with its solid wood platform and enclosure giving you little flexibility when it comes to changing location.
However, this heavy-duty design makes it one of the most durable simulators on the market. The industrial-grade hitting mat and carpet also add to its overall durability. Meanwhile, the premium impact screen has been designed to absorb and diffuse energy when it makes contact with balls and projectiles. Therefore, it is well suited to the kind of golfer who puts considerable amounts of power behind their swing. By the same logic, it is also suited to other ball sports.
Infrared technology makes this simulator one of the most accurate options around. Two individual tracks of infrared sensors provide you with exceptional levels of precision when it comes to ball flight measurements. These sensors then convert on screen, displaying your ball travelling in a virtual environment.
An ION3 high-speed camera also means your swings are captured in incredible detail. Should you need to watch your swing back for reference, you have HD-quality media to refer to. The included projector is also far more advanced than the kind of hardware you might expect from other packages.
There is also some incredible software on offer here to help you with your game improvement ambitions. Not only will you have access to dozens of virtual courses and training levels, you can challenge yourself with a multitude of skills assessment modules and other training contests. The software can also be upgraded with a variety of add-ons, including in-depth swing analysis and multisport gaming modules.
15 X Majors Winner, Tiger Woods has the following to say according to Full Swing Golf;  "What Led Me To Full Swing Was It Simulated Exactly What I was Doing On The Golf Course In The Confines Of My Own House"
Pros
Incredible build quality and durable design
Superior high-speed cameras and infrared sensor arrays deliver exceptional accuracy
Supports multisport applications
Quality software included for game improvement
Cons
Incredibly expensive
Too large for those with smaller spaces
Permanent wood platform and enclosure makes it very difficult to move your simulator once installed
---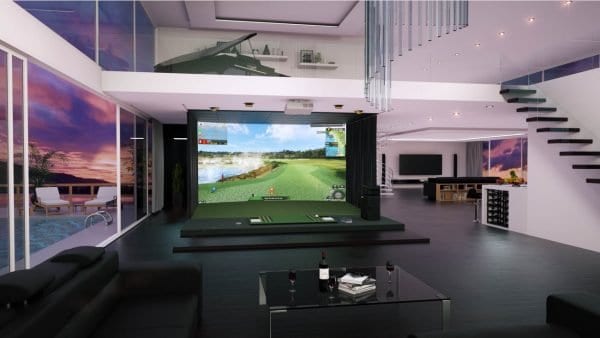 The Golfzon VISION Premium simulator package might be out of the price range for most consumers, but if you have a large pot of money to play with, this is definitely a simulator system to aspire to. This simulator uses a moving swing plate that will automatically adjust its incline to match the slope conditions on screen.
It also includes multi-surface hitting mats, representing everything from fairway and rough conditions, to more specific hitting surfaces like sand bunkers. If you want a simulator that perfectly recreates the changing demands of any golf course, this simulator will deliver.
This simulator also offers plenty of smart features like an automatic tee-up feature. This will allow you to train for longer without interruption, with no need to bend down and manually retrieve or place golf balls. The T1 Sensor and GS system also provides you with incredibly accurate and precise measurements of your swings, meaning you can always trust the data brought up on the screen.
The HD projector is also incredibly advanced, providing you with a bright display at high resolutions. A dedicated camera for swing replays also makes this a good choice for those who want to regularly assess their technique.
VISION software is also included. This is some of the best golf training software you can find, with virtual versions of some of the finest courses around. All in all, this software includes more than 190 individual golf courses, with more available by purchasing add-ons and upgrades. All virtual golf courses are recreated in incredible detail, with aerial imagery providing you with heightened levels of realism.
Pros
Reliable swing and ball monitoring
Dedicated camera for swing replay
Moving swing plate and multi-surface hitting mats recreates natural course conditions
Massive variety of virtual golf courses on offer
Cons
One of the most expensive golf simulator currently available
Amateurs are better off starting with a more basic simulator package
---
The Verdict | What is the Best Golf Simulator On The Market?
You should not have trouble selecting a golf simulator to suit your needs from the list. If you want something that can provide you with basic training and reliable feedback, the SkyTrak Training package is a good choice. Not only is this system quite affordable (check our article on the Best golf Simulators under $5000), it also provides you with the flexibility to use outdoors and indoors.
If you are looking for a simulator that provides you with a versatile launch monitor that can be carried along to the course for swing analysis, the Flightscope Mevo+ SwingBay package is a good choice. If you value accuracy above everything else, the Foresight Sports GCQuad SIG10 is certainly the best option. However, this package is an expensive choice.
If money is not really an issue, you may also want to consider the Golzon VISION Premium. You will need to free up a significant amount of indoor space to make room for the solid wood enclosure and platform, but if you have the space to house it, this simulator brings you some hugely beneficial features. For example, the moving swing plate is particularly effective at replicating real course conditions.
Of course, you may want to go for a more basic alternative and invest in a reliable launch monitor to start out with. This can be a cost-effective way of commencing your game improvement programme. You can use a stand-alone launch monitor in indoor environments and outside, but also add to it over time to build a more typical golf simulator system. Many premium golf retailers will offer a range of simulator components, while Amazon and other online marketplaces are great sources of inexpensive simulator products.
If you are not yet ready for a full-scale simulator or launch monitor, you have other options available to you. Clip-on analysers that attach directly to your golf club can be very effective at measuring your swing and providing you with indispensable feedback. The R-Motion is a particularly reliable option if a clip-on analyser appeals to you. Another portable option to consider is the Rapsodo Mobile Launch Monitor.
Golf Simulator Frequently Asked Questions
What do you need to make a golf simulator?
The more substantial golf simulator will incorporate the following items
Launch Monitor
Hitting Mat
High-impact screen
Side Barrier Netting
Artificial turf / Landing Pad Turf
What Are The Main Types of Golf Simulators ?
There are three different types of golf simulators to consider, with each one offering their own unique advantages.
Photometric Golf Simulators
Radar Golf Simulators
Infrared Golf Simulators
How Much Does a Golf Simulator Cost?
Budget Golf Simulator Brands such as SkyTrak, OptiShot and FlightScope cost up to $8k
Mid-range Golf Simulator Brands such as Uneekor, Foresight Sports and Trugolf cost between $8k to $25k
Premium Golf Simulator Brands such as High Definition Golf, FullSwing, TrackMan, Golfzon cost between $25k to $100k
What Golf Simulator do Pros Use?
Full Swing Golf Simulator : Tiger Woods, Jason Day, Gary Woodland, Jordan Spieth, Brandt Snedeker, Jon Rham, Justin Rose
HD Golf Simulator : Adam Scott, Zach Johnson, Tommy Fleetwood, Fred Couples, Bryson Dechambeau, Bubba Watson
TrackMan : Danny Willett, Luke Donald
Golfzon : Kevin Na, Matt Kuchar