The 3 Best Golf Simulator Studios 2022 | Buyer's Guide & Reviews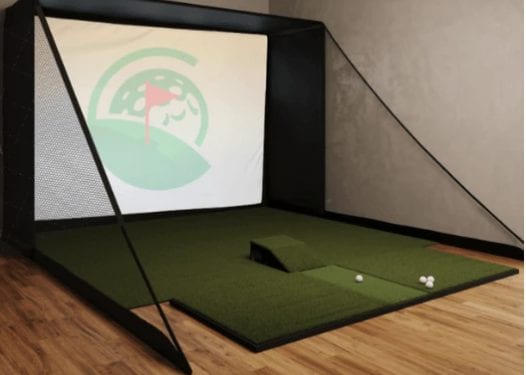 Last Updated on 22 December, 2021 22:12 by Pri
The best golf simulator studios can take your technique to the next level beyond. When selecting golf simulator studios, you have to think beyond the basics like an enclosure and display screen / projection screen. In addition to these essential components, the best golf simulator studios should also include high-grade hitting mat and turf, as well as first-rate hardware like projectors.
All of these individual elements need to be assessed when selecting a suitable golf simulator studio for your home. In addition to this, you also need to consider the scope for upgrading and fine-tuning your golf simulator studio at a later point. Below, we will explore what makes a good golf simulator studio so you can find the perfect fit for your needs.
Simulator Enclosures & Screens
A quality enclosure forms the backbone of any good golf simulator studio. You will ultimately need to select an enclosure that can be accommodated by the space you intend to use it in. Therefore, you need to consider ceiling height, room width and room depth.
If you are looking to purchase a golf simulator studio with all the frills, you will probably find a smaller enclosure and screen too limiting when it comes to projecting your displays. Therefore, look for the largest space possible. You want to be able to use a screen with a minimum width of around 12 feet to ensure first-rate HD displays.
The build quality and robustness of your enclosure and screen also needs to be considered. The enclosure of your golf simulator studio needs to be able to withstand high ball speeds and regular use, while also offering you good ball return performance. Most screens provide resistance for ball speeds of around 200 miles per hour, although more experienced golfers may require something more rugged and resilient to faster ball speeds.
Artificial Turf & Hitting Mats
Quality turf and hitting mats bring many benefits to golf simulator studios. Firstly, they add a realistic aesthetic that will allow you to suspend belief and immerse more fully in your simulator experience. However, they also have a more practical function. Good quality hitting mats and turf provides more realistic interaction with golf balls and club heads, giving you more accurate feedback and ball behaviour. This is very important if you are looking to take what you have perfected in your golf simulator studio out onto the course.
Projectors
Another essential component of any golf simulator studio is a HD projector. A good projector will provide you with crisp displays of courses and ranges, allowing you to interact more accurately with your virtual surroundings. A decent short throw projector should allow you to project displays at tight distances, completely filling your enclosure displays. As golf simulator studios are usually installed in rooms that are not completely free of natural light and external light sources, a projector also needs to be powerful enough that it will project images vibrantly.
You have some flexibility when it comes to mounting a projector. If your golf simulator studio has been installed in a large enough space, mounting a projector to the ceiling is a practical option as this completely frees up your hitting area. However, this is not always practical with smaller golf simulator studios. Therefore, you may want to consider a floor enclosure. These enclosures encase and protect projectors placed on the floor and usually feature subtle inclines and artificial turf coverings.
Launch Monitors
A launch monitor or golf simulator is the essential heart of any golf simulator studio. However, most packages do not include a launch monitor along with the other essential elements. Do not see this a bad thing, however. A plug and play approach to launch monitors means you can play around with available devices until you find one that works for you.
It also means you can upgrade your launch monitor as your technique improves and your requirements become more demanding. When purchasing golf simulator studios, always factor in the additional cost of a good launch monitor into your overall budget.
Reviews Of 3 Golf Simulator Studio
If you are looking to practice your swing in style, a golf simulator studio is an absolute must. Below are three of the best golf simulator studio packages currently on offer.

If you want a golf simulator studio system that contains everything you need to get started, the SIG8 package is an affordable option. This particular package contains the SIG8 simulator enclosure itself and includes just about everything you could possibly need, bar a launch monitor device.
However, this is by no means a limitation and means you can choose a launch monitor or simulator device to best accommodate your specific requirements. The SIG8 golf simulator studio is a good option for anyone who is limited in terms of space. The screen itself will provide you with an 8-foot display, while the overall enclosure only requires a room width of 9 feet.
In addition to the screen and enclosure, this simulator studio package comes complete with side barrier netting, landing pad turf and a hitting mat. This will provide you with all the essentials required to enjoy a very authentic simulator experience. There is also some pretty impressive hardware included in this package.
A 4000 lumens HD short throw projector is included so you can enjoy crisp virtual displays, while a projector floor mount is also included to make installation as easy as possible. All the extra cables and essential installation accessories are also included for good measure.
While the enclosure itself is fairly easy to put together, there are some downsides to the SIG8 enclosure. Unlike larger models from Shop Indoor Golf, this enclosure will only allow you to fill around 80 percent of the overall screen. This means white bars will be visible at the top and bottom of your projected image, which may distract you from your training. That being said, the overall quality of what is included here will impress.
The hardware is first-rate, with the EH412ST projector one of the best you can find on the market for the money. Another neat feature of this package is the projector shield enclosure. This shield enclosure allows you to place the projector on the floor rather than mount it to the ceiling, with the top side finished with artificial turf for a seamless addition to your golf simulator studio.
Pros
– Includes almost everything you need for a premium home golf simulator
– Quality enclosure, side netting and hitting turf all included
– Premium short throw projector and projector shield enclosure
– Relatively affordable for such a complete package
– Compact enclosure makes this a good choice for small spaces
Cons
– You need to purchase a launch monitor/golf simulator separately
– Projected displays will only fill 80 percent of the screen
– Might not suit the needs of the more experienced golfer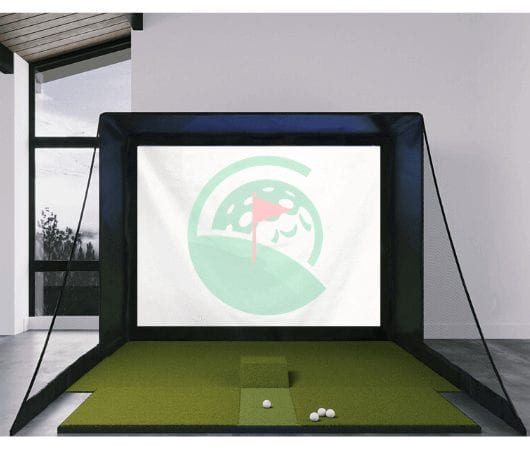 If you can afford to set aside a bit more money for a golf simulator studio, the SIG10 system is a good choice. This complete golf simulator studio package includes almost everything you will need to enjoy a virtual golf training experience from home. The key component of this package is the SIG10 golf simulator enclosure.
This enclosure is not only a little bit larger than the SIG8 system, it provides you with a complete fill of your projector screen. Everything you might need for an immersive simulator studio is included in this package, with the sole exception of a launch monitor. Although a launch monitor can be an expensive investment, you have plenty of freedom when it comes to selecting one to incorporate into your system.
There are some quality components included in this system. The SIG10 enclosure provides you with a premium backbone to an immersive simulator. The backing screen itself will provide you with impressive displays measuring 10 feet in width, with the entire screen filled in high-definition detail. The screen is also very robust, easily handling the fastest of ball strikes without suffering from any damage.
If you want a simulator studio you can put to work on a daily basis, the SIG10 golf simulator studio will fit the bill. Quality side barrier netting is also included so your balls never stray too far from your simulator system. Landing pad turf is also included so you can fill the interior dimensions of your simulator, while you have a variety of golf hitting mats to consider. Expensive hardware is also included in this package.
The key piece of hardware here is an Optoma EH412ST short throw projector that will provide you with reliable HD displays. A projector shield enclosure is also included, allowing you to project your displays from the floor without having to worry about mounting hardware to the ceiling. This provides you with more flexibility if you ever find yourself needing to move your home simulator between room.
The SIG10 golf simulator studio is certainly substantial, but it is actually fairly adaptable to most interiors. When fully erected, this system will take up dimensions of around 12 feet in width and 9 feet in height. You will also need to allow for a length of around 16 feet. This should fall in line with most ceiling heights, providing you with enough freedom to carry out a full swing. If you can afford to push your budget a little bit further, it is well worth upgrading to the SIG10 golf simulator studio.
Pros
– Almost everything is included for a first class golf simulator studio installation
– Generous dimensions provides you with a more immersive training environment
– Premium build and quality materials
– Expensive hardware is included along with the enclosure system
– HD displays fill entire screen
Cons
– You still need to purchase a launch monitor separately
– Might not be suitable for the more compact interior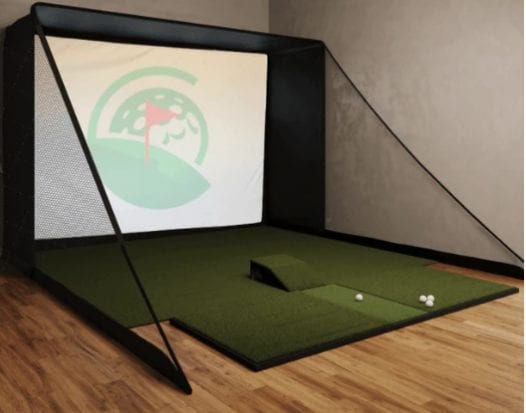 The SIG12 golf simulator studio might is a complete solution for anyone looking to build a top-tier simulation experience in their home. Designed with golfing enthusiasts in mind, the SIG12 studio boasts generous dimensions and first-rate features that will allow to you to practice your skills and improve your game without having to travel to the range or golf course.
Almost everything is included in this package for you to build your simulator studio, with you only needing to purchase launch monitor separately. This pay put off some potential buyers who are daunted by the additional cost of a launch monitor, but you have full flexibility when it comes to selecting a monitor.
This golf simulator studio package is the obvious choice for anyone looking for a larger build. The SIG12 enclosure provides you with a screen with a display size of 12.2 by 9.4 feet. The entire screen can be utilised by your projector, meaning you do not have to settle for compromised projections with distracting white space at the top and bottom of your display.
Although the enhanced display size is a definite plus point of this system, the compromise is that you will have to find a space suitably large enough to house. When fully erected, this golf simulator studio requires a width of 14 feet and a height of 10 feet. You will also need to ensure you have a room with a depth of at least 18 feet. As always with golf simulator studios, more generous dimensions are always advisable to ensure minimal restriction to your swings and practice sessions.
While the SIG12 simulator enclosure will impress in its own right, there is much more to applaud about this package. Quality side barrier netting is also included to ensure balls stay within easy reach, while premium landing turf and hitting mats are also thrown in. Although you will need to purchase a launch monitor separately, this golf simulator studio package includes some very special hardware.
An Optoma EH412ST projector is included along with the enclosure, providing you with the perfect piece of hardware to deliver short throw projectors to your display screen. A shield floor mount enclosure is also included to allow you to place your projector directly on the floor. This saves you the hassle of having to bother with ceiling mounts, while the artificial turf finish of the enclosure makes for a sympathetic addition to your simulator system.
Pros
– Very impressive dimensions
– All enclosure essentials are included
– Includes short throw projector and enclosure
– Full HD displays
– Quality build and materials
Cons
– Relatively expensive
– Need to purchase a launch monitor separately
– You will require more square footage to install