The 8 Best Golf Simulator Screens | 2022 Buyer's Guide & Reviews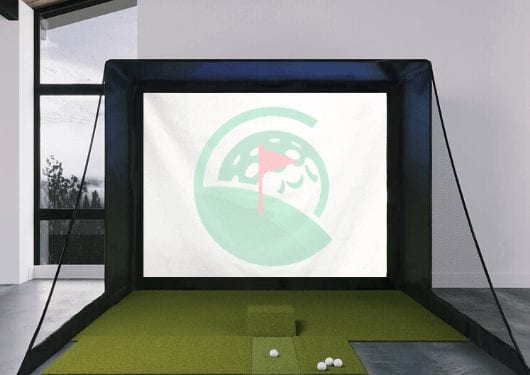 Last Updated on 22 December, 2021 22:09 by Pri
The best golf simulator screen make all the difference when it comes to building a premium home simulator. Not only will a quality simulator screen provide you with the perfect place to project your simulator software onto, it will also prove resistant to fast ball strikes on a regular basis. Many golfers looking to keep within a tight budget tend to compromise when it comes to purchasing an impact screen. While this saves small change in the short term, it severely restricts the functionality of a golf simulator in the long run.
To ensure you make a good decision when building your golf training studio, we will explore what you should be looking out for when buying golf simulator screens.
Types of Golf Impact Screen
The most common type of simulator screen you will find available is the variety that attaches to your existing hitting net. These golf simulator screens include fasteners around their perimeter, allowing you to fix them firmly to your hitting net and ensure they remain in place for the duration of your practice session. These types of golf hitting screen are relatively inexpensive and provide you with the best in flexibility and versatility. They can be removed and stored away when you are finished practising and can also accommodate different hitting nets. This means you can adapt them to different simulator setups and enclosures in the future.
If you have more money to spend, a retractable golf simulator screen is something to aspire to. These retractable impact screens are mounted on the ceiling and can be fully retracted when not in use. These wireless system are operated via remote control and are therefore very convenient. They are also a good option for smaller spaces where it is not possible to leave a screen fully extended when you are not putting your simulator to use.
However, retractable screens are considerably more expensive than more basic impact screen models. They are costly to repair and even more expensive to replace. If you ever decide to move the location of your simulator to another room, the hassle of having to remove the mounting system and reinstalling it in a different space should also be considered.
Quality of Construction
When selecting a golf simulator screen, you should make sure it is built to a good standard and will endure regular use. Look for simulator screens made from hard-wearing polyester fabric whenever possible as this material gives you the best balance of durability and performance. It is also relatively easy to care for.
If you are an aggressive golfer who swings with significant levels of force, you should consider the level of impact a simulator screen can withstand. Many simulator screens are only designed to withstand golf balls travelling at a couple of hundred miles per hour, although more advanced alternatives will provide you with more resilience.
Screen Dimensions
If your simulator occupies a relatively small space, you will of course be limited to the maximum size of hitting screen you can purchase. The downside of a smaller simulator screen is that the projected image will be compromised and offer an inferior simulation experience. While larger screens can be warped slightly to fill incompatible spaces, they will provide an uneven surface for your projector to cast images onto. The best advice here is to purchase the largest screen your space and enclosure will accommodate.
Reviews Of the 8 Best Golf Simulator Screen
Enjoy premium displays as you practice your indoor golf with these first-rate impact screens. We have shortlisted a selection of some of the best impact screens for golf simulator around, with budgets to accommodate every buyer.

The HomeCourse Pro retractable golf simulator screen is a good choice of impact screen for those looking to minimise the footprint of their simulator on an existing space. This fully retractable golf impact screen operates on battery and is therefore completely wireless. To deploy or retract it, all you need to do is press a button on the included remote control. This retractable golf hitting screen is suitable for smaller spaces with relatively low ceiling heights. Provided your room has around eight feet of clearance, installing this golf simulator screen is relatively straightforward.
In addition to the retractable screen itself, the HomeCourse Pro comes with a ceiling mount it so you can begin installation as soon as it arrives. Also included is a charging cable and remote control, as well as an easy reach pole to allow for manual deployment should you run into any trouble with wireless operation. Affordable and very practical, this wireless impact enclosure will make a fine addition to your home golf simulator arrangement.
This Net Return Pro Series golf simulator screen offers you a simple option for adding a robust display to your simulator system. This impact screen has been designed for use with the Pro Series Net and fastens to the net itself with secure rip-tape fastenings. This gives you plenty of flexibility when it comes to adapting your simulator environment to your exact requirements. You can use the net for a stripped-back simulator, then add the Net Return Pro Series screen when using your enclosure indoors.
The versatile nature of this golf simulator screen also makes it a good option for those with limited space. Because of how it fastens to your net enclosure, you can use this screen in rooms with slightly lower ceiling heights, although you may not always be able to enjoy a perfect projected display. That being said, this screen is designed with 4:3 aspect ratio projections in mind. Although fairly limited in terms of the display you can expect to enjoy, this simulator screen is a good bet for anyone looking for something inexpensive, hard-wearing and user-friendly.
This Net Return Home Series golf simulator screen has been designed for use with the Home and Pro Series hitting net systems. This simulator screen provides you with a quick and easy way to convert your net enclosures into a complete home simulator system in moments. The screen attaches quickly to your hitting net enclosure via rip-tape fastenings, hanging securely in place, even when you make full impact with a well placed drive. There are eight fastening tabs along the top, as well as two in the bottom corners, meaning you have no worry about this screen falling free of your simulator enclosure.
Although very convenient and user-friendly, this simulator impact screen has some limitations. You will be restricted to 4:3 aspect ratio displays, rather than anything more substantial. This may deter more experienced players looking for a premium virtual surround in which to practice in. However, this golf impact screen is a good option for anyone limited to a compact simulator setup. It is flexible enough that can be used in rooms with low ceiling heights, although you will have to make some compromises when it comes to the quality of your projected display.
This Cimarron golf simulator screen is an affordable choice for ensuring your home simulator has everything it needs to provide you with a first-rate training environment. This impact screen measures 4 feet by 5 feet and can be used as a resilient impact net that will also provide you with convenient display on which to project on. This screen is also very robust and has been designed to withstand regular use. It will also withstand significant impacts, so is a perfect option for the heavy hitters out there.
This is one of the more versatile golf simulator impact screens out there. Due to its thicker construction and tougher build, it provides you with more resilience than a typical baffle net. However, it delivers all the core functionality of a good baffle net and can also be used as a tough impact screen. Of course, it can also be used to project your simulator displays on. Although flexible, this screen may prove too small for those looking to build an expansive simulator at home.
This Net Return Home Series simulator kit has everything you need to transform your golf simulator into something that will be the envy of your friends and fellow golfers. The key elements of this kit are the Pro Series simulator valence and the projection screen. The projection screen can be quickly added to your existing enclosure, with rip-tape tabs included along the top and corners to ensure a firm fit to your netting.
This screen will allow you to project detailed simulator graphics, although you will be slightly limited in terms of ratio. However, the valance that is also included will provide you with a convenient way to frame your projection, making it more aesthetically pleasing than other options out there.
If you are looking for a simulator screen that will provide you with detailed displays for compact environments, this is certainly something to consider. It is also very easy to install and can be removed in moments, providing your simulator studio with a good degree of flexibility. However, if you are looking to construct a more immersive simulator studio, you will definitely want to consider a larger screen that provides some added width and will allow you to project a more significant display.
This Net Return Pro Series simulator kit provides you with an easy way to upgrade your Pro Series enclosure. Included in this great value kit is a durable simulator screen, along with a valance that will allow you to frame your simulator setup.
The Pro Series golf simulator impact screen measures 6.9 feet in height and boasts a width of 7.8 feet. This should prove ample for most golfers looking to construct compact simulators in small spaces, but may prove too limiting for those with more demanding requirements. You will also be somewhat limited in terms of projected displays, with 4:3 aspect ratios the maximum you can expect from this screen.
However, this simulator screen kit does impress when it comes to ease of use and installation. The screen includes rip-tape fasteners along the top edge and at the bottom corners, allowing you to quickly and effortlessly attach it to your existing enclosure. The valance is also easily added to your enclosure, providing the perfect border for your screen to ensure you can enjoy the best projected displays possible.
If you want to enjoy a more complete simulator experience, this Net Return Simulator Series package is for you. This Net Return package is incredibly easy to erect and install, with push buttons found along the frame elements and quick colour connectors on hand to provide you with a visual guide. You will find all the basic components for any quality simulator enclosure included here. In addition to a Simulator Series golf net, you will find a floating polyester impact screen included.
Rear and side valances are also included so you can enclose your screen. This not only provides your screen with a cleaner aesthetic, it also grants your surroundings an extra layer of safety. Side barriers are also included, further enhancing the safety credentials of this package. This kit is a good option if you are looking to build a more sizeable simulator and save some money on the essentials. You will of course need to purchase some other items separately. These include a projector and mounting system, simulator software and computer hardware, as well as hitting turf.
If you can access the funds to invest in a complete simulator package, this SIG10 golf simulator studio kit is the way to go. This package includes the SIG10 golf simulator enclosure, providing you with a robust impact screen and display surface measuring 10 feet. You will also find side barrier netting included, as well as landing pad turf and a choice of hitting mat. All of this combines to provide you with a large training environment where you can practice your swing at home.
More expensive hardware is also included. An Optoma EH412ST short throw projector is included, meaning you can immediately project immersive displays in high resolution. A projector shield is also thrown in. Unlike ceiling mounted alternatives, this floor mount enclosure lets you place your projector on the floor in front of your impact screen. This gives you more flexibility when it comes to finalising your golf simulator projector placement and overall arrangement.