The 3 Best Golf Simulator Enclosures 2022 | Buyer's Guide & Reviews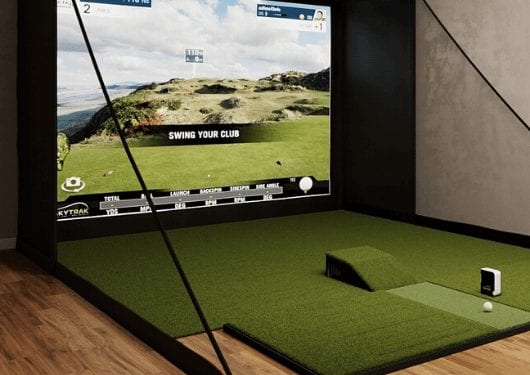 Last Updated on 23 December, 2021 21:33 by Pri
The best golf simulator enclosure can transform a basic training studio into something really special. A golf simulator enclosure is more than just something to frame your display screen, it provides you with an essential barrier to keep golf balls within reach when training. If you are planning on investing in a golf simulator enclosure, you are obviously planning on putting in some serious training time. Therefore, you should be thinking about quality materials and premium construction when selecting suitable golf simulator enclosures.
Our guide explores the important things you need to remember when selecting golf simulator enclosures for your home studio.
Dimensions
This is important if you are limited on space. When choosing a suitable place to house a golf simulator system, many people opt to use a garage space. These places tend to be the best environment for a golf simulator as they offer decent ceiling heights, more square footage and there is less worry about damaging surrounding walls and flooring. However, you should such a space is large enough to accommodate your golf simulator enclosure.
You should be thinking how wide your space is, how much clearance you have overhead and how deep your room is. You should also remember that a display size is not indicative of how much overall space your enclosure will take up. The overall size of your enclosure will in fact be larger than the display dimensions advertised. You should also always leave additional clearance in every direction to ensure you can enjoy full access to and use of your golf simulator enclosure.
Build Quality
This is another crucial aspect of golf simulator enclosures. If you are installing a golf simulator at home, you are doing so because you want to put in many hours of practice on a regular basis. Therefore, your golf simulator enclosure should be fit for the task. A sturdy frame is essential as this will ensure the overall enclosure remains stable and secure at all times. A tubular frame made from steel is always the best option as the alloy will provide essential weight and prove resistant to weathering.. Additional weighting is also ideal. Look for enclosures that include sand bags and additional weights at the base of the frame to ensure your simulator remains upright at all times.
The durability of your enclosure screen is also important. The hitting net that is placed directly in front of your display screen will need to be able to withstand the full force of a golf strike. As a minimum, you want to ensure hitting nets and display screens can withstand ball speeds of around 200 miles per hour. This should be sufficient for most golfers, but more experienced golfers with powerful swings may want to invest in something more resilient.
Screen Size & Displays
If you are limited when it comes to space, you will probably find yourself having to settle for a compromised display. Much smaller golf simulator enclosures usually mean you have to contend with a restricted display, with only a portion of the enclosure screen able to be projected onto. However, this is only really something to worry about if you are forced to purchase a smaller golf simulator enclosure. Most golf simulator enclosures will allow to project in full onto your display screens. However, if a fully immersive simulator is what you are looking for, opt for golf simulator enclosures with a minimum display width of around 12 feet.
Easy Assembly & Flexibility
If you are fortunate enough to be able to leave your golf simulator fully erected at all times, ease of assembly is probably not something you need to be too concerned about. However, a straightforward installation is always welcome. Look for modular frames that can be assembled in minutes, with push button lock fasteners and colour-coded design. This will also make disassembling your enclosure as straightforward as possible if you ever need to move it between rooms or relocate. A lightweight build will also make it easy to move your enclosure around to exact positions.
Reviews of 3 Golf Simulator Enclosure
Planning on putting together your own home golf simulator? Make sure you have a first-rate surround for your indoor golf simulator with one of these standout golf simulator enclosures.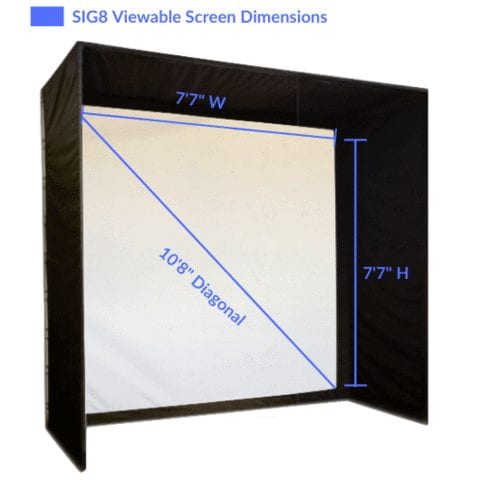 Although the SIG8 golf simulator enclosure is not exactly cheap, it is still one of the more affordable options out there if are you looking for first-rate build quality and general functionality. The SIG8 is the perfect product for anyone looking for a golf simulator enclosure to accommodate a small space. If you have had to make compromises with the indoor location of your home golf simulator, this enclosure is a good fit. Compared to other enclosure options out there, this product is narrower than most and has a slightly reduced height. As ceiling height is often the biggest barrier to golfers looking to construct a suitable simulator setup at home, this compact design will come as a welcome feature.
Despite being compact than other golf simulator enclosure systems, the SIG8 boasts a premium build and very durable materials. The enclosure screen will provide you with HD displays from your projector hardware, but still provides you with a durable striking surface. In fact, this premium enclosure screen is resilient enough that it can withstand ball strikes travelling as fast as 250 miles per hour. If you want a golf enclosure that will stand up well to repeated use, the SIG8 will not disappoint.
The SIG8 comes with all the essential components you will need to construct an impressive golf simulator system in your home. In addition to the 8 foot screen, you will find side barrier netting and sand bags. A weight strip can also be found at the bottom of the screen, ensuring your enclosure stays firmly upright, even when it takes the full force of a ball strike.
The screen itself is made from a tightly knitted polyester material that will not succumb to wear and tear. Meanwhile, the surrounding enclosure is made from long-lasting nylon. Provided you keep on top of basic maintenance, this golf simulator enclosure should last for years. The premium screen is very impressive. Provided you are using a decent projector, you can expect to fill up to 80 percent of the available screen size.
This will provide you with a very immersive virtual environment in which to practice your swings. Putting this enclosure together is also very straightforward. The powder-coated steel frame attaches together quickly, with quick connectors included to allow for intuitive installation. The screen is then attached to the frame quickly via bungees.
Pros
– Compact dimensions make it suitable for use in smaller rooms
– Straightforward installation and easy assembly
– Durable materials for long-lasting use
– Large image fill and screen display
– Fairly affordable
Cons
– Smaller dimensions somewhat limits hitting turf and mat compatibility
– No real scope for upgrading and expanding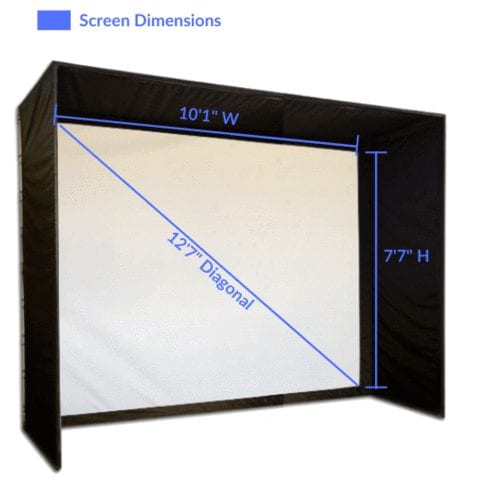 If you find the SIG8 too limiting for your needs, the SIG10 golf simulator enclosure is an ideal upgrade to consider. Although this enclosure system is a little more expensive than the SIG8, you are provided with a more substantial size and more user-friendly features. This larger simulator enclosure not only provides you with more generous dimensions, it also allows you to enjoy full projections onto your simulator screen.
Unlike the SIG8 that not only allows you partially fill the screen, the SIG10 allows you to completely fill the enclosure screen with a projection. If you are looking for a completely immersive simulator system, the SIG10 will satisfy your requirements. More basic enclosure systems tend to leave white space at the top and bottom of the screen, but you will not have to settle for that shortcoming here.
The SIG10 golf enclosure system is made from tough materials to ensure long-lasting use. All the elements found here are made from premium materials, from the powder-coated steel frame to the tough knit polyester of the display screen and robust nylon surround. Not only will the backing screen allow you to project your high-definition simulator displays in full, it will also withstand punishment from your ball strikes. The tough material can comfortably withstand strikes travelling s fast as 250 miles per hour, meaning you do not have to worry about damaging your enclosure.
The SIG10 enclosure system has everything you need for a quality golf simulator experience. In addition to the enclosure and screen itself, you will find side barrier netting and sand bags to prevent balls from travelling too far from target. A weight strip is also included at the bottom of the screen to ensure your displays are not warped, even fast ball strikes make contact with the screen.
You also do not need to worry about complex assembly. The durable steel frame includes quick connectors to ensure installation is as hassle-free as humanly possible. Bungees are also included to allow you to attach the screen and frame together quickly and easily. You will of course need to ensure you have enough room to work with before you purchase this enclosure.
Although this simulator enclosure provides you with a 10-foot wide display, the overall system will require a space with a width clearance of at least 12 feet. However, with a maximum height of just 9 feet, this enclosure system is not really restricted by ceiling height.
Pros
– Generous dimensions for a larger simulator enclosure
– Full projection display with no white spaces at top and bottom of screen
– Durable design and hard-wearing materials
– Easy installation and straightforward assembly
Cons
– More expensive than the SIG8
– Not suitable for smaller indoor spaces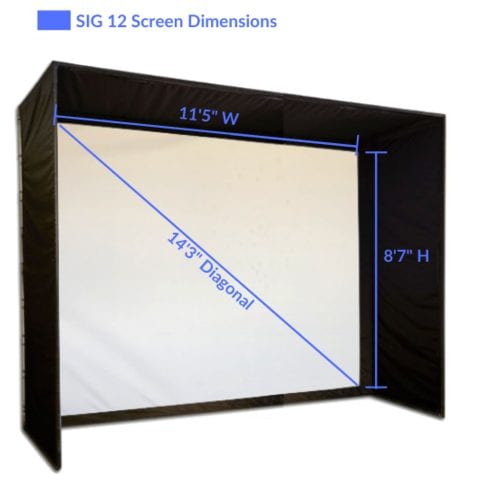 The SIG12 golf simulator enclosure is currently the largest screen system available from Shop Indoor Golf. Offering you a 12-foot wide screen and enclosure, this is the obvious option for anyone looking for a first class simulator experience. As with the SIG10, the SIG12 enclosure will allow you to project images that completely fill your enclosure screen. With no unsightly white bars at the top and bottom of your screen, you can look forward to a very immersive and realistic simulator experience here.
As with all golf enclosure systems from Shop Indoor Golf, this simulator enclosure is made from the finest materials. The powder-coated steel frame elements form a robust backbone for your enclosure environment, while the tough knit polyester frame will cope with even the fastest ball strikes. In addition to providing you with stunning HD displays from your projector, the screen can cope with strikes travelling as quickly as 250 miles per hour. If you are a more experienced golfer with a powerful swing, this enclosure is more than fit for purpose.
This enclosure system includes all the basic components you need. In addition to the SIG12 golf simulator enclosure, you will find side barrier netting with sand bags included. Also included is a weight strip at the bottom of the screen, which keeps everything stable as you swing. Installation is fairly straightforward thanks to the quick connectors found at the end of each frame component. Bungees are also included so you can connect the frame to the screen in moments.
Although the SIG12 is something to aspire to if you want an unbeatable golf simulator enclosure, you will need to think seriously about whether or not you have the available space for it. While the SIG12 provides you with a display width of just over 12 feet, the overall system measures 14 feet in width. It also measures 10 feet in height, which may prove slightly too tall for most indoor spaces.
Pros
– Substantial dimensions provide you with a truly immersive simulator system
– Easy installation and straightforward assembly
– Hard-wearing design and premium materials for long-lasting use
– Easily adapted with other enclosure elements
– Full screen displays possible
Cons
– Considerably more expensive than other golf simulator enclosure systems
– Requires a considerable amount of space