10 Best Golf Simulator Accessories To Improve Your Golf Game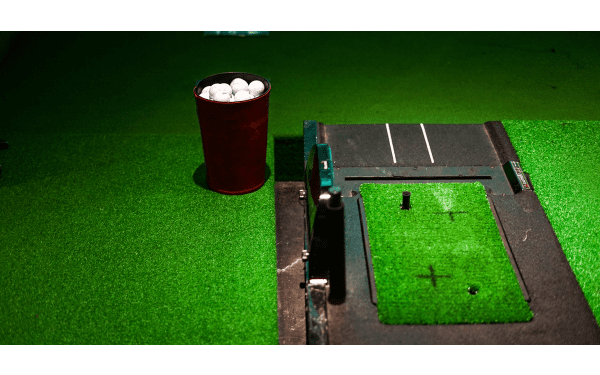 Last Updated on 22 February, 2022 21:42 by Pri
Investing in the best golf simulator accessories is a must if you want to experience a superior training experience. From basic items like baffle nets and ball trays to training clubs and cutting-edge tech, golf simulator accessories can transform an everyday simulator into something very special. Our guide outlines all the must have golf accessories you should be looking to purchase to put together a premium simulator (check our article on Best Golf Simulators). We have also included a list of some of the best golf simulator accessories currently on offer from big brands and retailers.
Projector Mounts
If you have purchased a projector to use within your simulator enclosure, you should definitely think about shelling out for a projector mount. A projector mount is one golf simulator accessory you can not really be without. Mounts come in a variety of designs, but the most common type is a ceiling mount. These mounts let you attach your projector to the ceiling, keeping the hardware out of your way as you swing.
Some ceiling mounts are also adjustable, letting you play around with projector angles and heights to give you more flexibility. Another option to think about is a floor mount. These projector enclosures provide secure housing for your hardware and allow you to place short throw projectors on the floor of your simulator space.
If you are interested in such a mount, make sure it includes air vents to ensure your projector does not overheat. It should also be covered in artificial turf to provide a subtle accent to your existing hitting mat and turf. Not yet purchased a projector? Read our projector buying guide for inspiration.
Whip Trainers & Training Clubs
While they are not always considered indoor golf accessories, training clubs and whip trainers are something to think about using within your simulator studio. These training clubs are designed to improve all aspects of your swing, without you having to exert yourself too much. Most whip trainers include a weighted head that differs from a conventional club head.
Additional counterweights and a flexible shaft allow you to swing at pace without straining your arms and core muscles too much. Whip trainers can also be used to warm up before you reach for your conventional drivers and other clubs.
You will also find training putters and wedge clubs readily available. These are constructed in a similar manner to whip trainers, allowing to focus on all aspects of temp, speed and balance, without the worry of sending your balls too far from the point of address.
Balance & Stance Training Aids
Balance and stance aids are cool golf accessories that will help you master a better address and improve your overall performance. These training aids come in a variety of designs, but the best ones take the form of an enclosure in which you stand in.
The side barriers of these training aids exert subtle pressure on your feet and legs, promoting a better stance and more stable balance that can be maintained for the duration of a swing. These are a must if you are looking to lay the foundations of proper form and improved technique.
Ball Trays
Ball trays are an affordable choice of golf accessory that makes using your simulator as convenient as possible. Although side barriers and baffle netting will ensure your balls remain fairly close by, having to leave your point of address to retrieve them can take up precious time. Ball trays provide you with a healthy stock of golf balls that you can readily access and move into position on your hitting turf.
Most ball trays can be attached to the side of your hitting mat, providing generous capacity for upwards of a hundred ball. To ensure your ball tray is as user-friendly as possible, make sure it has a similar, if not identical height, to your hitting turf. This will allow you to easily rolls from the tray to turf with little effort.
Net Baffles
Baffles are something to seriously think about if you hit the ball with lots of force. They provide your impact screens and hitting nets with a further layer of protection, ensuring fast ball strikes are readily absorbed. A good quality baffle will ensure fast balls are not darting around your interiors and damaging your surroundings.
It also prevents fellow simulator users and visitors from suffering an injury thanks to a wayward golf ball. A baffle will also protect the finish of your impact screens and existing hitting nets, allowing them to be used for longer.
Side Barriers
If you want to enclose your simulator setup, side barriers are a must-have golf accessory. They are not always possible with smaller simulator spaces, but most side barriers are flexible enough that they can be folded away when not in use. Side barriers are a good idea for less experienced golfers who have yet to master trajectory and precision.
They are also a must if you regularly host people in your simulator room, protecting them from harm should a miss-hit ball travel in their direction. If you are limited to a tiny simulator space, look for side barriers that can be folded away and rolled down when not in use. Heavy-duty nets will easily cope with regular folding and storing.
Essential Simulator Tech
If you want to elevate your golf simulator, you need to be prepared to fork out for expensive hardware and technology. In addition to a premium projector and display, you should be thinking about investing in a first-rate gaming laptop. When selecting a gaming laptop, make sure it includes a premium graphics card to allow you to get the most out of your golf simulator software.
A NVIDIA GeForce GTX graphics card is without doubt the standard in this regard. Any graphics card should also include some allocated memory to ensure it is running at maximum potential. Your gaming laptop also needs to have a minimum of 8GB of RAM to ensure smooth operation and high levels of responsiveness at all times. You may also want to think about audio hardware.
Even the most basic gaming laptop will include integrated speakers to provide you with a good degree of stereo output, but you may wish to purchase additional speakers for an immersive audio experience. Considering purchasing a gaming PC for your golf simulator? Our gaming laptop buying guide has all the information you need.
The Top Picks of Golf Simulator Accessories
Reviews of 10 Golf Simulator Accessories
Looking for the must have golf accessories? We have put together an indispensable shortlist of some of the best golf simulator accessories out there.
If you are planning on using a projector as part of your golf simulator, but do not want to have to deal with installing a ceiling mount, this Projector Shield is an ideal compromise. This floor mount projector enclosure allows you to place your projector device on the floor of your simulator space.
This enclosure is a very practical alternative, giving you more flexibility when it comes to selecting the ideal spot for your projector to cast displays from. Not only will this enclosure allow you to readily move your projector around to different spots within your simulator room, it also saves you many of the hassles associated with ceiling mounts.
You will not need to worry about dangling video wires and cables, nor will you have to worry about ensuring our ceiling mount has access to an electrical output. This floor mount enclosure is very hard-wearing, with ABS plastic ensuring maximum durability. The enclosure also encases your projector fully, eliminating the chance of a ball coming into contact with your hardware.
Air vents can be found on either side of the enclosure, preventing your projector from overheating when in operation. An integrated cooling system is also included, ensuring no additional cooling fans are required to keep your hardware in working condition.
This projector floor mount enclosure is also completely covered in artificial turf, allowing for a low-profile addition to any simulator surface.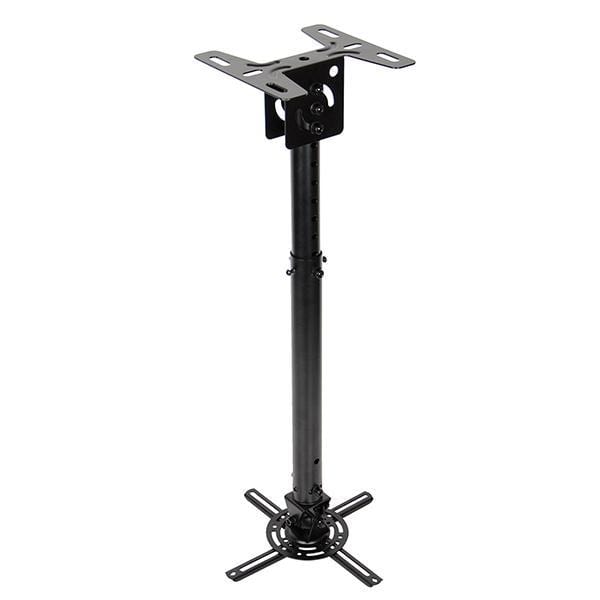 This Optoma OCM815 universal projector mount is a good option for those working with simulator spaces with high ceilings. Unlike simpler ceiling mounts, this universal projector pole mount provides you with a good degree of flexibility to ensure minimal disruption to your training.
The innovative design of this mount means you can make quick adjustments to projector angles. It will also prove a perfect fit with almost any projector, allowing you to continue to use it should you ever upgrade your projector hardware.
Not only is the mount itself easy enough to install to a wide variety of ceiling types, it also allows you to connect and detach your projector of choice in moments. You can also expect a good amount of rotation here, with the mount adjustable by 30 degrees in either direction.
You can also adjust the height of this projector from 57.6cm to 82.6cm. Cable routing is also included as part of the design, meaning wires can be kept of view so you do not have to deal with any obstacles when using your simulator. This ceiling mount can also be utilised as a wall mount should you wish.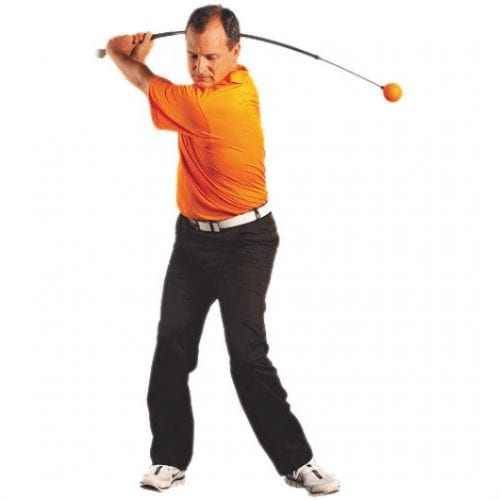 A whip trainer is an essential golf accessory for players of all skill levels. This orange whip trainer is definitely something you should be thinking about purchasing if you are looking to work on your swing. This whip trainer will help you develop your swing rhythm and improve your balance.
It can also be put to good use to help improve your fitness levels, especially when it comes to working on the muscles involved in delivering a powerful and precise swing. This whip trainer can be used prior to your training with a golf simulator, as well as on the range or course.
This particular whip trainer boasts a patented design that is made up of three distinct elements. The weighted orange ball substitutes for a conventional club head here, meaning you can focus on your swing, rather than concern yourself with club head placement.
The weighted design of the orange ball means you can enjoy smoother swings as you train. A counterweight is also included, providing the whip trainer with essential balance. This counterweight will ensure your swing remains stable from the beginning of the swing motion, right up until the very end.
This whip trainer comes in a variety of models to suit every golfer. Younger golfers will benefit from using the junior model, while shorter golfers will probably be best served by the compact Orange Whip and mid size Orange Whip alternatives.
If you are hoping to train at speed, a golf ball tray is one of the most essential indoor golf accessories you can buy. This Half Moon Ball Tray from Fibrebuilt is one of the best options currently available. This premium ball tray can be placed beside or behind your golf mat of choice, allowing for easy access and retrieval of golf balls as you practice your swing.
The internal slot of this ball tray is a perfect match for compatible mats, allowing you to effortlessly roll balls onto your hitting mats so you can take your next swing. This ball tray has a very generous carrying capacity. In total, you can store 150 individual golf balls at any one time.
Even the most proficient of golfers will find this capacity more than enough to practice for some time before the tray needs replenishing. This golf ball mat is also built to a very good standard. The rubber material that makes up the bulk of the product is very robust and will not crack and warp over time.
The discreet half moon shape also makes it ideal for smaller golf simulators / launch monitors where square footage is at a premium. Before you invest in this ball tray, you will want to ensure it is a good fit for your existing hit mat. Make sure the height of your mat is a match for this ball tray.
If you have yet to invest in a quality hitting mat, make life simple and invest in a compatible Fibrebuilt hitting mat.
A quality baffle will drastically extend the life of your hitting nets. This Cimarron golf net baffle will make a welcome addition to your simulator enclosure. Thanks to its heavy-duty design and superior materials, this baffle will absorb even the most extreme impacts, helping prolong the life of your chosen golf net.
This baffle measures 10 feet by 10 feet, making it suitable for use with larger hitting nets. It can be easily attached and removed in moments. If you have yet to put the finishing touches to your golf simulator setup, a baffle net is a definite must have. However, a baffle can also be added later as soon as you notice that your existing netting is beginning to suffer from the constant barrage of golf ball impacts.
This Cimarron baffle is made from premium archery netting, which gives you an idea of just how strong this material is. It will withstand even the strongest of impacts, so it is a good option for professional golfers who swing at significant speed. This baffle can also be used in lieu of a conventional hitting net if you are looking for a durable alternative. It can also be used as an impact screen if you are looking to keep your simulator setup as streamlined as possible.
These universal side barriers are designed to be used alongside the Net Return Home Series and Pro Series nets. One of the most essential indoor golf accessories you can buy for use with your simulator, these side barriers will ensure that balls never stray too far from the hitting area.
Side barriers are golf must haves if you have installed your simulator in a room where you are worried about wayward golf balls causing damage to your surroundings. Not only will side barriers protect your valuables from damage, they also protect others from harm if your simulator is installed in a busy space.
While side barriers are not a necessity for the more experienced golfer with good levels of precision, they are a must for those just starting out who struggle with hitting accuracy. These quality side barriers can be installed to your enclosure in minutes.
Rip-tape fastening is included to provide a firm fix to your existing equipment, while coloured tabs make putting everything in the right place as simple as possible. These barriers are also lightweight and fold down to a compact size, allowing them to be stored away when you are not using them.
They can also be transported between spaces with ease. You can also fold them down when they are still erected, allowing to free up square footage when you are training with your golf simulator.
Orange Whip Golf deliver another essential golf simulator accessory with the Orange Peel. This accessory is designed to help you improve your balance. When swinging, balance is crucial in ensuring you strike with power and consistency.
The Orange Peel will make the learning process as straightforward as possible, with the accessory working to alter both dynamic and static positions of balance. The Orange Peel provides a welcome inward pressure for your legs and feet, which will effectively stabilise your hips and support the core areas of your body at the point of address.
The Orange Peel will definitely help the beginner looking to build strong foundations to ensure a consistent and powerful swing. The concave design of this accessory means your body is always engaged in a stance that is more natural.
It also successfully recreates a variety of slope conditions, allowing you put what you have learned into practice in the field. Even experienced golfers can put this balance aid to good use. Not only will it promote rotational swings more consistency, it will prevent problematic swaying that can be detrimental to your technique.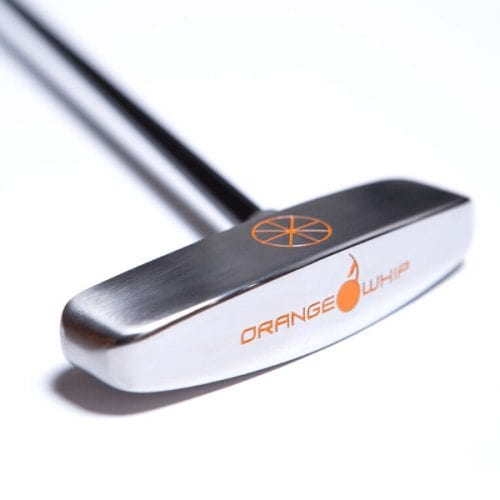 Mastering putting technique can be difficult if you have trained with poor clubs. The Orange Whip Putter Blade is a premium training aid that will allow you to perfect your putting tempo and ensure you always make contact with the centre of the ball. When properly used, this putter will impact the golf ball in just the right spot, transferring energy to deliver a more even roll to ensure you achieve your targets more consistency.
The putter head and counterweight combines with a flexible shaft to ensure you maintain good feedback on the swinging motion. It will also allow you to balance your putting arc more effectively. Every golfer can enjoy the benefits of this training putter, with the dual-sided spherical head making it suitable for both left and right-handed users.
If you are struggling with putting rhythm, timing and tempo, this Orange Whip Putter is a must. It will also ensure you develop your balance to produce the best putting results. The dual-sided face also promotes more consistent contact with the centre of the ball.
The design of this putter also means you can expect improved distances, while direction control is also superior to conventional putters. If you want a training putter that performs consistently and provides you with a good degree of control, this is definitely the way to go.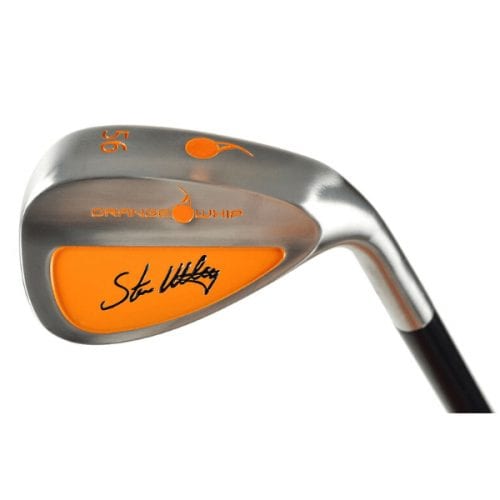 The Orange Whip Wedge provides you with many of the same benefits of the Orange Whip Trainer, but is a more useful training tool for those looking to perfect their short game performance. This training wedge utilises a flexible shaft and counterweight, combined with a 56-degree wedge head to provide you with a first-rate training wedge that will help you lower your scores on the course.
This whip wedge has been engineered for use with shorter shots, allowing you to practice and play around with your technique on the green. It is also a good option for anyone looking to undertake some essential rhythm training. This wedge club is very user-friendly and allows you to swing smoothly from your shoulders, wrists and elbows.
This will allow you to effectively find your sequence to improve rhythm. It can also be put to good use to when it comes to impact training, with the innovative design allowing you to make solid contact with the ball more consistently.
This wedge trainer will also benefit your distance training. If you are looking to perfect chip and pitch shots, this whip wedge will make a welcome addition to your club inventory. You can judge intended landing spots more easily, while also taking into account potential rolling distance so you will always have a good idea of how close tot he hole you will end up.
Once you have mastered all the previous techniques, you can also begin to think about trajectory training. This whip wedge is ideal for that purpose, allowing you to improve your feel and confidence on the green so you can deploy a wider variety of creative shots.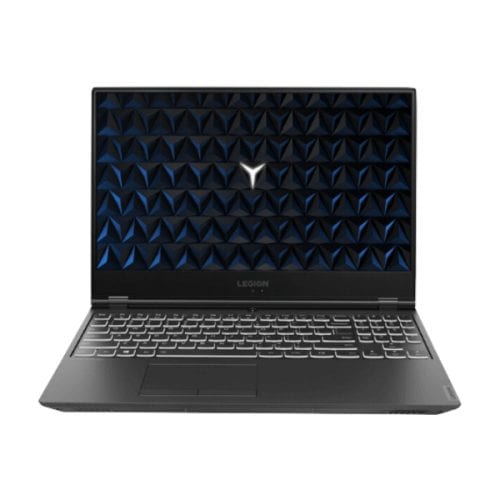 Unless you are looking to build a threadbare golf simulator, premium tech should be at the heart of your setup. This tech bundle is a great value option for anyone looking to invest in a first class simulator system. The key element of this package is the golf simulator laptop.
This gaming laptop includes a NVIDIA GeForce GTX graphics card with 4GB of allocated memory that will ensure your software looks its best. A 10th Generation Intel Core i7 processor is also standard with this laptop, meaning your hardware can easily cope with the most demanding of simulation software packages.
Another great feature of this tech bundle is the AV card. This adjustable utility cart provides you with a sturdy base for all your essential tech, while giving you the freedom to your equipment around your simulator enclosure easily. The cart itself is made from heavy-duty steel, with welded shelves to ensure your equipment is safe and secure at all times.
An integrated power supply also saves you the hassle of having to contend with cable clutter. Three outlets are provided here, meaning you can connect multiple pieces of hardware at any one time. Finally, you will find a wireless display adapter included in this bundle. This is a key accessory for anyone looking to do away with cables.
The premium adapter will provide you with full HD 1080p video displays, with no compression to concern yourself with. You can also enjoy a simple plug and play approach, with no need to download additional drivers or software.