The 10 Best Golf Resorts in and around New York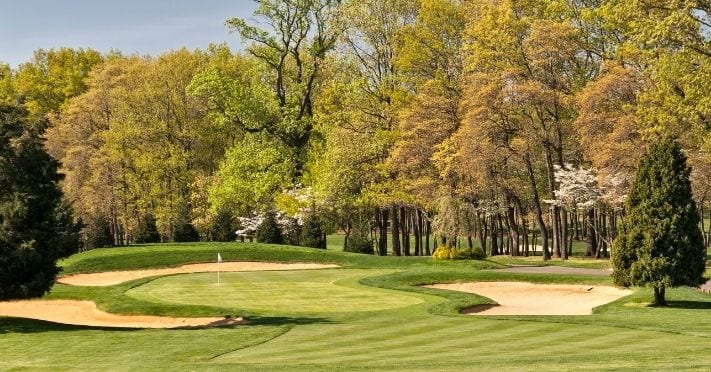 Last Updated on 20 May, 2021 21:42 by Pri
New York may be well known for its sprawling metropolises and iconic landmarks, but it is also a dream destination for golf lovers looking to enjoy a resort getaway. In fact, the Empire State is home to more than 800 golf resorts and courses. Although New York is often overlooked in favour of golfing destinations in the Sun Belt region, this state on the eastern seaboard is one of the most diverse golfing regions in the USA.
With multiple mountain ranges, sprawling forests and epic Atlantic Ocean coastline, the topography of New York makes for truly unique course layouts and awe-inspiring scenery. Keen on getting away from it all and teeing off in new climes?
Thinking of a Golfing break in California, check our article on the Best Golf Resorts in California for some inspiration.
We have selected 10 of the best golf resorts in New York worth adding to your itinerary.
Our Top Choices of the Best Golf Resorts in New York
This championship golf course resort is definitely worth investigating if you want to escape the city and enjoy a long overdue getaway. This 18-hole course boasts a sprawling layout, making full use of the natural topography of the Hudson Valley. Designed by Donald Ross, this golf resort provides you with stunning mountain surroundings and includes more than enough variety to to set any golfer a real challenge.
However, the less proficient golfer will still find plenty to engage with here. In addition to the meandering golf course itself, this resort provides you with a full suite of amenities so you can enjoy a luxurious stay. An on-site restaurant provides you with fine dining experiences, while a full hotel resort with swimming pool means you can unwind after a long day on the course.
You will also find a fully-stocked golf shop at this resort, allowing you to upgrade your existing golfing gear or replace anything you might have left behind at home.
Although located just outside the boundaries of New York State, Pocono Hills is still within easy reach of the most major New York transport hubs. Designed by Nicolas Psiahas, this golf course makes effective use of its mountainous surroundings. Although fairly short, this course has plenty of narrow stretches that make it a considerable challenge, even for fairly experienced golfers. Rolling fairways are another staple feature of this course, with demanding greens that make it far more taxing than an everyday venue.
With a good yardage range, this course will suit the demands of both amateur players and more experienced golfers. It also offers all the amenities you would expect from a first-rate resort. Stay and play packages are very affordable, with fine dining provided by an on-site restaurant. Golf cart and club rentals are also available, making it an ideal destination for golfers looking to travel light.
Situated in Margaretville, Hanah Mountain Resort and Golf Club is one of the finest golfing getaway venues in the state of New York. Designed by Ferdinand Garbin, this golfing destination bas been around since 1958 and continues to prove a popular venue for those looking to escape the daily routine and immerse themselves in spectacular surroundings. Despite a fairly rural location, this golf resort is only a couple of hours away from New York City by car. The scenery is particularly appealing here, with stunning views of the Catskill Mountains to savour as you tee off.
With an 18-hole layout, this championship-level golf course offers enough variety to keep players of all skill levels happy. However, advanced players will find a particular challenge in the form of the 13th hole. Sometimes referred to as 'The Terminator', this hole is arguably one of the most difficult in the country to master. Beside the 18-hole golf course, you will find all the amenities of a quality resort to enjoy for the duration of your stay.
Located within the limits of the Great Northern Catskills, Colonial is one of the more established golf courses and resorts in the state of New York. The course was initially designed by John Bredemus in the 1920s, although the layout was subsequently revamped by Perry Maxwell in 1941 ahead of the US Open.
Although every golfer will find something to enjoy here, the overall layout is less challenging than what you will find offered elsewhere. With only 9 holes, play potential is also more limited than other golf courses. Therefore, this venue is best reserved for those who want to spend as much time kicking back and relaxing as teeing off on the course.
The Colonial golf club and resort is also worth considering if you are looking to improve your game. Teaching sessions can be booked ahead of time, with instruction provided by PGA coaches. Golf club and cart rentals can also be arranged, meaning you do not have to worry about travelling with your equipment if you are planning on heading from further afield.
The Rainbow Golf Club Inn and Suites is a premium venue for a golfing getaway. This USGA-rated facility was designed by Walter Birmann and has been open to the public since 1956. Located in Greenville, New York, this golf course is situated within the foothills of the Catskill Mountains, providing you with varied topography and majestic views.
Although the course surroundings are fairly rural, the course itself is located just a short drive from the Albany district, making it very easy to get to. It is also only a couple of hours away by car from New York City, making it easy to get to if you are flying into JFK International Airport.
With a full 18 holes, you can spend many hours a day playing against friends and fellow golfers. The challenging course layout will prove taxing, even for the most talented player. In addition to the course, this golf facility also boasts a full driving range. Lodgings and full-service dining and bar facilities are also available.
The Rip Van Winkle Country Club is one of the oldest golf resort venues in New York. Designed by legendary architect Donald Ross, this golf facility has been open since 1917. Located in the foothills of the Catskill Mountains, this golf course provides you with a varied layout that should challenge players of any level. The rolling greens and fairways are also fairly manageable for those who prefer to walk through a game, rather than rely on a motorised golf cart.
Although this course only offers 9 holes, it makes the perfect venue for beginners looking to enjoy their first golfing getaway. It can also prove a rewarding venue for low-handicap players looking for quick games and a challenging layout. In addition to the course, you will find on-side dining and affordable accommodation nearby. Cart and equipment rentals are also available, saving you the need to travel with bulky bags and equipment.
Although Blackhead Mountain Lodge and Country Club is a fairly new addition to the New York golfing scene, it has undergone extensive renovation since it first opened in 1990. Designed by Nicolas Psiahas, this venue was originally opened as a 9-hole course, although it was later overhauled and revamped as an 18-hole course in 1999.
Although this course may seem manageable at first glance, mastering these 18 holes takes considerable skill. With narrow fairways and tiered greens, even the simplest of shots takes expert planning. A multitude of bunkers and hazards make keeping your score low even more of a challenge.
This is the ideal destination for the more experienced golf enthusiast who wants to put their skills to the test. Once you have finished golfing for the day, the rural surroundings and mountainous scenery will serve as the perfect backdrop to a night cap or evening meal.
This golf resort is also fairly accessible, with the Round Top location conveniently connected by road to New York City and other urban centres within the state.
Mohonk Mountain House is inspired by the golf courses and resorts of Scotland. This is a truly historic venue, with the first course layout mapped out in 1897 by founder Albert Smiley. Unlike other golf venues in the state, Mohonk has stayed true to its origins and retained its 9-hole design over the years.
It is also one of the most eco-friendly venues in the country, so if you are worried about the environmental impact of your golf getaway, Mohonk Mountain House is a dream destination. In addition to providing you with a stunning course to play on, Mohonk Mountain House is a genuine slice of golfing history.
As one of the oldest courses in the United States, it is a must-visit venue for any keen golfer. An on-site shop also provides you with a full range of golf gear and apparel products, as well as grip repair services. You can also store bags and have clubs cleaned, while equipment rental is also available.
This destination combines the five-star luxury of a resort hotel with stunning lakeside views and surroundings, not to mention one of the best golf courses in New York. The Leatherstocking Golf Course was designed by Devereux Emmet, one of the most prolific names in golf architecture. The resort and hotel have both been around for more than a century, with the Otesaga first opening to the public in 1909. The golf course is a particular standout of this sprawling resort, with a fairly unique layout that makes it one of the most interesting places to play in the state.
The lakeside views provide plenty of scenery to soak in while you wait for your turn, while the narrow greens and bountiful obstacles provide even the most experienced golfer with a considerable challenge. The closing holes of the course are particularly demanding, with the local lake serving as a daunting obstacle to a low handicap. The Leatherstocking Golf Course is also popular with high-profile names from the world of golf, with the likes of George Brett and Mike Schmidt regular visitors in the summer months.
The Lake Placid Club is an established part of the New York golfing scene. This iconic golf course was designed by legendary golf architect Seymour Dunn and first opened to visitors back in 1909. This stunning golf course is set amounts the Adirondack Mountains, providing players with some jaw-dropping scenery to take in between holes. This award-winning golf course offers 45 holes in all, ensuring you have plenty of variety to keep you occupied during longer stays. The sheer variety of play options also makes the Lake Placid Club the ideal destination for golf tourists of mixed ability, with suitable challenges for both the amateur and more able golfer.
If you are looking for premium hotel accommodation, you are also provided for when visiting the Lake Placid Club. The Crowne Plaza hotel provides five-star lodgings and a full range of amenities, allowing you to revel in real luxury when you are not busy on the golf course. Need to get in some practice before heading out onto the course? The Lake Placid Club also offers its very own driving range so you can perfect your swing before taking on the competition.
New York Golf Resorts | Plan Your Golfing Getaway Today
This is by no means a complete list of New York Golf resorts. In fact, there are dozens more resorts within state limits to consider, not to mention hundreds of easy accessible courses. If you are thinking about planning a golfing trip to New York, you will definitely want to consider the timing of your visit. You should probably avoid scheduling a trip during the winter months, as this part of the country is prone to very low temperatures and significant snowfall.
Late spring or summer is without doubt the best time to visit, with a higher chance of sunshine and balmier temperatures to revel in. However, even the autumn months can prove an ideal time to visit, with the change in season and natural colours enhancing the already incredible natural scenery of this beautiful state.
Ever fancied playing golf in the Golden State ? Be sure to check our article on the Best Golf Courses In California