The 10 Best Golf Resorts in California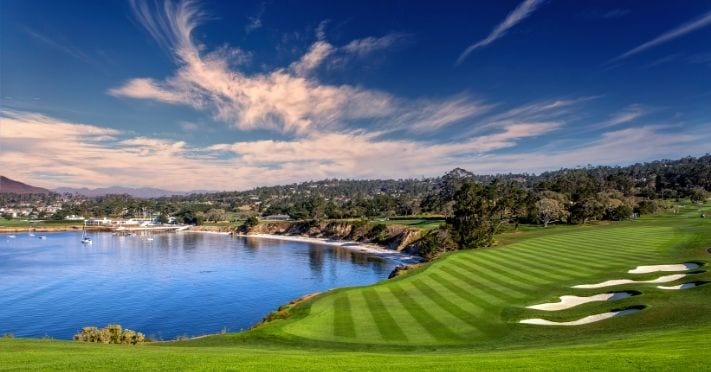 Last Updated on 23 April, 2021 21:38 by Pri
If you are looking to enjoy a long-overdue golfing getaway, California is the perfect destination. The Golden State has more than 920 golf courses and resorts within its borders, with only Florida boasting more. The majority California enjoys a mild Mediterranean climate, with warm and dry summers and generally mild winters. Thanks to the cooling influence of the Pacific Ocean, the coastal stretches of California are particularly bearable, with summer temperatures averaging out at around 70-80 degrees Fahrenheit.
As the southern half of the state falls within the limits of the American Sun Belt, California is the perfect golfing destination for those after guaranteed sun and warmer weather. However, there is much more to this state than sunshine and scorching temperatures. The topography of California is incredibly varied, ranging from arid desert to alpine tundra at higher altitudes. With so many resorts to enjoy within California, you can expect a significant amount of variety when it comes to course conditions.
Thinking of a Golfing break in New York and it's suburbs, check our article on the Best Golf Resorts in New York for some inspiration.
Below are 10 of the best golf resorts in California for you to consider for your next trip away.
Our Top Picks of the Best Golf Resorts in California
This Californian golf resort has been going strong since 1999. Designed by Robert Trent Jones Jr., CordeValle is a staple feature of the PGA Tour, with the course guaranteed to prove a challenge for even the most experienced golfer.
This course boasts a highly eclectic topography, with canyons, sprawling meadows and creeks to contend with. Located in San Martin, the CordeValle golf resort is a relatively easy destination to get to. In fact, it is only located around an hour away from the international travel hub of San Francisco.
In addition to providing golfers of all skill levels with a challenge, this golf resort provides the ideal retreat destination for those looking to escape the hustle and bustle of modern living. The resort is situated within close proximity to the Santa Cruz Mountains, broadening your holidaying horizons if you have other things on your itinerary beyond golf.
A stay at this resort is also fairly affordable, with very reasonable package deals available that combine the cost of flights, hotel stays and golfing passes.
This stunning golf resort is one of the finest in California. Designed by Robert Trend Jones Snr., this sprawling golf course is often shortlisted as one of the best in the world. Situated on the Monterey Peninsula, Spyglass Hill is a feast for the eyes, as well as a rewarding venue to tee off.
The opening holes of this course hug the picturesque Californian coastline, before the course veers inland and enters the Del Monte Forest. If you want to enjoy play on a course that truly makes the most of the natural landscape, Spyglass Hill is an essential golfing destination.
Opened in 1966, this is one of the more established golf hotels and resorts in the state. It is also a firm fixture of the AT&T Pebble Beach Pro-Am, giving you a good idea of the kind of play conditions you can expect. Although this versatile course will serve the amateur well, the more experienced golf lover will find plenty to challenge them here.
The resort itself is also first-rate, with luxurious lodgings making for a memorable stay. Admittedly, a short stay here will set you back far more than what you can expect to pay at other golf resorts, but if you want to enjoy a golfing getaway to remember, it is certainly worth the premium.
Pebble Beach is another beloved golfing venue found on the Monterey Peninsula. This golf resort has been around for more than a century, with the course first opening its doors in 1919. The brainchild of legendary designers Douglas Grant and Jack Neville, this golf resort is one of the most visually arresting around.
This course is a mainstay of many professional tournaments, including the AT&T Pro-Am, as well as the PGA Tour. Time your visit right and you are also likely to run shoulders with top-tier golfing talent. As with Spyglass Hill, Pebble Beach takes full advantages of its majestic surroundings.
The jaw-dropping Californian coastline provides you with scenic views as you swing, with each hole offering its own distinct drama. You also have a range of accommodation options when visiting Pebble Beach, with a multitude of luxury hotels and lodges available.
The cost of a stay at this resort is also competitive, although you can expect to pay extra if you want to spend a considerable amount of time on this iconic course.
This is a relatively new addition to the Californian golf course scene. Designed by Tom Fazio and first opened in 1993, this course has quickly become a firm favourite of golfers from across the Golden State and beyond. Pelican Hill's Ocean North Course is particularly impressive, with a demanding course layout that will prove challenging for even the most experienced of golfers.
With a length of almost 7,000 yards, this course can provide you with hours of enjoyment. The spectacular landscape will also inspire you. Some holes will take you within striking distance of cliff hedges, while striking views of the Pacific Ocean can be enjoyed throughout. Its Newport Beach location also makes this resort easy to get to, while package prices are more than reasonable.
The South Course at Torry Pines is an iconic golfing location. It was made famous by the 2008 US Open, but it has been a regular haunt of golfing professionals and enthusiasts for decades. Established in 1957, this rewarding course was designed by Rees Jones and William Bell.
Although the layout of the course is not as challenging as other top picks in our list, but there is plenty of variety to enjoy here. In addition to smooth greens and fairways, you will find plenty of obstacles and hazards to overcome.
Located with proximity to San Diego, Torrey Pines benefits from year-round sun and warm weather, making it the perfect golfing destination for any month. You are also spoiled for choice when it comes to accommodation, with competitively priced packages that combine the price of hotel stays with access to the South and North Torrey Pines courses.
Pasatiempo is another long-standing golf resort that should deserves premium placement on any bucket list. Opened in 1929, this course was designed by Alister MacKenzie and was rumoured to have been his proudest achievement. Other designers like Tom Doak re-jigged the layout in later years, but the essence of this legendary golfing destination remains the same.
This course is a good fit for golfers of any skill level. Tree-lined fairways and sloping ravines make it an accessible landscape for the less experienced golfer, although wind and other weather conditions can make for a more a demanding game of golf on certain days. Because of its proximity to Santa Cruz and San Francisco, this golf resort is also very accessible. Meanwhile, the overall cost of a stay and play package at Pasatiempo is highly competitive.
TPC Harding Park has been around since 1925, with the initial course layout designed by Willie Watson. In recent years, others like Sam Whiting have turned their talents to refining the course layout, enhancing the existing fairways and adding additional bunkers.
The fairways are the real start of the show here, with borders of towering cypress trees. The narrow greens will also appeal to the more experienced player looking for a challenge, with the awkward dimensions requiring significant skill to keep a handicap low.
As you near the end of the course, difficultly levels increase significantly. The last few holes of this course not only require considerable skill, but also reward players looking for striking backdrops. The final hole is particularly memorable, with breath-taking views of Lake Merced serving as an unforgettable backdrop.
Situated within close proximity to San Francisco, this popular golf resort is easy to get to, regardless of whether you are coming from elsewhere in the state or further afield. Resort stays and golf course pass prices are also fairly affordable compared to other destinations.
If you are keen to play at higher altitudes, the La Quinta Mountain Course is the perfect destination for a golfing getaway. This beautiful resort is situated at the foot of the Santa Rosa Mountains, with the lush surroundings providing a welcome oasis in this typically arid region of California.
Designed by Pete Dye, La Quinta has been in operation since 1981. Dye went to great lengths to provide golfers with a range of challenges here, making full use of the natural surroundings to serve players up with hazards and obstacles aplenty.
Natural rock formations are well utilised in this course, while constant changes in elevation will require plenty of skill to overcome. Because of its mountainous terrain, memorable views are not in short supply here. La Quinta is also a very affordable option for those with less of a travel budget to play with, with all-inclusive package prices often a fraction of what you can expect to pay elsewhere. A Palm Springs location also makes La Quinta a fairly accessible choice of golf resort.
If 18 holes is not enough for you, consider adding Indian Wells to your list of dream golfing destinations. This sprawling golf course was designed by John Fought and Clive Clark and first opened its gates to visitors in 1986.
Since then, it has become one of the most popular golfing destinations in the region. With 36 holes, you are not short of a challenge here. Although not a frequent fixture of high-profile tournaments, Indian Wells is still frequented by professionals and is the occasional host venue for smaller fixtures.
With its dry and sunny desert climate, Indian Wells is the perfect golf resort destination for those who do not want to risk the chance of rain. The course layout is admittedly not the most challenging, but the additional features of the resort more than make up for this.
In addition to the course itself, you can make use of a dedicated practice area, as well as a chipping and putting green. Accommodation is also first-rate, while Palm Springs International Airport is close by for those jetting in from across state or beyond.
The Classic Club is a championship-level course that will go down well with golfers keen for a challenge. Designed by legendary golfer Arnold Palmer, this first class resort was first opened in 2006 and has proved popular ever since.
Although located in the Palm Desert, this course serves a lush oasis in a typically arid environment. The sprawling landscape offers a wide variety of challenges, while an abundance of water features provides you with plenty of hazard to overcome.
If you have yet to enjoy this renowned golf resort, you should definitely think about making it your next destination. Although the cost of a stay and golf course access can be considerable when compared to other golfing destinations, it is worth the expensive if you can afford it.
Plan Your Next Trip Today
As you can see, there is no shortage of golf resorts for you to enjoy in California. These are just a handful of the very best resorts for you to consider, with hundreds more courses scattered around this varied state. Whether you are looking for sure-fire sun, ocean vistas or mountainous views, California has a course to cater to you.