The 11 Best Golf Push Carts 2022 | Buyers Guide & Reviews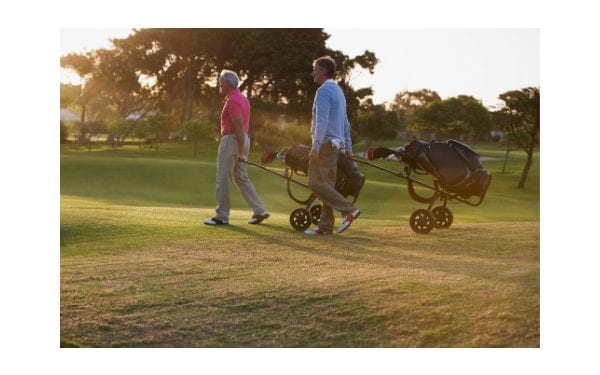 Last Updated on 22 December, 2021 22:06 by Pri
The best golf push carts take the hassle out of getting around the course. If you are someone who regularly heads to the golf course to enjoy a full 18 holes, a golf push cart is a must. A premium walking golf cart not only provides you with a convenient way to transport your clubs and accessories across great distances, it saves you having to exert yourself in between holes. This means you are always primed and ready to put maximum effort and energy into your swing, giving you the best chance of coming out on top. Let us explore what to look out for when choosing the best golf push carts for your needs.
Build Quality & Materials
Golf push carts should be easy to manoeuvre across a course, so need to offer a good balance between being lightweight and durable. The most heavy-duty options include steel frames that provide you with the best in durability and will usually allow you to carry more gear. However, steel is relatively heavy and can therefore impair manoeuvrability. A good alternative to steel is aluminium. Carts made from high-grade aluminium are very lightweight, but do not sacrifice too much when it comes to strength and durability.
Wheels & Handles
Wheels are very important when it comes to selecting a golf pull cart. As a minimum, you will want a cart that includes three wheels. These types of cart usually have one wheel at the front of the frame, with two slightly larger wheels at the rear.
This configuration provides exceptional balance for your golfing gear and ensures the cart remains upright at all times. Four wheel carts are also available, although not as common as their three wheel alternatives. Four wheels provide you with added stability and are a good option for those who struggle to handle their carts on even terrain.
Handles are also essential to consider when selecting a suitable push pull golf cart. Whenever possible, look for a cart that includes an adjustable handle. This will not only allow you to position the handle at a suitable height for your size, but also allow you to adjust the handle to allow for easier manoeuvring in different situations. Ergonomic handles are also essential if you are looking for a comfortable experience.
Bag Fasteners
A good golf cart needs to be able to keep your golf bags in place for the duration of a game. A bag fastener is a standard feature of any golf cart, although the best carts will include multiple straps to more securely lock your bags in place. Side supports will also provide you with additional security and are a good option for those with less cargo to carry.
Braking Systems
You want to be able to bring your cart to a stop instantly, so a reliable braking system is a must when selecting a golf push cart. Many golf carts include braking systems directly on the rear wheel and can be activated by pressing down with your foot. These braking systems release in the same manner, allowing you to get your cart going again. Many other carts will include a braking system on the handle itself. A simple push of a button will bring your cart to a stop, with a second push releasing the wheel brake and allowing to resume travelling across the course.
Folding Frames
You will need to transport your golf cart between your home and the golf course, so a folding design is essential. The vast majority of golf push carts include a folding mechanism, so finding a suitable design will not be a problem. However, you should think about additional considerations like storage. If you only have a small space to store your cart when not in use, select a model that can be folded down to a very small size. A one-touch mechanism release with powerful pistons will make folding and unfolding as effortless as possible.
Integrated Storage
In addition to housing your golf bags, a good golf cart should also provide additional storage for further golfing items. Most golf carts will include a scorecard holder near the handle, taking the form of a tray that can be used to store cards and pencils. Make sure these trays are deep enough to keep items from rolling over the edge when your cart is on the go. More premium golf carts will also include storage for beverage containers, smartphone devices, small golfing accessories and other items.
Our Top Picks of the Best Golf Push Carts
Reviews of 11 Best Golf Push Carts
Take the strain out of carrying your gear across the course with a premium push cart. We have made life easy for you and put together an exhaustive list of some of the best golf push carts currently on offer from major golfing manufacturers.
---
This 3 wheel golf cart from Tangkula is an affordable option with plenty of great features. Despite being a fairly sturdy design, this golf cart with seat is surprisingly lightweight, coming in at just under 19 pounds. This sturdiness is thanks to the steel frame construction, which will ensure even a large inventory of clubs is kept firmly in place you as traverse the golf course.
This premium golf cart is also very easy to operate, with two foot operated brakes that allow you to bring your cart to a stop quickly and securely. Combined with three individual feet, these brakes allow you to keep your cart in place, even on even terrain.
Getting around the course is incredibly convenient with this golf cart. The smooth push cart wheels allow you to move your cart in any direction easily, with the ergonomic handle also enhancing the mobility of this cart. The height of this cart can also be adjusted to accommodate different users, while the handle angle can also be adjusted to meet your individual needs.
This cart is also simple to store when it is not in use. The wheels can be quickly removed when you are home from the course to allow for easy storage, while the main frame is also foldable, allowing to store it in the smallest of nooks.
---
If you are looking for a budget push cart that offers convenient design details, this deluxe steel push cart is a good investment. Although relatively compact, this cart is lightweight and incredibly sturdy. The steel frame makes it a heavy-duty use, coping well with heavy loads and full golf bags, while also remaining stable as you travel across the course.
This is also a good option for anyone looking for folding convenience. This push cart opens and closes with ease, with the cart folding half when you are not using it and wish to store it away.
This golf push cart also features wide wheels that make it exceptionally stable, even when you are playing on uneven terrain. The wheels can be removed and reattached easily, with clip-on mechanisms making changing wheels incredibly easy. This also makes it simple to add push cart replacement parts if your existing wheels have seen better days.
The contoured base of this push cart also makes it easy to add much larger golf bags, with an adjustable bag strap included so you can ensure your bags are locked firmly in place. Another useful feature of this golf cart is the waterproof scorecard holder found underneath the handle.
---
This 3 wheel golf pull cart from Tangkula will satisfy the needs of the most demanding golfer. This push cart features a folding design to allow for easy storage and hassle-free transport between your home and the course. The lightweight build of this cart will also appeal, with the total weight coming in just shy of 17 pounds. This means no effort is required to carry it around before you start adding bags.
This cart is also very durable. The aluminium construction makes it more lightweight than steel alternatives, without you having to sacrifice too much in the way of heavy-duty performance. The EVA wheels will also impress, providing you with enhance carrying capacity and ensuring you enjoy maximum balance and traction on all terrain types.
Getting around with this push cart is incredibly simple. The EVA wheels will last you a long time and require little in the way of maintenance, while the exceptional balance and traction performance means you will have no trouble traversing tough terrain. A press brake can also be found on the rear wheel, ensuring your cart can be locked firmly in place when you wish to come to a stop and start playing. When you are ready to move again, the foot break is quickly released so you can be on your way in moments.
---
This 3 wheel golf push cart offers all the key features you need to get around the golf course with ease. This golf push cart is made from heavy-duty aluminium, which gives you the best in lightweight design and durability. This golf cart will also accommodate all types of golf bag, with upper and lower brackets, as well as an elasticated strap to ensure your bags can be locked firmly in place. The handle of this cart can also be adjusted, accommodating different user heights to ensure easy operation at all times. The adjustable handle also makes it easy to choose different pulling and pushing positions.
The push cart wheels included here allow for smooth running at all times. Three ball bearing wheels are included in total, which provides you with the best in mobility and balance. These heavy-duty wheels make it easy to get across all types of terrain in all conditions. The simple braking system will also appeal. When you wish to come to a stop, the quick brake system can be activated by foot.
If you want to be on the move again, simply step on the brake again to get going. A scorecard holder is also included to allow you to keep an eye on your handicap. This golf cart is also practical when it comes to storage, folding flat to compact dimensions when not in use.
---
If you are looking for a compact golf push cart, the BagBoy Nitron is something to think about investing your money in. This low-profile push cart is also practical when it comes to storage, folding away in seconds. Nitro Piston technology is also included as standard here, allowing for instant unfolding when you wish to use your cart on the green. Other practical features include parking brake situated on the handle, allowing for instant brake locking and release. The brake holds stable when it is locked, ensuring your push cart remains stable on any terrain.
This push cart also features a scorecard console near the handle, allowing you to keep track of your handicap at all times. An integrated drinks holder can also be found next to the scorecard console, along with a separate holder for your mobile device. Ball storage is also provided, along with an extra large bag for accessories. If you want a compact golf cart that provides you with ample storage for all your extra items, this is certainly a suitable choice.
---
The Rovic Clicgear RV2L is packed with great features that set it apart from other carts on the market. The single folding action of this cart allow you to fold and open it in seconds. The aluminium frame build will also appeal to anyone looking for a lightweight cart that is easy to move across the course. Thanks to the aluminium build, this cart weighs just 15 pounds, making it much lighter than most carts out there.
An ergonomic handle makes it easy to manoeuvre this clicgear golf push cart around, while a foot brake system makes it easy to lock your cart in place when you come to strike your next ball. The brake system can also be instantly released when you need to be on the move again.
This clicgear push cart also features an integrated cup holder, along with a mount for golf umbrellas and a tray for your scorecard. You also have scope to upgrade this cart to accommodate additional accessories. Three individual accessory tabs are included as part of the design, allowing to add Rovic and other compatible accessories with ease.
---
This Qwik-Fold golf push cart is an obvious choice for anyone looking for something that is both practical on the course and easy to store at home. This golf push cart folds away in only a second, with a reliable folding mechanism that can be activated at the touch of a button.
An ergonomic handle is also included, allowing to manoeuvre your cart around the green with ease or carry it between the car and course. This cart is made from high-grade aluminium, making it a very lightweight option. Despite its lightweight construction, this cart is very durable and will satisfy the needs of those looking for heavy-duty performance.
Another user-friendly feature of this Qwik-Fold push cart is the patented foot braking system. All you need to do bring your cart to a stop is tap your foot on the brake. When that is done, your cart will remain securely in place, even when perched atop uneven terrain.
Ball bearing wheels also make this cart easy to move across uneven ground. The premium cart wheels will also last for a long time, coping with regular use in all kinds of environmental conditions. This cart also features integrated storage for golfing essentials. An integrated golf umbrella holder means you can play on, even when it begins to rain.
---
This BagBoy Compact golf cart will appeal to anyone looking for something lightweight and easy to store. Despite being smaller than many golf carts, this premium option from BagBoy will not disappoint when it comes to usability and features. An extra-deep scorecard holder is a particular standout here, providing storage for your scorecard and pencils. You will also find storage for golf balls, your smartphone and drinks thanks to an integrated beverage holder.
This compact golf cart is also very easy to use. The three-step folding mechanism makes it easy to fold your cart down to discreet dimensions when your golfing practice is fer. The oversized wheels also make this a very durable option and one that will cope with tough terrain.
A 9.5-inch front wheel will cut through the grass with ease, while the two 11-5-inch rear wheels ensure smooth rolling at all times. You will also have no trouble attaching your golf bags to this cart. An upper bracket and adjustable support arms are included to ensure even the heaviest of bags is kept firmly in place while you are on the go.
---
The BagBoy Quad XL is the perfect candidate for anyone on the hunt for a 4 wheel golf push cart. With its four wheels, this cart is more stable on even surfaces than many other carts on the market. Despite the additional wheel, this cart is still relatively lightweight and remains easy to manoeuvre across uneven terrain. These heavy-duty wheels will also require no maintenance, holding up well to regular use in even the most challenging of conditions.
This push cart also features a deep scorecard holder that will ensure your little essentials do not fall free when you are on the move. A large accessory bag can also be found underneath the scorecard console, providing additional storage for your golfing items. The braking system is located on the handle itself, making it easy to bring your cart to a halt. If you are looking for a durable, reliable and easy to use push cart, the BagBoy Quad XL is a must.
---
The Caddytek Cart CaddyLite V3 is a best value choice of 3 wheel golf cart that offers plenty of user-friendly details to make getting around the golf course as easy as possible. Arguably the most attractive feature of this golf cart is the Ergonomic padded and adjustable handles with 4 pushing positions.
The metal frame provides strong support for heavy load, while still remaining lightweight enough that it is not a challenge to manoeuvre this around an 18-hole golf course. It also includes the patented bag holder which ensures a snug and secure fit for your golf bag.
The upgraded handle unit of this golf cart is also a nice touch. The handle console features a scorecard holder, as well as an integrated umbrella holder and drinks holder. You will also find storage for tees and smaller accessories thanks to the built-in pouch. This cart is also practical when it comes to folding and storage. The frame can be folded in seconds at the touch of a button, while the wheels can be instantly removed to allow for simple storage. A foot braking system is also included as standard here.
---
The Caddymatic Golf Pro Lite is something to consider if you are looking for a golf push cart that is smaller and more lightweight than conventional options. Although fairly discreet in size, this golf cart does not skimp on features. The quick folding mechanism also makes it easy to fold this cart down when you are not using it, while the wheels can be quickly released and removed to allow for even more compact storage.
The three wheel design of this cart provides you with exceptional stability at all times, no matter whether you are pulling or pushing your cart. Integrated storage is also provided here. You will find a holder tray to house scorecards, pencils, tees and balls, as well as an integrated drinks bottle holder. A foot braking system is also included as standard here, allowing to bring your cart to an instant halt at any time.
---
What is the Best Golf Push Cart?
Now you we have explored some of the best top rated golf carts around, you should have plenty of ideas on what to invest in.
Looking for something compact? If you are looking for a walking golf cart that will not take up too much space on the course, the BagBoy Nitron and BagBoy Compact are two options worth considering. Keen to choose the best folding push cart on the market? The Qwik-Fold golf cart is definitely the most convenient option out there.
When it comes to selecting the best 3 wheel push cart for your budget, you have plenty of options. Our personal pick has to be the Tangkula 3 wheel golf trolley with integrated seat and added storage capacity. Prefer the added stability that more wheels provide? The best 4 wheel push cart currently available has to be the BagBoy Quad XL.
If your fellow golfers take an edge to complete their turns on the course, you definitely need to think about purchasing a cart with an integrated seat. The Tangkula is one of the best golf push cart with seat options on offer.
It can be difficult to select the best budget push cart without sacrificing too many features, but the deluxe steel push cart from JEF World of Golf is definitely one of the better options out there. This compact cart provides a good balance of functionality and affordability.
After the Best Value push cart? The CaddyTek Cart is definitely the contender here as it's a lightweight and compact options with all the standard features and come at an affordable price.
Selecting the best lightweight push cart is a much easier task. Basically, any cart made from aluminium will provide you with a lightweight solution that will be easier to move around the course with. When choosing such a cart, make sure the aluminium is of a high grade so you can be confident you have purchased a durable cart that can be used on a regular basis.
Although it is hard to single out the best push / pull cart from all of the products we have explored above, the SereneLife SLGCFLW is a good contender for the title. This lightweight cart scores high marks in all categories, providing you with exceptional storage capacity, easy braking and handling and plenty of scope for adjustment.
---
Interested in the Top 10 Amazon Best Sellers for Best Golf Push Cart?