10 Best Golf Training Aids 2022 | Buyer's Guide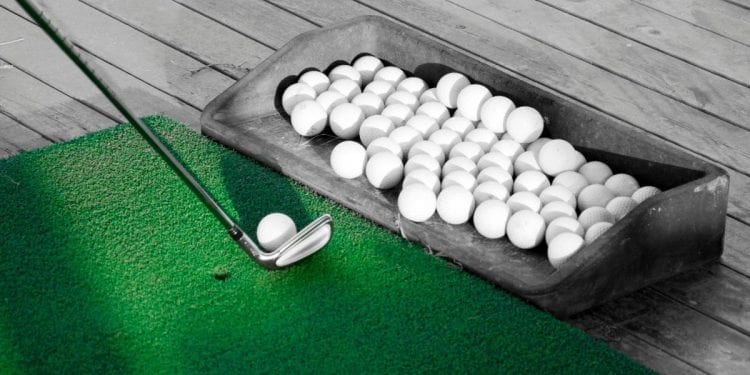 Last Updated on 22 December, 2021 22:10 by Pri
You should definitely be looking to invest in golf practice equipment if you want to improve your technique. Many novices only think about purchasing a hitting net or putting aid, but there are many other types of golf training aids to consider. In addition to hitting mats and nets, you also have warm-up sticks and speed systems to think about. You can also look into ball dispensers and retrievers if you are looking to take strain out of practice sessions. Our guide outlines all the key types of training aid to consider when stocking up on golf training aids.
If you want to swing away without having to reach for balls and place them on tees directly, a reliable dispenser is an essential piece of training kit. For maximum convenience, look for ball dispensers that utilise a motor-free design. Motor-less and battery-operated dispensers can be used anywhere, making them incredibly portable and suitable for use outdoors and inside. When shopping for ball dispensers, you should consider the overall durability of a design, as well as the maximum ball capacity.
Best Golf Training Aids / Golf Accessories / Golf Gadgets
Please see below what we believe to be the best golf accessories , gadgets and best golf training aids 2022 has on offer in the market today:
Ball Retrievers
Hitting Nets
Hitting Mats
Warm Up Sticks
Putting Aids
Weighted Clubs
Practice Balls
Ball Retrievers
Let's be fair, it's important to focus on the short game. Constantly bending down to retrieve your golf balls can place significant strain on your back and lead to minor injuries. A golf ball retriever will make your life much easier. Ball retrievers usually include a retrieval rod that can be placed to the ground to collect a ball, along with a storage bag that will store all retrieved balls.
When investing in golf ball retrievers, make sure you are buying a model that is rugged in design and easy to handle. You will need a generous storage capacity to save you having to dispense collected balls. An ergonomic handle will also ensure such training aids are more comfortable to use.
Hitting Nets
A durable hitting net is one of the most useful golf training aids you can buy. Hitting nets are often used as part of golf simulators, but they are also used more generally to ensure hit balls never stray too far from target. Compact hitting nets are a good option if you are looking to master certain types of shot, such as chipping or lob shots. Larger hitting nets are ideal for those looking to practice their swings, drives and backswing.
When possible, look for hitting nets that include moveable targets. A hitting net should also be durable and easy to erect. Look for nets that include steel and fibreglass frames as this will ensure you have a good balance of sturdiness and flexibility. If you intend to use your hitting net outdoors on a regular basis, weather-resistant materials or a weatherproof shell is also advised.
The perfect golf net is an amazing tool to really test out your golf game, your golf club and the clubhead speed.
Hitting Mats
If you are looking to practice indoors, a hitting mat is a must. A hitting mat is also essential if you are practising in outdoor spaces with poor surface conditions, such as concrete. Bigger hitting mats are always best as they provide you with a more authentic surface on which to tee off.
Larger hitting mats will also generally provide you with a range of artificial turf options to practice on. A reliable hitting mat should also be durable and resistant to weather, especially if you plan on using it outdoors. A secure base will also ensure it remains locked in place when used on indoor surfaces, or with a launch monitor.
Warm-Up Sticks
A warm-up stick is a good idea if you do not want to overexert yourself before reaching for your actual clubs. If it has been some time since your last game of golf, a warm-up stick will help prepare your muscles for full swings and prevent strains and injury.
If your muscles are generally prone to straining, a warm-up stick is a must. When buying warm-up sticks, make sure the design is made from a lightweight material, but also ensure there is strategic weighting elements that best replicate a conventional club.
Putting Aids
Putting aids are among the most commonly used pieces of golf practice equipment, especially when you're looking to improve your putting stroke and the putting green isn't close by). The most basic variety of putting aid includes a slight incline, target hole and in some cases, an automatic ball return mechanism. These are useful for those looking to practice their putting technique in tight spaces and can be used pretty much anywhere.
More advanced putting aids are also easy to find. The best options of putting aids provide you with curved designs that provide authentic resistance to poor putting technique. Always great options to put your putter to good use (whether you have a putting mat to hand or not).
Weighted Clubs
If your swing speed needs refining, you should definitely look at weighted clubs. Swing speed systems can be purchased from many golf training equipment manufacturers and can yield significant results. If you have never used weighted clubs before, invest in a set rather than an individual club if you can afford to. This will allow to train in increments and more finely tailor your swing speed over time.
Practice Balls
If you are practising your golfing technique on a driving range or large outdoor space, you do not want to waste time searching around for balls that have travelled long distances. Practice golf balls are therefore something to stock up on.
Practice golf balls come in a variety of designs, ranging from balls made from foam to more conventional looking alternatives made from durable polymer resin. Golf training balls are specially adapted so they have a limited carrying distance, meaning they will not travel too far from your point of address.
However, they still perform very similarly to actual golf balls, meaning you can receive reliable acoustic feedback and enjoy a better overall feel.
Reviews of 10 Best Golf Training Aids 2022
Keen to improve your technique? Consider some of these options if you are looking to invest in golf practice equipment.
One of the most strenuous aspects of golf practice is having to retrieve golf balls. The Original Bag Shag is an essential item for those looking to take the effort out of ball retrieval. Not only will this ball retriever provide you with a quick and reliable pickup solution, it also saves you the effort of having to bend over manually.
This will prevent you straining your back on a regular basis, staving of the chance of injury. It also increases the amount of time you can spend on actually practising your shots.
The Original Bag Shag includes a large canvas bag as part of its design. This canvas bag will comfortably hold up to eighty individual golf balls. Even when full, the durable canvas material will not stretch, ensuring yet long-lasting performance out of this golf training aid. The overall design of this golf aid will impress.
Stainless steel zips and solid brass zippers are standard here, while the bag is supported by steel support plates to provide you with enhanced durability. This is also convenient and comfortable to use, with an ergonomic grip handle.
Another time-consuming aspect of golf practice is having to place golf balls on tees before you take your shots. This TMAXGOLF motor-less golf ball dispenser is therefore worth considering. This top-quality golf ball dispenser is made to a high standard, with a durable build and reliable components that ensure the dispensing mechanism consistently performs well. Using this dispenser is incredibly simple. All you have to do is push the lever and a golf ball will be automatically dispensed and placed directly on the tee.
As this dispenser does not require a motor, you can use it just about anywhere. By not needing to stay within reach of an electrical output, you are free to use this dispenser out on the range or in your garden as you practice with a hitting net. It can also be used indoors when training with a golf simulator. This ball dispenser is a must if you are looking to free up more time for actual golf practice. It also takes the strain out of having to manually place balls on tees.
While it makes sense to practice your swing before making actual contact with the ball, doing so with a conventional club can be draining. A warm-up stick is therefore a great golfing aid to think about purchasing. This SKLZ Golf Flex warm-up stick is one of the better options currently available.
This is a warm-up stick that has been designed for regular use, with the polyurethane head making it particularly suitable to everyday training. The shaft length of this warm-up stick has been specially designed to help flatten the swing plane, helping you perfect better technique. The flexible shaft will also help you become familiar with lag and will help you overcome the urge to release your grip too early.
This warm-up stick is also a good golf aid for less experienced players, with the grip including guidelines that encourages better hand placement. Weighing n in the head also provides you with a more authentic swing movement that you can put to use when using your conventional clubs. Used properly, this warm-up stick is very effective at building strength in the core muscles that are most important when playing golf. It is also small enough that it can be placed in your golf bag along with your other clubs, ensuring it is always close to hand when you need it.
Mastering chip shots can be difficult without the use of quality golf aids. Thankfully, this golf chipping net is an ideal solution for improving your aim to ensure you always hit your target. This compact chipping net is a compact solution for those looking to improve chip shot proficiency.
This bundle includes a netted enclosure, with mesh back and side panels to ensure your balls never stray too far from target. There are also four individual target zones for you to hit, allowing to perfect lob shots, chip shots, running shots and pitch shots.
This chipping net also includes a sloping front panel that will ensure hit balls roll back down to your point of address, eliminating the need for you to constantly move around to retrieve balls. An artificial turf hitting mat is also included, with three different turf conditions replicated to provide you with a more realistic practice environment.
This chipping net is suitable for regular use, with the durable fibreglass frame making it both lightweight and very durable. The waterproof outer material also makes it suitable for use in rainy condition. This collapsible design can also be stored neatly in its own carry bag.
Unless you have access to a driving range or a golf course with a good range of turf conditions, a quality turf hitting mat is an essential golf training aid. This Tri-Turf XL hitting mat from GoSports is a good choice of golf practice equipment.
This premium hitting mat has been developed by PGA professionals to provide you with the most realistic turf conditions possible. The generous dimensions of this mat provide you with more flexibility when it comes to putting or practising your swing, while the variety of turf conditions ensure you are prepared for any eventuality on the course.
This mat includes artificial turf that replicates fairway conditions, rough conditions and driving range environments. This hitting mat is a good option for those who are planning on putting together their own golf simulator. The rubber base offers reliable traction against indoor surfaces, ensuring it remains fixed firmly in place on a wide range of surfaces.
The artificial turf is also manufactured to a premium standard, meaning you can use it outdoors without the worry of it becoming damaged. The hard-wearing finish of this artificial turf also means it will cope with the impact of your club if you ever miss your target and fail to make contact with the ball.
This PuttOut pressure put trainer is a reliable training aid for anyone looking to replicate authentic putting conditions. The curvature of this golf training aid provides you with a good substitute for a real hole on the green, allowing you to hone your putting technique.
The parabolic design of this putting trainer certainly outdoes conventional ball return systems. Each successful putt will also be returned the same distance the ball would have travelled should it have missed the hole. This innovative feature makes this training aid a great choice for anyone looking for useful feedback that they can use to adjust their putting pace.
The curved design of this training aid provides you with a reliable solution for putting practice. Good putting technique will ensure balls are accepted, while poorer putts will result in rejected balls. Although this putting trainer looks relatively modest, it is built to a high standard. Polycarbonate material makes this a long-lasting piece of golf practice equipment, while the compact size means you can carry it with your other golfing essentials.
This GForce Swing Trainer 7-iron is a must-have for anyone looking to make significant improvements to their swing. The flexible shaft will encourage a smoother transition, eliminating the likelihood of over the top swings. This training iron can also be used to improve sequencing.
Simply put, sequencing refers to getting all aspects of a swing ordered correctly. Many inexperienced golfers have a tendency to swing too hard as they bring their swing down and release the club too early. This training iron will help overcome that urge.
The flexible design of this training iron will also help you make improvements to swing rhythm and tempo. The flexible shaft will allow you to become more aware of the weight of the club you are using, allowing to fine-tune a pendulum swing. Ultimately, this training iron will allow you to more easily notice the subtle changes in balance and feel that you might ordinarily be able to determine when using a conventional club.
Adding speed to your swings is an essential part of golf training. This SuperSpeed golf training system is a very convenient way of helping you build speed when swinging, with enough variety in the weighting aids provided to help golfers of varying proficiency.
This training system is particularly popular with experienced golfers. In fact, many professional golfers use the SuperSpeed training system to keep their swing speed in order. This system includes three individually weighted clubs that provide different levels of performance.
In addition to the clubs themselves, this system includes access to a huge library of online training videos that provide you with thorough guidance on how to use your weighted clubs effectively. If you persist with this training system, you can expect results in as little as six weeks.
The manufacturer recommends around ten minutes of training, three times per week to yield noticeable results on the golf course. Considering the benefits it can bring to your performance, this golf practice equipment is fairly affordable.
These BirdieBall training golf balls are ideal for those looking to enjoy plenty of practice, without having to stray too far to retrieve them. Unlike conventional golf balls, these BirdieBalls will only travel approximately 40 yards from your position, even when struck with maximum club head impact.
Despite their limited ball flight, these balls feel and perform just like real golf balls. They will provide you with the same level of feedback as normal balls, while launch conditions are also similar to the real thing.
Unlike other training balls, these BirdieBall golf balls are made from durable polymer. These hard-wearing materials means the training balls will last you much longer than foam alternatives, or balls made from brittle plastic. They are also robust enough that they can be used to practice a full variety of shot techniques, ranging from chip shots to full swings.
If your swings are on the sloppy side, you should certainly think about buying a decent speed trap. The EyeLine Golf Speed Trap 2.0 is one of the better available models on the market. This speed trap will help guide your swings, resulting in better shots and optimal launch conditions.
This speed trap includes wider slots than other trap models, making it easier for you to make contact with the ball, while still providing you with a tight guideline. Tethers are also included, meaning your guide rods will remain close enough to the tee that they will not have to readjusted before you take your next swing.
This speed trap also includes a clear alignment stripe for easier visualisation. This speed trap also comes with its own carry bag for storage and transportation, along with a separate pouch for storing rods and tethers.