10 Best Golf Hitting Nets For 2022 | Buyers Guide & Reviews
Last Updated on 23 December, 2021 21:42 by Pri
A golf hitting net is a valuable training aid for anyone looking to hone their technique. You will find a range of golf practice nets on the market, ranging from compact design that can be used in the smallest of interiors, to more substantial enclosures that provide you with a professional training environment.
There is plenty to think about when shopping for golf  training nets. Looking for a budget-friendly option for occasional practice? You should find plenty of solutions that will not cost much at all. Need something more elaborate to use as part of an indoor simulator alongside a launch monitor?
You will need to spend more time weighing up the pros and cons of each product. To help you make an informed decision, we have laid out the key things you need consider when browsing for the best golf hitting net.
Main Types of Golf Hitting Net
Chipping Nets
When it comes to purchasing a golf practice net, you have a number of varieties to consider. The most basic type is a chipping net. These golf hitting nets are very affordable and are durable enough that they can be used for practice on a regular basis. However, as they are designed to withstand the impact of chip shots, they are not as robust as other available options. Both the frame thickness and quality of the knotless netting material is usually minimal. However, the more you spend on a golf hitting net designed for chip shot practice, the better the quality you can expect.
Driving Nets
Driving nets is another option to think about investing in. These are relatively similar in design to chipping nets. These golf practice nets tend to be more robust than chipping nets as they need to withstand more substantial impacts. The frame should definitely be stable enough that it will not topple over should the golf ball make contact with it. The netting material should also be of a high-grade.
Golf Cages
Golf cages are another option to think about. These types of golf hitting nets have three sides, providing you with an enclosure environment that will keep wayward shots from staying too far from the target. These types of indoor golf nets (can also be used outdoors) are best suited to professional golfers or those who play with more force. Perfect for getting you ready for the golf course with your Best Irons.
Choosing the best golf practice net is a little bit of a minefield, which we've strived to make easier below:
Easy Assembly
Unless you have a space you can constantly dedicate to your golf game and golf training, you will want to ensure any practice net you buy can be easily assembled and taken down. A simple modular design that incorporates a base frame, upright poles and separate netting is arguably the most user-friendly solution.
These types of hitting nets can be erected in a couple of minutes and can be taken down just as quickly. When possible, purchase hitting nets that also include a carry bag as these provide you with a convenient storage facility and allow you to travel with your equipment.
Dimensions
If you are looking to use a practice net indoors, you may find yourself slightly limited when it comes to size. Most hitting nets will have a depth of around three feet, while the width and height measurements can vary slightly. If possible, you should purchase a golf practice net that offers a height and width of 10 feet respectively.
This will provide you with a much larger capture area, while also accommodating a greater variety of shots. However, a height of 10 feet may not prove compatible with room dimensions and ceiling heights. If that applies to you, you will find plenty of hitting nets with a maximum height of seven feet on the market.
Materials
How much you are prepared to spend will ultimately determine on the quality of materials. If you can afford to spend more, you should look for golf hitting nets that include a frame made from a combination of commercial grade steel and fibreglass. A sturdy steel base will ensure you get the best results when it comes to stability, especially if you intend to use your practice net in variety of environments. The upright poles should be made from fiberglass.
This material not only holds up well against significant ball impacts, it is also very lightweight. If you do not want to sacrifice portability, fibreglass components are a must. The netting material is where you will see the biggest variation. More budget-friendly practice nets will include 4-ply netting that should cope well with occasional use.
However, over time, this netting will begin to wear and will eventually need to be replaced. It is therefore better to invest in a more premium netting material from the off. A 7-ply net should serve you well for years and may never need replacing.
Other Useful Features
If you are looking to add some accuracy to your shots, a moveable target is an essential extra feature to look out for when shopping for practice nets. These targets can be moved around within the frame. Other useful features include protective feet. If you intend to use your hitting net indoors, this will ensure delicate flooring is not scratched or scuffed.
Those looking to use their hitting net outdoors or as part of their home golf kit, may want to invest in systems with a powder-coated finish. This will prevent metal components from rusting when exposed to adverse conditions. It also means you can leave your hitting net erected without needing to pack it away after every training session.
Reviews of 10 Best Golf Hitting Net
Looking to perfect your swing at home, short game and full swing? It is time to invest in the best golf nets. Read our shortlist of some of the best indoor golf nets currently on offer. Some of these indoor golf nets can be used as outdoor golf nets as well.
The Net Return Pro Series V2 is a practical option for golf training. Unlike any other golf nets on the market, the Pro Series V2 returns balls automatically to your position. This makes it an obvious option for anyone looking to save time retrieving balls, freeing up more time for practice. This hitting net is also designed for intensive use.
Not only has it been designed to withstand a quarter of a million shots over its lifetime, it will comfortably handle significant impacts. This hitting net can accommodate ball speeds of up to 225 miles per hour, with no need to worry about the net material suffering damage from impacts.
This hitting net is also flexible and user-friendly. The tubular steel frame is both lightweight and robust, meaning it can withstand regular impacts without you having to worry about its integrity. The lightweight frame also makes it easy to adjust the position of your hitting net once it has been erected, without you having to disassemble it.
The connector ends of the frame are colour-coded, allowing for quick and easy assembly in just a few minutes. This hitting net can also be used indoors and outside. The stainless steel frame will hold up to the elements, while the polyester netting has been treated to withstand UV exposure.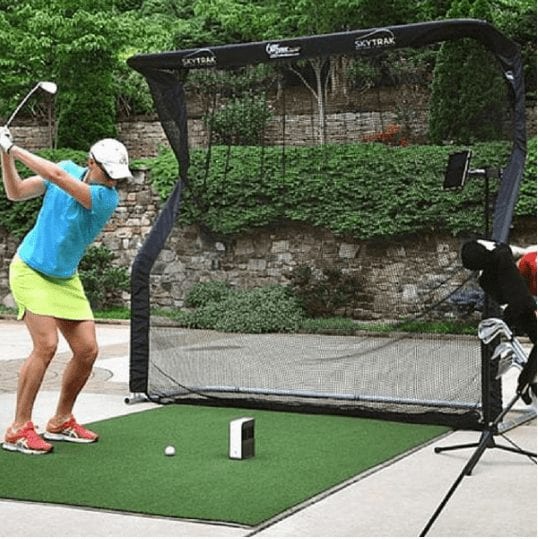 The Net Return Home Series V2 is another worthwhile choice for anyone looking for first-rate performance and longevity. As with the Pro Series V2, the Home Series V2 hitting net provides you with automatic ball return. This will save you hours in the long run, with balls being returned to your point of address without you having to leave your spot to retrieve them.
This hitting net is also resilient to ball impacts. This net can comfortably handle ball speeds of up to 200 miles per hour. Most golfers will rarely exceed this ball speed, but the more aggressive player may want to think about whether or not to invest in the slightly more robust Pro Series V2. As with the Pro Series V2 model, this hitting net has been designed to withstand around a quarter of a million shots in its lifetime.
The overall design of this hitting net is identical to the Pro Series V2. The Home Series V2 includes a lightweight steel frame that can be erected in minutes, with colour-coded connectors making installation as convenient as possible. Push buttons are also included along the frame modules to allow for quick and easy disassembly.
Once erected, this lightweight hitting net can be moved into position with little effort. You can also use this net anywhere. The stainless steel frame is resilient to weathering, while the polyester netting itself has been treated to withstand fading and damage from UV rays.

If you are looking for a large golf enclosure to practice within, you should consider this Cimarron Masters golf net. This hitting net is enclosed on three sides, but also also includes a barrier on the top as well. This ensures all shots are kept within the borders of the enclosure, making this system a very good choice for those with a particularly aggressive swing.
This golf net enclosure comes in two different sizes, allowing you to select a suitable setup for your individual needs. This large hitting net also includes a golf target with a visible white stripe, allowing you to easily test your precision. Also included in this enclosure system are steel frame corners and poles so you can easily erect a sturdy frame. The cage netting itself is made from high-grade polyester that has been treated to withstand the harmful effects of UV light.
Baffle netting is also included to provide an additional layer of protection for your enclosure. Because of its large size, this hitting net is only really suitable for use outdoors and even then, you will require a substantial amount of space to erect it. However, this is a premium option that will stand up well to intensive use. It also offers broader applications and can be used for other other sports.
If you are looking to buy a golf hitting net that can be potentially used for years to master your golf swing, this Rukket Hack golf net (from Rukket Sports) is worth considering. This premium net (and best seller) is endorsed by golfing coach Chris Haack, giving you a good idea of the kind of quality you can expect here.
This is a particularly robust choice of net, with 4-ply netting that will comfortably handle the most powerful drives and swings. The netting also provides you with an essential roll back feature, saving you the need to invest in additional automatic ball return items, like a ball return system.
This training net is an easy setup and does not require any complete installation to get started. This user-friendly golf practice net can be erected in moments, while breakdown is just as easy. This golf hitting net is also very lightweight, while a heavy-duty carry bag is included so you can take this net with you anywhere you wish to practice.
You can also look forward to a large practice area with this netting. The 3-foot depth makes this suitable for use in shallower spaces, while the impressive 7-foot width and 10-foot height means even the most wayward golf balls will be easily captured and returned to you.
If you like the look of the Rukket Haack golf net, but want a little bit more for your money, you should think about shelling out for this great value bundle. This affordable bundle includes the signature Haack hitting net itself. This net uses the same 4-ply construction as the standard net model, providing you with a hard-wearing and reliable hitting area, free for you to swing your golf club.
The generous dimensions ensure even the most errant balls will be successfully captured, while the responsiveness of the net means balls will usually be returned to your swinging position with ease. You can have this net up in as little as two minutes, while taking it apart is equally convenient. The frame and netting is fairly lightweight, with an included carry case ensuring this system is a very portable option.
In addition to the hitting net, this bundle includes a Tri-Turf golf mat. This premium hitting mat means you can use real golf tees to practice with your woods and drivers. The hitting mat features three different turf textures to practice on, allowing you to recreate a wider range of lie conditions from the comfort of home. This affordable golf chipping net bundle is ideal for those looking to build a more substantial golf simulator.
This golf hitting net is a worthy investment for anyone who struggles to make it to the driving range, but still wants to keep their technique sharp. This hitting net is generously proportioned, ensuring even unruly balls will be captured with ease. The reinforced nylon netting is also durable enough that it will take the edge of impacts, while also ensuring your ball is returned to you more often than not thanks to the net return. This means you can work on your swings for longer, without having to retrieve practice golf balls (or real golf balls) from your indoor or outdoor spaces.
This golf quality net has been designed with user convenience in mind and is weather-resistant. The frame itself is fairly lightweight, yet the overall build quality is good enough that the system will hold up well to repeated use. Quick assembly is also guaranteed, allowing you to put it together in just a few minutes and is ideal for indoor use. Taking the frame apart is equally simple as it is to pop up. A premium carrying case is included so you can store both the frame and netting when the hitting net is not in use. It also makes this system a very portable option.
This heavy-duty indoor golf hitting net ticks all the right boxes as far as durability, convenience and performance is concerned. This net provides you with a particularly large hitting area, measuring 10 feet wide by 7 feet tall. This makes the net ideal for use when hitting with any club in your inventory. If you are interested in an indoor hitting net that can be used to practice a full range of shots, this system is perfect. Although fairly lightweight, this frame net is incredibly sturdy. You can use it in almost any setting, including indoor spaces, gardens and other outdoor spaces.
This frame can be erected in minutes (and simple to take down), with a straightforward design that requires no complex tools. This collapsible netting can also be packed away quickly, with a durable storage bag included to provide you with a convenient carrying solution (and comes with a nice little carrying bag). The overall build of this net will impress. The base frame is made from robust steel, while the upright sections are made from a thick fibreglass material. These upright poles are particularly good at absorbing impact. The netting is also first-rate. With a 7-ply design that includes no knots, this netting is designed to last for a considerable length of time and is unlikely to become damaged.
This GALILEO golf hitting net offers far more than the standard, with useful features that will appeal to the golfer looking for a first-rate training aid. That being said, this is probably not an ideal choice for the beginner. Compared to other golf practice nets we have explored in this list, this particular system is slightly smaller, offering a 7 x 7 foot hitting area. This should prove more than adequate for golfers with a little more control over their swings, however. The upside is that this golf hitting net takes up relatively little space, making it highly suitable for use indoors.
The self-contained design of this net also make it a great choice for those with a put more force into their swings. When the ball makes contact with the vertical netting surface, it will roll down gently, making minimal impact with the fall. This is also easily assembled, with the lightweight frame erected in minutes. Taking the frame down is equally straightforward. A target zone is also included and can be attached to the frame for those looking to perfect their precision. A storage bag is also included with the main netting, providing you with a very portable solution.
This great value golf hitting net bundle will save you plenty of money in the long run, with all the essential items you will need to enjoy quality practice at home included. The generous dimensions of this golf hitting net makes it suitable for golfers of all proficiency, being large enough to capture wayward balls.
A centre target is also included, providing more proficient golfers with a useful training aid. The standout feature of this golf hitting net is its single piece master frame. This patent-pending design takes the hassle out of installation. All you need to do is fit the netting itself and you can start practising.
In addition to the frame and robust netting, this bundle includes a premium Dual-Turf golf mat. This will help you replicate real course conditions, even practising indoors. This golf hitting net provides you with a handy solution for practising all manner of shots, including chip shots.
It should definitely appeal to those looking for a high-quality indoor net that will withstand regular use. The steel frame makes this particularly sturdy and stable on a range of surfaces, while the fibreglass rods will withstand even the most intense of impacts.
This complete golf net and mat bundle from SharperGolf will allow you to enjoy an authentic driving range experience from the comfort of home. The dimensions of this hitting net make it well suited to use indoors. The shallow depth of just 3 feet means it will take up minimal space in a garage or spare room, while the 7-foot height means it will accommodate most ceiling levels.
The 10-foot width provides you with a wide capture area, allowing to swing away with confidence that high impact balls will not cause any damage to your interiors. The durable design of this golf hitting net also makes it suitable for outdoor use, with a steel base frame and resilient fibreglass rods as standard.
This golf practice net also includes a chipping target that can be fitted to the frame to provide you with a more focused hitting area. If you are looking to perfect your chip shots, this setup is a must. The chipping target can be positioned anywhere within the frame, giving you plenty of scope when it comes to chipping practice sessions.
This will also satisfy those looking for something lightweight and portable. The materials themselves are easy to carry once the frame is disassembled, with a storage bag included for hassle-free transportation.
Interested in the Top 10 Amazon Best Sellers for Best Golf Net?