5+ Best Golf Grips That Will Change Your Game in 2022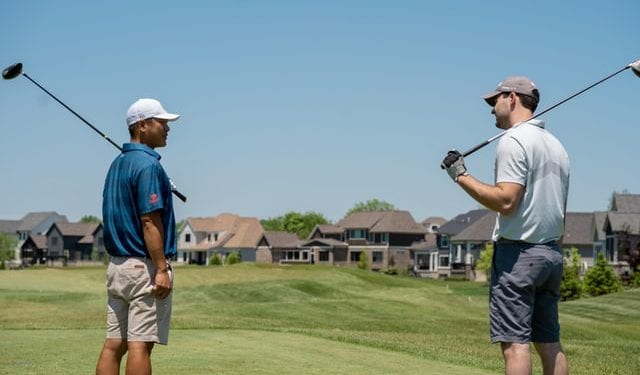 Last Updated on 6 March, 2022 20:57 by Pri
The best golf grips will significantly improve the handling of your club. Regardless of how much you have splashed out on a new driver or set of irons, they can prove unruly and hard to handle if you have not fitted them out with adequate grips.
Newcomers to the game of golf are often ignorant of the importance of grips, while even the more experienced golfer can be left scratching their head when it comes to replacing grips for the first time.
To help you make sense of it all, we have put together a handy guide to help you find the best golf grips to improve your game.
Main Varieties of Golf Grips
There are 3 main varieties of Golf Grips;
Corded Grips
Wrap Grips
Rubber Grips
Corded Grips
To kick things off, we will explore some of the most common types of grip you will encounter when browsing the market. Firstly, there are corded grips. This type of grips will include some degree of corded material that allow you to get a firmer handle on the grip itself. This is particularly useful for those looking for grips for all-weather play.
Wrap Grips
The corded material provides essential traction for ensuring a better grip, even when they are slick with moisture. Wrap grips are also common. These spiral grips incorporate an external wrap of material, usually leather. This wrap provides sufficient tack to provide an even firmer grip.
Rubber Grips
Rubber grips are probably the most commonplace of all grip varieties. Most golf grips will include rubber as part o their design, but more contemporary options will also include grip elements made from plastic, silicon or similar materials.
If you need some help ensuring consistency when taking hold of your golf clubs, you should consider ribbed grips. Such grips include ridges along the entire length of the grip itself, allowing golfers to ensure consistent hand placement.
If you are looking for the best grips for irons or putters, counter-balance grips are definitely worth considering. These grips allow for a level of adjustment to help the golfer achieve the right fit and feel for their individual requirements.
Size & Thickness
It is worth remembering that golf grips are available in a wide range of sizes, with an equally broad range of thicknesses to choose from. Players with larger hands will usually need to opt for thicker golf grips to ensure optimal performance. However, golfers may choose to play with grips of varying thickness to accommodate individual preferences.
Admittedly, thicker grips can limit hand and wrist movement. This need not be a bad thing, however. More experienced golfers often reach for thicker grips when kitting out putters. Reduced hand movement is often required when handling a putter, so a thicker grip can be particularly useful.
Firmness Levels
When picking out a new golf grip, you will also want to ensure it is firm enough for your individual requirement. The more proficient golfer will tend to go for a grip that is relatively firm. A firmer grip will provide you with better torsion control and complement higher swing speeds. The firmer the grip, the lighter the grip pressure. Lighter overall grip pressure is required when it comes to improving overall swing speed.
Durable Design
As with any piece of golfing gear, durability should be considered when picking out golf grips. All manner of factors will impact the life of your grip, so the manufacturing standards of any given grip is important. Consider the type of conditions you will be playing in to ensure the material the grip is made of will hold up well enough to ensure long-lasting use.
You should also bear in mind your own playing style and how you handle your grips. As a general rule, you should be looking to replace your grips at least once every twelve months. If you use certain clubs more than others, individual grips should of course be swapped out with more regularity.
How to Find The Correct Size Golf Grip
Our Top Choices of Best Golf Grips
Reviews of 6 Best Golf Grips
---
Read on for our pick of some of the best golf grips on the market. With quality options from the top brands around, you are bound to find something that ticks all the right boxes.
This Golf Pride MCC Plus4 golf grip certainly delivers when it comes to first-rate construction and superior performance. The outside of this grip is notably larger than comparable grips, allowing for lighter overall grip pressure. The advantage here is that there is less overall tension in the hands, promoting a smoother, more fluid motion when it comes to swinging, without any compromise when it comes to power.
The MCC Plus4 is constructed from two formulated compounds, working together to provide the performance of two grips in one neat package. The material found higher on the grip is softer in nature, with a brushed cord providing integrated stability for your club. The lower material is softer rubber compound, ensuring this grip scores top marks for feel.
Golf Pride is a tried and trusted brand and a go-to for many professional players. One of the chief reasons for this popularity is that Golf Pride grips reduce overall levels of tension in the hands, promoting more powerful swings, every time. If you are looking for this level of consistent and powerful performance, you should definitely consider investing in this first-rate grip.
---
This Golf Pride Tour Velvet golf grip is definitely worth considering if you are looking for a more cost-effective solution. This great value grip offers superb value for money, yet it does not skimp on superior build quality and all round performance. Although you will not find any multi-material design here, the high-quality rubber material is certainly a user-friendly and forgiving choice.
The rubber material is also relatively lightweight, making this grip incredibly easy to handle. This particular grip comes in a standard size, making it an ideal choice for most golfers with no specific requirements. The classic round grip shape also makes this a versatile option that will comfortably accommodate all kinds of players.
This is another quality grip from Golf Pride. Although it is a relatively basic choice with little in the way of frills, you can still count on first-rate manufacturing standards and a reliable grip that will help minimise overall levels of tension to improve your swings. If you are working with a tighter budget, yet do not want to compromise with a subpar grip, this is definitely worth a second look.
---
The Golf Pride Tour Wrap 2G is an ideal choice of golf grip if you are looking for consistent hand placement and reliable results. This premium hybrid grip combines quality rubber and cord material to deliver the very best in all-weather performance.
This standout grip also comes with innovative ALIGN Technology that ensures perfect hand placement at all times. This grip will also improve consistent alignment thanks to its raised ridge. When you have properly installed this grip onto a shaft, the red ridge will rise, allowing for easier hand placement for consistent swings and performance. It also improves club face awareness for the entire swing, promoting a square club face, both at address and at the moment of impact.
This grip also has also been designed to deliver maximum surface texture. The pebbled texture of the grip exterior, along with the plus sign matters, combine to provide you with increased coverage. This allows you to enjoy maximum control of your club at all times. If you can afford to part with a little more cash, this first-rate grip will pay off dividends thanks to its premium build and a slate of impressive design features.
---
This Golf MCC Plus4 Align golf grip is the way to go if you are seeking tour-level performance. This grip has been inspired by Tour-level play, with a larger and lower hand design that gives the impression of four additional layers of tape. This makes for a lighter level of grip pressure and increased levels of power.
ALIGN Technology also comes as standard here. This hybrid grip is one of the first of its kind to include a raised edge, will helps when it comes to hand alignment, allowing you to square the club face and improve the consistency of your swings. In fact, you can expect heightened club face awareness throughout the entire swing, ensuing a square club face at address and impact.
As we have already mentioned, the larger outside diameter perfectly simulates the feeling of of additional levels of wrapping. However, the reduction in taping material makes for a lighter grip with lower levels of tension in the hands. This allows for a more fluid swing that does not lack in the power department.
This grip is also a good choice if you are looking to maintain maximum control in all weathers. The brushed cotton cord combines moisture-wicking cotton fibres with a soft rubberised material, providing you with enhanced stability in all conditions.
---
The SuperStroke Traxion offers some very exciting features. First off, you have Traxion Control credentials to consider. This advanced surface texture has been designed to improve feedback and tack sensations. The X-shaped treads are strategically positioned in areas of high sensation, giving you enhanced feel and better levels of comfort.
This grip also delivers when it comes to torsional control. The multi-layer grip ensures maximum performance at all times. The soft and tacky outer layer provides you with superior levels of grip, while the firm inner layer delivers first-rate feedback and stability. All this is essential for any golfer looking to play their very best at all times.
Taper Control Technology also comes as standard here. The grip boasts a tour-inspired profile that utilises a minimal taper. This ensures golfers can enjoy even hand pressure, letting them swing faster and square the club face more easily. Spyne Technology can also be found here.
The underside of the grip features a significant level of embossing that serves as a guide for golfers. With this guide, golfers can consistently repeat desired hand placements. This allows you to square the face at impact more easily. The SuperStroke Traxion golf grips are an easy choice for golfers of all proficiencies, with user-friendly design features and a high-quality build that drives consistent performance on the course.
---
This Golf Pride CP2 Wrap golf grip might be one of the more affordable options in our list, but it certainly delivers with some very impressive design and first-rate features. This grip is the way to go if you are looking for maximum comfort and softer performance. One standout feature of this grip is the Control Core Technology.
This innovative design detail significantly reduces torque by more than 40 percent, when compared to grips that do not utilise a comparable core. This grip also utilises a soft rubber material with an intricate texture to deliver maximum traction, while keeping things comfortable and easy to handle.
As with the very best Golf Pride golf grips, the CP2 Wrap is a good choice for those looking to enjoy a lighter overall grip pressure. This is thanks to the reduced taper in the lower hand, with the result being that you can swing more smoothly, with no compromise when it comes to power. If you are looking for a reliable choice of grip that will not cost a small fortune, this is the way to go.
---
Now that we have explored some options on golf grips , it makes sense to focus on another essential bit of golfing gear that will come in handy when it comes to changing your grips. This high-quality grip removal tool boasts a robust plastic housing with a particularly strong alloy blade.
This golf grip tool has been ergonomically designed to ensure maximum grip and comfort when handling, allowing you to carry out those golf DIY tasks with ease. The hook blade can be retracted or revealed by sliding the up/down sliding button, ensuring even the complete novice can quickly get to work removing and replacing their golf grips.
Rather than take the chance of changing grips with an unsuitable blade or other tool, it makes sense to invest in this essential bit of golfing kit. At such a low price, there is no excuse for not having one of these at your disposal.
---
Interested in the Top 10 Amazon Best Sellers for Best Golf Grips?