The 7 Best Gap Wedge Options in 2022 | Buyer's Guide & Reviews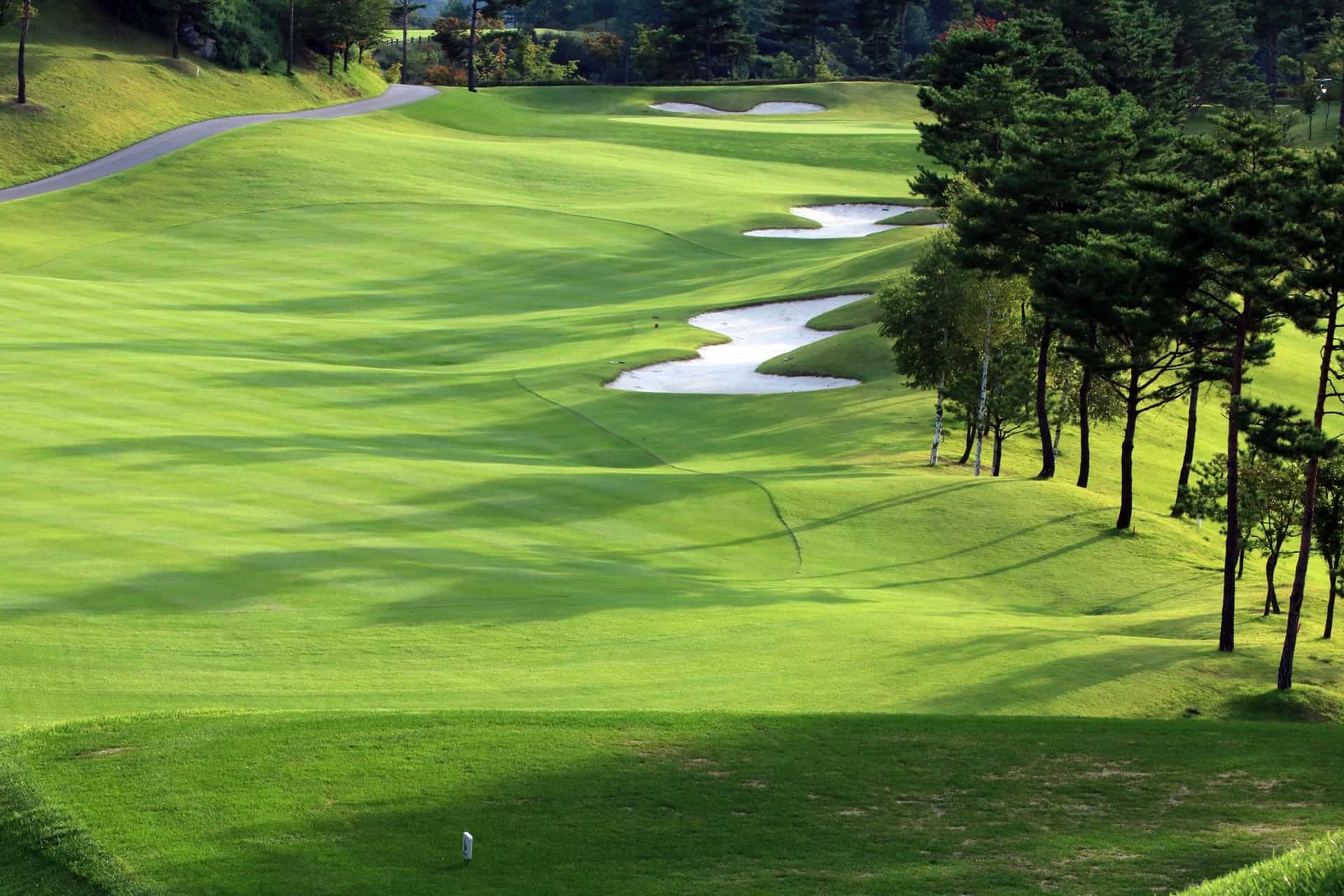 Last Updated on 22 February, 2022 21:40 by Pri
As golf club manufacturers continue to fine-tune the design of their offerings, the best gap wedges 2022 has brought us so far can seriously benefit your game. However, to make the most of this golfing marvel and become a master around the green, it's crucial you make the best possible decision when picking out a new gap wedge to add to your club collection. Our go-to guide has everything you need to get clued up on the best gap wedges.
So when I was asked to write this post, there was a few things that I did expect from the perfect gap wedge. I knew I'd be testing to see the effect on the golf ball as an average golfer. I wanted to test my chip shots, my lower lofts, ball flight, versatility and so much more. The clubhead and club face would matter a lot, as did things like a wide sole and a high bounce.
And yes, whilst I know I wasn't joining the PGA anytime soon, being able to get better at my pitch shots and short game in general really mattered to me. I had developed this new obsession about centre of gravity and it's effect when using new clubs, and I wanted to practice a full swing and a half swing with every wedge I was testing. Let's be fair – there's nothing more exhilarating than hitting a full shot with any club.
Certain brands did of course stand out like the Mizuno, Taylormade, Titleist, Ping, Cobra and a few others. To be honest all were similar, but some differences were clearly turf interaction, loft options, spin control, and overall wedge designs. They teach had different weightings and each produced a different yardage.
What is a Gap Wedge?
To get a handle on what exactly a gap wedge is, look no further than the name. Gap wedges are designed to provide a happy middle between a sand wedge and a pitching wedge.
As a general rule, gap wedges have a loft of no less than 50 degrees and no more than 53 degrees. For reference, you will want to remember that gap wedges are sometimes referred to as attack wedges and, less commonly, utility wedges.
If you are a golfer who plays with a fuller shot style, a gap wedge is definitely worth considering. they are a good go-to for those who want something to clear distance, yet don't want to compromise on control. Even the more experienced golfer can have difficulty getting their heads around gap wedges. The reason for this is that other wedge types have changed substantially over the years, particularly pitching wedges.
In particular, the loft of pitching wedges has decreased by several degrees, while other types of wedges, such as the sand wedge, have maintained their loft measurements. As a result, there's a much wider gulf between available pitching wedges and sand wedges, which means golfers can face more difficulties on the green.
Thankfully, the gap wedge is now readily available to bridge this distance.
Remember to check our buying guide on Best Wedges For High Handicappers & Best Wedges For Mid-Handicappers. Additionally we have written an article on Best Budget Wedges as well.
Not To Be Confused With…
Occasionally, some golfers have trouble making a distinction between gap wedges and approach wedges. To make life easier, focus on the specs of a gap wedge. These types of wedge clubs have a loft generally measured between 44 degrees and 55 degrees. These wedges are designed with close shots in mind, with total distances usually no more than 120 yards.
A gap wedge provides the golfer with impressive loft and respectable levels of spin and overall ball control. When it comes to the approach wedge, things are somewhat different. Approach wedges have a greater amount of loft,ranging from 54 degrees and usually no more than 60 degrees. As a rule, they are generally the go-to for covering distances of around 80 or so yards.
Things to Consider When Choosing a Gap Wedge
There are several factors to think about when picking out a new gap wedge to add to your club collection, but we will focus on some of the most important. For starters, focus on what's currently in your golf bag. In particular, fish out your pitching wedges and sand wedges and consider the lofts you are currently provided with. Once you have taken stock of lofts, you can determine how wide the gulf is you will need to bridge with your new gap wedge. Simple.
You will also want to bear in mind bounce when shopping for a new gap wedge. Bounce is an angle measurement, ranging from zero to 14 degrees, referring to when your gap wedge makes contact with the turf you are playing on.
If you are after a more versatile choice of club, wedges with mid to high levels of bounce are the best option. However, if you are seeking a club to contend with firmer types of turf or sandier conditions, a lower bounce will better serve you.
Sole Grinds And Grooves
Another key area of spec to hone in on when buying gap wedges is the sole of your club. This part of your club defines the sold grind specs of your wedge. When it comes to sold grinds, you have several options on the table. As sole grinds will have an impact on bounce, you will want to pay special attention to this area of spec to ensure you are picking a wedge that marries well with your individual style of play.
When it comes to grooves, it's worth remembering that recent regulation has a huge influence on the grooves allowable. However, manufacturing processes and groove technology has come a long way in recent years, providing you with a healthy range of options.
The more contemporary wedge will boast groove designs that can significantly improve your overall game, especially when it comes to spin performance and overall control.
A Beginner's Guide To Understanding Golf Wedges
Our Top Picks of the Best Gap Wedge
Reviews of 7 Best Gap Wedge
---
Now that we have discussed some of the biggest things you need to be considering when shopping for gap wedges, it's time to see what's currently available on the market. We have put together a premier pick of quality best gap wedge from some of the best manufacturers around for you to consider, with top-flight options to suit all budgets.
---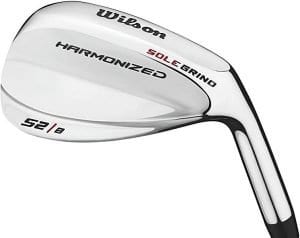 Grab yourself a great choice of gap wedge with this Harmonised Wilson 52 degree wedge. At first glance, things hit all the right notes, with an attractive high polish finish and classic blade shape.
Delving deeper, you will appreciate the True Temper steel construction, providing you with a wedge that will hold up well to repeated use, delivering impressive results when it comes to performance and reliability.
You have also got a quality sole grind on offer here, letting you open the club's face in such a way to ensure higher shots with more consistent accuracy.
Finally, there is the blade shape to mention with its modified bounce angles. With this, you can enjoy dead stop spins and a wedge that's a more versatile weapon for striking from just about anywhere on the course.
---
Make the right choice when it comes to investing in your next gap wedge with this RTX 4 Cleveland 56 degree wedge. Aesthetics are top-notch, with the Tour Satin Finish ensuring less glare and a much more sophisticated look that the more experienced player will lap up.
On a technical note, there's fourth generation Rotex Face Technology to enjoy. With incredibly sharp Tour Zip Grooves, you can savour aggressive face milling that ensures incredibly precise playing results.
There is also progressive feel balancing technology at work here, with the muscle shaping at the back of the loft delivering adjustments to the centre of the gravity, both on the X-axis and the Y-axis.
With this in mind, you can look forward to enhanced feel and better distance control. If you are after a gap wedge that delivers when it comes to user-friendliness and precise shots, this is the way to go.
---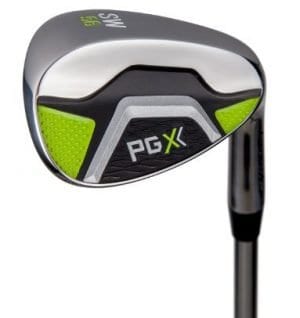 Bridge the gap in your club bag with this Pinemeadow 56 degree gap wedge. A quality gap wedge that hits all the right notes, the PGX boasts plenty of technical efficiencies and design details to enhance your next game of golf.
This gap wedge is equipped with a steel shaft, along with a classic Pinemeadow grip to improve handling and all-round performance. What's more, the medium size wedge sole design ensures solid levels of accuracy when you play, no matter what the lie.
You have also got a refined Tour shape and sharp leading edge at your disposal with this PGX wedge, ensuring you have a club that performs just how you want it to.
---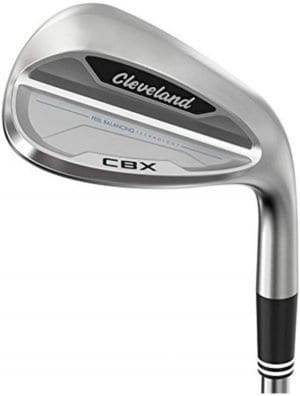 If you are after a premier gap wedge that won't disappoint, this Cleveland CBX model is definitely worth investigating. An ideal choice for the golfer who demands more from their individual clubs, this gap wedge ticks all the right boxes when it comes to premium design and manufacturing standards.
On a technical note, there's a wide dual v-sole and cavity back to enjoy, while feel balancing technology makes for a club that's both a pleasure to handle and more precise in the execution. Need more reasons to convince you? Third-generation Rotex face technology makes this a gap wedge that really delivers, every time.
---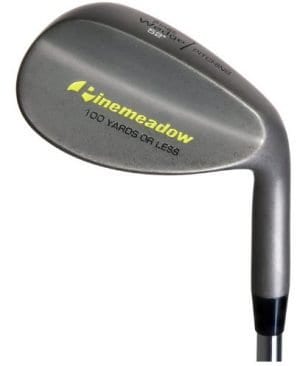 If budget is a concern, this Pinemeadow 52 Degree Wedge is certainly something to consider. However, don't let the lean price tag trick you into thinking you will be getting a gap wedge that's subpar. In fact, this versatile wedge is a solid performer that will make a welcome addition to your club collection.
Made from quality steel, this wedge is a go-to for the less experienced golfer looking to bolster their range of clubs without breaking the bank. On a technical note, this wedge has a very large face area, making it a good option for those looking to make life simpler on the green.
A range of lofts are available so you can make the right choice when bridging the gap in your kit.
---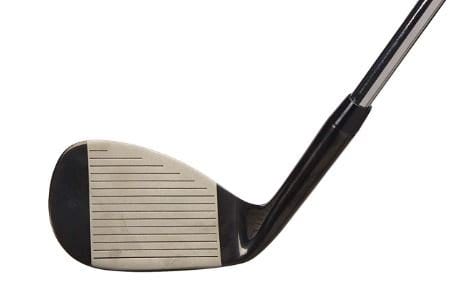 Welcome an eye-catching new addition to your club collection with this Harmonised Black Chrome Wilson 52 degree Wedge . The black and chrome aesthetics of this club won't just appeal to those with an eye on style, with the durable anti-glare finish also proving a good choice for those looking for fewer distractions when it comes to the game at hand.
If you are after more technical features to get excited about, you will love the special sole grind of this gap wedge. With this sole grind, you can open the club's face more than you would be able to with some comparable clubs, with improved performance and usability a given.
A user-friendly and versatile club that will instantly enhance your golfing prowess, while also staying well within budget.
---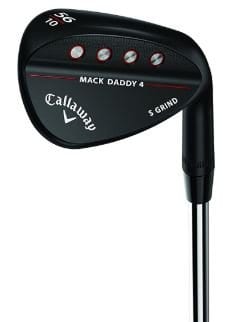 This Matte Black Mack Daddy 4 from Callaway proves you don't have to spend a fortune on first-rate golfing gear. There's a raft of remarkable golfing tech on the table here, but we will start with the Groove-in-Groove Technology.
This nifty design detail will help deliver more spin on your balls, which is an essential requirement for the more proficient golfer. you will also find four sole grinds on offer here, more than enough to suit a versatile range of playing styles, course conditions and attack angles.
This Callaway 56 degree wedge makes for a wide range of bounce and loft combinations, giving you the golfer plenty of freedom when it comes to experimenting on the course. The soft carbon steel construction on this Mack Daddy 4 also makes for a precise centre of gravity, as well as a much more satisfying feel when playing. An absolute classic you won't regret investing in.
---