The 9 Best Driving Iron Picks for 2022 | Buyer's Guide & Reviews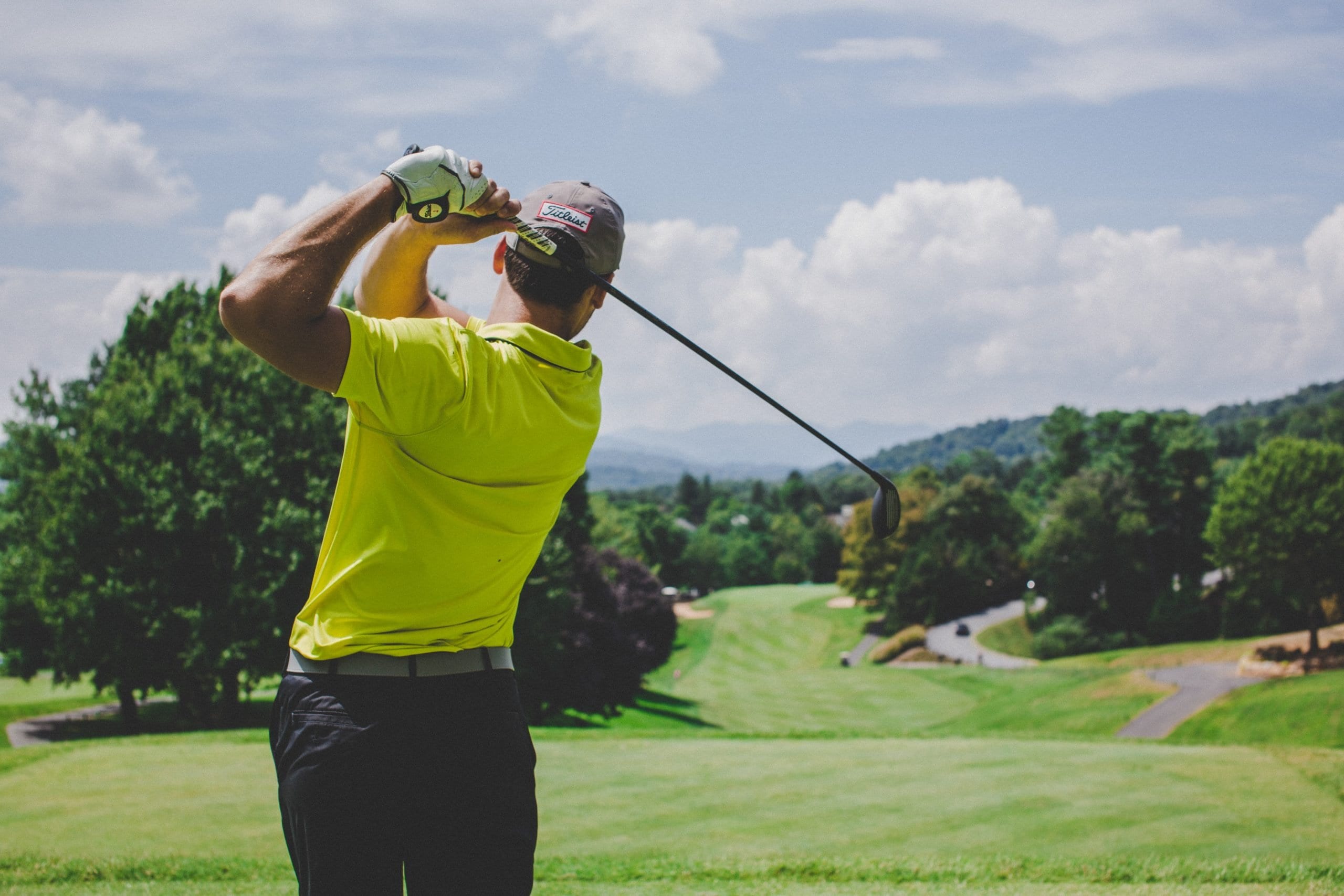 Last Updated on 22 December, 2021 21:57 by Pri
Driving irons are definitely worth adding to your golf bag. Whereas long irons were once the only go-to, these often tricky to handle clubs are no longer the only thing to reach for. If you are someone who has trouble getting to grips with a 1 or 2 long iron, a driving iron is certainly a solid alternative. Need some help honing in on the right driving iron to add to your collection? Our buying guide will help dispel some of the myths about this popular type of club and improve your game.
I always find myself playing against better players, of course they're not as good as Tiger Woods but they may as well be. Testing new clubs, and new irons is always a big deal to me as I'm always looking for that added edge. The right iron should help you perform a range of things like avoid mishits, to launch angles, from ball flight to straight shots.
So when we decided to do a piece on the best driving irons, I knew this would be exciting. I tested all the below irons on both real golf courses, and also on the trusted golf simulator. I found that my best golf came out when I was alone.
My centre of gravity improved in windy conditions, and the club face started to become really important to me. After testing out a few clubs against some high handicappers, I realised some of the things that I liked (eg, graphite, a hollow head, a steel face, etc)….. Whilst I knew the PGA wasn't on my cards, the playability mattered nonetheless. I learnt more about speed foam technology, and become obsessed with the thin face. I knew a whole new iron set was on the horizon.
As far as brands went, my best tee shots came from the Mizuno, Ping, Callaway and a few others mentioned below. The versatility of these clubs was great, and each game improvement club added a new dimension to my golf game. I was getting more centre hits and I could understand the value of a utility club more than ever. It even helped me with hitting those stinger shots. The traditional long iron has been around for ever and we hope that the below guide will help you pick the perfect driving iron….
What are the Benefits of a Driving Iron?
Driving irons are popular with golfers for many reasons. One of the biggest perks of this type of club is that they're a great choice for using when dealing with tricky course conditions.
If you are playing a course with tight spots and awkward geometry, driving irons can prove a saviour to your game with their ability to let you play with the utmost precision. This is certainly advantageous when you compare them against the often awkward feel of a long iron, even if these clubs are good for plotting your game.
Another benefit of driving irons is that they will help you battle certain weather conditions on the golf course. In particular, wind factor can be eliminated as a significant threat to your game, with driving irons hitting lower than other types of club.
Even if you have reservations about this golfing marvel, never discount a driving iron. They can bring the crucial combination of forgiveness, distance and control to your game.
Why choose a Driving Iron over a Hybrid?
Although many golfers quickly reached for hybrids when they arrived onto the market to replace their long iron stalwarts, this change didn't prove a positive one for every golfer. While hybrids do indeed have their advantages, they lack the alluring height control benefits of driving irons.
If you are a golfer who has a tendency to hit the ball high, a driving iron is the way to go. It combines all the perks of a hybrid but comes with enhanced levels of control in this respect.
A driving iron ( 1 Iron) will also prove better at cutting through the rough than a conventional long iron (Irons from 2 to 4). What's more, a driving iron can cover greater distances when you hit with more impact.
Driving Irons | Yards and Distance
For golfers who have higher overall swing speeds, a driving iron is also the better option than a hybrid. You will usually be able to cover more distance if you have got a faster swing, although it's worth noting that these differences in the distance aren't all that substantial.
Ultimately, whether you opt for a driving iron or hybrid here is a question of personal preference. That being said, while distance benefits aren't noteworthy, a driving iron brings with it better overall feel and a user-friendliness a hybrid can't beat.
Driving Iron | Let's Talk About Loft
In most cases, driving irons will offer you the same loft as you'd expect from a long iron. In short, you'll be looking at lofts ranging from between 18 and 23 degrees.
Again, it's worth noting that loft isn't a hugely important factor to consider when determining the specific benefits of driving irons when making your purchase decision.
Are Driving Irons Better Than Conventional Drivers?
A driver usually proves to be the trickiest of all clubs to hit with. As such, a driving iron is usually a more forgiving option for golfers and can offer a greater level of precision.
This is true even if you hit the ball off the centre when you make an impact. However, this precision brings with it some compromise. Namely, you will be saying goodbye to some distance in return for higher levels of control and precision.
However, this compromise is an easy one to make once if you're seeking sharper precision. As we have previously mentioned, a driving iron is also a good alternative when you're looking to play in bad weather.
More so than a driver, a driving iron flies lower, making it a good selection to play within strong winds that you don't want to impede your performance on the golf course.
Can a Driving Iron Replace a Hybrid?
Many golfers at some point ask themselves whether or not they need to be making a choice between hybrids and driving irons. The truth is, both clubs have their place in your bag. Both hybrids and driving irons have been available for a while and can both be put to good use on the course.
Which type you will reach for most of the time is ultimately a question of your individual playing style, however. In particular, the question regards how well you hit off the tee.
If you have a tendency to make off-centre contact with the ball when striking, a driving iron is probably your best option. While they fly higher than long irons, driving irons tend to fly lower than hybrids. This makes them a suitable selection for those looking to perform better during a long approach.
Remember to check out our review and buyer's guide on Callaway Irons, Best Womens Golf Drivers and Best Irons For Beginners
THE SET UP – IRONS VS DRIVERS
Our Top Picks of the Best Driving Iron
Reviews of 9 Best Driving Iron
---
Now that we have run through some important specs that showcase the benefits of driving irons, it's time to delve into a selection of some of the best driving irons you can currently buy. Below, you will find a breakdown of some premium driving irons from the best brands around.
---
This Rogue Individual Iron from Callaway has some seriously impressive specs that justify the addition to your golf bag. For a start, there's the 360 Face Cup and Variable Face Thickness technology to mention. These design details expand the available surface area of the face that ensures faster ball speeds.
The Variable Face Thickness is particularly successful in this respect, with the flexible rim delivering faster ball speeds, even when you make off-centre hits. Flight and control specs are further enhanced by tungsten weighting that brings high levels of prevision, while urethane microspheres make for better audible feedback and a more forgiving feel.
---
This Callaway Men's Rogue Individual Long Iron has plenty to get excited about. For one, there's the appealing combination of 360 Face Cup technology and Variable Face Thickness, promoting much better ball speeds that should serve your game well.
Internal weighting has been designed with precision in mind, encouraging better flight performance and delivering better overall levels o control.
As with the previous iron from Callaway, urethane microspheres come as standard, delivering superior sound feedback and a greater feel. If you're after a driving iron that delivers superior distances, this is the way to go.
---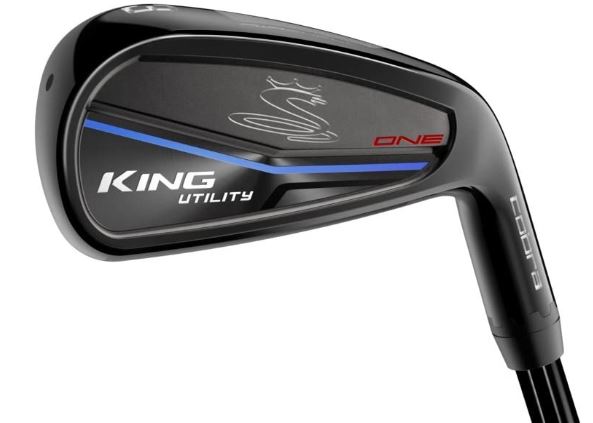 Here's an iron with plenty going for it. This iron has been meticulously designed to perform just as well as a 7 iron in terms of length and weighting, giving you a user-friendly option that delivers consistent results on the green.
There is also Power Shell Face technology here, delivering a thinner and stronger cup face and sole. This ensures a superior sweet spot zone on the club's face, allowing for higher overall ball speeds and incredible distance potential, even when you strike off-centre.
The construction also boasts a full hollow body design for top-notch sound feedback and feel, with a lower overall centre of gravity to ensure a much-improved launch.
---
The Apex 19 Individual Iron from Callaway has been created with distance in mind. A very soft feel comes as standard thanks to the forged carbon steel body, with urethane microspheres, worked into the construction for added performance. The 360 Face Cup technology is on hand to deliver faster overall ball speeds and ensure more consistent distance performance.
Spin control is also assured thanks to Variable Face Thickness technology. A tungsten-infused construction also provides precision when it comes to the centre of gravity, making for optimal ball control and flight. If you are a golfing enthusiast, this is one driving iron worth considering.
---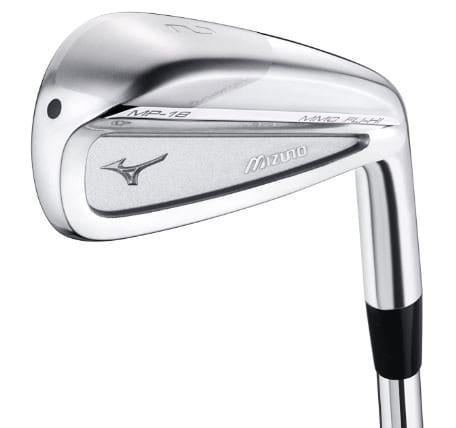 The 2018 MP-18 MMC Fli Hi Iron is the way to go if you're seeking to swap out your long irons for something that performs. Optimised weighting here provides a lower, deep-set centre of gravity that ensures higher launches with minimal effort.
There is a premium veneer of quality throughout here, with a satin nickel and chrome finish with a non-glare treatment. Definitely worth looking into if you're after something that makes the start of your game as hassle-free as possible.
---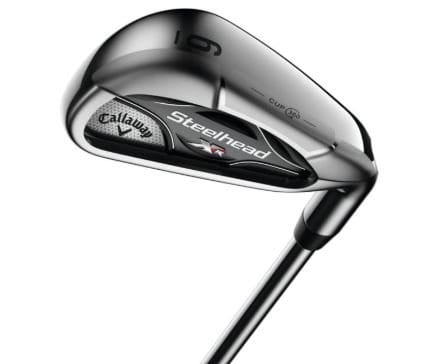 There's plenty of great Callaway details to devour with the Steelhead XR Individual Iron. 360 Face Cup technology comes as standard, promoting better overall ball speeds and increased distances, even if you misfire when striking or make off-centre contact with the ball.
There is also Shock Eliminator Technology on the table here, providing you with less vibration and a greater overall fee. Hollow Bore-Thru hosel design means the unwanted weight is dispensed with, giving you an easier to handle and more forgiving club.
---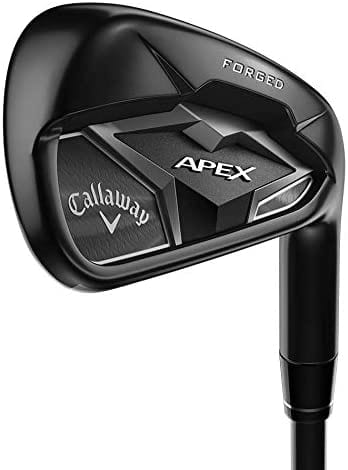 This 2019 Apex Smoke Individual Iron has it all. A super-soft feel comes as standard thanks to the forged carbon steel body, while urethane microspheres in the forged iron provide an even better feel.
Face Cup Technology is also on hand to deliver more consistent distance performance and better spin control, even if you're a more aggressive golfer. The multi-material construction with tungsten elements also provides a better centre of gravity, making this a more precise choice of driving iron.
---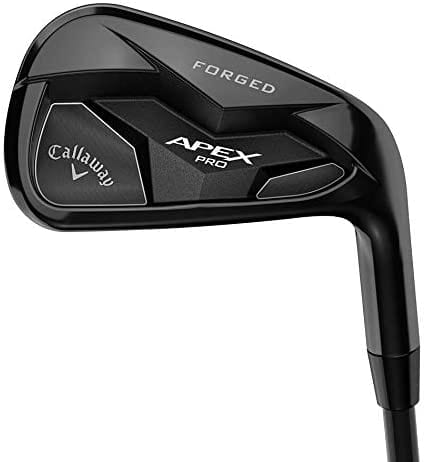 If you're after tour level performance from your golfing kit, the Callaway 2019 Apex Pro Smoke is the way to go. This forged iron brings plenty of brilliant design details to the table, with some superior distance technology leading the pack.
You can look forward to a very soft feel thanks to a mild carbon steel body, while urethane microspheres are also included in the design to boost the forgiving feel even further.
There is also the inclusion of Callaway's 360 Face Cup Technology here, providing you with consistent distance performance, every time. What's more, the Variable Face Thickness technology brings you more precision, even for off-centre contact.
If you are a more aggressive golfer, this VFT spec will definitely prove a welcome addition to your game. For the more dedicated golfer, the tour inspired shaping of this club will go down a storm.
You have got the classic Callaway look, combine with a straight leading edge, higher-placed toe and thinner top line.
---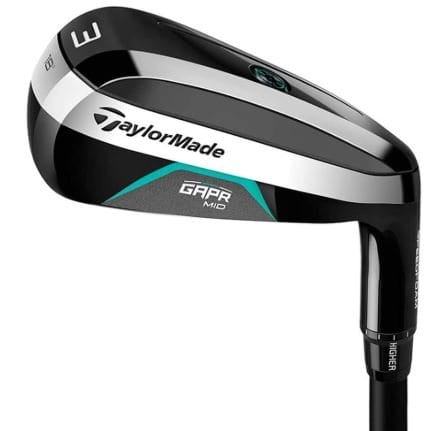 Look forward to a great game with this GAPR MID Golf driving iron from TaylorMade. There's an optimised centre of gravity here to improve your performance, delivering longer distances at a higher trajectory.
Trajectory control is further improved thanks to the loft sleeve of this club. You can also look forward to easier alignment thanks to the superior shape of this driving iron, with the medium width sole making it a user-friendly choice. Superb sound and feel are also assured thanks to a speed foam construction.
---
Driving Iron | FAQs
How to play golf iron shots
---
Hitting irons straight is relatively straightforward provided you bear a few key tips and tricks in mind. For starters, you will want to pick out your target carefully before you do anything else.
Even experienced golfers can overlook this crucial step, which of course has detrimental effects on the quality of the subsequent shot. For best results, pick as small a target as possible.
However, no matter how small your chosen target, you will want to ensure that it lies within clear sight. Picking out a clear target should become a fundamental part of your pre-shot ritual.
If you are looking to lift your iron shots higher into the air, there are a couple of things to bear in mind. For one, you nee to be hitting the ball on the downswing, aiming to take a divot after you have made contact with and lifted the ball.
The likelihood of achieving a crisp impact is significantly increased by the downswing tactic. The result is that the ball will enjoy a more stable flight, with good levels of backspin more likely. Furthermore, you also see better stopping power. This is crucial if you are nearing the green.
How to grip a golf iron
---
In order to make most effective use of your golf irons, ensuring a good grip of the club is crucial. To begin with, take your right hand and take hold of the club shaft at the point where it meets with the grip.
Be sure to hold the iron out in front of you, paying special attention to maintain a 45-degree angle. Once you have done this, bring your left palm to toward you.
You will want to ensure that the grip is set in between the knuckles of your first fingers at the top part of the palm. Maintaining the grip with your let hand, you must now curve the smallest finger, the middle finger and the ring finger of your left hand around the golf iron handle.
The underneath of each of these finger should be making contact with the grip if this has been carried out correctly.
The next step is to correctly set your left thumb. Bearing in mind not to change the position of the grip, you need to roll the left thumb over right side of the handle, while also curving the index finger on your left hand around the golf iron grip.
The base of your thumb should be making direct contact with the handle if you are doing this correctly. Next, bring your right hand to toward the left one. The right hand should, as with the left one, have the shaft sitting comfortably between the base of your palm and the knuckles.
Once you have done this, you should move the smallest finger of your right hand to wrap in between the index and middle fingers of your left hand. Some golfers also prefer to interlock them. Your right middle and ring fingers should be wrapped around the handle. Adding optimal pressure is crucial here to ensure a good grip.
How to Hold a Golf Club Correctly
What golf iron hits the farthest?
---
Understanding the distance potential of your long irons is important in ensuring you always pick the best club for each situation on the golf course. Thankfully, determining average distance is relatively straightforward when it comes to long irons. As a rule, the lower the number of a golf iron, the greater the average distance you can hope to clear.
The best iron to reach for to cover the greatest distance is the 2-iron. Generally speaking, a quality 2-iron will cover an average distance of 190 yards. A 3-iron will clear approximately 180 yards.
A 4-iron is the way to go if you are hoping to cover distances of around 170 yards, while a 5-iron should suffice in clearing distances of 160 yards.
A 6-iron should cover an average distance of 150 yards, a 7-iron should clear 140 yards, while an 8-iron is able to handle distances of 130 yards. At the lowest end of the spectrum is the 9-iron.
An average 9-iron club will clear distances of around 120 yards.
Provided you familiarise yourself with what a 2-iron and a 9-iron are capable of in terms of distance, it is easy to make the best judgement on which iron to bring out of your bag at any time. Simply subtract ten yards from distance estimates the higher the number of your long iron.
When do golf irons wear out?
---
Many golfers find that certain clubs in their bag, such as the putter, hold up well to regular use, year after year. Other varieties, such as the Fairway club, are also known for their robustness and resilience, while wedges are far more demanding of regular re-grooving and maintenance.
Golf irons are a different kettle of fish altogether, with the less experienced player often finding it hard to determine whether or not their clubs need replacing.
Professional golfers are known to swap out their longs every playing season. The reason for this is simple. Golf irons are some of the most heavily used clubs around, although deciding on whether or not to replace your irons is not a straightforward task. The reason for this is that all golf players tend to use some irons more than others.
In fact, most golfers tend to only utilise no more than two irons most of the time. As such, only a small fraction of the total number of irons in any golf bag will be experiencing wear and tear. Just because one or two irons might need replacing, does not mean you will need to invest in a brand new set.
To ensure you are not investing in irons ahead of time, carry out regular inspection and maintenance of your clubs to keep them in premium condition for longer.
You will want to regularly inspect the grooves of your clubs, keeping them clean and free of debris. Bear in mind you need to keep the groove edges as clean as possible at all times. Furthermore, you may wish to get have the lofts of your irons checked.
Most players will benefit of having these checked at least once every year. A professional fitter can carry out such checks quickly and easily return your irons to their loft if need be.
Why are golf irons different lengths?
---
The key reason why golf irons vary in length is distance potential of balls hit. Distance is ultimately determined by both the loft of a club and the length of it. A golf iron with a longer length generally provides greater leverage for the user, while also ensuring faster levels of speed. Provided a solid impact is made, the ball is hit further.
With shorter irons, the length of the club does not really have anything to do with distance. Rather, shorter clubs are designed with precision in mind. As a rule of thumb, you will be using longer irons at the beginning of a game, before reaching for shorter ones as you near the green.
The lower your overall handicap, the more chance that you will only be using two long irons before swapping your clubs out for wedges and putters.
How to change golf iron shafts
---
Changing golf iron shafts yourself is incredibly easy and can save the cost of having it done professionally. To begin with, simply clamp the iron shaft into place with a specialised shaft vice clamp.
To make life easier, you may wish to warm the ferrule so that the material becomes softer and easy to remove. Once you have applied heat to the ferrule, you can remove it by using a high-quality utility knife.
To remove a shaft from the club head itself, you will once again need to apply heat, this time to the hosel. Use a blowtorch for best results, applying heat for around half a minute.
Using protective gloves, take hold of the club head and remove it with a twisting/pulling motion. You may find that the club head fails to loosen. In which case, reapply heat in shorter bursts and repeat until you can remove the club head with ease.
You now need to remove any excess resin from the hosel interior. A standard wire brush should suffice in clearing away any epoxy, particularly if the materials are still warm from heating.
After the hosel has cooled down, you should take some time to remove any noticeable marks sustained from the heating process before continuing. Next you will need to take some shaft tip measurements.
A shaft identification gauge is essential for making proper measurements. Your replacement shaft should have a tip size that matches the one you have removed. Once you have your replacement shaft ready to go, you will need to trim the tip before completing your refit.
---
Interested in the Top 10 Amazon Best Sellers for Best Driving Irons?