The 8 Best Budget Wedges in 2022 | Buyer's Guide & Reviews
Last Updated on 22 February, 2022 21:36 by Pri
Finding the right budget wedge to accompany your drivers and irons can make a huge improvement to your golfing prowess. Whether you are pitching and chipping, or simply looking for a life-saver to lift you out of the sand, having a quality wedge at your disposal is a must. The positive impact a good budget wedge can have on your game can be immediate, but making a good choice when buying one is anything but simple.
No matter whether you are just starting out in golf or you are a more experienced player looking to bolster their club collection, our go-to buying guide on best budget wedges can help you make a solid investment.
Before we delve deeper into our buying guide and reviews, ever thought of practising golf indoors or perhaps outdoors in your backyard? Our article on Budget Golf Simulators may be of interest.
What to look for when buying a Golf Wedge?
Loft
Bounce
Grinds and Grooves
Finish
Let's Talk About Loft
---
Understanding loft is crucial if you are going to make the right investment the next time you look to buy a wedge whether it is a budget wedge or a premium wedge. When we talk about loft, we're referring to the angle of the wedge face.
Loft is measured in degrees, with all varieties of clubs bearing a loft measurement, not just wedges. At the lower loft limit is the driver, while the lob wedge occupies the corresponding end of the scale, with lofts of upwards of 60 degrees.
Loft is particularly important to consider as the greater the loft measurement, the greater amount of backspin your club can impart upon a ball. The reason why backspin is so crucial is that it lifts balls higher into the air, with these steeper trajectories possible at shorter distances.
The more experienced golfer will tend to have more than one wedge in their golf cart bag when on the course, with assorted lofts at hand to handle all manner of play scenarios. A wedge with a lower degree of loft will be the go-to for chip shots, while a higher degree loft wedge can be brought out for flop shots with more precision.
Breaking Down Bounce
---
Another key component to consider when purchasing wedges is bounce. In short, bounce ensures your wedges won't dig into the ground when taking shots. This rebound is made possible by the bounce element of your wedge clubhead.
This is the part of the wedge that makes physical contact with the ground. The bounce isn't restricted to a single spot of your wedge clubhead. In fact, it's composed of multiple elements such as the sole angle, the sole itself and the leading edge.
Bounce is also measured in degrees, with bounces ranging from zero to 14 degrees. Bounce is broadly split between three distinct groups: low, medium and high bounce.
Low bounce ranges from zero to five degrees, medium bounce ranges from six to ten degrees, while high bounce refers to wedges of 10 degrees and above. To make the right choice of bounce when buying wedges, think hard about your playing style and in particular, how you swing.
If you tend to sweep your wedge shots, opt for a wedge with less bounce. If however, you tend to dig when you swing, reach for a wedge with more bounce. Making the right choice will ensure the biggest benefit to your performance.
Getting to Grips with Grinds and Grooves
---
With bounce in mind, let us look at the sole and sole grind aspects of wedges. When we refer to the sole, we are talking about the base of the wedge that touches the ground when you are at address.
In most cases, the sole is no wider than two inches. Various sole shapes are available, each having their own effect on your play. If you are looking for a wedge that sits lower to aid certain shots, reach for a heel grind. However, always bear in mind that bounce is affected by sole grinds.
You will also want to take note of grooves when investing in new wedges. These are the visible lines scored into the face of the clubhead. These lines, or grooves, are what allow the wedge to grab the ball when you make an impact.
Trajectory and spin are also impacted by grooves thanks to the friction they create. As such, grooves are a pivotal component of a wedge that has a significant impact on how much control you maintain over the ball during your game. Observing good maintenance of grooves is very important if you are looking to ensure consistent and reliable performance on the golfing green.
Finding the Right Finish
---
Picking the finish of your wedge clubs isn't just a question of aesthetics, at least not all the time. If you are keen to keep your clubs looking their best for longer, avoid the darker varieties of finish as even the smallest chips and signs of wear can become very noticeable quickly.
If you are looking for better levels of durability, you should definitely consider chrome and nickel finishes, with these types requiring minimal maintenance to stay looking their best for longer.
Raw finishes are usually best reserved for the golfer who is prepared to put in some degree of maintenance. These finishes are also prone to rust, but this arguably unsightly effect can have a positive impact on the play thanks to the added friction it provides.
As noted above, there are numerous factors to consider when selecting a wedge whether it is a budget wedge or a premium wedge. Below we delve into reviews of some of the best wedges for the money / best value golf wedges.
Our Top Picks of the Best Budget Wedges
We will be reviewing the following Best Budget Golf Wedges for 2022 below
Preview
Best Budget Wedge
Best Budget Wedge Set
Best Budget Sand Wedge
Brand
LAZRUS Premium Forged Steel
Pinemeadow Golf PGX Wedge
Best Budget Wedge
Preview
Preview
Best Budget Wedge Set
Preview
Brand
LAZRUS Premium Forged Steel
Preview
Best Budget Sand Wedge
Preview
Brand
Pinemeadow Golf PGX Wedge
Reviews of 8 Best Budget Wedges
---
Now that we have seen what makes a great wedge, irrespective of it being a budget wedge or not, it's time to take a look through some of the best affordable wedge models you can currently find on the market.
We have scoured what's available to bring you a first-rate pick of best cheap wedges from some of the top manufacturers around.
---
Key Features
Loft : 52 degrees
Shaft material : Steel
Weight : 450 Grams
Right or Left Handed Option available
If you are after a reliable and budget-friendly wedge to add to your collection, then the Wilson Harmonized wedge is well worth a look. The classic blade shape makes it a consistent performer, while the True Temper steel construction makes it a robust and durable choice. Thanks to the sole grind of this wedge, you can enjoy a more open face to give your shots the lift you are looking for, without having to worry about compromising in terms of accuracy.
What's more, the blade shape boasts modified bounce angles to ensure precise stops and spin, no matter whether you are hitting the ball from the fairway or sandy and rough terrain. A versatile choice at a very affordable price.
---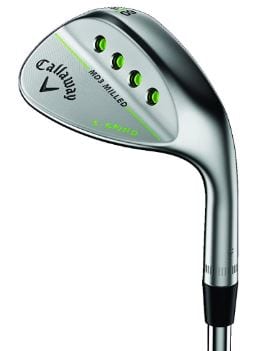 Key Features
Loft : 58 degrees
Shaft material : Steel
Weight : 680 Grams
Right Handed
If you are after versatility, this S-Grind Budget Wedge from Callaway serves up the goods. There are three grinds for every shot in all types of conditions, with each grind offering a unique profile that lets you make the right selection for any situation.
The S-Grind design is also suitable for all types of ground conditions, whether you are playing on normal, firm or soft ground. You can turn your hand to all types of shots with this wedge, with a wide selection of attack angles to choose from. The progressive groove optimisation of this wedge also optimises spin, delivering refined playing performance across the board.
---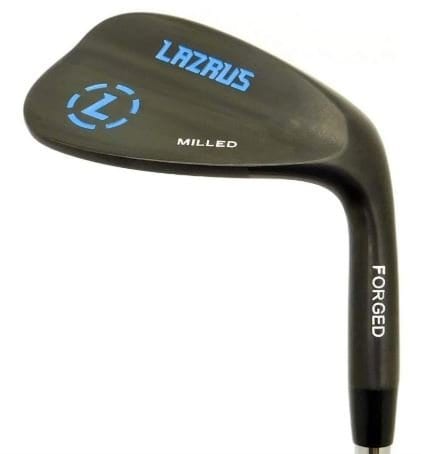 Key Features
Loft : 52,56,60 degrees
Shaft material : Alloy Steel
Right or Left Handed Option available
If you are after a comprehensive set of wedges that won't break the bank, this premium line-up of forged steel wedges from LAZRUS should tick every box. Whether you are a newcomer to the game or a more experienced golfer, this Lazrus wedge set has everything you need for reliable performance on the golf course.
There is lots to adore about Lazrus golf wedges, with a selection of lofts to accommodate a variety of golfing scenarios and user-friendly shaft lengths for ease of play.
You can count on robustness and reliability, with high-quality forged heads as standard. A standout feature here is the micro-milled faces of these wedges, providing you with enhanced spin performance and refined levels of control. Guaranteed to improve every round of golf.
---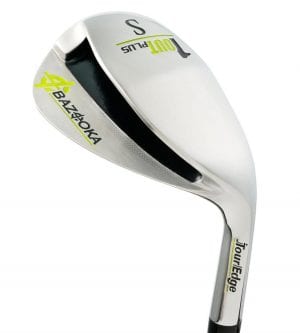 Key Features
Loft : 56 degrees
Shaft material : Steel
Weight : 566 Grams
Right Handed
There are some seriously impressive specs to get excited about with this Tour Edge sand wedge. What is particularly interesting? Well, you have a counter-balanced grip on offer that serves to improve overall levels of stability and secure your wrist position – both particularly crucial come the moment of impact to deliver more accurate shots.
You have also got the super-wide sole at work to make for easier play come shots from sandy bunkers. Finally, there is a heavier sole design that delivers a much more loaded impact below the ball, providing you with a far easier time of it come launch.
---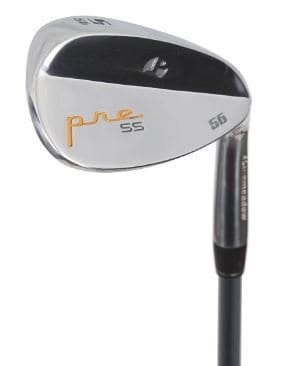 Key Features
Loft : 52 degrees (64 degree option available)
Shaft material : Alloy Steel
Right Handed
Invest in a wedge that delivers when you need it with this premium choice from Pinemeadow Golf. The perfect wedge for when you need something that holds up well during those close-in scenarios, this wedge is forged from high-quality Apollo steel along the shaft for robustness and to deliver a low to mid kick point.
What is more, the wide sole design of this wedge narrows toward the toe area, giving you a much more giving hitting surface. You can also look forward to so-called U Groove technology across the club's face, while the standard flex ensures the right level of friendliness and forgiveness.
A good option for anyone looking for a budget wedge that is reliable and effective.
---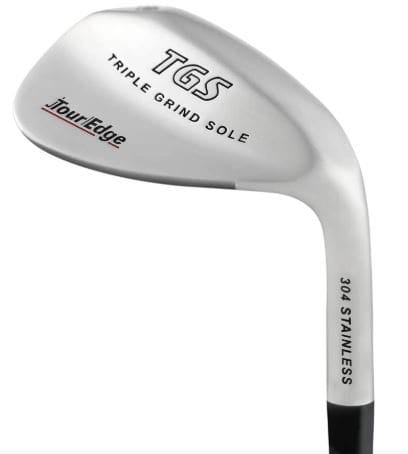 Key Features
Loft : 50 degrees (52, 54, 56, 60 degree options available)
Shaft material : Stainless Steel
Weight : 449 Grams
Right Handed
This Tour Edge Triple Grind Sole Wedge packs some seriously impressive features that should appeal to beginners and more experienced golfers alike. The triple grind sole (TGS) is perhaps the standout feature here, with the design detail serving to eliminate bounce from the heel and toe. You also have high-performance milled grooves to ensure maximum ball grip so you can master control of your shots.
The pear-shaped design of the clubhead makes this wedge an incredibly user-friendly option, making it a suitable option for all manner of golfing scenarios. The user-friendly nature of this Tour Edge TGS wedge is given a further boost from the TPE insert, making for better overall feel and superb levels of vibration dampening.
---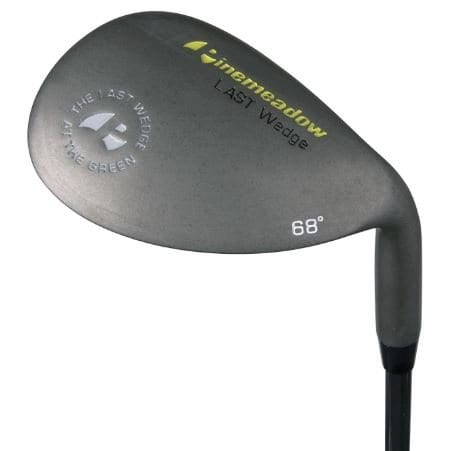 Key Features
Loft : 68 degrees
Shaft material : Steel
Weight : 312 Grams
Right or Left Handed Option available
This Pinemeadow 68 degree Wedge is a solid option for those after a budget wedge that delivers on the course without costing a small fortune for the privilege. You can expect the benefits of 125 gram Apollo steel here, with the quality shaft delivering a low to mid kick point that will suit the less confident golfer.
As such, it is a great choice for the novice looking for something to give their confidence a boost on the course. You have also a range of loft options to choose from here, with a 68-degree option available that sets this model apart from many wedges available from other manufacturers.
You can also look forward to a significantly large face area to make tough lies a breeze to handle.
---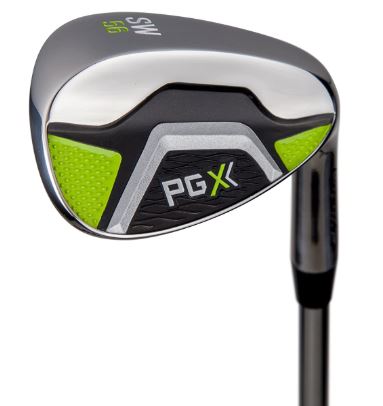 Key Features
Loft : 60 degrees (52, 56, degree options available)
Shaft material : Alloy Steel
Right or Left Handed Option available
Durability, accuracy and slick aesthetics are just a few of the areas where this PGX Wedge from Pinemeadow excel in. This budget wedge boasts a robust steel shaft and quality Pinemeadow grip to give you the levels of forgiveness and easy handling you would expect from this trusted manufacturer, while the mid-size sole enhances levels of accuracy from any lie.
Your performance can expect a further boost from the tour-shaped design and sharper leading edge of this wedge as well. Incredibly affordable, this is one way to take your wedge selection to the next level.
---
Golf Wedges FAQs
What are the different wedge degrees?
---
The loft of a golf wedge has a direct impact on the potential height of your shot. Picking the right loft will determine ball flight and distance travelled. With wedge clubs, loft can be determined by looking at the angle of the face of the wedge club face.
As you would expect, different types of golf wedge have different degrees of loft. Pitching wedges have the lowest overall loft. Most pitching wedges have a loft ranging from 44 degrees to 48 degrees.
Next in line are gap wedges. With gap wedges, you are looking at lofts ranging from 50 degrees to 53 degrees. The loft of sand wedges is usually in the vicinity of 54 degrees to 58 degrees.
Finally, there are lob wedges, offering much higher loft than other varieties. You can expect high levels of loft with lob wedges, usually starting at 60 degrees and rarely exceeding 64 degrees.
What are golf wedges used for?
---
Different types of golf wedge have different uses on the golf course. Generally speaking, pitching wedges are a good choice for use on the general approach from the fairway.
They can also be used effectively to make chipping shots. As pitching wedges have lower overall loft than other types of wedges, they are a more forgiving choice.
Sand Wedges
Sand wedges are best used from hitting from sandy bunkers and the rough. Sand wedges boast heavier soles than other types of wedge, giving greater bounce performance. The loft angle on sand wedges range between 54 degrees and 58 degrees.
Gap Wedges
Another key type of golf wedge is the so-called Gap wedge. They are a very popular choice for those are looking to cover greater distances with their wedge clubs. Gap wedges offer a good compromise between pitching wedges and sand wedges. The loft angle on gap wedges range between 50 degrees and 54 degrees. Finally, there is the lob wedge.
Lob Wedges
Lob wedges are often reached for when a golfer wishes to hit balls higher, yet does not want to compromise on stopping distance. Lob wedges are an indispensable club for when you run into difficulty on the green. The loft angle on lob wedges range between 58 degrees and 62 degrees.
How many golf wedges should I carry?
---
This is a difficult question to answer and ultimately depends on your individual playing style. Before we delve more deeply, it is worth remembering that the maximum number of clubs you can carry in your bag during a game is 14. With this limit in mind, you should carefully consider your club assortment before heading to the course.
Golf wedges are one of the most important types of club you can carry. Wedges are crucial in helping you lower your overall handicap, so they can make the difference between coming out on top or trailing way behind other players.
More experienced players who are more proficient on the golf course may want to include more wedges in their line-up. The reason for this is that better players will spend less time getting to the green and more time perfecting their final shots.
Wedges are incredibly useful in getting the ball into the target at the final hurdles, with pitching shots, sand shots and chipping shots the secret weapons of eleventh hour play.
Generally speaking, most golfers will find themselves deciding between adding three or four wedges to their golf bag. If you prefer to keep things more minimal with three wedges, you want to include a pitching wedge, a lob wedge and a gap wedge.
Your gap wedge should have a loft of around 52 degrees to adequately bridge the gap in your line-up. Our buyers guide has a selection of the best gap wedges.
Four wedges (this would include a sand wedge) are definitely advised if you often fall short of the green. If this is the case with you, you want to pick four wedges that have been carefully selected to ensure an even distribution of loft between clubs.
Leave around four degrees of loft in between the wedges you pick, with your pitching wedge at one end of the spectrum and your lob wedge at the other end.
Can golf wedges be re-grooved?
---
If you are keen to keep your wedges in premium condition, you will be glad to know that they can be re-grooved relatively easily. How often you will need to have your wedges re-grooved ultimately depends on how much you play and your individual playing style. As a general rule, consider re-grooving once every dozen games or so.
You can have your wedges re-grooved professionally to ensure best results, or invest in a sharpening tool to carry out re-grooving maintenance yourself. Ensuring the best results from re-grooving takes practice if you are looking to do it yourself at home, so you will want to pay special attention to your next section to ensure you avoid damaging your clubs beyond repair.
Can you sharpen golf wedge grooves ?
---
If you are looking to sharpen the grooves of your golf wedges, you are best advised to invest in a groove sharpener. As a good bet, invest in a groove sharpener with six heads as this will provide you with the best sharpening results. Before you begin to use your sharpener, you will want to make sure you have thoroughly cleaned the face of the wedge club.
All debris needs to be carefully cleared away. Next, take hold of the golf wedge firmly, drawing the groove sharpener smoothly across the wedge. What is important here is that you do not apply too much pressure immediately as this will yield ineffective results. Once you have made three or four strokes across the wedge, you can then begin to apply more pressure in your movements.
Sharpening grooves can be time-consuming, but the results are worth it. As a general rule, continue making firm strokes for approximately ten minutes.
How to hit a golf wedge shot ?
---
One key thing to avoid when hitting wedge shots is adding unnecessary height. Doing so defeats the purpose of a wedge shot, with accuracy significantly affected. You need to bear in mind your setup when looking to hit a good wedge shot.
The main goal of a quality wedge shot is to lower the overall trajectory of the ball. However, you will still need to ensure the shot enjoys a good amount of backspin so it will come to a stop when and where you want it to.
Loft
For best results, you want to be using a golf wedge with a higher loft. Furthermore, you need to consider your stance when striving to make a good wedge shot. The trick here is play farther back than you would normally do. Your stance should be almost perfectly line with your rear foot.
Stance
Your stance should be relatively narrow when taking such a shot. This helps maintain better levels of balance, while also reducing the chance of you over-swinging. All of this will dramatically increase your control while making a shot, allowing for better contact with the ball, reliable flight and desirable levels of spin.
Swing
In order to hit better wedge shots, your swing also needs some consideration. Key things to remember when swinging include keeping the handle in a position so that is is leaning in the direction of he ball.
The desired results is that your swing will benefit from a short finish. Bearing in mind body rotation is also important. Moving backwards will not require much in the way in rotation, but when moving forwards, you will need to rotate much more.
Upon finish, your chest should be facing towards the target. Provided you bear in mind your body rotation and ensure the shaft of the club leans forward as you go, you can look forward to superior wedge shots as a standard.
How to hit golf wedge shots with a backspin
---
Interested in the Top 10 Amazon Best Sellers for Best Budget Wedges?