The 8 Best Blade Putters in 2022 | Buyer's Guide & Reviews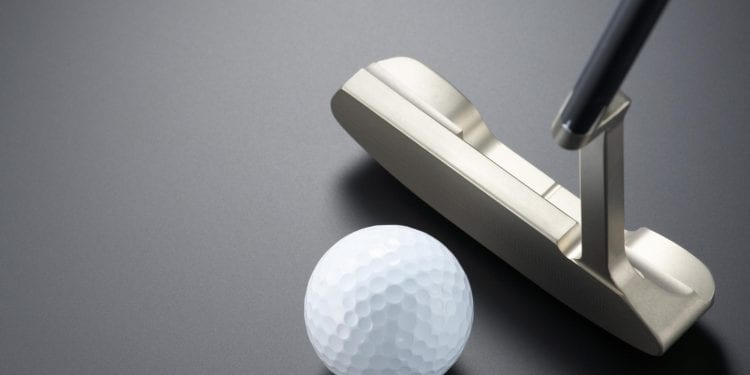 Last Updated on 22 February, 2022 21:34 by Pri
When it comes to picking out golf clubs, real care needs to be taken in the selection of putters, and blade putters especially. Aesthetics and feel play a crucial part in this personal selection of a golfing staple. There is a wide spectrum of weights, alignments and shapes to factor in, although your ultimate buying decision will be based on personal choice.
Need a little help in picking out this short club essential? Below, we have broken down some of the important specs to bear in mind when opting from the selection of Best Blade Putters we have reviewed.
Head Shapes | Blade vs Mallet Putter
---
Blades and mallets are the two most commonly encountered head shapes for putters. Mallets are the larger option with significant widths and a wide variety of design options. These are sometimes preferred by golfers looking for the increased stability a wider mallet offers, provided hits of the ball aren't landed at the centre of the ball face. Blades are the more conventional alternative. They are instantly recognisable thanks to their long and narrow appearance.
What to look for when buying the Best Blade Putters?
Putter Alignment
Length of Putters
Putter Face Factor
Shaft Spec & Hosels
We delve into each of these in more detail below.
Putter Alignment
---
The best putter performance is all about proper alignment. Because alignment is so pivotal to putting, it's crucial you pick out a putter that is easily handled and lined up with the golf ball. Failure in this area means it's incredibly easy to miss the hole in either direction, significantly affecting your handicap.
Don't be duped into thinking that alignment is as simple as taking aim and putting. There's much more to consider here. Fail to ensure proper alignment and you can overlook the sweet spot of your putter as well. As such, even if your stroke is perfect, missing the sweet spot can send your golf ball way off target and a significant distance from the target. Some putters available on the market place a great emphasis on alignment, so if this is an area where you're looking for assistance, you're well provided for.
Length of Putters
---
Due to certain golfing regulation such as the anchoring ban, you won't find a huge range of lengths when it comes to available putters. Even by the time of the introduction of this ban, longer putter alternatives had fallen out of favour. Even though you will still find longer varieties on the market today, you won't be able to anchor them when playing. These changes to regulation have resulted in an explosion in the popularity of alternatives like counterbalance putters.
These type of putters take advantage of additional weight loaded into the grip of the club, as well as heavier heads that encourage fuller motions of the arm rather than stressful motions on the wrist. Other putters are also available that utilise adjustable weights in the design of grips. This provides golfers with a personalised feel that suits their play.
As a general rule of thumb, putters are available in lengths ranging from 32 inches. The maximum length usually caps out at around 36 inches. In order to lessen wrist action and create a better pendulum stroke, it's pivotal you select a putter that feels right in your hands. A traditional length putter tends to work better with the natural movement of your putting stroke. A counterbalance putter with a longer length is the preferred option for those looking for a tighter grip, with the added weight providing a stroke that's more stable.
Putter Face Factor
---
You've two main choices when it comes to putter face: insert and milled. Milled faces are the preferred choice of golfers who enjoy more audible response feedback from their puts, as well as a better feel. The immediate assurance of contact and enhanced feel factor allows you to determine more easily where the centre of the putter is.
Inserts are usually constructed from composite material and are the go-to for golfers seeking softer putts. Inserts also provide better levels of forgiveness thanks to redistributed weight in the heel and toe. Unlike milled faces, inserts don't deliver audible feedback, so they're best reserved for slightly more experienced golfers with more confidence on the green.
Both milled and insert faces boast patterns that contribute towards a forward roll, as well as a reduced skid. What is more, in both cases, putts that strike at the toe or heel of the putter tend to perform well.
Shaft Spec & Hosels
---
Heel-shafted, offset and centre-shafted are your three key varieties of hosel setup when it comes to putters. The most common type is probably heel-shafted, found on putters of all varieties. You will encounter putters that are face-balanced or alternatively have toe hang spec. Those who play with flatter strokes will probably be best served by centre-shafted putters. They are a good choice for the golfer who prefers to keep an eye directly on the ball.
With offset hosels, there's a better line of sight away from the ball itself. They can also help you keep your hands placed ahead of the head of the club. Alignment also benefits in some cases. However, avoid putters that are offset too much. Too much offset could lead to putts veering off toward the right. And to practice in all weather, there's always an amazing range of indoor putting greens to choose from.
Be sure to check our article on the Best Golf Putting Tips
How to CHOOSE A PUTTER | BLADE vs MALLET PUTTER
Our Top Choices of Best Blade Putters
Reviews of 8 Best Blade Putters
---
In search of the best putters has to offer? Now that we have breezed through some essential spec to consider when buying your next blade putter, it is time to take a look at what is exactly available on the market. Below, you will find a breakdown of some of the top rated blade putters currently available, with golf blade putter models to suit all budgets, styles of play and proficiency levels.
---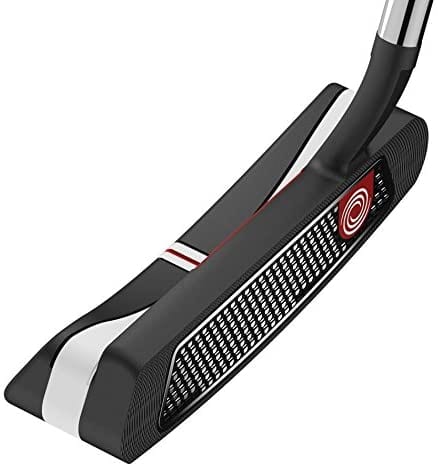 The 2017 O-Works Odyssey Blade Putter makes a fine addition to your golf bag. The new and improved 2017 micro hinge insert technology will provide you with some superb gains when it comes to topspin and roll, no matter what your stroke style. What's more, the material spec is of a premium calibre, with a stainless steel micro hinge plate co-moulded into a thermoplastic elastomer feel layer.
The high contrast versa alignment technology in this Odyssey blade putter is also worth noting, allowing you to easily highlight the proper face angle so you can adequately address impact. The super stroke no-taper and counter core technology with adjustable grip rounds off some truly terrific putter design. It's little wonder this is such a common sight across the major professional golfing tours.
---
Here's another premium blade putter from Odyssey you'll definitely want to consider. This Stroke Lab Versa Blade Putter brings together a unique weight distribution that's led by a Stroke Lab shaft that serves to enhance the overall dynamics of each stroke. The graphite and steel shaft is also a savvy choice of material, shifting around 40 grams to each end of the putter to improve performance dynamics even further.
Compared to standard shutter shafts, the Stroke Lab shaft found here offers a lower torque, resulting in better levels of control, despite the heavier weight of the head. Need more convincing? You can look forward to consistently smooth and accurate strokes with this Odyssey Blade Putter thanks to additional weight in the butt-end of the grip and sole.
The White Hot feel of this Odyssey Versa Blade Putter has been made even better thanks to dozens of individual micro-hinges that have been embedded across the entire face. The resulting topspin and smooth roll, not to mention better distance control, will go down well with every golfer.
---
The Pinemeadow Pre 2.0 Blade Putters features plenty of great design details to improve your game. This putter boasts weights at the toe and heel to increase the moment of inertia, with the result being your stroke enjoys more stability. What's more, the advanced design of this putter means you can look forward to better balance during your swing, follow through and take away.
User-friendliness is key here, with this Pre 2.0 putter helping you improve your game with minimal effort on your part. If you're looking for a reliable putter to round off your golfing essentials and don't want to pay a small fortune, you'll definitely want to give the Pinemeadow Pre 2.0 a second look.
---
This Ping Golf Sigma G Answer Blade Putter is the way to go if you're seeking a more consistent, precise choice of a putter. With its precision-milling full face inserts, this putter delivers top marks as far as forgiveness and a soft feel are concerned. What's more, reliable and consistent ball speeds are assured.
The combination of a multi-layer face design and PEBAX elastomer insert, along with anodised aluminium make this consistency and softer face possible, while the contrasting full-face insert is on hand to help you with alignment.
Grip pressure is also top-notch on this Ping Golf Sigma G Putter thanks to an ergonomic pistol shape that fits perfectly in the palm and is easily grasped by the fingers. Comfort is further enhanced thanks to the mid-sized, lightweight golf grips made from a soft and tacky polymer.
---
If you are after premium performance, the Odyssey White Hot Pro 2.0 Blade Putter is definitely worth your investment. This quality putter boasts one of the best possible face inserts you can find. With its slick satin finish, this eye-catching Odyssey Blade putter is a good choice for those who value aesthetics highly, while the rounded heel-toe and crank-neck hosel ensure it's a solid performer on the green.
This range of Odyssey Blade Putters has been inspired by Tour play, so you can imagine the kind of high-quality performance you'll get here. Acoustic feedback is of a high standard, while the feel is very responsiveness. As such, the White Hot Pro 2.0 has all the levels of precision you'll need to make the right choices as you close in on your goal.
---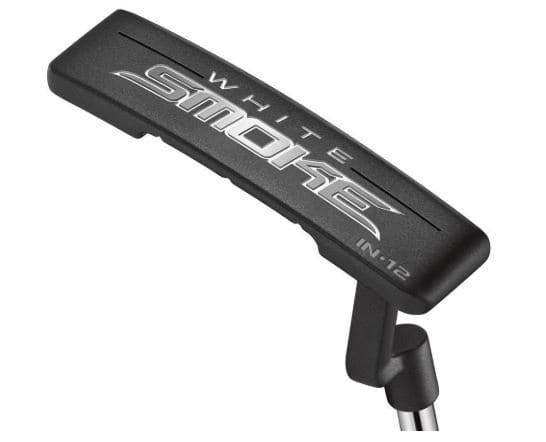 This White Smoke TaylorMade Blade Putter has all the specs you need to ensure better play as you aim for a low score at the end of a round. The 130-gram grip provides you with excellent counterbalance, enhancing overall stroke stability.
This counterbalance method is advertised as being up to 60 percent more stable than traditional putter alternatives, based on moment of inertia. There is more to enjoy from the Pure Roll Surlyn insert, which here promotes a more soft feel that still maintains a solid character, resulting in a smooth, consistent roll.
---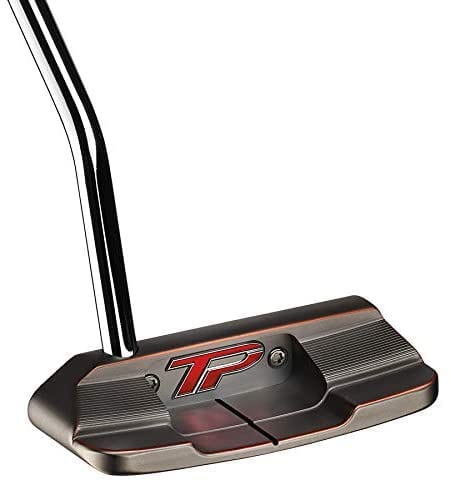 This TaylorMade TP Patina Del Monte Blade Putter is bound to appeal to the more experienced golfer looking to upgrade their golfing gear. Of note here is the Single Bend Shaft that provides you with an unobstructed view of the face, while the 8 degree toe hang is perfect for a putting stroke with a slight arc. Moreover the Single Sightline gives you a clean line of sight at address, while also providing you with better overall alignment.
---
This Scotty Cameron Select Blade Putter has plenty of first-rate features that every golfer will enjoy. For one, there's a multi-material composite construction that brings together face inlays made from aircraft-grade aluminium with a stainless steel body. The superior performance of this multi-material methodology is favoured by many professionals.
The sole has been specially engineered to account for grip and shaft weight, with fine and precise incremental movements producing a putter that aligns beautifully. The manufacturer refers to this as a four-way sole balancing, with the putter balanced from heel to toe, face to cavity.
The result is a putter that sits squarely at address, allowing the golfer to more easily align, no matter the lie. Sound and feel are of top quality, with the vibration dampening material providing a better feel, without compromising on audible feedback.
All in all, you have a blade putter here that makes big gains in technical prowess, without cutting corners elsewhere. A solid choice for players of all levels, but bound to impress the more proficient golfer looking for a premium putter.
---
Blade Putter FAQs
How to hold a blade putter?
---
Putters come into play at the most crucial part of any game of golf. As such, golfers have adopted all manner of techniques to hold them. Before we continue, it is worth noting that there is hard and fast rule on holding a putter correctly. Above all else, you want to adopt a method that fits your personal playing preference and will help keep your handicaps down. That being said, there are a handful of popular grip techniques worth considering to help improve your game.
One such grip is the so-called reverse overlap. This is arguably the most popular of all putting grips out there. To begin, grab the putter grip with your left hand. Next, your right hand needs to be rested around the putter grip, just below your left hand.
You then need to interlink your hands. To do so, lift your left index finger and wrap it comfortably over the fingers of your other hand. You will also need to ensure that your left thumb is resting flat atop the end of the putter grip. This provides added support and helps keep the putter face square upon impact.
Another key grip technique is the overlapping grip. To master this grip, you need to place the little finger of your right hand in between the middle finger and index finger of your left hand. The thumb of your left hand then needs to be placed along the lifeline of your right hand.
Another popular choice of grip is the left below right technique. For this grip, right-handed players should place their left hand below the right hand. Both hands then need to linked. To do this, wrap the right index finger across the fingers of the other hand.
How to re-grip a blade putter?
---
Re-gripping a golf putter at home need not take much time or effort. Furthermore, understanding how to do this yourself as and when required means your performance on the course never need be compromised.
To begin, you will need to remove the existing grips from our putter. You can cut off or peel away old grips with a utility knife. If you are dealing with more stubborn grips, you can be firm with the knife, but should take care so not to damage the shaft itself.
Once you have successfully cut away the old grip, use a cloth dampened with white spirit to clean away any remaining debris. Next, you will need to prepare the shaft for a new grip. To do this, wrap double-sided tape around the grip base. Start at the end and work downwards. Be careful to overlap the tape as you go and only remove the outer layer of tape when you are ready to fit your replacement grip.
Next you will need to place your club firmly in a vice, making sure the head end points upwards. You may wish to use a shaft protector when doing this, ensuring it does not sustain any damage from the vice pressure. Once you have the shaft clamped firmly in place, get your new grips ready for fitting.
Before you slide on the grips, you may wish to wash the interior with white spirit. If doing so, make sure you thoroughly drain away the liquid before fitting. You need to be quick here, making sure any alignment issues are swiftly sorted out before the grip adheres to the tape underneath.
What length of blade putter should I use?
---
A key thing to consider when investing in a new putter is length. Deciding on the correct length of putter will allow you to set up the ball more easily and enjoy higher levels of accuracy from your putting stroke. The overall length of a putter has a direct correlation with directional and distance control, so it is worth taking the time to weigh up your options before splashing out on a new purchase.
The best way to determine which length of putter to pick is to consider your own height. Specifically, height and tilt calculation is what helps determine which putter you should be reaching for. Shorter players with a height of around 5 feet should go for a 32-inch putter as a rule. Those players with a height of anywhere between 5 foot 3 inches to 5 foot 9 inches should look for a slightly longer putter, one measuring in at a length of 33 inches.
The most common putter length you will see on the golf course is 34 inches. A 34-inch putter is the best bet for players with a height of 5 foot 9 inches to 5 foot 10 inches. Anyone who is taller than six feet will be best served by a 35-inch putter.
How to choose a blade putter ?
---
While club length is perhaps the most important factor for players to consider when buying a new putter, it is not the only factor. Another crucial area of focus is the head style of a putter. There are two main types of putter style to consider in this regard. The first type is the mallet putter. These types of putter are generally more forgiving thanks to the weight distribution of their design.
Most newcomers to the game of golf tend to begin with blade putters, but more proficient golfers will enjoy the benefits of the mallet type. When used correctly, mallet putters can yield better levels of control and more stability. If you are someone with more of an arc stroke, a blade putter is perhaps the best bet for you. The reason for this is that blade putters distribute weight between the toe and the heel of the club.
Weight and balance are the key thing that determine the effectiveness of a putter. Do not be duped into thinking that a mallet putter will automatically weigh more than a blade putter alternative. They may have a larger overall club head, but the best designs will weigh about the same as a blade putter. Those putters with a balanced face design are a better choice for those playing with a putting stroke that is straighter. Putters of the toe balanced variety are a good bet for those with an arc stroke.
What is the best blade putter of all time?
---
Ask anyone with a passing interest in golf what the best putter available is and you will no doubt be given as many individual answers. That being said, a few classics stand out over the years.
One of the most popular choices for the best putter of all time is the Wilson 8802. This blade putter looks relatively standard in its design, but it is a very user-friendly option, with superb levels of feedback and a great feel. This style of putter has been imitated by all the main manufacturers over the years and is a favourite of some of the greatest golfers in history.
---